Good morning, readers, and welcome t--BOO!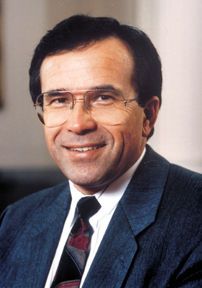 AHH, OH GOD, AHHHHH--haaaaa ha ha ha ha, oh man, I got you good, you should've seen the look on your face

Yes, today we're taking a look back -- way back -- at everyone's favourite go-to boogeyman, Manitoba's nineteenth Premier, The Honourable Gary Albert Filmon. It is possible, perhaps, that you have forgotten the horrors and atrocities of the Gary Filmon government; it was long enough ago, after all, that much of the story remains only in legend and lore.

The Gary Filmon government, to be perfectly precise, officially ended on October 5th, 1999. So let us take you back:

-- When Gary Filmon left power, the #1 song in Canada was Lou Bega's "Mambo No. 5"; it would eventually cede its chart position in November to Eiffel 65's "Blue (Da Ba Dee)". Or, to put that another way: when Gary Filmon left power, Big Shiny Tunes 3 was still current.

-- Recording artists making their major-label debuts in 1999: The White Stripes, Eminem, Britney Spears, Christina Aguilera, Jennifer Lopez, Mandy Moore, Jessica Simpson, and S Club 7. (And "Chris Gaines". We don't talk about Chris Gaines.)

-- The #1 movie in Canada and the United States when the Filmon administration ended was Double Jeopardy, starring Tommy Lee Jones and Ashley Judd. The #1 movie the week after that was Fight Club, and the #1 highest-grossing film of the overall year was Star Wars Episode I: The Phantom Menace. You are old.

-- October 5, 1999 was a Tuesday; the most-watched television show in North America that evening was ABC's Who Wants to Be A Millionaire?, beating out NBC's lineup of Just Shoot Me! and 3rd Rock From the Sun.

-- 1999 welcomed the debut television seasons of The Sopranos, Futurama, Family Guy, WWF SmackDown!, and Spongebob Squarepants. Or, to put that another way: the Filmon government ended during Season 11 of The Simpsons.

-- The guest star on the October 3rd, 1999 episode of The Simpsons was baseball superstar Mark McGuire, who led Major League Baseball that year with 65 home runs.

-- Vince Carter, of the Toronto Raptors, was named the National Basketball Association's Rookie of the Year.

-- With the number-one pick in the 1999 NHL Entry Draft, the Atlanta Thrashers -- now the Winnipeg Jets -- selected the now-infamous Patrik Stefan. Vancouver, with the second and third first-round picks, selected Daniel and Henrik Sedin. (Detroit drafted Henrik Zetterberg in round seven with the 210th pick, because of course they did.)

-- High-profile video game releases in 1999 included: the first Super Smash Bros.; the first Mario Party; Final Fantasy VIII; the first Silent Hill; the first Soul Calibur; Crash Team Racing; the first Tony Hawk Pro Skater; Street Fighter III: Third Strike; and, of course, Crazy Taxi, which I'm pretty sure eventually received more ports than all of the other games combined.

-- 1999 was also the year SEGA released the Dreamcast, formally kicking off the sixth generation of video game consoles. The PlayStation 2 would be released a year later, in 2000; the Nintendo GameCube and the Microsoft Xbox followed in 2001. You are old.

-- Also in 1999: the introduction of the Euro currency, the debut of Jon Stewart as the host of The Daily Show, the first release of MSN Messenger, the Columbine High School shootings, the NATO bombings of Kosovo, the Y2K panic, and the debut of peer-to-peer file-sharing program Napster.

-- When Gary Filmon left office, there were still only 151 Pokémon.

-- When Gary Filmon left office, the Winnipeg Blue Bombers' championship drought was only nine seasons long. (The Bombers finished 6-12 that year, good for fourth in the East, under head coach Dave Ritchie and star quarterback Kerwin Bell.)

-- And, finally: Winnipeg, in 1999, hosted the XIII Pan American Games. Think of how long ago that feels, and how dated the clothing looks when (even still) seen around town. That was the Filmon era.

It was a long time ago, is what I'm getting at. And yet! And yet -- the reigning provincial NDP government invokes the prior Progressive Conservative government, on average, one dozen times each day. Which sounds high, sure, until you try it for yourself and realize that it's actually a really fun home game.

Give it a shot, next time you flip through the papers! Announcing splash pads and play structures somehow takes six cabinet ministers? Well, you have to remember, Mister Speaker, Gary Filmon burned over one thousand play structures to the ground in the 1990s. St. Norbert MLA Dave Gaudreau, in the span of less than a minute, Mazurkiewiched his reputation and torched months of party work towards claiming the gay-rights high ground? This never would have happened, Mister Speaker, if Gary Filmon hadn't fired one thousand sensitivity trainers!

Hydro union leaders are accusing the NDP of getting ready to privatize Manitoba Hydro? MISTER SPEAKER, AS FAR AS PRIVATIZATION GOE--nawww, naw, that one's too easy, gimme a different one. The legislatively-gridlocked Bill 33 on forced municipality amalgamation remains a misguided, bullheaded liability to what little support the party could count on outside of Winnipeg? MISTER SPEAKER--okay, wait, uh--MISTER SPEAKER, GARY FILMON ATE A BABY. HE ATE A BABY WHOLE, MISTER SPEAKER, I PERSONALLY WITNESSED HIM EATING IT.

And when th... well, I don't actually know what particular issue brought this on, but the reaction speaks to the pattern:


Good grief! Hey Min. Steve Ashton, PLEASE stop referencing Filmon vote scandal in your QP answers. That was 15 years ago! #mbpoli #NDP #yawn

— James O'Connor (@Monstereditor) August 7, 2013
Yes, 'Filmon' remains the word of the day even now, echoing from the leadership heavy-hitters like Selinger and Ashton on down through the cabinet -- Swan, Lemieux, Howard (no relation), Chomiak (especially Chomiak), Struthers (holy hell
especially
Struthers) and so on -- and then all the way down to the government's, shall we say, bit players and trivia answers. Such top-down behavioural tics do not simply happen by accident, of course; this is altogether by design, a very calculated and very longevous practice with no sign of ceasing.
My informants have, in fact, supplied me with a key Manitoba NDP strategic document: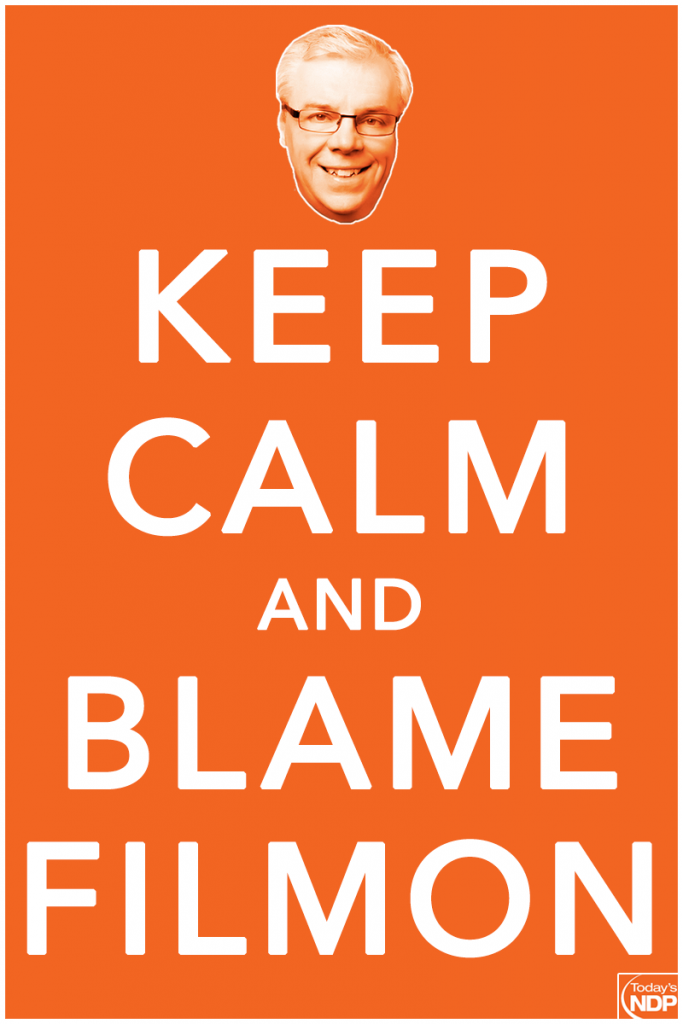 I hope that this clears up any confusion going forward.
If you're in the mood for a wallpaper-sized version, I've a couple of options here that'll hopefully have you covered: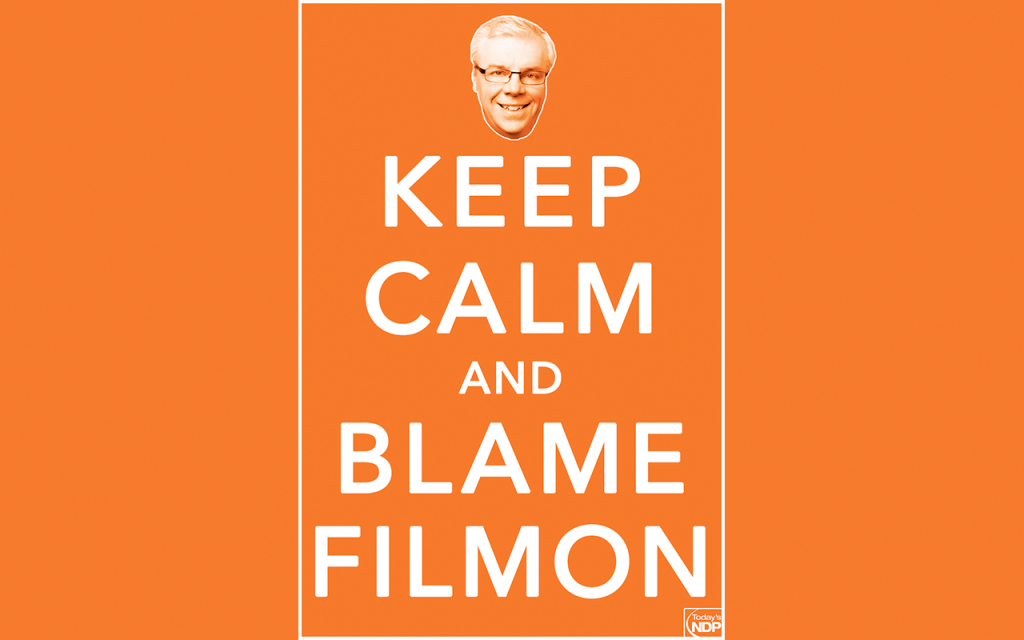 |
1024x768
|
1280x800
|
Here are a couple with layers and tilts added for some poster-style action:
|
1024x768
|
1280x800
|
|
1024x768
|
1280x800
|
One more, with the Hard Mix filter on, if you're big into the what-is-this-communism hyperbole:
|
1024x768
|
1280x800
|
And of course, because I know there's probably someone out there cravin' it, here's one that dances.
So get ready for a party, Manitobans -- tonight, and every night, it's time to point fingers like it's 1999!