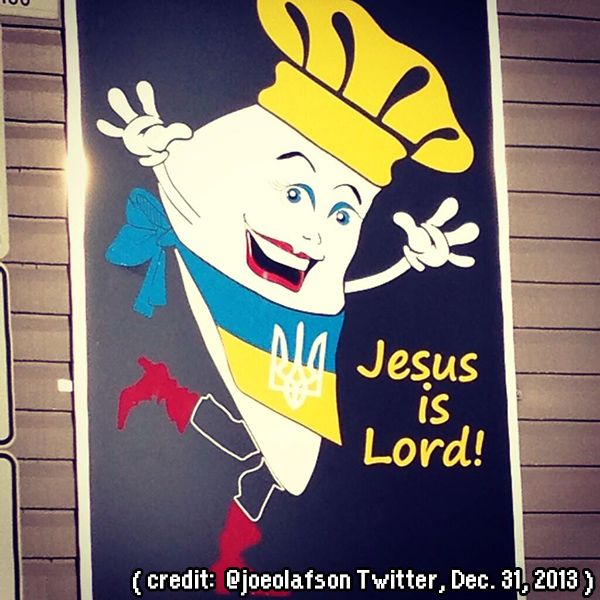 Thus far I've spent the New Year increasingly debilitated by a seasonal cold-flu-something -- sweats and chills and coughing fits and sapped strength and the whole kit-'n'-kaboodle -- and in my intermittent bouts of mild feverish delirium, there are times when I am forced to question whether something is real or imagined. You can imagine the trouble that I am having right now with this picture.

But no, it's real, and it's spectacular: CTV News producer Joe Olafson took this photograph at the corner of McPhillips & Aberdeen, and it really is quite the fascinating smorgasbord of intrinsically Winnipeggian character notes. [ via ]

Happy New Year, everyone, and welcome to Manitoba Links Weekly! For the coming of the new year and the passing of the old I'd written a year-end retrospective poem, as one does, as you do.

So welcome to the new year! Talking about the weather may not sound like the most exciting way to kick off the year's first ManLinkWeek, but oh, it's been a special kind of weather:

[ Global Winnipeg: United Airlines cancels Winnipeg flights due to cold ]
[ CBC Manitoba: Winnipeg deep freeze as cold as uninhabited planet ]
[ Winnipeg Sun: Colder than Mars, colder than the North Pole — and Winnipeg isn't warming up any time soon ]
[ Geekquinox (Yahoo! News): Frigid Winnipeg temperatures reach as cold as the planet Mars ]
[ Winnipeg Free Press: Vehicles stuck in frozen traffic jam ]
So just how cold has it been lately? Cold enough that windchill maps are just a big solid-colour Manitoba shape. Cold enough that airplanes refused to fly here; cold enough that cars froze to the pavement. Cold enough that weather on other planets ceases to seem like an abstraction, and that the North Pole looks comparatively warm. Cold enough that NONE OF THOSE JUST NOW WERE JOKES.

(And yet, despite all that, the province's basin-pumping activities have meant no river trail so far this winter. We just can't have nice things.)

Bartley Kives had written last month -- last year, now, I suppose -- that Winnipeg should embrace the tourism opportunities of its chilly character, because we may as well make the most of winter if we're going to stubbornly continue having it each year. I am all for this! Now, occasionally not being able to fly in, that may seem like a drawback at first -- and we've been having some trouble with train travel, too, lately -- but I think, really, that just adds that certain special exclusivity to the tourism draw of it. Right? A rare and unparalleled experience that may require going a ways out of one's way, braving the danger of the unbeaten path in the name of a story to tell later.

Incidentally:

[ Sabres Edge (The Buffalo News): The quest to get to The Peg continues ]
[ Winnipeg Sun: Sabres writer finally able to end Winnipeg ordeal ]
[ Global Winnipeg: Sports reporter endures epic nightmare trip to cover Winnipeg Jets ]
[ Sabres Edge (The Buffalo News): Travelogue update: Make the snow stop in Buffalo, please! ]
Oh, goodness. The adventure! The drama! Generally more welcomed when one seeks them out, rather than the other way around, but that'll happen with travel sometimes.

The important thing is that -- even when it isn't easy to get people here -- we believe sure as shootin' that it's worth the trip to be here; all we have to do is get people into the city and, by gum, the magic of Winnipeg wins them right over.



"Three trips later, I do wonder how so many people actually inhabit The Peg."
"Driving is terrible. A bumpy obstacle course. Frozen solid."
"This is absolutely the coldest weather I've ever experienced in my life[.]"
"The weather was just horrific and the roads are awful. It's embarrassing, I don't know how a winter city can operate like this."
"Who plows your roads?"

And funny he should ask, in fact! The pride and joy of our humble metropolis, our city services are a-hummin' along just as smoothly as they ev--

[ canoe.ca: Winnipeg man told curb will get fixed in 2032 ]
[ Winnipeg Free Press: Plowing jobs redundant: councillor ]
[ CBC Manitoba: Winnipeg motorists stuck with icy, bumpy roads after storm ]
[ CTV Winnipeg: City's road clearing plans do not include residential streets ]
[ Winnipeg Sun: City behind on trash, recycling collection ]
[ 680 CJOB: Water Main Breaks Still An Issue in Maples, Charleswood ]
[ CTV Winnipeg: Charleswood residents now six days without water ]
[ CBC Manitoba: Some Winnipeggers lose water service for 9th time in week ]
--well, never mind how they're going. Let's look ahead to 2014, shall we?

[ Observations, Reservations, Conversations: Predictions for 2014 in Winnipeg Part 1 ]
[ Observations, Reservations, Conversations: Predictions for 2014 in Winnipeg Part 2 ]
[ Around This Town: 2014 Peg-city Predictions ]
[ Note the Time: Winnipeg 2014: Food trends to watch for ]
Yes, folks, another exciting year ahead of us! The big local news attraction will be the October civic election, preceded by the mad scramble to finalize candidacies at the end of April, but there's a whole self-contained little universe of other interesting considerations as we move forward through 2014. So many questions to ponder!

What will the City do with the Public Safety Building space? (Vacate it at the first opportunity, pretend it doesn't exist, and hope it falls down.) Who will be the next big breakout recording artist out of Manitoba? (Joe Stover.) Will the Winnipeg Jets make a playoff run? (No.) Will the Winnipeg Blue Bombers win the Grey Cup? (No.) Will the Goldey--(lol, the goldeyes, c'mon man) Local food'll be good, though, right? (Yeah, food'll be good.) Good! Ahh, the promise of a new year.

Hey, who wants some Hydro news? No no, good Hydro news! I know, that's weird.

[ Winnipeg Sun: Living up to 'Friendly Manitoba' moniker: Hydro workers' efforts leave Torontonians dancing in the street ]
[ CBC Manitoba: Manitoba Hydro workers warmly welcomed in icy Toronto ]
[ Toronto Star: Ice storm: Hydro workers from across the country skip Christmas to help ]
[ Winnipeg Free Press: Hydro workers return home ]
I could be cynical about the whole thing and say that Manitoba Hydro's most successful export is people -- true of the province as a whole, really, in'nt -- but I'm too busy being warmed and delighted by the quotes chosen for these stories. These would be some very dry tellings otherwise, and I've left out a variety of relevant links without quotes that were very dry indeed, but the more character pull you get from the individual workers the more it feels like a heartwarming Canadian mythology. Just a bunch of Manitoba workers rolling up unexpectedly and solving problems, right across this great land of ours, a folksy-wisdom hallucinatory Tim Hortons canister mural come to life.

"This is what we do. Forty-two men volunteered and we could have had a lot more."
"We've had from people crying to people dancing to people hugging the guys to bringing out doughnuts. Lots of people are happy, taking pictures with the guys, so it's all good. (. . .) We use Toronto Hydro trucks so we've had a few guys screaming at our guys and asking where we were five days ago. Once they find out we're from Manitoba they are really appreciative."
"I was thinking on the way home that maybe we'll have a Ukrainian Christmas this year."

My favourite of the batch, because how could it not be, is from this section of the Toronto Star article listed above:

They may think we're a bit strange, but that hasn't stopped them from travelling across the province and the country to help us out in our time of need.

When crew supervisor Marvin Roos from Dauphin, Manitoba was out reconnecting houses in Scarborough Bluffs on Christmas Day, an Italian man emerged from his house with a hot drink.

"He came out with some sort of strange coffee — what do you call it, espresso or something? Boy, was it strong stuff!" Roos said.

If you don't think this is just adorable, I don't even know what to do with you. Is this not the finest small-town perfection you've read all week? This is Kate Beaton's Dad as Hydro crew supervisor, and I love it to pieces. Just to bits.

The Toronto Star writer, perhaps also caught up in the spirit, ends the news article with a bit of found poetry:

"They parked their two Toronto Hydro trucks nose to nose, exposing a Manitoba Hydro logo drawn in the dirt on one, and raised the cranes. The arms extended, elbows pointing in opposite directions, forming an industrial-looking heart in the sky."

AUGH WHY IS NO ONE ALLOWED TO WRITE LIKE THAT HERE. Just that little extra narrative flourish, that's all I ask, we really don't need much here to keep us going. Winnipeg is the greatest magical-realism noir the world never realized it wanted, we can stand to let loose a flash of colour here and there when we explain it to people.

(pauses, makes genre notes, continues)

[ 2013: A PORTRAIT A DAY - David Lipnowski Photography: 12/31/2013 - Mike Lipnowski - 6:13PM - Winnipeg, Canada ]
[ Metro Winnipeg: Winnipeg photographer completes ambitious portrait project ]
Congratulations to local photographer David Lipnowski on completing his ambitious 365-day portrait photography project! He notes in the final entry that he'll soon post a retrospective of the project's successes and challenges; in the meantime, you should make plans to settle in with something warm to drink and explore the full archive of his work over the year.

And, finally:

[ ChrisD.ca: Jewel 101 Debuts on Winnipeg's Airwaves ]
[ Jewel 101 FM: Lite & Refreshing ]
The following, cropped but otherwise unaltered in any way, is a screenshot from the Jewel 101 FM main site.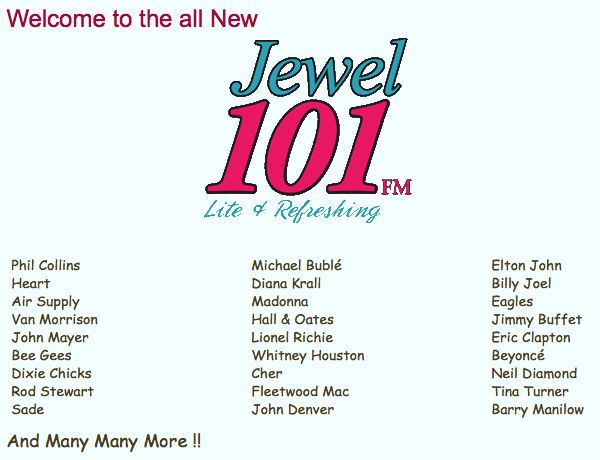 I'm going to let it speak for itself.

Thank you for reading ManLinkWeek, and Happy New Year!