Hello and welcome to Manitoba Links Weekly!

It's been another big week, hasn't it? Another busy ol' week. Let me fill you in briefly on what I've been up to! When last we left off I was headed to the final Mondragon Party, set on braving the crowds --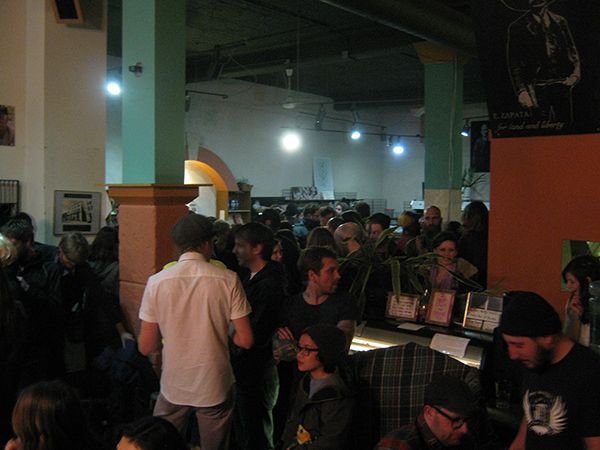 -- to spend some contemplative, investigative time with one or two of the last remaining batch of tofu sandwiches.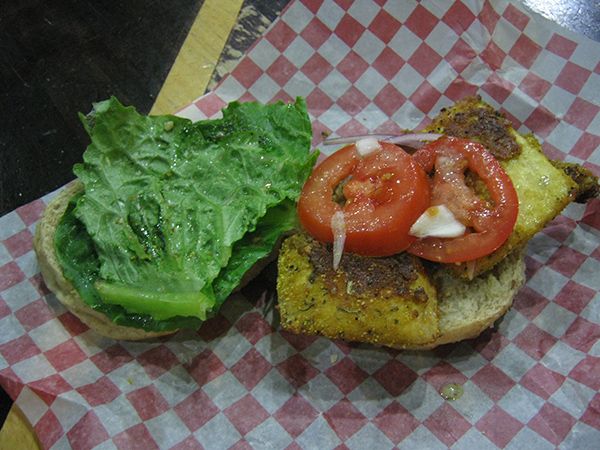 There were musical acts throughout the evening, and parties throughout the A-Zone; it was all a very nice sendoff for the beloved long-running Exchange institution, aside from that part about the police touring the place.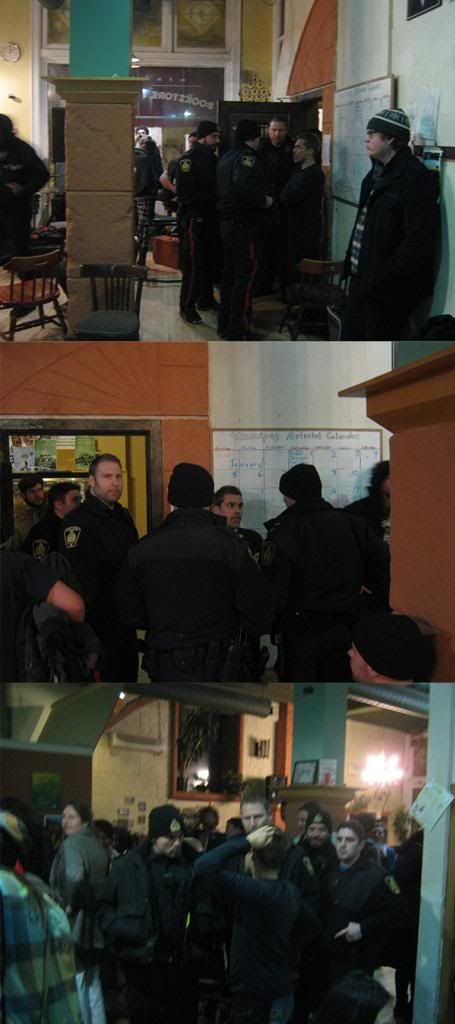 But that is a story for another time.

Another chunk of excitement for me this week: I was invited to appear as a panelist speaker for the opening evening of the MBlog 2014 convention, an opportunity I was quite obviously thrilled to accept.




You'll note that we all have big ol' glasses of wine in that photograph (and in this photograph), a surefire way to get the most interesting and honest possible answers from a panel. It went really well! Quite the zoological assortment in that picture, too: a dog, a cat, a frog, and an Alyson. So bases, consider yourselves covered.

(A side personal note: you're wondering about the hair, aren't you? You may be wondering about the hair. Yes, as late I've been rocking a new hairstyle, and no, I haven't cut it or anything; normally I'd comb it all back and leave it there, but in this weather it just frizzes and takes off in all directions anyway, so I figure I may as well wear it forward and pretend I've meant it to be the '70s feathermonster that it is.)

And that was only Friday! Earlier today I attended the conference proper as well, a vibrant and diverse array of presenters and topics; I suspect that a few dozen people'll beat me to getting reactions and content up, but I quite enjoyed myself, I met a whole lot of fascinating new people, and the presentations gave me quite a bit to think about.

Ah, but we can talk about that later. Let's have ourselves our weekly feature first; hello and welcome to ManLinkWeek!

[ Winnipeg Free Press: Agencies hit with cash cuts ]
[ CBC Manitoba: Manitoba child welfare agencies decry 4% funding cut ]
[ phoenixsinclairinquiry.ca: Commission of Inquiry into the Circumstances Surrounding the Death of Phoenix Sinclair ]
[ Winnipeg Free Press: Real message of Sinclair inquiry is a dire warning ]
[ CBC Manitoba: 'There will be more Phoenixes': reaction to inquiry report mixed ]
I will admit to a certain prior blindness, an intellectual laziness on my part, with this file: it really, genuinely did not occur to me that things could actually get worse than they were the last time we checked in.

You'll recall the previous, and what I'm sure many of us thought was the last, indignity in the governing NDP's treatment of the Phoenix Sinclair case. It was very important that the Province withhold the final report for a while, because just think of the impact it could've had on those by-election results.

So the government of the day had even more time to plan and coordinate their response, just in case the past eight and a half years weren't time enough, and with that extra preparation time the government chose to... slash funding to Child and Family Services agencies.

To slash funding to Child and Family Services agencies. Consider the incredible timing on this decision, especially given that they could've made it and forced it into action literally any time other than this one.

During -- during! -- the period between receiving the report and releasing the report, the provincial government ordered a retroactive four-per-cent cut to front-line child-welfare services. That's just over $3 million cut from roughly two dozen agencies, all of which are now scrambling desperately to find something that can be cut in a hurry; an inability to make deep enough cuts across the board may force layoffs and vacancy eliminations, depleting the same front-line staff that will be expected to implement and incorporate a long series of inquiry recommendations.

So morale is soaring, probably. I bet there are a lot of bright and smiling faces in those CFS agencies right now, orange membership cards nestled tightly in their right palms to ensure the best possible high-fives around the office.

You'll note that one of the recommendations made in the report is to cut down and cap each social worker to 20 cases being handled at once. Lacking formal training as a mathematician, I am unsure how they'll accomplish this with fewer social workers. I like to hope I'm missing something.

Reaction to the government's (eventual, begrudging) release of the inquiry report has seemed rather pessimistic, as you could probably gleam when the CBC News article on the story lead its headline with "'There will be more Phoenixes'".

"'There's going to be more Phoenixes,' (caregiver Kim Edwards) said. 'There may be more Phoenixes. I know that there have been more Phoenixes since 2005."

This makes me uneasy for the obvious reasons, and then even more uneasy for what I hope are reasons I'm misreading.

"There will be more Phoenixes" is an ominous but abstract warning; "There may be more Phoenixes" is a softer and more theoretical-sounding warning, albeit a warning nonetheless. But "I know that there have been more Phoenixes" is a chilling, suddenly-no-longer-metaphorical statement, and I'm deeply worried about what this statement may reveal if it was as deliberately worded as it seems to have been.

She did not say "there could've been more Phoenixes", or "we're lucky there weren't more Phoenixes", or even "it's possible there may have been more Phoenixes." "I know that there have been more Phoenixes since 2005."

As I'd said, I'm hoping that this statement was spur-of-the-moment and just as rhetorical as the other two; the idea that there may be other documented instances of murdered children, ones left alone for being less well-publicized than the Phoenix Sinclair case, is enough dread to last anyone a lifetime. So I am hoping, very dearly, that "I know" isn't "I know." Quite honestly, it's all been bad enough already.

And the government -- our government, the people tasked with keeping us safe, the people who had the report in their possession for weeks now -- our government is actively cutting front-line child-welfare staff. The warning resonating through James Turner's column is "pay now or pay later"; the Province is choosing to pay less. It is almost, though not quite, completely incomprehensible.

I want to say that I don't understand the strategy, but there's one possible angle I'm forced to acknowledge: it is entirely possible, having slashed $3.1 million of child welfare just before (finally) releasing the report, that the government plans on putting it back shortly afterward and boasting about the funding they've added since the report's release. I recognize that this may sound like a terribly cynical outlook at first, but it's also the only way those agencies could keep the funding, so this is actually as optimistic a scenario as I think we're going to get.

Even still -- and I know I've expressed some variation on this before -- can you imagine how pooched this government would be if their opposition knew what it was doing? The NDP has giftwrapped its opponents the talking point of having cut child-welfare workers, and right alongside the area's biggest child-welfare story in recent history.

For lack of hard numbers on how many staff are being cut, other parties would instead find it necessary to provide an rough estimate on the number of cuts. One thousand, say. One thousand CFS workers fired. That seems like it would be damaging, wouldn't it? The kind of thing that might stick, that people might bring up for another ten or fifteen years after the fact.

Ah, but as I have also expressed in some form or another before, the NDP does not face any particularly threatening opposition force. Or at least, they didn't, before--

[ Around This Town: Manitoba Hydro and Manitoba Forward ]
--okay, no, they're still in the clear.

"Manitoba Forward": 2014's "Responsible Winnipeg"? Compare and contrast.

Meanwhile in Brandon-Souris:

[ Brandon Sun: And the winner is... ]
What a twist! I would've been fully tempted to go off the board, just in case his first official words were "YEAHHH, BOYEEE~"; that would've been money I'd've lost, if the poll had actually accepted money, but it would've been money I was willing to throw down regardless.

Also: if elected, I promise to open my House of Commons speaking record with "YEAHHH, BOYEEE~".

Meanwhile, reminding the rest of the nation that Winnipeg exists:

National Post: So cold it's cool: With its artsy winter events, Winnipeg is the place to be this January — really ]
Y'know, it's funny -- if I didn't know better, I'd say this article seems to be implying that Winnipeg's strengths lie in embracing its extreme climate and fashioning itself as a winter-weather destination. Madness, right? I can't imagine anyone'd throw in behind an idea like that, my goodness, I never.

Okay, back to Brandon again:

[ First Draught (Brandon Sun): Light and refreshing New Zealand lager ]
[ First Draught (Brandon Sun): A new bottle and label for a new year ]
Congratulations to Cody of BeerCrank.ca for his brand-new column in the Brandon Sun! Internet types crossing over into columnist work, the very idea.

"First Draught" appears set to run weekly, so watch the dedicated column page for updates; it'll all be a good time and fun and games until a rep sends him some complimentary Molson Cold Shots or something, and then it is going to be on.

Speaking of beer:

Winnipeg Sun: Beer sales could be just the ticket for Selkirk Steelers ]
"The Steelers had an online survey recently asking Selkirk residents why they don't attend Steeler games. A lack of beer sales was the top complaint."

Okay, but I mean, it's not like bee--

"Beer is sold at MJHL games in Portage, Virden, and Dauphin, Poponick noted. Winnipeg Blues fans can also purchase beer at the MTS Iceplex."

...I did not realize this. Well! I would be lying if I said I don't want to do this at least once now; your ideas are intriguing to me, and I wish to subscribe to your hockey league. YO WHO WANTS TO GO GRAB A BEER AT AN MJHL GAME WITH ME, HIT ME BACK

And I'm curious about opening the idea up wider, now, in fact! I'm not certain whether wider beer sales across all levels of hockey would be better or worse on the lunatic parents front -- both outcomes would be funny for very different reasons -- but hey, if Mike Keenan's advice is to "chill out and enjoy the game", I think I know the way I'd pick. Make it happen, MLCC, this is easy money!

And speaking of the MLCC:

[ Manitoba Liquor Mart: CLEARANCE ]
Yes indeed, folks, it's that time of year again! Mostly unloved potables at slightly better prices, for a limited time only.

Now, the main reason so many products are being liquidated, one must bear in mind, is that a great many of them are just straight-up terrible ideas. (Distilled yogurt spirit? Grape jelly liqueur? How is there always more cake vodka in these sales?) But there are also some decently deep discounts on perfectly viable hooch selections, so if you have the money and you anticipate drinkin' things in future, well, now's the time.

I had a funny story about a very nice bottle of Bowmore from last year's clearance sales, in fact, now that I think about it. But not like a ha-ha funny, exactly, so much as an I'd-left-it-at-my-girlfriend's-place-when-she-cheated-on-me-with-a-coworker-twice-her-age funny. Hey, we've all been there, right? That is definitely a relatable thing that we can all laugh about after the fact. Life! Ahhh, life.

As for the current sale, I'm of two minds about it. On the one hand, I've been moving out of my about-to-be-old apartment this week, so this was the most inopportune possible time for the clearance to land; the sales have meant that Liquor Marts are extremely leery of letting people take boxes, in case someone might buy thirty bottles of wine and want to carry them. On the other hand, brandy is twenty dollars after tax. So.

I talked this up to a couple of people at MBlog, but here's a worthwhile endeavour for you: in a large mug, stir a desired amount of hot chocolate powder -- a heaping tablespoon, say -- into a few ounces of milk. Add one shot of brandy, or two if you're into that, then fill the rest of that bad boy up with coffee and stir vigorously. I'll tell you what, friend: you won't feel cold any more.

The original recipe I'd adapted also recommends adding additional sugar, but sugary drinks are for people who aren't into Hemingways. So, nah, trust me, try it without the sugar first and you'll most likely enjoy it just fine. (Besides, y'all know how sugar's bad for you.)

Thank you for reading ManLinkWeek! There'll be two more years of brown water, y'all feel free to go get mad about it, and I'll meet you back here for the next post sometime soon.