I keep meaning to write about the wacky political shenanigans going on in this town right now, but, first things first. Hockey marches on! The first round was easily some of the best hockey we've seen in ages, and my uncharacteristically accurate predictions were as follows:

Washington in five (nope)
New Jersey in five (nope -- thankfully)
Buffalo in six (nope; it turns out that going down 3-1 in a series on a double-overtime too-many-men penalty against a team that's straight up outworking you is a bad strategy)
Pittsburgh (yep) in five (close but not quite)
San Jose (yep) in six (close, but not quite)
Chicago (yep) in five (close, but -- not quite)
Vancouver (yep) in five (close, but... huh, eerie)
Detroit (yep) in six (close but not quite; apparently I should just add a game to all my predictions, because what is this)

So I went five-for-eight for teams and zero-for-eight (with five near-misses) for number of games, which means I did okay but probably wouldn't be making any money on this. And I can't feel too bad about missing the Montreal pick, because really, who the hell picked Montreal? And did anybody look at Montreal down 3-1 in the series and go "yeah, they'll come back from this and win the series, count on it"? Since this is apparently the first time in history that an eighth seed came back from 3-1 to beat a first seed, I'm going to guess not.

Also a cute historical fact is that one of each seed made it through to the second round this year. And that hasn't happened since... wait, in 2006? Seriously? Well, never mind, then. Dang, I thought I was on to something there.

Moving on! Since I clearly had more success in the West, let's start with:

Western Conference

(1) San Jose Sharks vs. (5) Detroit Red Wings

Oh, great. Judging from that stinker of a game seven, Phoenix just made Detroit mad. This is going to suck.

I'm trying to map out defensible justification for predicting San Jose over Detroit and, man, it just ain't coming. Even putting aside that the Red Wings are historically one of the better playoff performance teams and the Sharks are... the Sharks... the matchup between the two teams just looks lopsided, regular season be hanged.

San Jose had significant trouble against Colorado's surprisingly effective defense, barring one spectacular two-goal-on-two-shot collapse that cost the Avalanche the whole series, and I don't think it's a stretch to claim that Detroit is usually considered more defensively sound than Colorado. Whereas Phoenix was no slouch on defence or in any particular area -- a team of the medium-sized guys from NES Ice Hockey, if you will -- and Detroit routinely went "pfft" and scored five or six or seven goals on them just to be dicks.

You would think that I'd be rooting for the star-making performances of the goalie who shares my name and birthyear, but my longstanding nonsensical Winnipeg Jets loyalty stands in the way of rooting for Detroit and the guy is probably sucking up what little of my potential Google traffic doesn't already get eaten up by James Howard Kunstler, so the hell with him. Although -- one of my best friends in elementary school was (and is) named "Daniel Craig", so I guess the lesson here is that things could always be worse.

ANYWAY

What I'd Want: San Jose in five, in a complete shocker to everybody involved, avoiding any potential Wings/Penguins threepeat and giving San Jose a bigger stage to choke and die on. Everybody wins!
What I'll Guess: Detroit in fi... six. Detroit in six. Realistically, if San Jose managed to win this series, it would only be because something on Detroit's end went horribly wrong at the worst possible time -- and since their scoring is always insane and their defense is always insultingly effective, I think it's Detroit's goaltending that'll decide this series. (For better or worse.)

(2)Chicago Blackhawks vs. (3) Vancouver Canucks

Aww, yeah, rival fight. This ought to be fun.

Both teams earned their second round spots against plucky but outmatched clubs who weren't particularly grueling tests, so this is going to be a pretty entertaining series to watch. And I have a sneaking suspicion that the scores are going to be crazy high in this series, because Chicago's goaltending is still entirely questionable and Vancouver's defense at this point is made up of ham-and-egger Manitoba Moose. (You know, the kind of players that got the Moose where they are today. Eliminated. Rimshot!)

I don't see any way this series will end quickly, so it'll live and die by its terrifying top lines; both sides have first-lines that look like the results of unfair trades in video games, but I suspect that Vancouver will pull this one out if Samuellson continues whatever sinister blood pact he made with Satan. Sorry, Captain Serious. (Fuck, I love the nickname "Captain Serious". And so does his mom, which makes it so much funnier.)

What I'd Want: I'm pretty cool with either team winning, to be honest -- and the playoff Kane mullet deserves special mention just by itself -- but for the sake of the discussion I'll say Vancouver in seven. Not only would this ensure a lot of quality games but it would both exorcise Luongo's hilarious playoff demons and make the rivalry that much angrier, so I'm all for it.
What I'll Guess: Vancouver in si... seven. Chicago, you need a goaltender. Real talk.


Eastern Conference

(4) Pittsburgh Penguins vs. (8) Montreal Canadiens

Check this out, I thought this was pretty funny. The official website of the National Hockey League solicits playoff predictions from its staff, and all of the series for round two have the pundits and experts split.

Except for one.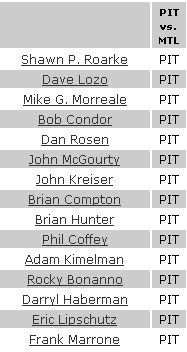 So that's funny by itself, but underneath that are their round one picks: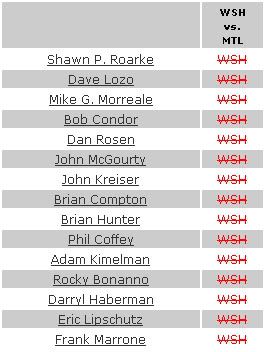 DERP

So the potential for upset is clear, as it would have been last round if anybody (myself included) had paid attention. In game seven of the Washington series Halak (who punched in a God Mode cheat or something, because what) stopped 41 of 42 shots, and the rest of the team blocked another 41 shots, so it's pretty hard to imagine the Penguins getting more chances on goal per game than the Capitals had in their eighty-three tries.

But then, of course, these are the Penguins; damn if they don't manage to get things done, even when it seems completely counterintuitive to expect them to succeed. (See: last year's Finals.) And, yes, I'm aware how strange that sounds to be saying it'll be tough to run up the score on an eighth seed. Anyway, I do wish Montreal the best of luck, but they're still small and unintimidating and rely entirely on the prospect of a hot goalie not losing a step at any point in the foreseeable future, so if they do pull it off again I'll be as surprised as anybody.

What I'd Want: Montreal in six. Shine on, you scrappy, overperforming diamonds!
What I'll Guess: Pittsburgh in fi... six. And by the start of next season the Montreal Canadiens wish Carey Price well in his future endeavours.

(6) Boston Bruins vs. (7) Philadelphia Flyers

Of the four series this round, this one should easily be the strongest in terms of sheer work ethic. Certainly that was how the two teams made it this far; Buffalo rolled over and died an uninspiring death in true Buffalo fashion, and New Jersey clearly must have thought they were supposed to save their energy for later rounds or something.

With both teams being similarly low-scoring, hard-working, tough-checking jerks -- particularly now, with major scorers on both sides out with significant injuries -- the difference might well end up being goaltending again. Rask was no slouch in his series, outdueling the Olympic Silver Medalist (!) and one of the consensus best goalies on the world, and I thought it was pretty funny when Boston tweaked Vancouver's Luongo routine and started going "TUUUUUUUUUU" every time Tuuka made a save. (They're not booing, they're saying--) But as good as Rask was, he wasn't even the most impressive goalie last round; Philadelphia's Boucher wasn't just good, he was the best.

Really I'm just hoping for some hilarious ultraviolence, and if anybody's good at inappropriate violence it's the Philadelphia Flyers, so I'm throwing my support behind them (and inevitably setting myself up for disappointment, because it turns out the league penalizes gleeful stupidity at frequent intervals).

What I'd Want: Philadelphia in four,
What I'll Guess: Philadelphia in si... seven. I have more faith in Boucher than in Halak, let's put it that way.

Playoff time! Yeah!