[Retroactively added to the Slurpees and Murder Record Club.]

Five months to go! The race for the Mayoralty of Winnipeg appears to be set, and there aren't a lot of players to memorize this year. Russ Wyatt and Lillian Thomas, who were polling at a combined nine per cent of the vote a month ago, both decided not to serve as honourary Pollock siblings this year -- so the two remaining choices for the Mayor of Winnipeg are a broken Magic 8-Ball that only coughs up 'ask again later' responses and a broken Magic 8-Ball that flips its answer to whatever you want to see and then flips again as soon as you turn your back.

Neither of the two candidates has laid out any real vision -- in Katz's case, we've been waiting six years -- and neither of the two candidates would get along well with our Provincial Government at all. (It's actually strangely entertaining to consider how ideologically dissimilar the Manitoba NDP is from its Federal namesake.) So aside from the city's nigh-insurmountable incumbent bias, the contest will really just come down to five months of shameless pandering, outright lies, and heelish, slanderous, meanspirited potshots.

Yes, it's going to get ugly and it's going to get personal, so it should be the blissfully dirty kind of campaign that takes a toll on the psyche of everybody involved and makes for decently entertaining politics. And when an increasingly desperate candidate completely loses his or her mind, there's always the nuclear option: a "Bring Back the Jets" crusade, which has never ever backfired on a prospective leader in the slightest.

So just in case the subject comes up, I want you all to be prepared -- and I have just the thing!

With my ongoing examination of historically and culturally significant primary documents in the name of Manitoba Homecoming 2010, it's time to dust off a blast from the past and share with you a compilation charity album commemorating our collective failure to retain our single ticket to ongoing international relevance.

That's right: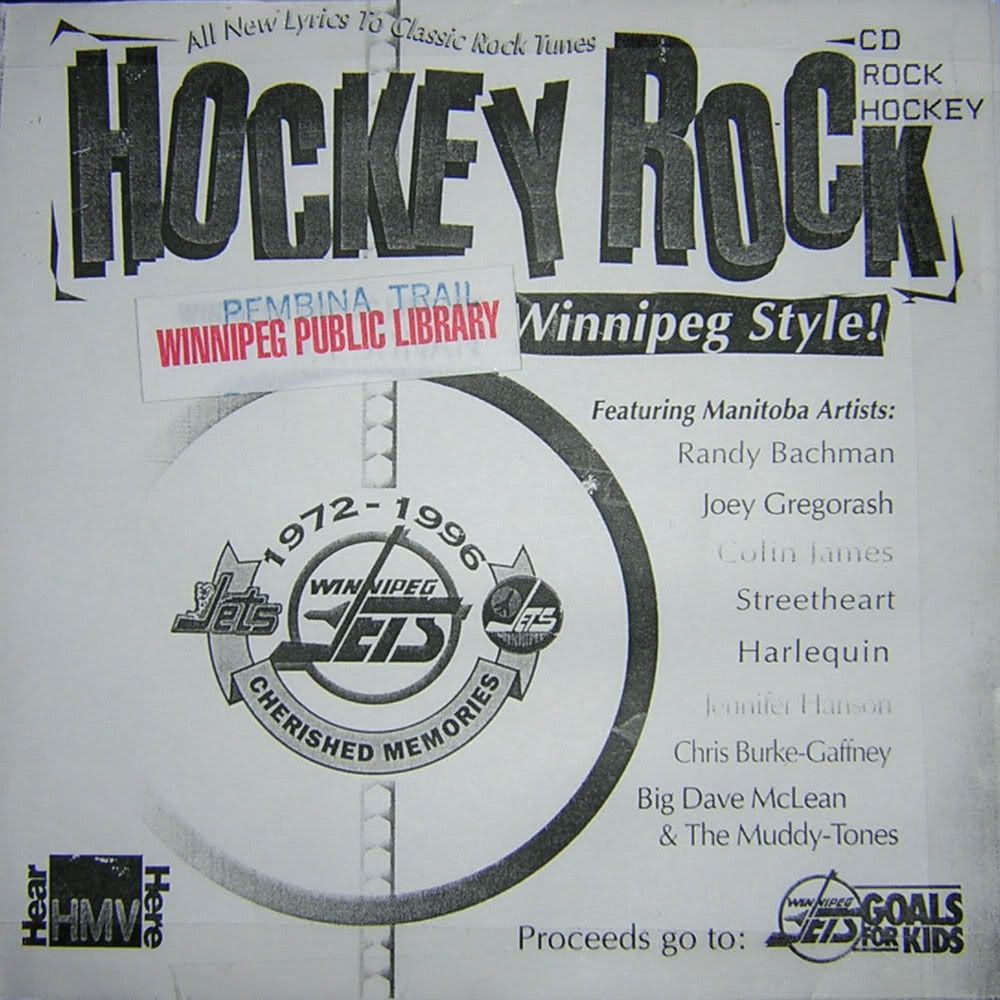 Hockey Rock: Winnipeg Style!, 1996, all proceeds donated to Winnipeg Jets Goals for Kids.

In the wake of the news that the beloved team would be packed up and shipped to Phoenix (and what a success story they've been ever since!), a surprisingly star-studded lineup of prairie talent gathered together to celebrate the life and mourn the loss of an NHL team that never achieved anything but somehow earned our loyalty anyway.

I had only put up a couple of the tracks the last time around, because I figured that interested parties could borrow it from the Winnipeg Public Library and investigate it for themselves. But the item has been listed as 'Mending' at the West Kildonan Library for months and months now, sitting damaged and inaccessible somewhere, so the civic obligation falls upon me to make the historically significant (if not necessarily 'good') album available to the people of Winnipeg.

Behold!

Winnipeg Jets Goals for Kids - Hockey Rock: Winnipeg Style! (1996)
[unofficial organization history | normally I'd link here to purchasing info, but nobody seems interested in stepping forward as the rightsholder and selling the album | keep an eye on the WPL catalogue record to see if they fix it, I guess ]

The whole album is -- to borrow an old Chester Cheetah line -- dangerously cheesy, but that's almost inevitably what happens when you combine hockey and music. (Which is not to say that the results of the combination can't be surprisingly entertaining in their own bizarre way, and I present these examples to support my stance.)

Despite being fundamentally uneven, and a ludicrous concept to begin with, the album has its own certain strange charm. Randy Bachman goofin' around with one of his biggest hits, some absolute groaners in the lyrics of various songs, Streetheart insisting they be called "Former Members of Streetheart", a completely incongruous reggae track out of nowhere, Big Dave McLean working his hoodoo magic that makes a sports team sound a lot more important than it was -- it's all here, in its glory, with the tags and album cover helpfully embedded for the iTunes-minded set.

And, yeah, I'll admit it: I like the Teppo Numminen-themed version of Harlequin's "Innocence" better than I like the original song. What, you wanna fight about it? Bring it! I'm right here!

It's worth noting that the album was limited to contributions from the original rightsholders of the songs included, ruling out the AC/DC hit "Thunderstruck" commonly associated with the team's home games. It also meant that the track in the following video was excluded, which works out perfectly well in retrospect because holy crap how did they get away with that line in the lyrics:



WAIT WHAT

In conclusion, we haven't had a National Hockey League team for almost fifteen years, and we as a city harbour a special sort of psychosis over the whole thing. It might pop up in the next five months, or it might not; hell, considering the current contentious land deals related to the Bombers and the past contentious land deals related to the Goldeyes, the Jets are actually a distant third in likelihood of discussion.

Either way, consider yourself ready! It's good to be sonically prepared, just in case.