The WIPs Year-End Special I'd previously mentioned didn't quite pan out, owing to some scheduling difficulties, but since it would have overlapped with the public hearing for the controversial Osborne Village Shoppers proposal I sort of doubt anybody noticed anyway. (Pundit-wrangler Tessa Vanderhart was embedded at the event and live-tweeted it on @internetpundits, if you'd wondered what the ambiance there was like.)

I had dragged out, dusted off and digitized a seasonally appropriate local album from the ol' record collection to use for musical interludes, and since the whole Christmas season will be over in three days I figure I should share it with you folks while it still makes sense: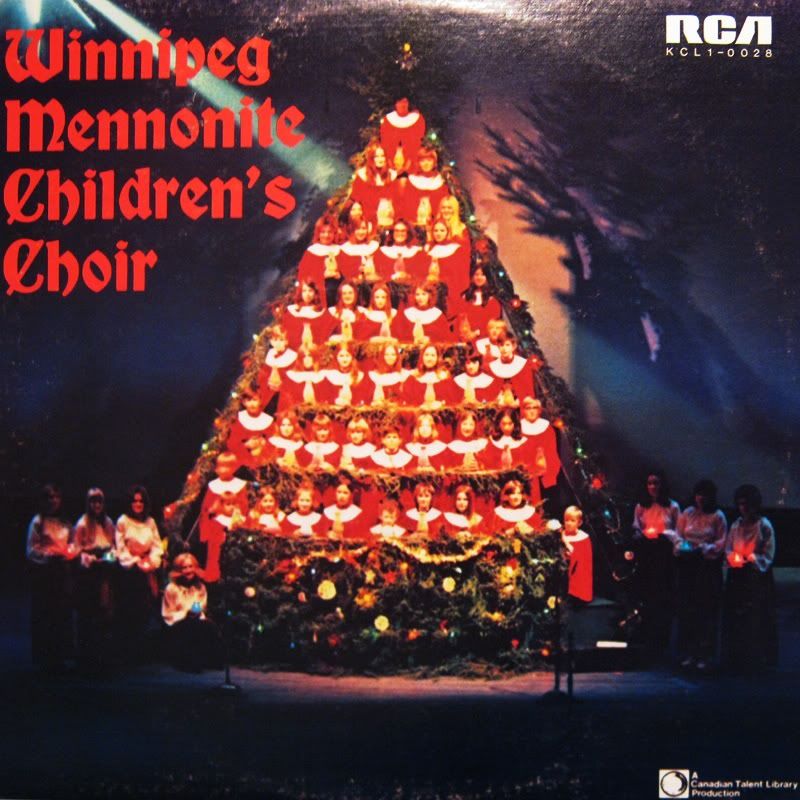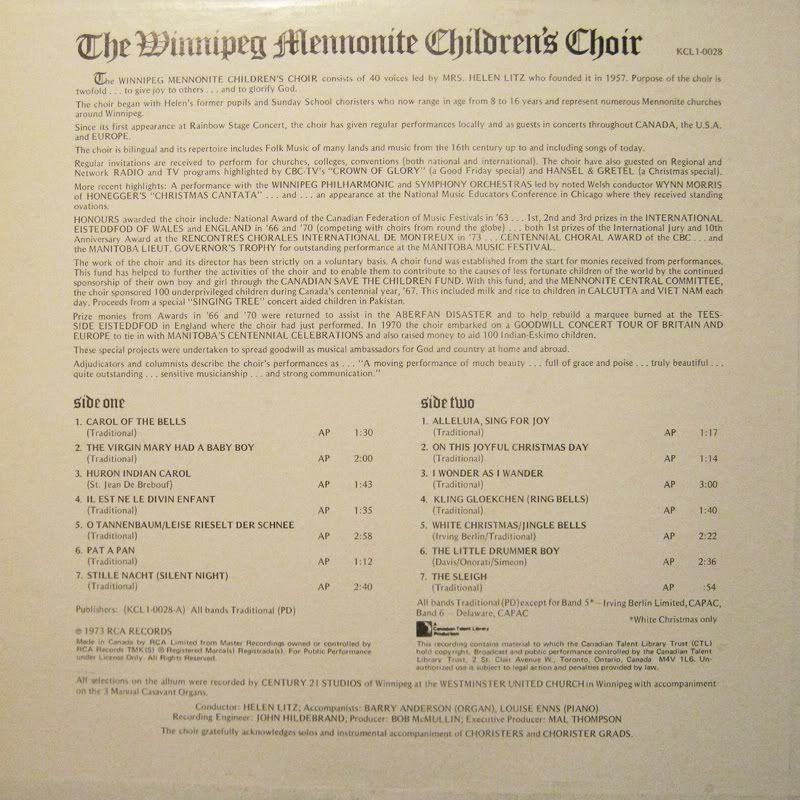 The Winnipeg Mennonite Children's Choir (1973)
[website | history | founder bio | I couldn't find anywhere that sells this album, so you'll just have to make do with this ]

I hope you don't mind a few clicks and pops here and there; I did what I could to clean the audio quality up, but the age of the item and the condition I found it in only allow for so many miracles to be worked. (There's one particularly unsettling warble in "Il Est Ne Le Divin Enfant" that I couldn't shake -- but, hey, maybe you like your Christmas music a little creepy.)

The tri-lingual fourty-voice choir was founded in 1957, this particular album recorded inside the Westminster United Church in 1973. I dig the song selection variety on this record; there are a some songs on here that you really don't hear very often any more, and many of the songs that tend to be overplayed this time of year are freshened up here by a switch into German.

(I'll be honest; I straight-up despise most of the standard Christmas repertoire, and it's not like it ever changes.)

I know I tend to overexplain when I post these, so I'll keep the highlights brief. "Alleluia, Sing FOR Joy" -- that's exactly how it's written on the album label, I don't know why -- is badass in its own curious way for a Christmas piece. "The Virgin Mary Had A Baby Boy" gets a surprisingly funky rendition, although a lot of that stems from the organ's effort. "The Sleigh" is less than a minute long, but dang if I don't enjoy every bit of it; I'd probably like all Christmas music a lot more if it involved this kind of urgency. I never quite know what to make of "Huron Indian Carol", but it's done as well here as it's done anywhere. And I really wish the audio quality were better on "Kling Gloekchen", because the two-part harmony in the first half of the song is really quite nice.

I rather doubt I'll be posting again before Christmas, so, Merry Christmas! And Happy Holidays, and everything else that applies this time of year. Only three more sleeps until Boxing Day, Winnipeg!