This is a feature that I haven't busted out in a while, so pardon me a moment while I brush the cobwebs off the ol' Slurpees and Murder Record Club: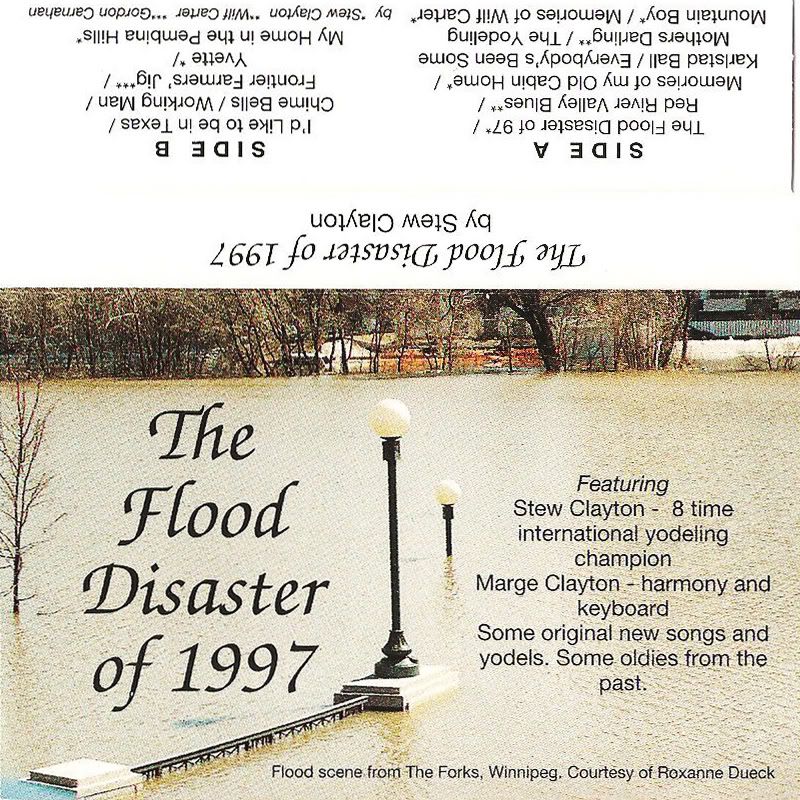 Stew Clayton - The Flood Disaster of 1997 (undated, cassette)
[ old-timey flyer | label page / store | so help me, I couldn't find a bio or personal site for this gentleman | and I would link to a purchasing page for this album if such a thing existed, but, nope ]

I've delved into the world of local flood-themed music once previously on this site, although I can understand if that first foray was a memory you have chosen to repress. Today's entry, I trust, should prove a bit more... accessible, even if you might not normally consider yourself an aficionado for the distinguished art of yodeling.

where are you going, come back here

Much about this album remains a mystery; there's no date information, no location or record company information, not even copyright information (except for the Dolby logo, oddly, which retains its registered trademark symbol). There are a few scant bits of artist information included, thankfully, so that gives us somewhere to start.

So who might this fellow be, he who summons the spirit of Montana Slim to immortalize our most famous local disaster? According to this article from a couple of years back, Manitou's own Stew Clayton -- "Yodeling Stew from Manitou", who occasionally tours with his daughter -- has been playing for over sixty years, has won eleven international yodeling championships (note that he'd only -- well, 'only' -- won eight at the time this flood album was released), has written somewhere around three hundred songs, and has recorded forty-four (!) albums.

Let me repeat that, because, wow, that bears repeating: forty-four albums. Guys, that's a lot of albums. His record label only lists ten, mind you -- so it would seem reasonable to assume that one or two of his albums have fallen through the cracks, over time.

It would also appear that he starred in a partially-animated documentary last year, one co-directed by Times Change(d) proprietor John Scoles. And Stew Clayton -- eighty-two-year-old Stew Clayton, possibly eighty-three -- is out there somewhere, right now, as we speak, yodeling or playing a saw or what have you. I'm not going to lie to you: this sounds like an amazing life, and I'm quite spectacularly jealous right now. If I ever learn to play a saw, man, clear out of my way.

But, I digress.

Stew Clayton has forty-four albums across his career; thirty-four or so are unaccounted for, and this album was one of them. Until now! Rescued from the oblivion of... where did I even get this? I think it might have been Value Village. Rescued from the oblivion of Value Village, and delivered piping-hot to your digital doorstep, here is a traditional country and yodeling album released in memory of the 1997 flooding. This is a thing that exists. Yes. Have at it.

I could go on at length about my favourite parts of the album, but you wouldn't read it if I did, so I will defer to your judgment and let you enjoy the album for yourself.

And that'll do it for this installment of the Slurpees and Murder Record Club! Tonight I get to go to a Winnipeg Jets game, so I'm pretty stoked about that, and then of course tomorrow is ManLinkWeek. So, until tomorrow, true believers!