ManLinkWeek ahoy! Later than intended, yes, but t'is the season; this is the brief but significant period of time when good weather and playoff hockey intersect, and when they do, hey, something's gotta give. I am finishing this post off during Game One of the Stanley Cup Finals, with the window wide open, trying with various levels of success to enjoy everything at once.

A housekeeping note, before I begin: the presentation notes from the Manitoba Libraries Conference, mentioned last week, are now online. So if you're interested in a bit of independent study on adult literacy, or data ownership in the Web 2.0 world, collection and classification decisions at the Canadian Human Rights Museum, or the public and academic libraries of Northern Manitoba, you'll find no better place to start than there.

As for this week -- one sure sign of the approaching summer, in Manitoba, is that locations outside Winnipeg start seeming a lot better and Winnipeg starts seeming a lot worse. So there's something of a conceptual split this week between the Winnipeg content and the Manitoba content, and I think you're going to be able to tell quite handily which side I'm more taken with this week.

But enough talk! Have at you, ManLinkWeek:

[The Crime Scene: Downtown Winnipeg: Personality sketches (and Part II)]
This is important reading; it is not easy reading, or encouraging reading, but it is important reading.

"But for me, here's the tragic kicker of Guimond's life: He's messed himself up so badly sniffing laquer fumes that there may be no coming back from it or assisting him.

"What I mean by this is: there was no programming for him because his mental illness isn't a 'diagnosed mental disorder' by which he could access assisted-living programs and possibly get right.

"Hell, when probation services called an agency (name wasn't given) to try and get him involved in some kind of 'mentor' program that may have been of great help, the agency didn't even bother to call the officer back."

These are the first and second posts in what is sure to be an insightful, enlightening, thoroughly demoralizing series, and I highly recommend keeping an eye out for its future installments.

[Global News: Census maps: Know your neighbourhood]
Installments of the federal census, however, only come but twice a decade, and they are never again going to be as useful as they were back before the Conservatives nerfed them for no particularly compelling reason. Have you ever started off at a job with complete access to the full features of the software you needed, then had your boss bust you back to shareware? No, you haven't, because that'd be stupid and counterproductive. But that's where we're at with census data, now and forevermore, so... get comfortable, I guess.

ANYWAY. Here is a series of maps breaking down the city's demographics changes by neighbourhood; to borrow from EarthBound, all the info is there, except for the info that isn't there. The landing page is a breakdown of change by median age in the five years between surveys; blue represents older, red represents younger, and green -- this took me a second to catch onto -- represents Kildonan Park.

Though I don't know what to make of this bit of information, you'll note that the Winnipeg neighbourhood aging the fastest is... the St. Boniface Industrial Park, apparently. Have they built a whole bunch of retirement condominiums or something out there recently? I do not, I'll admit, keep myself abreast of the city's retirement options.

[Winnipeg Free Press: Make residential splash at Forks]
One thing that I have been following is the ongoing Parcel Four saga, which... isn't getting any clearer, shall we say. Here's a handy summary of the site's history, its significance going forward, and the prospective effect that it could have on surrounding areas if developed as a mixed-use residential development in conjunction with the Forks North Portage Partnership's established long-term plans. So be sure to tune in next week, when the Mayor will arbitrarily blurt out that the site should be, I don't know, a Denny's.

[Urbicolous: Don't walk]
Everything is terrible; there's your local news. It seems a full year's worth of Winnipeg police reports, distilled into summaries, would lead any observer to take a grim view of his or her safety within the city; are the police reports this disheartening, this disquieting, in other parts of Manitoba?

As it turns out, uh... not so much:

[Pembina Valley Online: Article Tagged "Winkler Police Service"]
If you have never previously poked around in the archives of the Winkler Police Service's weekly reports, my goodness, you are in for quite the treat over the next hour or so.

A certain gravitas is expected in police reports, even for those matters which may not exactly match the required tone:

"At about 8:30 p.m., officers received the first of two calls about a male exposing his bare buttocks through an open car window while traveling on Main Street. The vehicle was located and the suspect spoken to."

"A resident of Red Robin Lane reported someone had siphoned about half of a tank of gas from his pickup truck in recent days."

"Officers assisted a citizen in determining why he had received 10 phone calls from the same number within one hour, in which the caller did not speak when the complainant answered. Officers spoke to the caller and learned he was trying to call a co-worker and not familiar with using his new phone. Officers offered a few suggestions to avoid a repeat of the situation."

"A resident of Poplar Bay reported a theft of loose change from his unlocked vehicle overnight."

"Four reports of mischief were taken consisting of a paint balled vehicle, a slashed tire on a trailer, a vehicle targeted possibly by a BB gun, and a Valentines Day complaint from a young man who awoke to find someone had glued a number of plastic flowers to his vehicle overnight."

Sometimes the attraction of an item is less in its situation and more in its description choices, be it the wording of the explanation or the inclusion of more specific details:

"A resident of Arcola bay reported 16 light bulbs stolen from a string of Christmas lights on his property."

"Officers responded to a call after a business located on Kimberly Road noticed one word of graffiti painted onto the side of a tractor trailer."

"The man advised he would not cooperate with a return to the hospital and in fact did not. One officer was slightly injured during the arrest."

"Initially the homeowner challenged the officers' right to be on his property. After the legal aspects were clarified for the man, he was advised to keep the music turned down, and that by doing so, he could avoid having to spend the remainder of the night in city property."

"The man had only a sketchy memory of the previous night, but did state that he would have to apologize to a lot of people."

I would be unforgiveably remiss if I did not make particular note of this passage:

"Officers received a complaint of assault when a young man with an injury to his mouth stated he had been punched in the mouth."

But in times of trouble or in doubt, when the people of Winkler and surrounding areas need a hero to rally around, everyone around knows who to turn to:

"A drug awareness program was conducted for approximately 175 grade 7 & 8 students at the Emerado School. The presentation was conducted by Cst. Arnie Klassen and his Police Service Dog TIKA."

"An office tour was conducted for 24 Winkler Elementary School Patrols. The tour included a K-9 demonstration by Cst. Arnie Klassen and his Police Service Dog TIKA. "

"While speaking to the driver, an odour of marijuana was also detected in his vehicle. The driver admitted to smoking marijuana in the vehicle earlier that day. A subsequent search of the vehicle with police service dog TIKA produced numerous baggies containing marijuana residue, as well as several articles of drug paraphernalia."

The Police Reports let you know when Police Service Dog TIKA's been doing anything. Anything, man! She's our champion! She's our superhero. What I love most about these is that the reports fully capitalize "TIKA" every single time, like she's a Japanese wrestler trying to bug the audience.

This canine appreciation is not a regional Winkler quirk, I should note. The practice is not dissimilar to the Winnipeg Police Service media releases; any use of the canine tracking unit is dutifully noted and featured in the reports, although the arrest is inevitably then credited to the brave work of the police helicopter for having been nearby while the dogs did all the work.

So, no, it isn't unusual to police reports to show appreciation for the canine unit; the difference maker here is just that Winkler only has the one dog. So why bother with the formalities? Just say TIKA did it; everyone reading it knows it was her anyway.

The Winkler Police Service also has professional headshots of TIKA available for media use, should anyone write an article about her --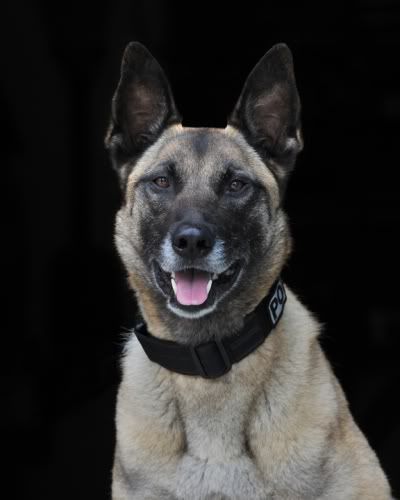 -- and either somebody made a slight flub on the Photoshop job or TIKA has a slot between her ears, like a piggy bank. Maybe that's how she gets her powers! Maybe you plunk a quarter in her and she does some Littlest Hobo magic until the meter expires. Put a whole dollar in there and she plays the music!

brb, writing short stories



I don't know if this is obvious yet, but I really enjoy poking through smaller-market media sources. You never know what you're going to find! Sometimes the simplest, most straightforward accounts can still surprise you.

[Interlake Spectator: The anatomy of the crafts show]
And, on the other end of the small-town reporting spectrum, sometimes you run into something like this:

"The great sociologists of the mid-20th century, especially the Germans Jurgen Habermas and Hannah Arendt, expounded at length on the function and sociological implications of public spaces, or the "public sphere" as Habermas called it. One of their common themes was that civilized cultures depend on a public setting in which to create freedom, in which to let unfold at will the spectacle of society.

"I argue that the Rec Centre in Winnipeg Beach on Saturday was just such a place."

There is nothing I could possibly write about this article that would make it any better than it is, so let me just conclude by saying that I'm legit jealous of the people who get to write for these outlets. Oh, I'm covering the Manitoba Sunflower Festival? Lemme just write this whole thing in iambic pentameter, see if anyone notices.

Let us take you back into Winnipeg, now, for one more link to close the post out:

[West End Dumplings: Let's blog a 150th birthday gift to Portage and Main !]
Winnipeg's iconic Portage and Main intersection, carefully preserved somewhere under its protective concrete shackles, turns one hundred and fifty years old this coming Saturday, June 2nd. It just so happens that my original plans for a really fun June 2nd post have been unceremoniously scuttled, so I figure I'll contribute something to this cause; feel free to contribute as well! We're all in this together, after all, and there are still (depending on who you ask) five to seven more years before we can enjoy the corner by doing crazy things like actually walking over it.

That'll conclude this go-around of ManLinkWeek; thank you for reading! And thank you for your patience. See you on Saturday, if not sooner; until then, Excelsior!