Good news, everyone! I placed third in the Ultimate Marvel vs. Capcom 3 tournament held in Regina last weekend, so I won thirteen dollars. Then we ate some tasty pizza (as well as some overpriced, not-particularly-tasty pizza; if you're in Regina, seek out Tumblers Pizza at your first opportunity and avoid Houston Pizza like the surprise-that'll-be-twenty-six-dollars-for-a-ten-inch-pizza plague), played some more fightin' games, and barreled back through the countryside to return to civilization. A good weekend, overall! Good weekend.

Anyway, because I use these opening moments now as a video-game-themed framing device for the rest of the segment, let me tell you a little bit about the game I'm currently playing. If you've never heard of Tokyo Jungle, the PS3 exclusive available for fifteen dollars through PSN, you are missing out on what has turned out to be one of my favourite games of this entire generation. It plays, to borrow some descriptive language from my little brother, like the finest lost Japanese PS1 game ever made. And the establishing plot of Tokyo Jungle, to summarize, is that a mysterious man-made cataclysm has led to the extinction of all human life in the area, with the deserted urban landscape of chemically poisoned air and water now home to hordes of abandoned feral animals battling each other for food and survival.

Ha ha, what an unrealistic premise! Completely ridiculous, I'm sure we can all agree; forget I even mentioned it. Hello and welcome to ManLinkWeek! First, tonight, our top sto--




--WHAT

[ Global Winnipeg: Raw video: St. Boniface fire (Oct. 1) ]
[ Metro Winnipeg: Video: Massive fireballs thrown into the air as fuel plant burns ]
[ Winnipeg Cat: OCTOBER 2nd, 2012 ]
So, yeah, this was a thing that actually happened. I don't know if you'd heard anything about it, it was a pretty low-key event. Pretty easy to miss, y'know, no big.

This being one of the largest fires in Winnipeg history, investigators are now working to figure out the cause; that reveal, whatever it is, is going to be an interesting story no matter what it turns out to have been. The fire also gives the Mayor something to act tough about, because maybe if he does that everyone will forget about everything else.

The cinematic fireball stretching into the sky even made CNN, bringing our the world exposure that it always so desperately crav--




Oh. Well... that's too bad. It's been that kind of an October for everyone, I'm afraid. (Ask Milwaulke.)

Okay -- so maybe there was a gigantic manmade disaster in St. Boniface, and maybe we don't actually know what the long-term fallout of an explosive extended chemical fire will be. But at least there aren't--

[ Winnipeg Sun: Feral cats colonizing St. Boniface industrial park ]
[ Winnipeg Sun: Could be 100K cats in Winnipeg colonies ]
--there aren't, uh... oh, never mind.

"Within ten years, there could be 80,000 cats born in this colony alone."

Hundreds of cats. Thousands of cats! Millions and billions and trillions of cats!

(Sorry. I took two classes in Children's Librarianship, and those don't ever wear off.)

Okay, so eighty thousand untameable cats storming around a chemically volatile wasteland may sound like a bad outcome, yes. But there is a bright side! If this is following the Tokyo Jungle model, then I can confirm from unfortunate firsthand experience that one alligator can wipe out six cats in about fifteen seconds -- so, by my calculations, all we need to do is set two alligators loose through St. Boniface and they'll have the whole problem solved within the weekend. Just... just don't get in their way for that weekend.

There are more stories of destruction and fire to come in this segment -- because it's Manitoba, of course there are -- but first, before we escape the Perimeter, let's mention a (modest) success:

[ West End Dumplings: Gordon Bell's "field of dreams" installed ! ]
Well, what do you know? They finally, really did it, the installation of the green turf concluding a few years' worth of intrigue and upheaval. I mean, okay, it's not a full field -- there wasn't enough room on the site to put down a full regulation anything -- but it's better for Gordon Bell than what was there before, and in this city everyone has learned to take progress where they can get it.

On to the hinterland! (The hinterland is on fire.)

[ CBC Manitoba: Southern Manitoba grass fires prompt evacuations ]
[ CTV Winnipeg: Raging wildfires prompt evacuation of town of Vita ]
[ Metro Winnipeg: Update: Manitoba town evacuated due to fire, reports of homes lost ]
The approach of winter storms is normally considered a bad thing, but with the way that everything has been lighting on fire as late it would seem that the snow can't come soon enough this year.

Thus far this week -- not counting the usual bouts of arson in the capital city -- there have been wildfires in or near Winnipeg, Anola, Grahamville, Milner Ridge, Ross, St. Laurent, St. Malo and Vita. And -- if you remove photogenic mushroom clouds from the equation -- Vita had the roughest time of it, losing four homes and a road bridge to the flames.

The bridge, it should be noted, was marked with at least one "ROAD CLOSED" sign; one woman, however, figured that she could probably still get over it.

This is her story.


Fortunately, no one died or suffered serious injury, so we don't have to feel guilty about laughing at this. Especially the firefighter's WHAT THE HELL arm waving, which is by far my favourite part; I really hope that was the guy that put the signs up in the first place. "WHY DOES NOBODY LISTEN TO ME?" Ha ha ha, aww. Forever-ignored fireman is hard done by.
Speaking of hard done by:
[ Thompson Citizen: Act now to get your CBC-TV service back ]
I recognize that my Thompson readership is basically nobody, but -- if you live in Thompson or you know somebody who does, and the disappearance of CBC-TV service comes up, here's how to get the free hardware and installation necessary to maintain its presence. So act now to avoid missing the National and... and there's no hockey, so, uh... man, I don't even know. Steven and Chris, I guess? Is that still a thing?
[ Beausejour Review: Beausejour's last grain elevator gone ]
[ ChrisD.ca: Historic Beausejour Grain Elevator Torn Down ]
Aww, geez. Aww, man, don't show me that, that hurts my soul. That's just incredibly depressing to look at. Aww.
Architects, I know that you're always looking for ways to make your work and your designs stand out, so listen: just build things that look like these. That's all I ask, that's all I want. Just take whatever decorated shed you've been asked to put together and slap the necessary exterior and roof on it to make it look like a grain elevator. You'll be celebrated very thoroughly, I promise.
And now, to round out this week's provincial roundup, let's check in at CFB Shilo and--
[ CTV Winnipeg: Shilo-based soldier faces charge for bestiality ]
. . . what
what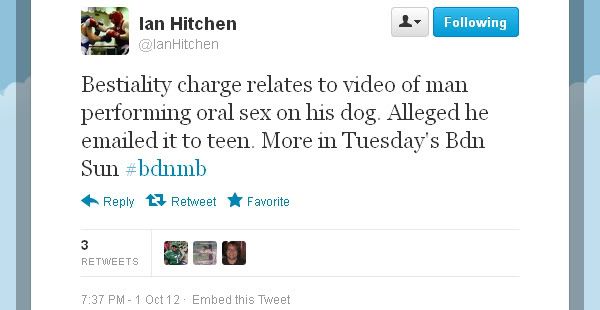 . . .
Well. That's enough internet for one day.
Thank you for reading ManLinkWeek!