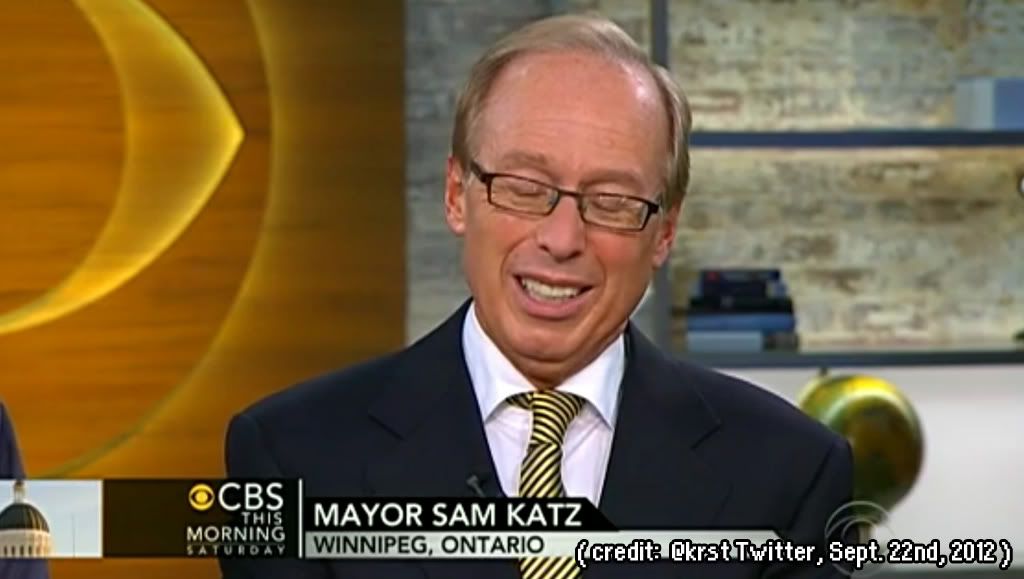 It's been that kind of a September for everyone, I'm afraid. [via]

I think we'll have to save the adventures of our dear beloved Mayor for another post entirely; for one thing, a list of his recent pitfalls and pratfalls is more than enough content to fill an entire ManLinkWeek segment by itself, and for another thing, we as a city can't go two or three days around here right now without something else making the list. ("He bought a what? From who? Ha ha, okay, but seriously. That's not real, is it?")

As for me, I'd obviously hoped to have this blog post up earlier than this, but the last half of this month has been a whirlwind -- partially from taking on a short-term second position, and partially from preparing to take off to Regina this weekend. That's right! By the time you read this I'll have traversed the highway to hell Saskatchewan's capital city, six- or seven-odd hours yonder thataway. And why am I, with my brother and a buddy in tow, going out there? For a video games tournament. I recognize that this sounds like an insane thing to spend thirteen-ish hours of weekend on the highway for, but A) their guys have driven out to support our guys before, so we want to show their first event some love, and B) you always knew I was crazy.

So let's do this! ManLink...ThirdofaMonth...ish oh screw it whatever Activate!

[ CBC Manitoba: Snow falls in Winnipeg on last day of summer ]
Because OF COURSE IT DID

This came a little earlier than usual, but don't be fooled; every year there's at least one freak snowfall of mystery like this one to try and lure some idiots into putting their winter tires on hilariously early, and now some poor suckers are going to wear out their treads in plus-twenty for a week or two because Mother Nature's got a really mean sense of humour about these things. (As though Winnipeg just regularly being Winnipeg didn't already clue you in enough to that last part.)

Speaking of causes of misery:

[ The View From Seven: Portage Place's 25th anniversary uncelebrated, but still significant for Winnipeg ]
[ CBC Winnipeg: Portage Place marks 25th year ]
[ Winnipeg Sun: Portage Place: Time to tear it down and start anew? ]
[ Winnipeg Sun: There's a reason Portage Place Mall guards wear bulletproof vests ]
Twenty-five years of Portage Place! Twenty-five years, my goodness. I'd put this together about the place back in 2010, and there isn't really anything much changed since then to report; like everything else in this city, the only real impetus for change will be when its aging physical structure starts to seriously crumble and then everyone starts panicking about what to do with it.

In the meantime, Happy Birthday, Portage Pl--well, no, 'happy' probably isn't the word--Best Wishes, Portage Place! And here's to... twenty-five... more?

Speaking of things that might last forever:

[ WHL.ca: 2012-13 WHL ON SHAW BROADCAST ]
[ Metro Winnipeg: WHL could benefit from NHL lockout ]
[ ChrisD.ca: Shaw TV Taking Viewers Inside the WHL ]
So, yeah, this is still a thing. The NHL cancelled part of its preseason, and then all of its preseason, and with no signs of swift resolution forthcoming it stands to reason that the regular season is next on the docket. So if you need something to tie yourself over for the foreseeable future (and remember, there's no guarantee the NHL will be back for next season, never mind this one), here is a whole bunch of entirely-coincidentally-timed WHL coverage information.

There are other hockey options as well, mind you, like the Manitoba Junior Hockey League -- which apparently gives out candy sometimes -- and some lesser-discussed lower leagues like the MEHL and and SEMJL. And then, of course, there's the KHL. I really, really want to do the KHL as its own post later, so... I'll do the KHL as its own post later. Once I'm back from Regina, anyway, I mean.

As bad as things may seem at the NHL level, however, I suppose it could always be worse; at the very least, the Jets haven't laid off their mascot yet. So that's something.

Although, speaking of layoffs:

[ ChrisD.ca: Free Press Cuts Seven from Newsroom Staff ]
[ Nothing in Winnipeg: This is the end, my only friend, the end. ]
[ WazooWazny: Breaking news ]
[ Anybody Want A Peanut?: Free Press & unions ]
[ Observations, Reservations, Conversations: Winnipeg Free Press Fires Seven News Staff ]
[ Nothing in Winnipeg: ...And This is Where the End Began. ]
[ Information Tsunami: The way ahead for journalism ]
[ Lin's Bin: Content really is everything ]
[ Winnipeg Internet Pundits: Sept. 22: Paying our dues ]
[ The Sausage Factory (Winnipeg Free Press): What did you think was going to happen? ]
[ Nothing in Winnipeg: Last ones in, first ones out ]
[ Winnipeg Free Press: What's wrong with the newspaper? ]
[ The Black Rod: Killing the messenger. "I don't read the paper." ]
[ Progressive Winnipeg: What the Free Press layoffs exposed: their priorities, ignorance, and backwards-ness ]
[ Winnipeg Internet Pundits: Sept. 26: We'll believe it when we hear about it ]
Well, I mean, this... okay, yeah, no, I don't think an abstract is quite going to cover this properly.

A lot of digital ink has been spilled already (as well as... whatever the equivalent metaphor for airtime would be) in trying to better understand and explain the reasoning and fallout behind the whole thing, but, man, where do you even start? The company-versus-union setup? The print-versus-online dilemma? The present and future of journalism locally, or of journalism as a whole for that matter? There's just a staggering amount to chew on here, no matter what angle you start nibbling from. (Please do let me know in the comments if I've missed any other important or unique material related to the case; I wouldn't doubt, in the overall kerfuffle, that something may have gone comparatively unnoticed.)

In the aftermath, I suppose, life goes on; the employed go back to work, the unemployed go looking for work, and the free-agent ticker becomes a miniature story in its own right. Adam Wazny has already been hired part-time with TSN 1290, and Melissa Martin is the new Chief Funancial Officer for Hot Virgin 103. (No, I didn't misspell that. Yes, I'm sure.)

But if prolonged contemplation of the future of journalism is just too dour an activity to pursue, I think I might be able to find something else more condusive to good cheer:

[ The Winehouse Winnipeg: MLCC Sale of Discontinued Products (via) ]
GUYS THERE IS HEAVILY DISCOUNTED WINE ALL OVER THE PLACE

THIS IS NOT A DRILL, GET TO THE STORE, GO GO GO GO GO GO

[ Slurpees & Murder (Uptown Magazine): You're welcome, City Hall ]
Hey, can I just -- can I just butt in for a second? Because here's how to SOLVE EVERYTHING. BAM. DONE. NEXT TOPIC.

[ Winnipeg CycleChick: This is Glenn ]
There's an important lesson in this: don't hit anybody when you're texting while driving. What? Oh. Sorry, I mean don't text while driving. That's a, that's a good safety tip.

And, finally:

[ little gray bird: one year here ]
[ little gray bird: dauphin area bucket list ]
I'll be honest, in the spirit of full disclosure, as humbling an admission as it may be for a man who does a Manitoba feature each week: I know very precariously little about Dauphin. It's not really on my way to anywhere, and it just doesn't seem to come up in discussion as often as other places, but, man, ask me what I know about Dauphin and I turn out to be just a really bad source on it.

I know it means "Dolphin", I get that part, and I know that Barry Trotz and Troy Westwood are from there, and... dang, that might actually be it. Oh, geez.

So I'll have to add Dauphin to my list of places to eventually get to, and there'll be no better way for me to approach the task than with the blog posts you see above and the dozens of leads contained therein. Hooray for more knowledgeable people!

Well, that should do it for this week(ish), so -- thank you for reading ManLinkWeek! Wish me luck on my sortie into enemy territory; I can't say that any of the official tournament games this weekend are really in my wheelhouse (somebody throw a Virtua Fighter tournament, I swear, you won't even know what hit you), but I'll do my best and hopefully catch some better players unawares. I'll be back in the city by Monday either way, so -- see you then!