Happy Earth Day, one and all, and welcome once again to the Slurpees and Murder Record Club!

After the worst major news week in recent memory -- filled with tax hikes and shootings and bombings and explosions and poisoned letters and attempted train attacks and gah -- it's a nice change of pace to unwind with the annual day of save-the-planet rhetoric, which each year closely follows the annual day of hey-brah-what-if-weed-were-legal rhetoric.

So, in celebration of Earth Day, let us gather around and enjoy a now-twenty-one-year-old local compilation album. One that was also in celebration of Earth Day. Uh... mostly.

Feast your eyes and ears upon: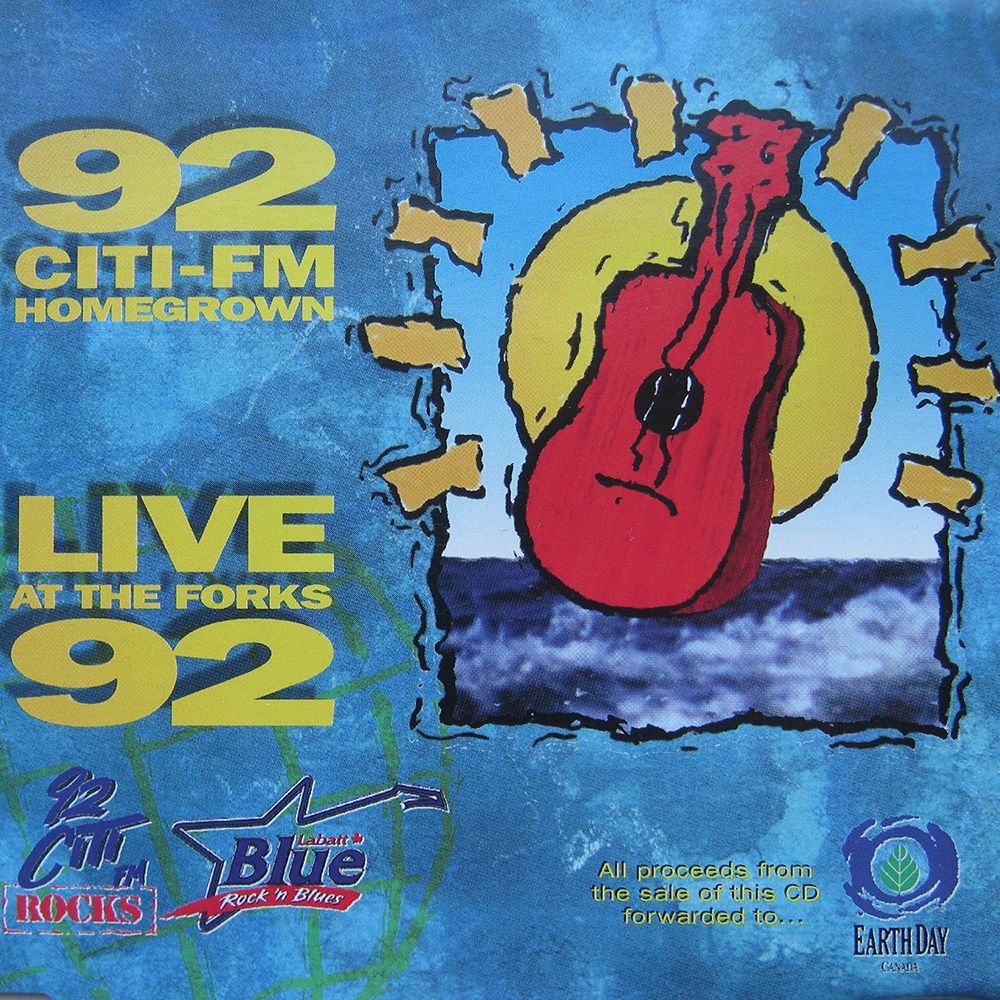 92 CITI-FM Homegrown: Live at the Forks 92 (1992)
[ I'd link to purchase information here if it existed | I'd also link to album information here, if it existed | dang man what is this, what am I looking at ]

Okay, see that track listing? It took me a long time to figure out what was going on with this track layout, here; the first three bands and five songs are combined into one twenty-five minute track, and then the other four bands and nine songs are all standalone tracks. That seem weird at first blush to anyone else?

As it would turn out when I eventually popped the album on, the standalone nine tracks are all studio cuts -- on an album titled "Live at the Forks", I know, right -- and the one really long track is a supercut of the actual live 1992 Earth Day concert.

Or, rather, a supercut of some of the concert:




That's a whole Earth Weekend, look at all that, dang. We were so serious about the Earth, you guys! Anyway, the Shadow Puppets and Cecil Brown are lost to time now -- perhaps left off the album as unbefitting the CITI-FM format of the day -- but we have some of what went on that evening, and it is condensed into that one long starter track.

So who are all of these bands on this CD? Information availability is spotty, but I'll do my best to flesh 'em out. Before my time, many of these, y'see.

All I can discern about opening act Rustle the Fish is that their bassist was named Sandy Chochinov, and that no trace of their existence dates past 1993. (Also, I've very nearly called them The Rumble Fish every time I've typed their name.) Their last confirmed sighting in the local papers places them at the Bella Vista in March '93--




--and their contribution to this album suggests that they did their best to write like Tom Cochrane. But who didn't, right? This was 1992 in Canada, c'mon. (I'd've been eight at the time, and I can remember hearing Life is a Highway absolutely everywhere -- including a strangely vivid memory, for some reason, of it playing while I was in a plastic ball pit.)

Electric Lunch Orchestra are perhaps best remembered for appearing on a ubiquitous 92 CITI FM Christmas album, but here they contribute a couple of tracks in the name of commemoratin' the planet.

"Y'know, you don't have to be blind, or, or anything, to, to wanna see--you don't have to... be deaf, to want to hear, but--you gotta be crazy not to want to save the Earth, it's for everybody! And if we don't make some steps, soon, to do something about it... we're gonna find we don't have one. We're gonna be left with the end of the world."

And that's your lead-in into the song Until the End of the World ("Untill" in the jewel-case inset, but the inset also notes the "many Winnipegers [sic] achieving natioal [sic] and international recognition", so, y'know); can you tell from this track that this came out the year after U2's Achtung Baby dropped? I bet you can! That said, it's a pretty good tune, you'll probably like it.

"How 'bout a big hand for the Sun?" [crowd applause] "Let's keep it behind that ozone thing, shall we?"

Then the audio clips off -- this twenty-five-minute track is not the most seamlessly edited of all time, shall we say -- it clips over to the Electric Lunch Orchestra's next song, The Burning. The Burning -- and please understand that I do not necessarily mean this to be derogatory -- kind of sounds like something they'd pipe through the animatronic band at Chuck E. Cheese. It's got that certain tempo, y'know? That certain combination of singalong-friendly writing and light lyrical touch. It was the early '90s, whaddya want, y'know? It is also significantly worse than the song before it, but ehh, so it goes.

On that early-'90s note, we move on to our next act, Voice of Boom; the reggae-inspired act broke up at some point in the mid-1990s, but have reunited as recently as two years ago. And I know that I just mentioned this, but I seriously cannot stress enough how amazingly early-'90s this band's section is.

It kicks off with a total Sonic the Hedgehog synth line, and then they start rapping over bongo drums, because, I mean, the early '90s. "LISTEN UP, LISTEN UP--Y'KNOW WHAT--" Okay, I definitely have to transcribe this part verbatim, I need you to understand what I'm talking about here.

"LISTEN UP, LISTEN UP, Y'KNOW WHAT--WE GET A LOTTA YOUNG PEOPLE COMING UP TO US AND TELLIN' US, Y'KNOW--(yeah)--WE SURE WISH WE WERE AROUND DURING THE SIXTIES." [crowd noise] "BUT I GOTTA TELL Y'ALL SOMETHING -- THE NINETIES IS THE GENERATION TO BE IN."

Immediately followed by this rapped verse, also transcribed verbatim:

"THIS IS THE GENERATION THAT WILL ELIMINATE RACIAL DISCRIMINATION (this is the generation)
THIS IS THE GENERATION THAT'LL BRING PEACE, TO EVERY NATION (this is the generation)
THIS IS THE GENERATION THAT WILL SAVE OUR SISTERS FROM FURTHER DEGRADATION (this is the generation)
THIS IS THE GENERATION OF PEACE--THE GENERATION OF LOVE!"

So... that happened. Any '90s kids wanna let me know how that's going? That's gotta be pretty much all taken care of by now, right?

Following that song, they do a little spoken-word intro about reggae ("One love!") and then move into, uh... not reggae. It's sort of debatable what it is, but I can safely confirm that it is not reggae.

(That little section of "Get Down Tonight" they do? Drink in that synth keyboard. My word.)

And that concludes the twenty-five-minute Earth Day Segment track, which also concludes the live section of the album, and also concludes everything related in any way to Earth Day. The rest of the album, as noted earlier, is all unrelated studio tracks.

The studio component kicks off with the Watchmen, wh--okay, I am pretty sure you're already aware of The Watchmen. So you'll want to lean in a little, here, because there's some pretty cool material in here.

These are mega-rare early pre-McLarenFurnaceRoom demos, possibly the earliest Watchmen material ever made available for purchase; the early version of Anything But That is actually pretty close to how you remember it from its studio version, but Mister without the opening effects on the guitar (and a noticeably different vocal track!) is just, whoa, what. And check out that backup-vocal 'aaaaaaah' harmony at the end! This is the happiest that the song has ever sounded, which is probably why they elected to cut that bit from the final version. I mean, remember, it's a song about a drug-addicted prostitute being dressed up in a nun costume and then mercilessly beaten by a client, y'know? Earth Day.

But the real attraction here is the track Brother, which didn't make it onto the final tracklist of McLarenFurnaceRoom, and which was never released anywhere else. So that's cool! Whatever else I'd been expecting when I picked this album up for two bucks, I certainly didn't expect it to reward me with a lost pre-first-album Watchmen rarity.

The next band featured on the CD is Tooth 'n Nail, who formed in 1989 and chugged along for another two decades; their website disappeared around 2008, according to Internet Archive records, but you can read the band member profiles from that era if you'd like. (The drummer, notably, also owned and operated Albert Street Burgers.)

You can watch them backing up Burton Cummings in 1993 on VPN's Hard Rock Heroes here; Tooth 'n Nail would then later (much later) open for Burton Cummings at the 2008 Tim Hortons Brier. So that's who they were, if you were wondering; their tracks on this CD aren't my bag, exactly, but you might dig 'em.

A couple tracks then follow from the Deadbeat Honeymooners, which included members from The Pumps and Orphan, summarized as follows:

"The Deadbeat Honeymooners were formed in the early 1990's, consisting of Chris Burke Gaffney, Terry Norman Taylor, Blair DePape and Barry G. Player.
The band released only one album in 1992 on Rush's Anthem Records. Radio favorites were Hard To Be Humble, and Dial L.O.V.E (which a video was made for). The band toured on a cross Canada Music Festival with Brian Adams, Steve Miller Band, Sass Jordan, and Extreme, as well opened for Robin Trower and Kim Mitchell. In 1993 they were the support act for Guns N Roses at the Winnipeg Arena."

Neither of those radio favourites are included here, but if you like strutty early-'90s rock, oh man, here it is. Try and ignore the cowbell and tambourine parts in Temptation, go ahead and try.

And we close with Crimson Garden, who... basically do not exist. They turn up in one line of some dude's resume that comes up in Google -- as resumes do sometimes; looking at those is always a little weird, isn't it? -- but otherwise, nope. Mystery band! A mystery band with a single mediocre Bryan-Adams-y song, though, so... maybe it all works out the way it should.

From all of us at the Slurpees and Murder Record Club to all of you: Happy Earth Day 1992, everyone!