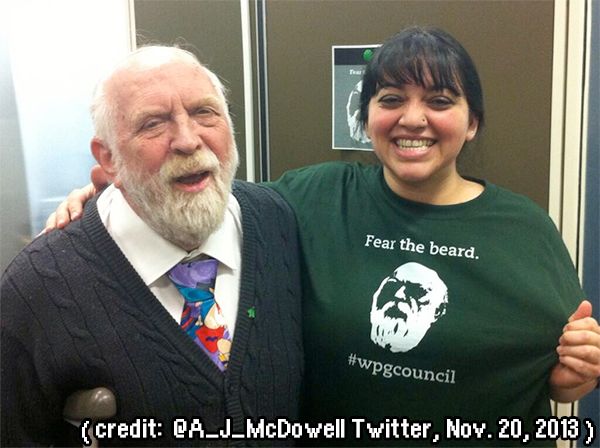 Yo dawg, I heard you like Harvey Smith, so we put a Harvey Smith by your Harvey Smith so you can watch Harvey Smith while you watch Harvey Smith. [ via ]

Hello and welcome to Manitoba Links Weekly! This week on Winnipeg Internet Pundits we talked a seven-million-dollar-fence proposal (no, seriously), the Province's precarious spending-spree tendencies, and an audit call that was struck down and has subsequently become more powerful than you can possibly imagine. Plus other topics! It was a good show, give it a listen.

Ah, but there's by-election business to attend to, isn't there? Prepare yourself for ManLinkWeek!

[ CBC Manitoba: Stephen Harper mails byelection voters, says he 'needs' candidate ]
[ Maclean's: Stephen Harper vs. Justin Trudeau in Brandon-Souris ]
[ Winnipeg Free Press: The bloody battle for Brandon-Souris ]
[ Toronto Star: Poll puts Liberals ahead in three byelection races ]
The Brandon-Souris by-election, I think we can all agree, escalated quickly. I mean, that really got out of hand fast.

Let's sequence-break a little and jump straight to yesterday's Brandon Sun, because this was--well, see what you make of it:




What you are looking at is a full four-page wrap advertisement enveloping the rest of the newspaper, effectively serving to the public eye as the front page of the paper that day. There are ways to make the advertising not look mistakable for the front page, but, well, that'd spoil it, really, wouldn't it?

I didn't realize this was a thing that a party could do, or rather a thing that a newspaper would look at and approve -- publisher Bob Cox's reaction to the controversy was to make dollar-rubbing motions with his hands, so there's your answer on that -- but here we are. What an exciting new world of possibilities! ("If You Don't Vote For Candidate A, We'll Kill This Dog.")

I don't know how much the full-envelope ad package costs, vis-à-vis the upper election spending limit of any given riding, but let's say that hypothetically a candidate wants to buy up the last few wrap-front-pages of a newspaper leading up to election day. Run a series of just-coincidentally-advertising not-headlines like "Candidate A Shows Leadership in Debate", "Candidate A Surges Forward", "Candidate A Carries Momentum Into Election Day". What's to stop them? Apparently nothing, right? So long as they're in a different font and worded delicately enough to not be editorial (as funny as "Candidate B Just a Huge Piece of Trash" would be), a candidate could theoretically monopolize the not-front-page of the riding's paper of record right through to closing time. Hey, if the paper doesn't mind, may as well!

(I keep using "a candidate" above instead of "I" because I know me too well; I'd use the space for madness, just bombarding the riding with branded origami instructions and paper-doll cutouts and other wacky stuff. Politics and I aren't ready for each other, man.)

Surprising newspaper not-front-pages, federal party leader appearances, unverifiable 'insider' letters, an initially-favoured candidate skipping debates and stonewalling media -- the whole shebang! Things have ramped up to altogether bizarre levels in Brandon-Souris, and a riding that wasn't even supposed to be in play to begin with suddenly somehow seems the single most important prize in Canadian politics.

Even more interestingly, and perhaps even more bizarrely, the Conservatives' full-court press -- personal letters from the Prime Minister, hilariously negative mailouts, questionably-accurate marijuana fearmongering, even the alleged deployment of Jenni Byrne to the riding -- doesn't seem to have found purchase. Rolf Dinsdale -- Facebook-employment-falsifying, Jesus-Got-Wood Shit-From-Hell, he-didn't-come-back-for-you Rolf Dinsdale -- now holds a fourteen-point lead, and has gained ten points in the polls over the past two weeks. Correlation not implying causation, of course, but I can't remember the last time Manitoba saw the federal Conservatives fire up their usually-very-well-oiled machine and then lose thick chunks of ground regardless. (Plenty of time between now and Monday yet, mind you!)

This has been a monster entirely of the Conservatives' own creation, remember; in traditionally safe ridings where they didn't pooch the nomination process from the outset, a Conservative candidate could publicly impugn a homosexual high school student without provocation and still lead by a nigh-insurmountable margin.

Hypothetically, of course, I mean. Hey, let's check in on Provencher!

[ The Carillon: Falk weighs in on Bill 18 ]
[ Winnipeg Sun: Falk called bully after Steinbach interview ]
[ Global Winnipeg: Controversies erupt as byelections near ]
[ CBC Manitoba: Tory candidate keeps low profile in Provencher byelection ]
[ The Canoe (Kyle Penner): An Open Letter to Ted Falk ]


WELL, THAT'S ENOUGH BY-ELECTION FOR TODAY. Back now to Winnipeg, where the arrival of winter (with a vengeance!) highlighted a surprising disappearance:

[ CBC Manitoba: Slippery sidewalks website shut down amid public backlash ]
[ surefoot.org: The SureFoot Winter Walking Conditions Bulletin is no longer available ]
Twenty-one months after its much-touted launch, and twelve months after it started malfunctioning and broadcasting summer weather, Winnipeg's SureFoot.org has been officially and unceremoniously shuttered.

And do you know why they pulled the plug on what they heralded as the world's very first slippery-sidewalk online bulletin service? BECAUSE Y'ALL'RE JERKS, THAT'S WHY

"A website launched by the City of Winnipeg to warn the public about icy sidewalks has been taken offline because it was publicly mocked so much."

THIS IS WHY WE CAN'T HAVE NICE THINGS, WINNIPEG. Things that nobody used and that didn't work properly, BUT NICE THINGS NONETHELESS. Allegedly nice, I mean; I, uh... never looked at it. BUT STILL.

Alas, SureFoot has gone to that great webserver in the sky, where it can run and play with new friends like the Responsible Winnipeg website and that now-lost MTN Christmas Tape with the foulmouthed Buckley and Beave outtakes. SureFoot isn't suffering any more, sweetie. SureFoot is very happy now.

This segment got a little weird, didn't it? Kinda went to a weird place there. Okay, moving on!

[ The Western Producer: Beer solves guys' problems ]
This is actually a feature article on the origin story of the Warwaruk brothers' Luxalune Gastropub and Farmery Beer, but you might not've made that connection from the headline if I hadn't told you. Not that I'm arguing with the headline, having said that! (I can confirm that if I could afford beer right now I'd have a lot fewer problems.)

And y'know what always goes well with beer? I think this post could go for a pizza--

[ pizza222.com: Pizza | Pizza Delivery | Take Out | Winnipeg ]
oh my holy christ god my sides I can't even

I want to note here that there doesn't seem to be one single unifying Flying Pizza website; Flying Pizza franchise owners instead seem to be left responsible for handling their web presence themselves, as this site site and this site would also seem to indicate.

I don't want to spoil anything for you. I want you to experience pizza222.com for yourself, every page of it, with a sense of childlike wonder and discovery. Take it into your heart, make it a part of yourself, and allow it to reveal its secrets to you. It is glorious.

[ The Uniter: Winnipeg through the eyes of a tourist ]
"Personally, I never realized how much Winnipeg has to offer until I started meeting people who are not from here. Whenever you visit a new place, you seek out new adventures and experiences to revel in. It intrigued me how positive most of these people were about this city. Perhaps these are the people to ask what our city is all about."

This is nice! This is a nice read, a nice change of pace from everything else you and I spend our time reading. Give it a whirl, I think you'll like it.

And, finally:

[ Around This Town: It's worse than you think ]
I'd linked to this off the top of the post already, but seriously, y'all need to read this. Read it carefully and diligently, absorb it, take it within yourself. If you can come back after reading that and give me an economic silver lining that our fair province can look forward to, I will be very excited to hear it, because right now I feel like our shared language needs to find a power-levelled form of 'bleak' to properly describe the situation. It is superbleak. Megableak! ULTRABLEAK.

Thank you for reading ManLinkBleak! ...Week. ManLinkWeek. See you next time, friends!