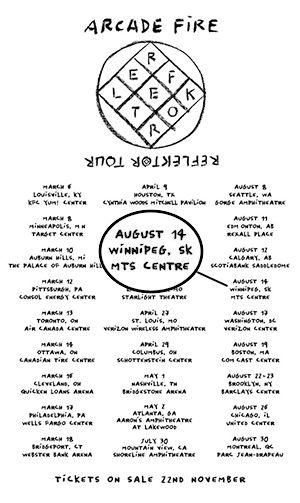 I suppose it's up for debate whether or not this is better than Winnipeg being in Ontario, but the gaffe is that little extra bit more galling coming from other Canadians. I'd ask "what do they teach in Montreal schools these days?", but the answer is probably just Habs trivia and how to accept mob bribes. [h/t to Stereogum and, uh, pretty well everyone on Twitter that day ]

Hello and welcome to Manitoba Links Weekly! How're you doing, you look lovely.

This week on Winnipeg Internet Pundits we tackled the provincial throne speech, what it meant (or rather, probably didn't mean) for rapid transit, and the possibility of abolishing the Executive Policy Committee model. The show went well, and I think you'll dig it, so give it a whirl if you'd missed it.

Onward, to ManLinkWeek! Let's lead off with some fine throne-speech content released later in the week:

[ Around This Town: The Premier is "probably" lying. ]
[ CTV Winnipeg: Manitoba eyeing federal, municipal cash to help pay for infrastructure promises ]
[ Winnipeg Sun: NDP admit infrastructure promises don't add up ]
[ Winnipeg Free Press: $5.5B for infrastructure misleading figure: Tories ]
Good news, everyone: we've committed to dramatically ramping up spending -- way over what we're taking in, including money we don't even have -- and we aren't going to cut anything, but the books will balance anyway somehow because I don't know man just trust us on this. Everyone got that? You bought that, right?

The post by Derick-slash-cherenkov I've linked at the top is tremendous, and required reading, but what I love the absolute most about it is the A&W metaphor in the explanations section. Because, man, you can just picture that, can't you? If you've ever tried to write like you're in Selinger's head -- as one does -- you come out feeling pretty cloudy afterwards. And the line also put me in mind of various parody Twitter accounts, so let me just put on the record right now that I would absolutely 100% follow a local mashup account like that.

GREG THE TYPE OF PREMIER TO PAY FOR A TEEN BURGER WITH A HUNDRED AND FORGET HIS CHANGE
GREG THE TYPE OF PREMIER POSES FOR PICTURES WITH GANG MEMBERS CAUSE THEY SEEM FRIENDLY
GREG THE TYPE OF PREMIER TO COME SECOND IN POLLING WITHIN HIS OWN PARTY
GREG THE TYPE OF PREMIER NAMEDROPS DUDES BUT GETS THEIR NAMES WRONG
GREG THE TYPE OF PREMIER TO KEEP COMPLAINING ABOUT STUFF THAT HAPPENED IN 1998
GREG THE TYPE OF PREMIER TRIES NOT TO LOOK UPSET WHEN PEOPLE STILL SLIP UP AND CALL HIM "GARY"

Get on it, local poli-goofsters! You can have this idea for free, I know y'all love your parody accounts. (And while I think of it: I feel like now would be the perfect time for someone to start up a new Bob Axworthy parody account, because, hey, who'd see it coming now?)

Moving on:

[ Winnipeg Free Press: They fought for your right to party ]
Happy belated Remembrance Day, one and all! There are eighteen Legions remaining in the city, and most or all of them are endangered, so head on out to one and show 'em some love. Heck, hit all eighteen! OH MAN WE SHOULD DO AN INVESTIGATIVE TOUR OF ALL EIGHTEEN. Okay, this is happening, I'm forming a posse and doing this as soon as I find employment again.

(If you know anybody looking for a librarian, writer, researcher, play-by-play/colour commentator, voice actor, or Serving-it-Safe-pre-approved bartender, holler at y'boy. My best ideas and plans always seem to require money, it's funny how that happens.)

I'm serious, though. Legion tour. We doin' this.

Meanwhile, in Brandon:

[ Winnipeg Free Press: Maguire ducks election debates ]
[ CBC Manitoba: Mulcair, Trudeau make byelection stops in Brandon-Souris ]
[ Brandon Sun: Grits still in the lead: Poll ]
By-election fever -- catch it! The long and dramatic Brandon-Souris saga continues apace, activity and excitement swirling ahead of the much-anticipated November 25th vote; advance polls are now open, as well, if you're in the riding and just can't bear to wait.

Now, skipping all of the debates in a tight race may seem like an odd strategy, but it worked for Joyce Bateman (for some reason). So you'll definitely want to keep an eye out for... alternate strategic initiatives, over the next nine days. I'm not saying, I'm just sayin'.

Meanwhile, in Toronto:

[ Spectator Tribune: The Winnipeg-Toronto equivalency test ]
I've spent the last couple months or so trying to work Jess Chapman's "Parting wishes for Winnipeg" article onto WIPs one way or the other, and I never quite figured out how to do it, so I'll balance that out by including it here underneath her Winnipeg-transplant guide to Toronto hotspots.

There're a lot of Winnipeggers in Toronto, but then, there're a lot of Winnipeggers everywhere. Humour me a brief anecdote: when I was doing my MLIS in London, Ontario, I met an M.Econ student who was also from Winnipeg -- at The Grad Club, because where else would UWO/Western grad students run into each other -- and he told me about an economics conference he'd just been to where the keynote speaker was also from Winnipeg. So he brought Winnipeg up with his fellow Winnipegger afterwards (as we all do, infamously, when we meet each other in the wild), and the keynote speaker dropped this perfect line on him: "Winnipeg is the best place in the world to be from, because everything else seems so easy afterwards."

I always dug that.

Y'know what, while we're linking Spectator Tribune pieces:

[ Spectator Tribune: Top 7 Shindico Jokes ]
Okay, so, here's the thing; I'm not super-sold on the execution here -- humour uh (clears throat) humour being subjective and all -- but I'm very much enamoured with the idea, and I most definitely appreciate the author's commitment to working in a Letterman-at-the-Oscars-style joke. ("OPRAH -- UMA! UMA -- OPRAH.")

While 1001 Shindico Jokes may already be finished and off to print, I'm familiar enough with publishing to know that its success will inspire other houses to rush out similar books shortly thereafter -- so here are some selections from my purposefully-derivative manuscript-in-progress, The Big Little Book of Winnipeg Jokes (working title), coming soon to fine local bookstores near you.

Q. How many Shindicos does it take to change a lightbulb?
A. One, but the lightbulb has to be broken up into four parts first for some reason.

Q. How many Phil Sheegls does it take to change a lightbulb?
A. None; he gets paid for it, but Joshi's the one doing all the work.

Q. How many Sam Katzes does it take to change a lightbulb?
A. Well first of all, y'know what, I don't appreciate the insinuation that the lightbulb is burnt out. That's the media saying that, that's you guys saying that, I don't say that, and I certainly don't agree with that. Okay? That's number one. Number two is, and I've said this before, I -- Bartley, I don't appreciate -- I've said before, if and when the lightbulb is burnt out, there's one person, okay, do you know who makes that call? Yours Truly. Okay?

Q. How many left-leaning Winnipeg councillors does it take to change a lightbulb?
A. It doesn't matter, they can't change anything.

Q. Why did Thomas Steen cross the road?
A. (Conspicuous silence for three seconds.) DO YOU LIKE HOCKEY

Q. Why did Judy Wasylycia-Leis cross the road?
A. Well first of all thank you all for being here tonight and for providing this forum and uh and I just want to say I think, uh, I think we all need to understand before anything else that the STRENGTH, that the STRENGTH of the road is its COMPASSION and uh and its HEART, and y'know and I think that really that's what unites us all is uh an UNDERSTANDING of the importance and uh the root causes involved and y'know that's the core of it is the root causes and if we can uh address those we can LOOK FORWARD to TWENTY-FOURTEEN. Thank you.

And, of course:

Q. How many Winnipeg city councillors does it take to change a lightbulb?
A. It really doesn't matter, the Province has all the power.

The Big Little Book of Winnipeg Jokes, (working title), soon to be submitted to and rejected by countless local publishers.

Today's post got a little goofy on me, I've just noticed. Huh. Moving on!

[ Love me, love my Winnipeg: Horrible blogger returns... with Pancakes! ]
DID SOMEONE SAY PANCAKES

And, finally:

[ Winnipeg Santa Claus Parade: Parade Day Activities ]
That's right, Winnipeg -- tonight is the annual Santa Claus Parade! Get on out there and enjoy it; I've gone to it every time I've been in town for it and I've never once felt let down by it, even on those years (plural) they failed to get Santa under the bridge and to the Forks in one piece.

Tonight, however, I am not in town; I'm hiding out at Oak Lake and visiting my Dad until Monday or Tuesday, so I guess you'll just have to go in my place this year. Go on, get out there, you'll have a good time. Enjoy it!

And thank you once again for reading ManLinkWeek! I'll see you around real soon, true believers!