Sometimes in our crazy, fast-paced, mixed-up world, it can be hard to tell where your favourite newspaper stands. Do the writers and editors lean more to the right or more to the left? Which stories do they want to accentuate, and which do they want to downplay?
Well, wonder no longer! Now you can sort everything out, and have fun doing it too! That's right, it's the new game craze that's sweeping the
exotic nation of Europe
globe -- it's time to play
Spot the Priorities
!
Let's begin! Consider the following examples, and be ready to blurt out your conclusions at any time!
When first looking at a neatly folded copy of today's Winnipeg Free Press, the main headline -- and the middle third of the page -- focuses on the results of the Canadian Wheat Board directors' elections:
Likewise, when the paper is opened, the story takes up the entire effective content of the third page under the headline 'TOP NEWS':
Consider!
Now, with that in mind, here is the coverage alloted to the event by the Winnipeg Sun: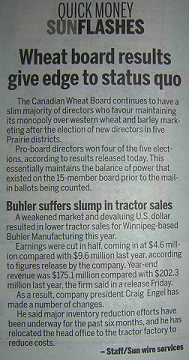 A two-paragraph, three sentence blurb buried in the bottom-right corner of page 18, in the Money section.
Spot the Priorities
! Sure to be a hit at
your
next family game night!
Until next time, remember -- be wary, have fun, and don't trust anyone!
Magnetic Fields - I Don't Believe You
[
buy
]