Winnipeg Free Press, you know I love you, but--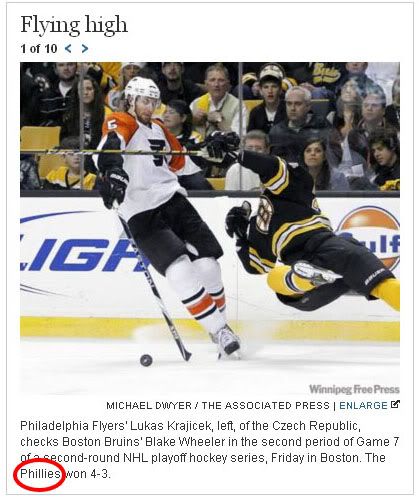 Really, guys? Really?

Yes, the Stanley Cup Playoffs continue early this afternoon, but I'd like to take a moment first to pursue some good ol'-fashioned self-promotion.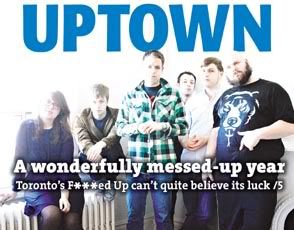 Uptown Magazine! The fastest game on ice!

If you haven't yet read my column from this past Thursday, I highly recommend you check it out here; I don't mean to brag, but I think it turned out pretty well. Man, if we as a city could just figure out what we're supposed to be good at, we could finally get around to promoting it properly!

I don't really have any burning new developments to add in support of that fine standalone article, so let's get back to playoff talk. Hockey! HOCKEYYYYYYYY

I don't know if you'd seen this image on the NHL.com sidebars during the second round, but I got a kick out of it.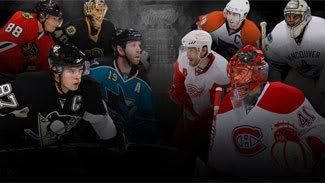 I'm figuring that the people handling the graphic design duties for that site must have wasted their childhood the same ways that I did, because one look at that and you know I was thinking this: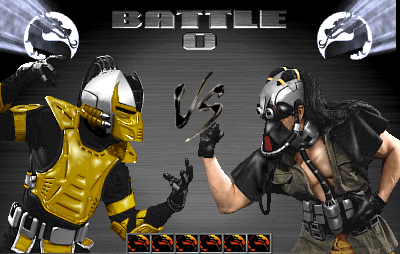 Gary Bettman basically considers Canada to be The Outworld, anyway, so the whole thing works itself out pretty well.

Predictions time! A quick look at my super-genius predictions from last round is good for a laugh:

Detroit in six (nope)
Vancouver in seven (lol nope)
Pittsburgh in six (loool nope)
Philadelphia in seven (n... actually wait this is exactly what happened, how did I even)

So one-for-four for teams, one-for-four for games. Not great, but hey, at least something went right. (I'm six-for-twelve so far on the year for teams, which really isn't too bad. But then again I'm also one-for-twelve for number of games, so... yeah.)

The West saw the first and second seeds earn their way to the Conference Finals, justifying the NHL's seeding process; the East saw the seventh and eighth seeds sneak their way to the Conference Finals, making a complete mockery of the seeding process. It's been entertaining so far! Let's see whose cuisine will reign supreme in round three, starting with the--

Eastern Conference

(7) Philadelphia Flyers vs. (8) Montreal Canadiens

What a weird Conference Final. Just weird.

To give you some idea of how bizarre this combination is: this is the first time in NHL history that a seventh seed and an eighth seed have met in the playoffs, and the seventh seed got here via a historically improbable comeback from a 3-0 series deficit. (During which, it must be noted, their goaltender got messily injured; they closed out the comeback with their third- or fourth-stringer goaltender in net.) Their reward? Home-ice advantage, which has never happened before for a seventh-seeded team, against an eighth seed that beat the President's Trophy winner and the reigning Stanley Cup Champions. Plus -- plus, on top of all that -- these two teams have survived a combined nine elimination games so far this year (ten if you count the elimination shootout in the very last game of the regular season that got Philly into the Playoffs), and both teams punching way over their weight for a full month now has given each of them a crazy Team of Destiny vibe. Two Teams of Destiny enter, one Team of Destiny leaves!

I'm perfectly happy with either team winning -- and my affection for the Flyers is well documented, Pronger aside -- but my suspicion right now is that the Canadiens will pull it out; it's enough of a story that Jaroslav Halak has Digivolved into the Great White Hope for a Stanley Cup on Canadian soil, but when you've got traditionally underwhelming dudes like Mike Cammalleri putting up twelve goals through two rounds -- enough to tie him with Maurice Richard, Jean Beliveau and Guy Lafleur for franchise post-season goals in one year -- you have to just stop and shake your head in disbelief, because, what?

Not to downplay Philadelphia's chances, of course. This one is entirely up in the air, so the only really safe prediction is that Montreal will riot regardless of the series outcome. Again.

It won't be an easy series, no matter who wins; both teams have been basically impossible to kill, thus far, and Hal Gill was quoted by the Montreal Gazette as promising that "[i]t should be a great series as far as hate goes." That's what I want to hear! Let's see some violence and shenanigans up in here.

What I'd Want: Philadelphia in seven. YEAH, I SAID IT, WHAT
What I'll Guess: Montreal in seven.

Western Conference

(1) San Jose Sharks vs. (2) Chicago Blackhawks

I keep wanting to believe that San Jose has finally turned the corner and established themselves as a legitimate playoff team, but damn if I haven't been burned way too many times to just give them the benefit of the doubt. You know? They're all likeable dudes and there's so much talent there, but -- even with Thornton finally showing up to play in the postseason and the entire second line beasting on suckers -- nobody wants to be the idiot who blurts out "THIS TIME THEY'RE FOR REAL" right before the Sharks once again transmogrify into a Jenga tower and collapse at the slightest twitch.

Both teams are going to be a lot looser and more upbeat just by virtue of the knowledge that the Red Wings aren't there; San Jose has the mental benefit of finally excising their Detroit playoff demons, and Chicago has the sheer relief of not having to face their Detroit playoff demons for at least another year. (Who's that behind their bench? Quenneville? Oh, wow, there's a dodged bullet.)

Whoever wins this series will be the heavy favourite to win the Cup, even with seeding aside, because it'll be a fair assumption to make that the eventual winner of the East is going to be one tired-ass team after everything they've been through. And this will also be a watershed moment for San Jose as a franchise; I know we all say this every year, but if this group of players sputters out fitfully without a Cup again, there really should be some chaos in the works.

This has the potential to be a series for the ages, what with the insane offensive potential and solid defensive play on both sides, but my hunch is to expect a Chicago victory here. With all of the Cammalleri hype saturating the sports media, you may be surprised to learn that Captain Serious is currently the leading playoff point-getter thus far. I know I said this last time around, but good god I love that nickname. Cap-taiiiin.... Serious!

Chicago also corralled the Sedin line pretty well, and their offensive skill shot holes into a goalie that most people (myself included, yes) had expected to make a statement this year. The Blackhawks' comparative speed should be able to tire San Jose out within a few games, and their special teams have been crazy impressive thus far -- no small consideration when overzealous refereeing has been one of of the major stories this year. (Let's not pretend it hasn't.) Best of luck, Captain Serious!

What I'd Want: Chicago in seven.
What I'll Guess: Chicago in six.

Whoo, playoff hockey! With today's television schedule, it's what's for lunch and what's for dinner!