The Downtown BIZ is an important and prominent local organization that does great work in the ongoing efforts to promote and improve Winnipeg's perenially troubled downtown core. That's good! It is also a duplicitous little creature, by nature, that blurts out misdirection and falsehoods even when the truth would be a more productive approach. That's bad.

Yes, this is going to be a very long and involved blog post, full of civic discourse and interesting pictures and a couple of outright lies. So before we begin, I think it's only proper that we establish some background to make sure everyone's up to speed.

The Winnipeg Police Service commissioned a survey about the reputation of downtown Winnipeg, way back in ye olden days of 2009, and the survey reported that the public considers the downtown unsafe. (The public also expressed concern about gang violence and increasing concern about sexual assault -- so, even just reading the news this past week, it sounds to me like the public knows what it's talking about.) The Downtown BIZ, understandably considering this an affront to their reputation, subsequently released the results of its own commissioned surveys, and the surveys they'd paid for just happened to insist that people think downtown is completely safe. And clean, as a sidenote.

Well, you can imagine for yourself how the optics of that move went over. Downtown BIZ Executive Director Stefano Grande is a veteran of the Winnipeg public relations scene, but he made a rookie mistake after the survey reports hit the news: he treated the reaction from the comments section of the Winnipeg Free Press as though it came from actual rational humans. The Free Press readership, as expressed through its online comments, is better understood as a bizarre, localized, Collective-Unconscious cesspool of hatred and fear and loathing -- certainly not anything that you would want to try citing in an essay -- but he took their cynicism seriously (or personally) enough that he wrote them a letter to the editor in response.

(You might ask: what makes me so sure that the Free Press audience was his most likely agitant? The answer: I can't find any indication that any of the other news outlets in the city so much as mentioned the Downtown BIZ surveys to begin with. Despite the old proverb, no news is not always good news.)

This was the leadup to the Downtown BIZ's big challenge the Monday before last, daring anybody to try and find graffiti downtown between 9:00 AM and 4:00 PM that day. The BIZ would donate $20 to Siloam Mission for each instance reported -- putting, not a lot, but at least a bit of money where their mouth was -- and the Free Press helpfully decorated the article with a picture of a BIZ cleanup worker furiously blasting away at graffiti the Friday beforehand.

(Let me make sure I understood this correctly: you guys started the graffiti cleanup crews on their assignments at the beginning of the weekend, came back on Monday to make a big show of challenging people to find any graffiti -- and acted upset because people occasionally get the impression that you try to manipulate figures in your favour. Well, you showed us, I guess.)

The affiliated Downtown Peggy blog threw down a similar, but differently phrased, gauntlet:

"Go and walk outside and tell me, truthfully, how much litter or graffiti you actually see."

Huh. Welp! If you insist.

If there's one thing I'm good for, by golly, it's going and walking outside; who better to take the Downtown BIZ up on their challenge and investigate the sights of our scenic downtown core that day?

They're usually pretty good about litter, so I wasn't too concerned on that front. I figured I might run into one or two things, sure, but A) the BIZ cleanup crew tends to be pretty admirably thorough about cleaning up physical waste, B) trash can't really build up that quickly anyway unless you've actually got people around to drop it, and C) there ain't nobody offering twenty bucks for each reported piece of litter.

But the catch, of course -- there's always a catch -- the catch was that I had to work that day. Most people did; almost anybody who comes downtown during the day is either there to work or to panhandle, and it isn't unreasonable to suspect that this may have been the whole point when the Downtown BIZ set their challenge hours from 9:00 AM to 4:00 PM. No, sir, no manipulation or misdirection here! Nobody's calling in during the hours when everybody is inside doing their jobs with no paid time for discretionary phone calls, so there must be no graffiti! Just the lingering difficulty of checking our appearance in the mirror when we can't look ourselves in the eye any more.

To their credit, though, they did go above and beyond on the calls that they did receive; you can view the list here to see the contributions they made that day, and there's certainly no fault to be found in cleaning up and donating for even the instances of graffiti reported outside their boundaries.

(Way outside, in many cases. Special note to whoever called the Downtown BIZ to report graffiti on the Jubilee bridge, or in the 900 block of Henderson Highway: buy a map, you idiot.)

But even when it's providing valuable service -- and with more openness than we get from any of our other civic administrative bodies, including City Hall itself -- the Downtown BIZ just can't shake its innate penchant for falsehoods, as evidenced when its Executive Director added this hilarious whopper of a claim:

"You can walk around downtown for an hour and not see graffiti."

I'm sorry, but what? Well, if you're blindfolded, sure, maybe that might be plausible.

Anyway, like I said, I had work that day -- in fact I was double-shifting to cover our absences attending the Manitoba Libraries Conference -- so I didn't get out and around town until 6:30 that evening.

So don't think of the picture gallery that you are about to view as an indictment of the Downtown BIZ, necessarily; consider it more of an indictment of the downtown itself. The Downtown BIZ aren't the ones actually creating the graffiti, after all, and remember: since the BIZ had the city centre at its absolute cleanest and on its absolute best behaviour until 4:00 PM that day, everything you see here must have spontaneously appeared within the next two and a half hours.

Without further ado -- let's get to my findings! Knowing that I had at least an hour until I encountered any graffiti, I set out from the Exchange District and steeled myself for a long journey before--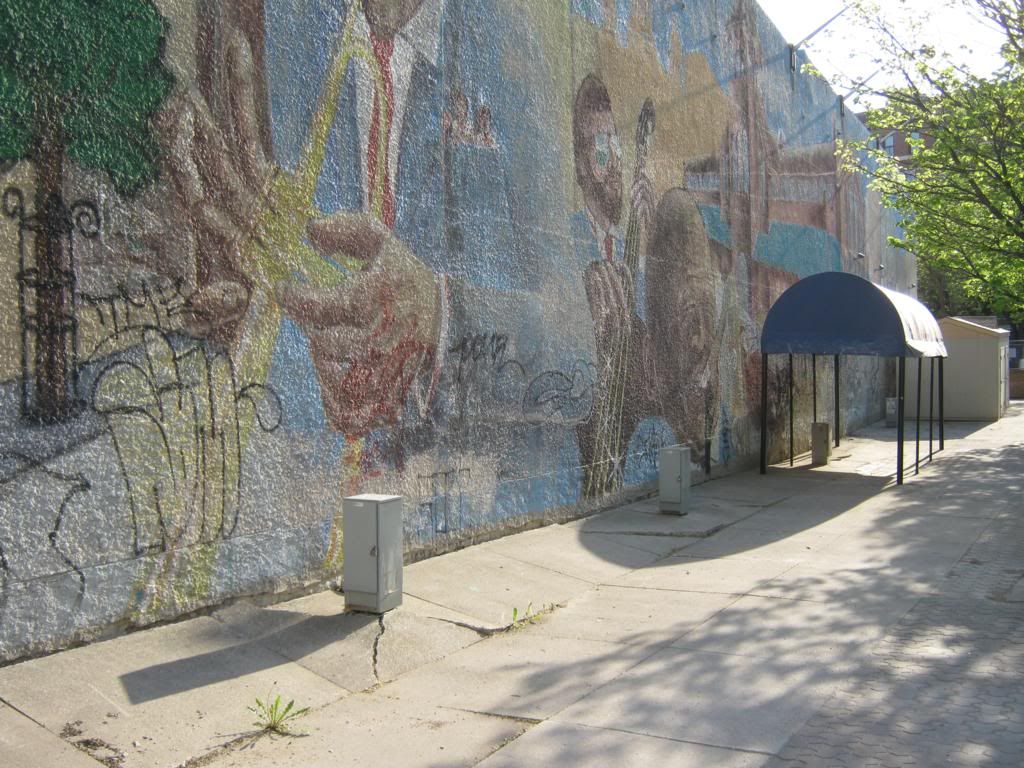 --okay this only took like a minute and a half, something's wrong here. Maybe once I go another block south things will--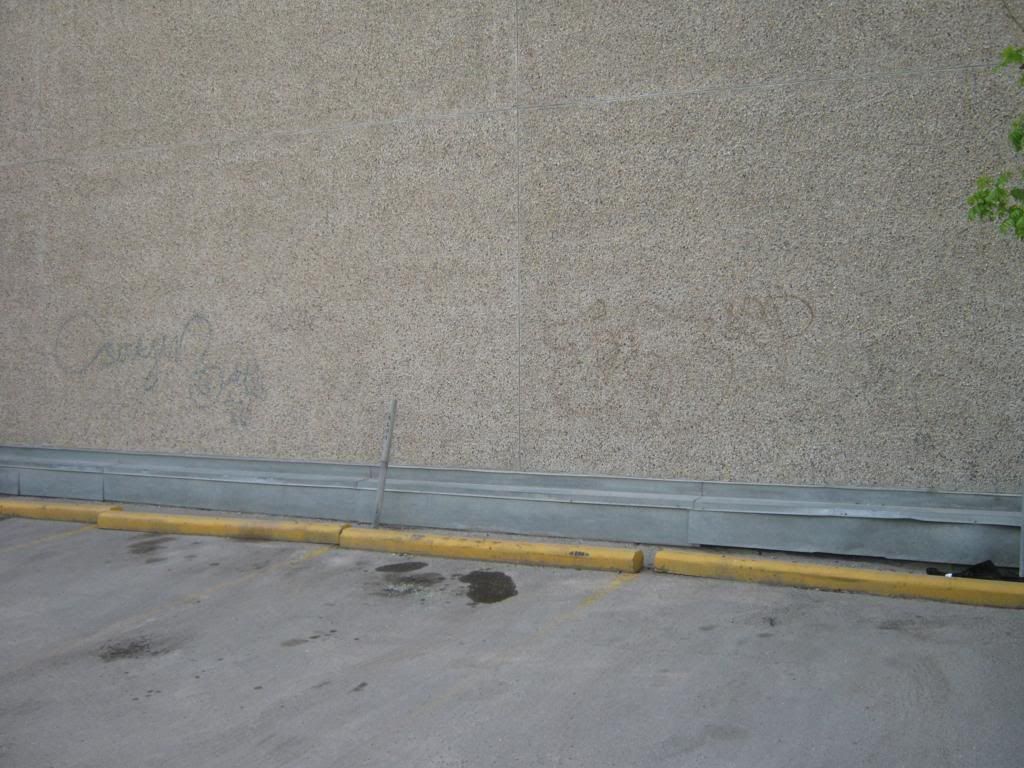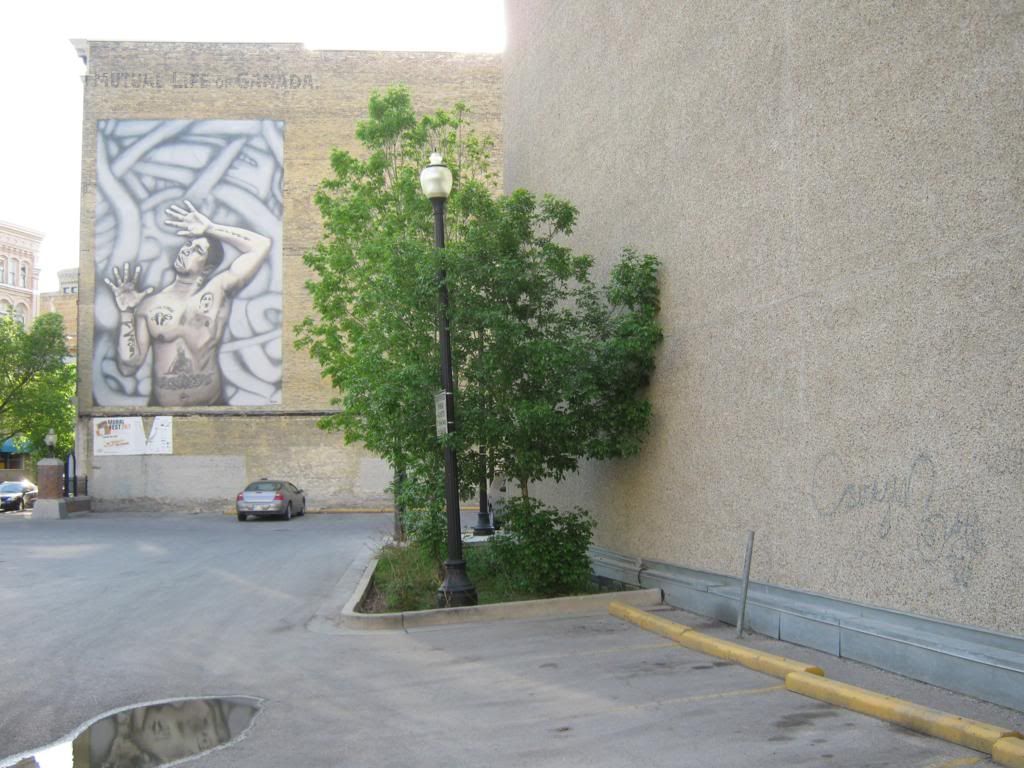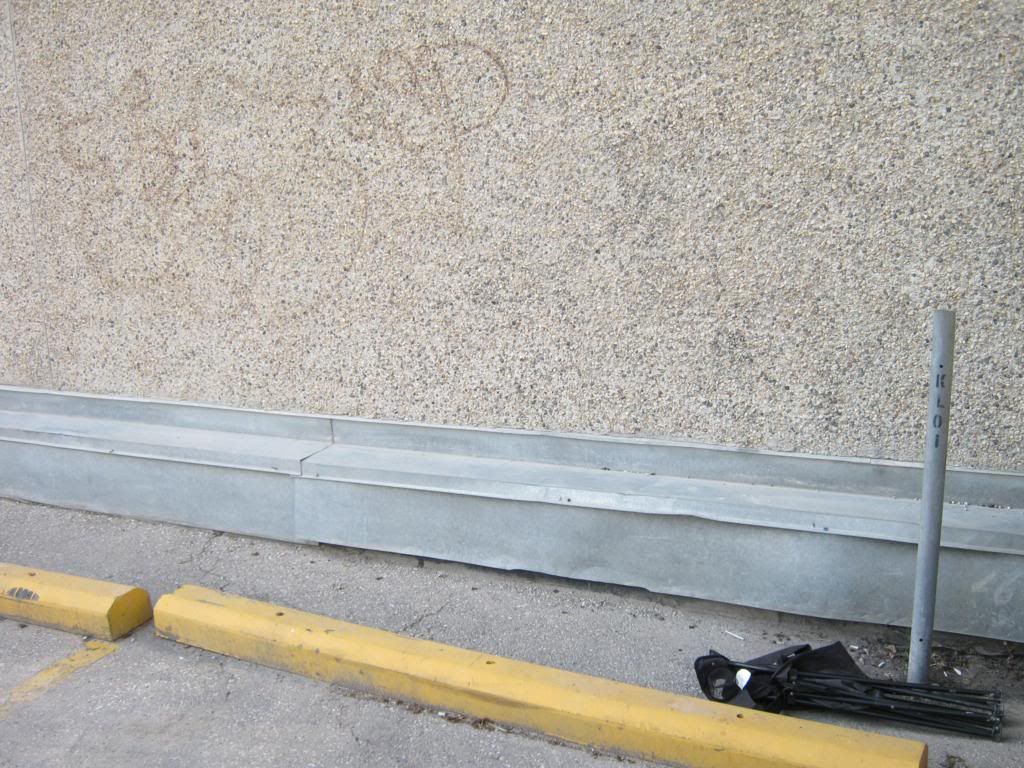 Who litters an entire chair? Seriously? Seriously.

Okay, so I wasn't off to a great start on my expedition, but I didn't really intend to linger in this area. Partially because I've pointed out graffiti in the Exchange before, but more because -- and this may come as news to you, so I hope you're seated for this revelation -- it turns out that the Exchange District is not actually downtown.

I know, I know, you're surprised; you can literally see Portage and Main from the spots that these pictures were taken, and everybody rightfully considers Portage and Main a historically definitive downtown point. But these particular sections of Main Street are out of the jurisdiction of the Downtown BIZ, and instead fall under the Exchange District BIZ. You didn't make the mistake of thinking that two or three blocks north of Portage and Main is 'downtown', did you? Completely different area!

Let's bust out a couple PDF files here and check the maps: this is the territory covered by the Exchange District BIZ, the dirty separatists who seceded from downtown in 1989 and took this chunk of territory as sovereign domain. So the graffiti challenge posed by the Downtown BIZ was for everything on this map except for that patch of conspicuous white rectangles, which is the domain of the Exchange BIZ and not the Downtown BIZ.

(On this point, Grande is very specific: "The Downtown Winnipeg BIZ is not responsible in any way for the Exchange District--that is the job of the Exchange District BIZ.")

So just to make sure we're all on the same page here: the corner of York and Colony counts as "downtown", and the corner of Main and Bannatyne does not. Princess at Higgins is downtown; Princess at Notre Dame is not. Legislative Building? Downtown. Pantages Theatre? Not downtown. The west side of Main at Rupert is considered a part of downtown, the east side of Main at Rupert is considered a completely different area under a completely different entity, and I assure you this all makes sense if you drink hard enough while you're looking at it.

And I love, love that the Downtown BIZ specifically cut their boundaries right at the edges of Higgins and Main to avoid depicting that intersection as part of their jurisdiction.




HA HA NOPE SOMEBODY ELSE'S PROBLEM

Can't blame them for trying it, of course, but it's still pretty entertaining.

So, no, I didn't spend too much time in the Exchange; I made a point of scurrying to the designated zones as soon as possible, so I've marked on this map which areas I ultimately investigated that day.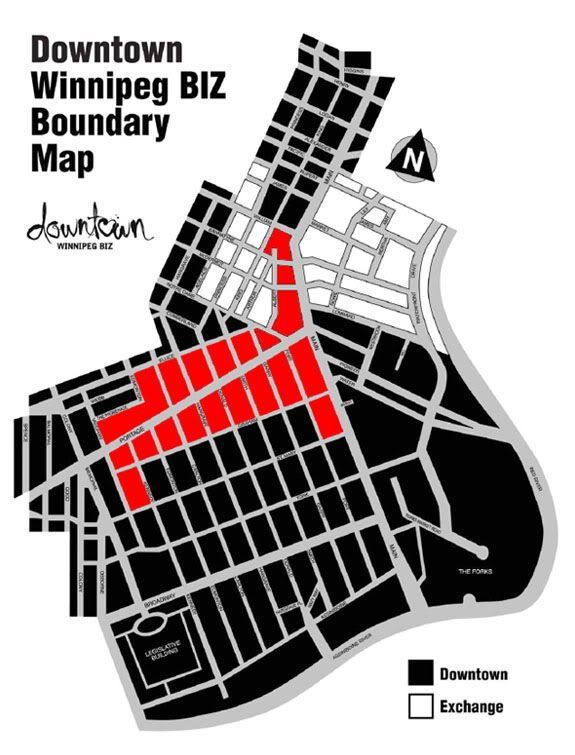 That's really only a few blocks to and fro, and not too large a chunk of what we're calling the downtown, so there's no way that I could have found too much graffiti, right?

Well... let's break it into smaller chunks, maybe. That might be easiest.

Dumpsters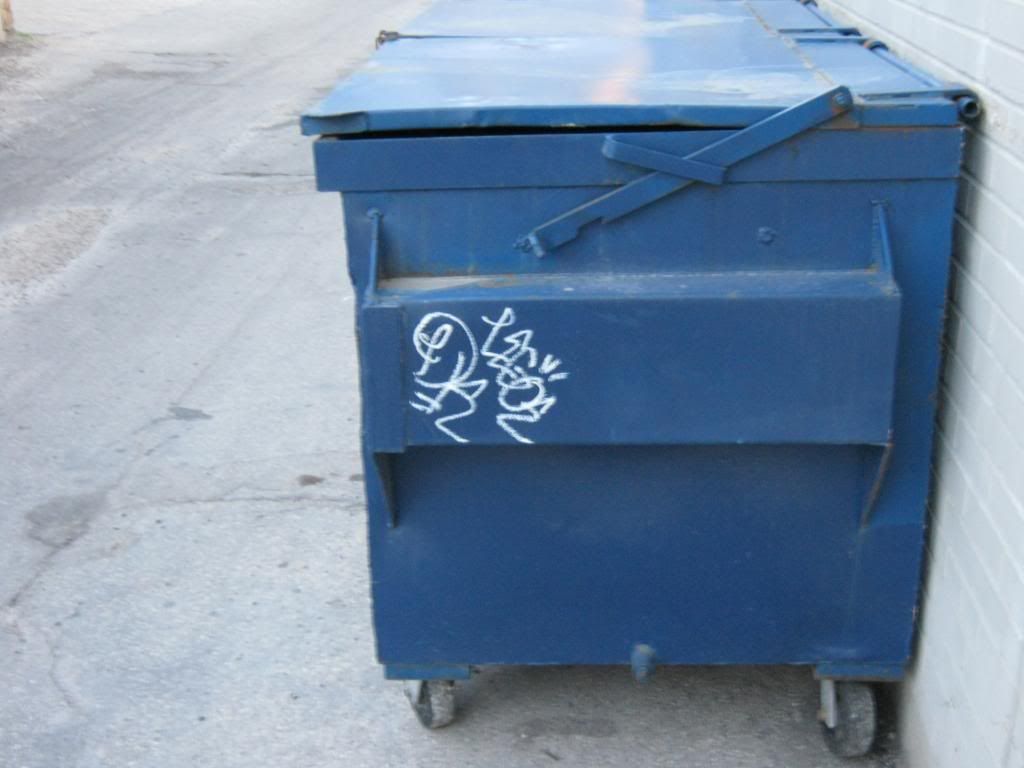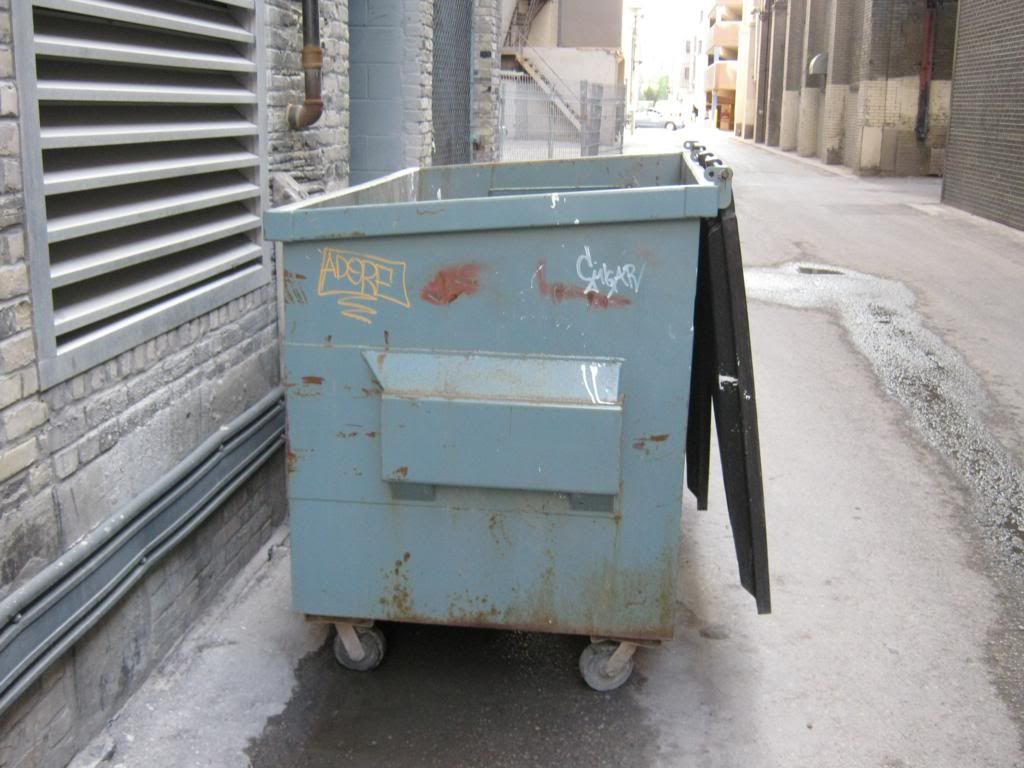 I suspect there must be some gaps in the coverage agreements, here, where neither the Downtown BIZ nor the garbage collection companies consider these receptacles their property (or, more to the point, their problem).




Making sense of the graffiti itself, of course, is always an interesting challenge in itself. Some do their best to be charming--




--and some... I don't even know what's going on here.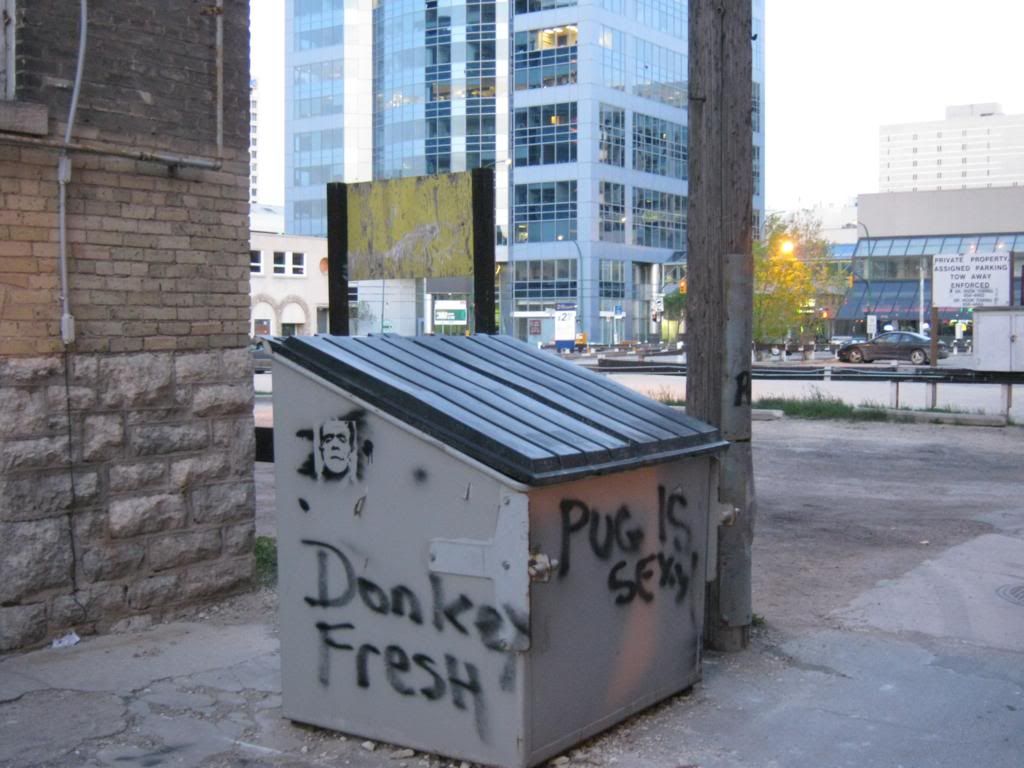 But it's a fine mental exercise to keep yourself occupied while you walk, particularly if it means you'll look absorbed enough in thought that folks will stop asking you for change. More on that later, though.

The Avenue Building

You may run into people who claim that they walk down Portage all the time without seeing graffiti. These people are liars, and should be treated as such.

You're familiar, no doubt, with the Avenue Building; it's been sitting there empty for almost two decades, just a-decaying away and setting a bad example for the rest of the area. The City recently sold it to some guys for a dollar just to get rid of it, and then floated them another two million dollars to make sure that something -- anything -- appears to be happening with the place. (This year is an election year? I hadn't noticed.)

The alley right behind the building is an interesting hodgepodge of styles, including a healthy dose of shattered glass and a charmingly bad attempt at drawing a unicorn --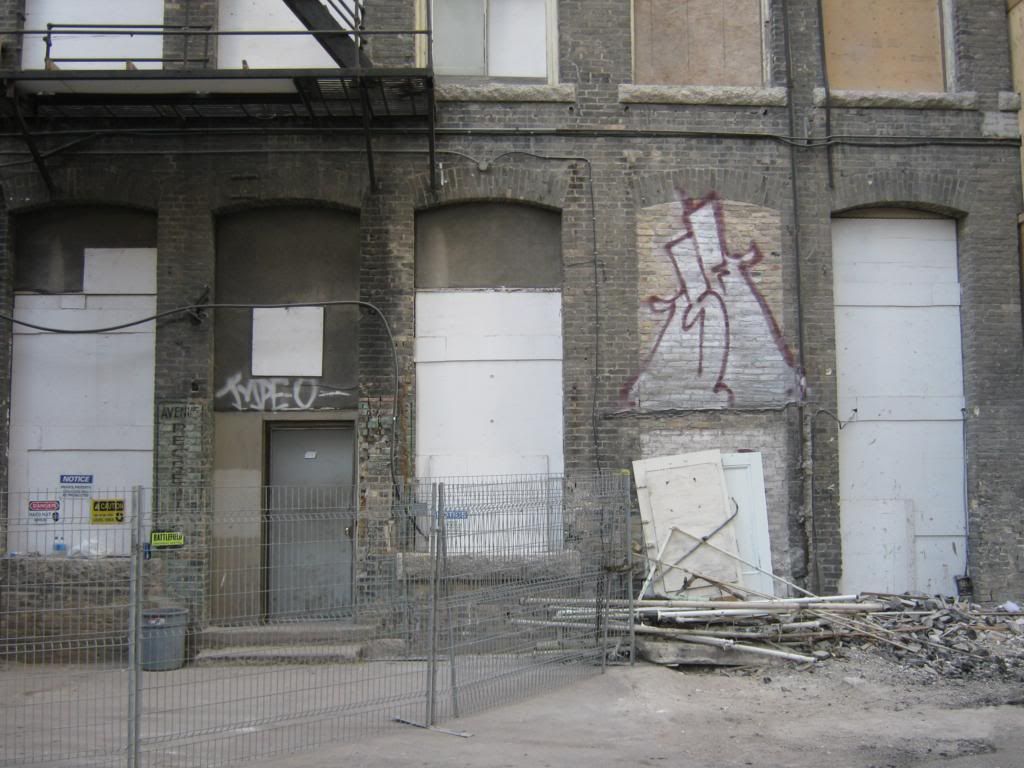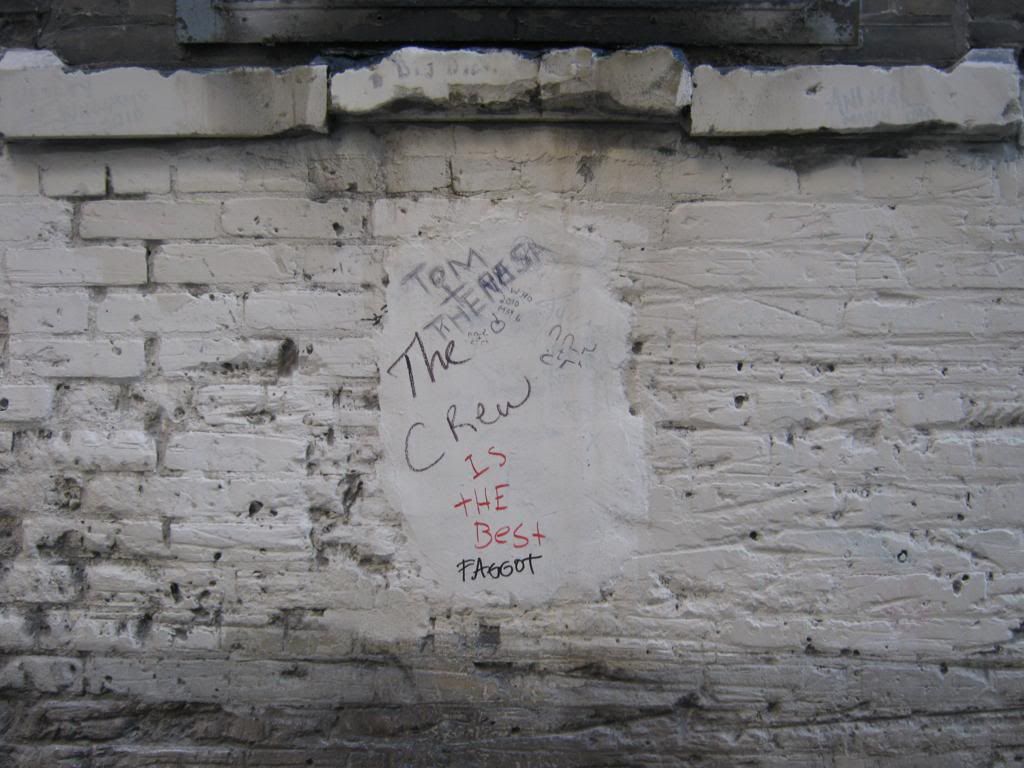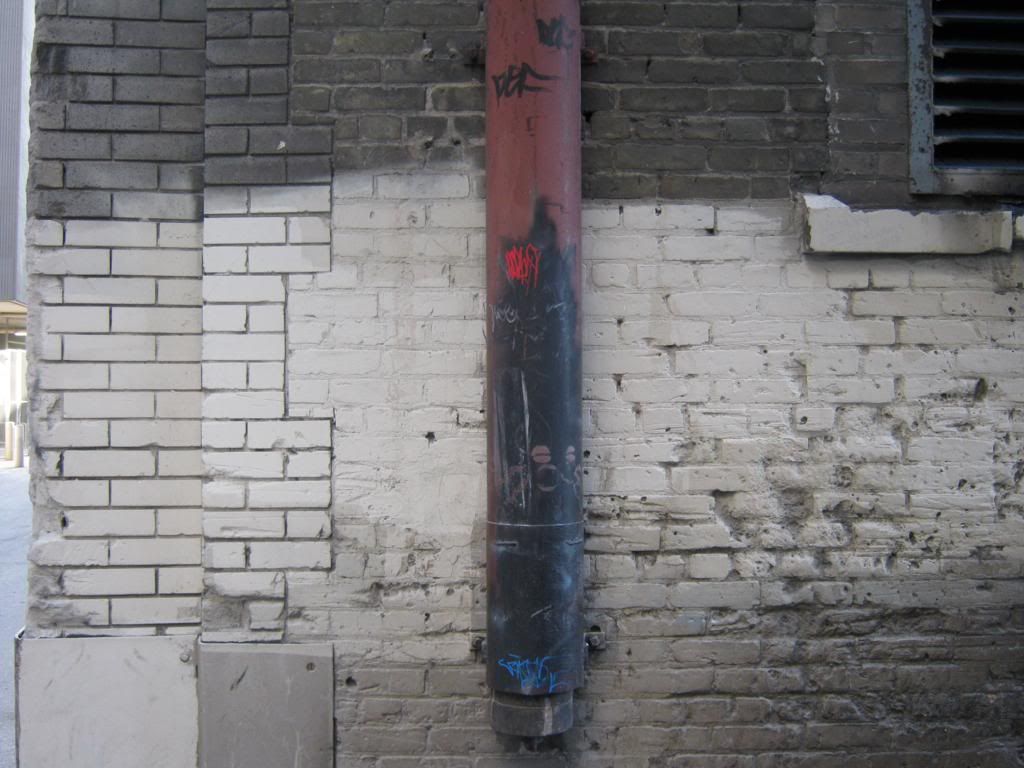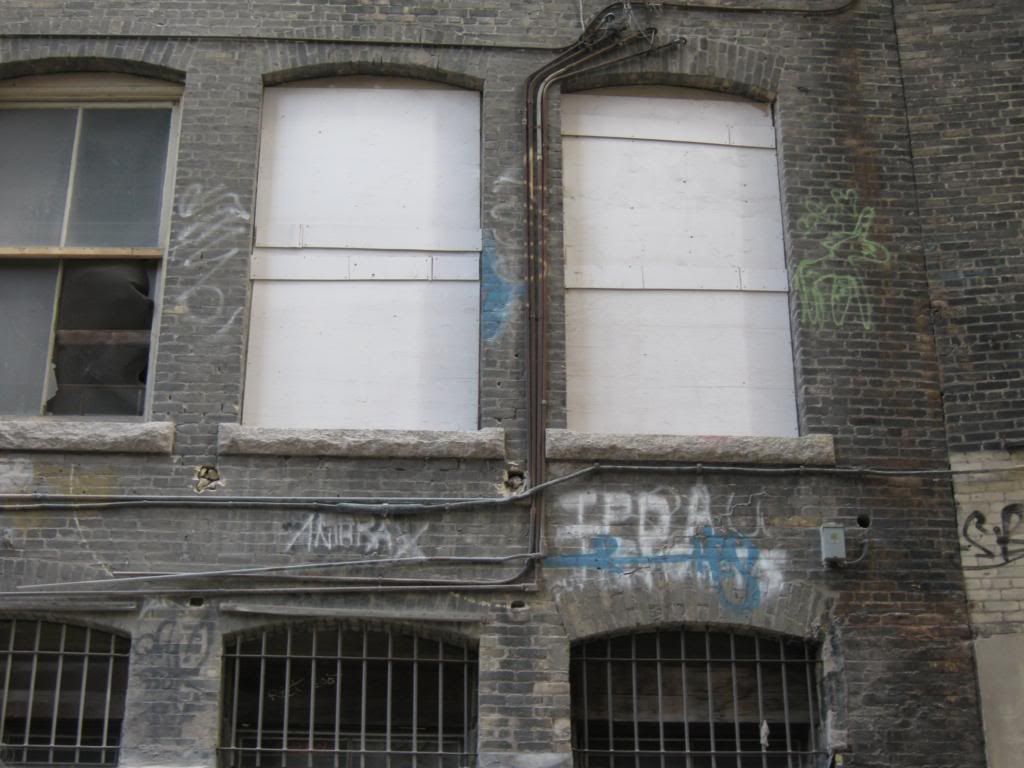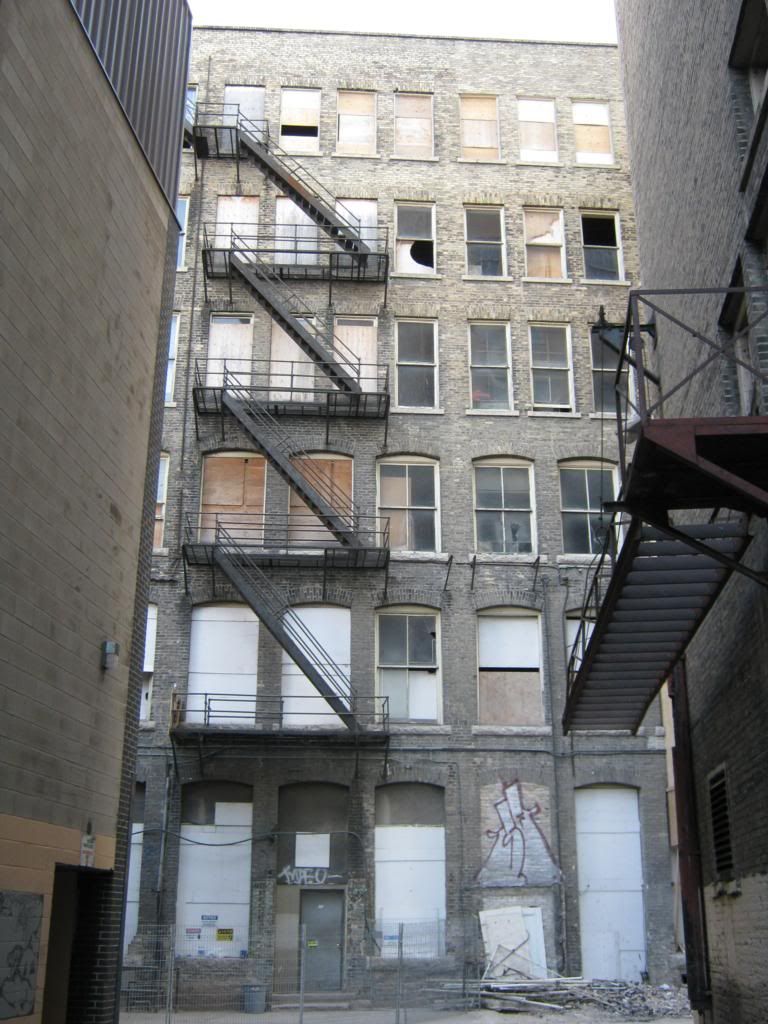 -- but the front of the building, right along Portage Avenue, is not exactly a winner of a display either.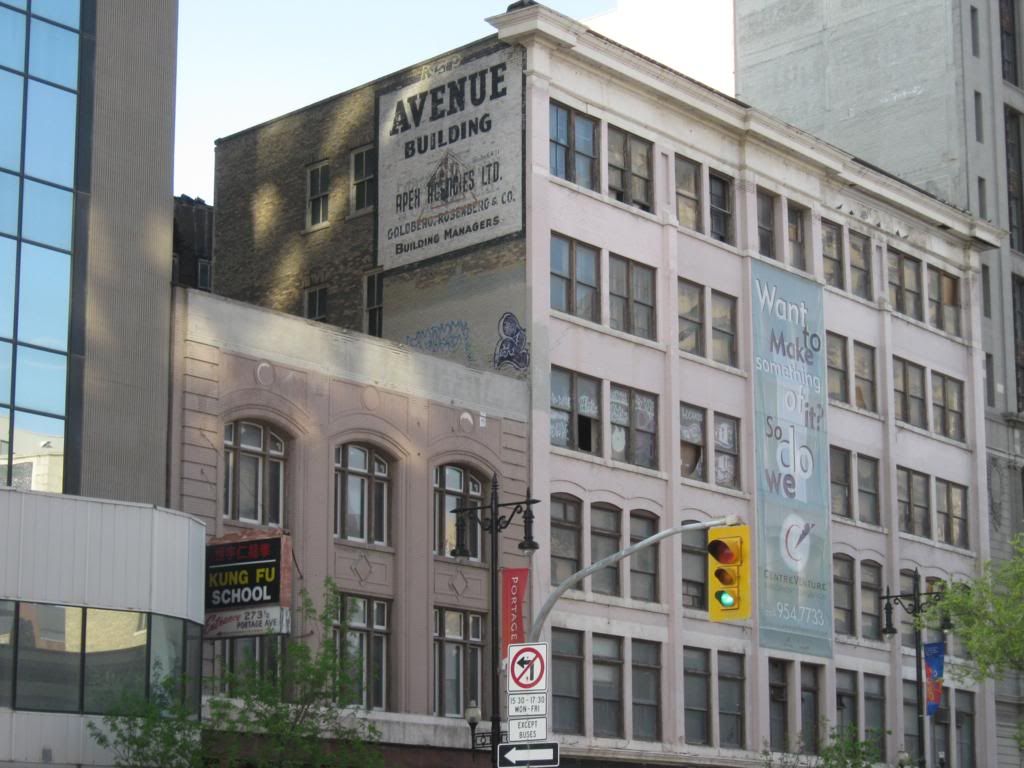 The tone of CentreVenture's giant banner alternates between combative and resigned, which is both entirely telling and entirely demoralizing. Couldn't even add an exclamation point at the end of "So do we", as if to indicate excitement; nope, after almost twenty years of this, the best that we can do is pick a fight about your attitude but grudgingly admit that we need help desperately. Welcome to Downtown Winnipeg!

You'll note that those pictures were all taken from across the street; would it be possible to ignore the graffiti if you walk on the other side, along the building? Well, yes and no. If you're close enough, and using that covered wooden walkway, you won't see the graffiti along the top and middle of the building; instead, you'll see all the graffiti at the bottom of the building, including along the wooden walkway itself.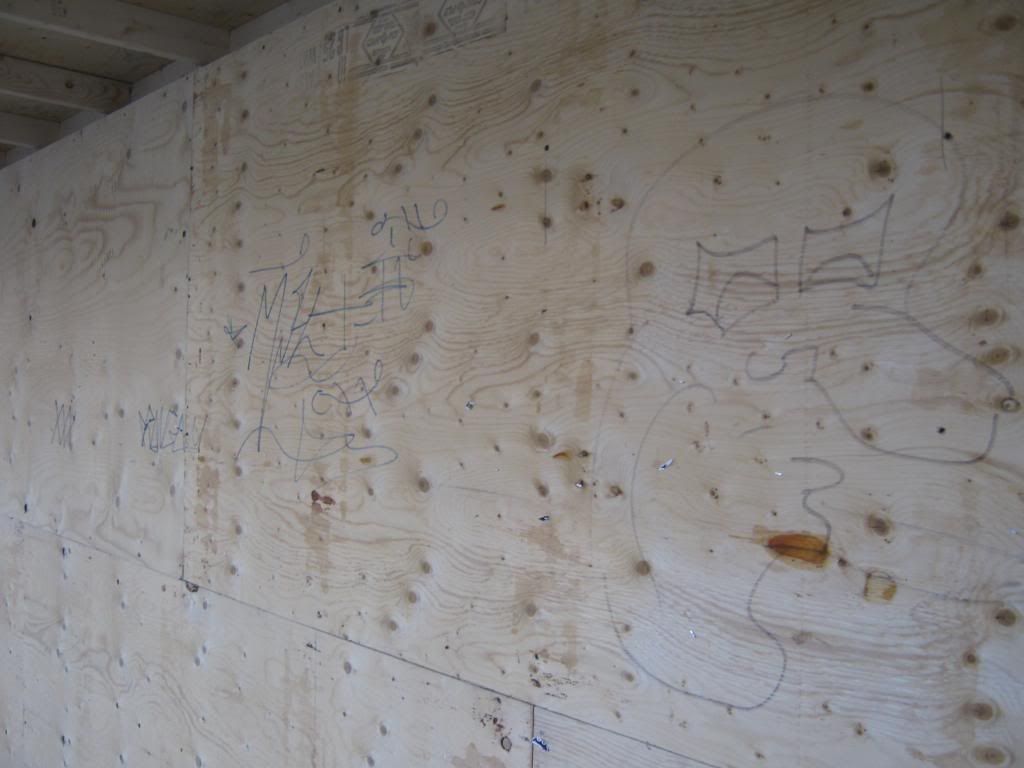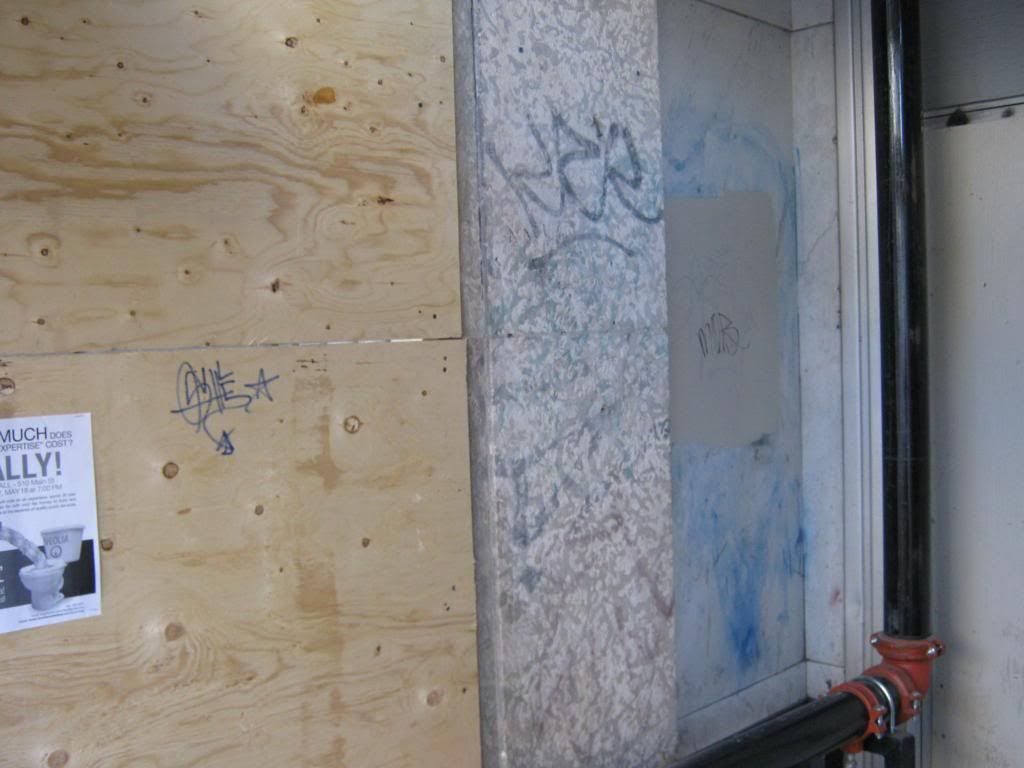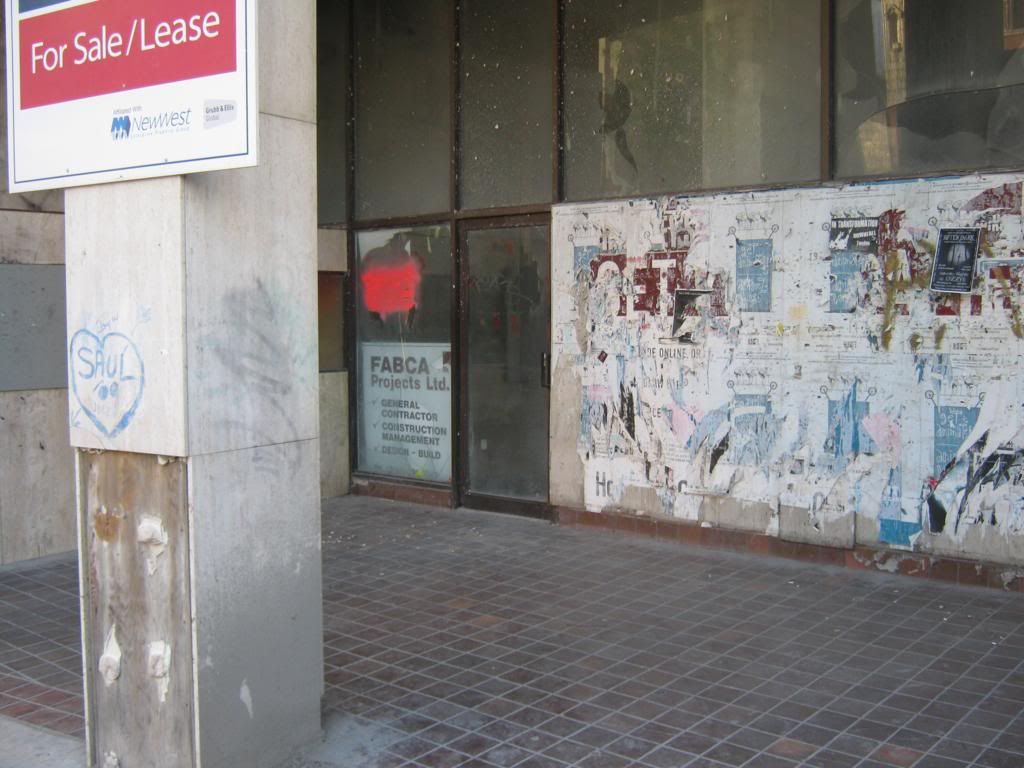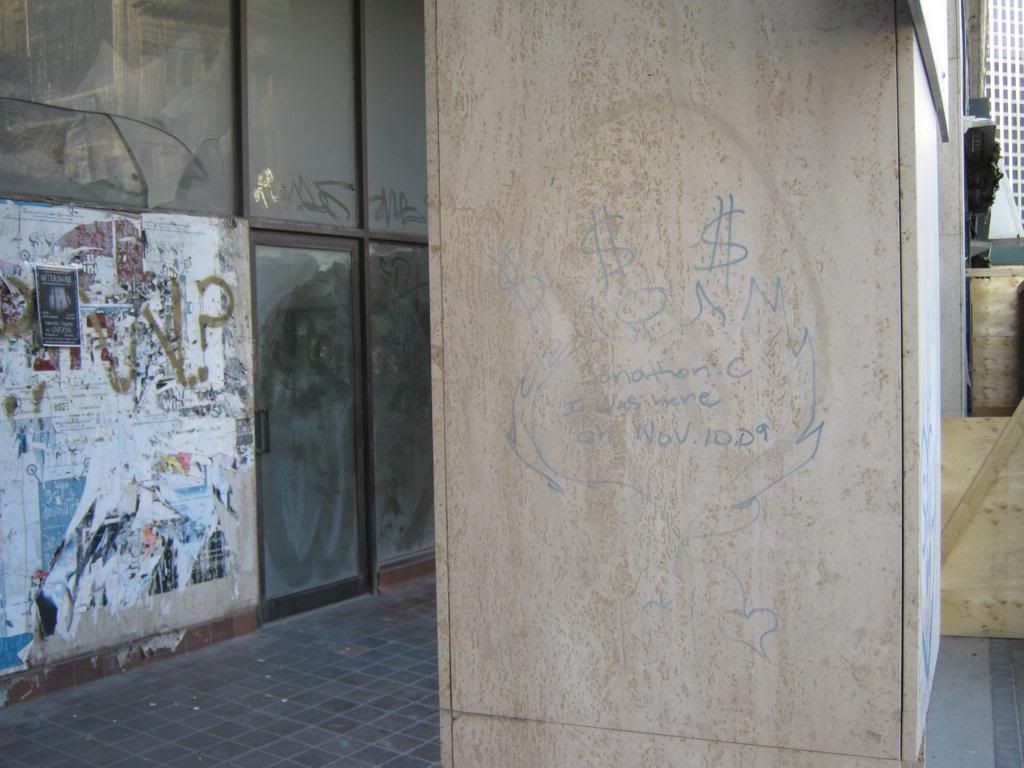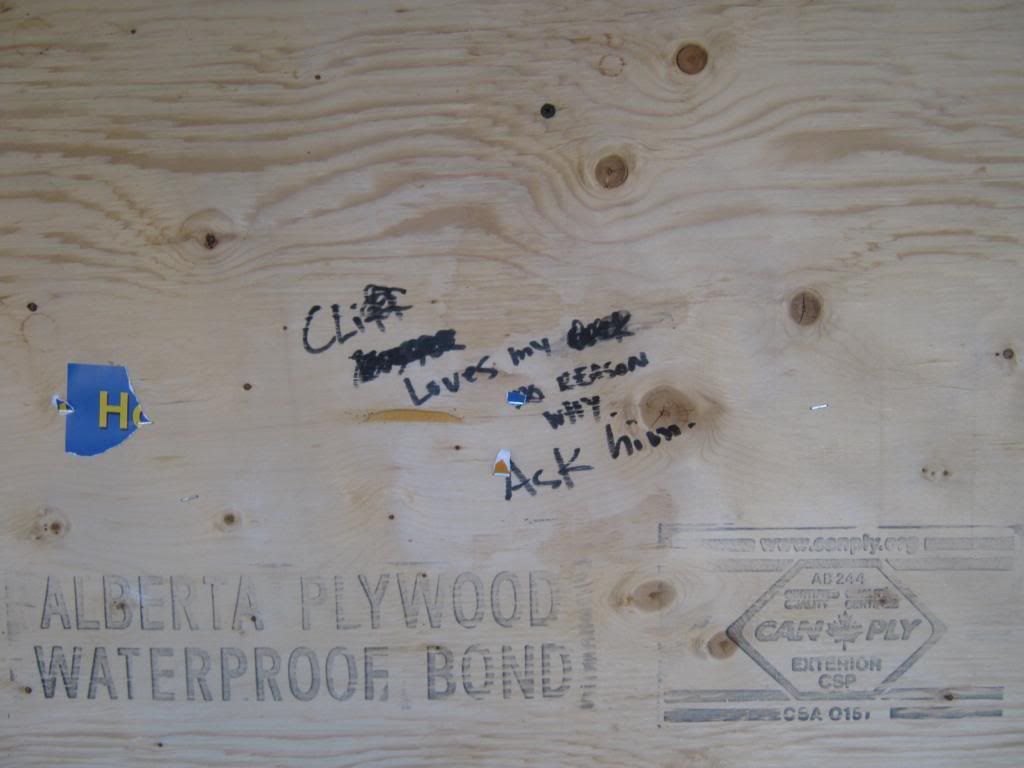 (Hey, Cliff, this guy's calling you out. You gonna take that from him?)

So I wish the newfound developers of the Avenue Building all the best, and hope for nothing but good things from them. I figure, hey -- it can't get much worse!

The pictures that you just saw also highlight another of the graffitists' strategies, one that seems to be impenetrable so far:

Aiming High

Any time that the Downtown BIZ says they need more funding, I believe it. From the looks of things, they're given so little to work with that their broke asses can't afford to buy a ladder.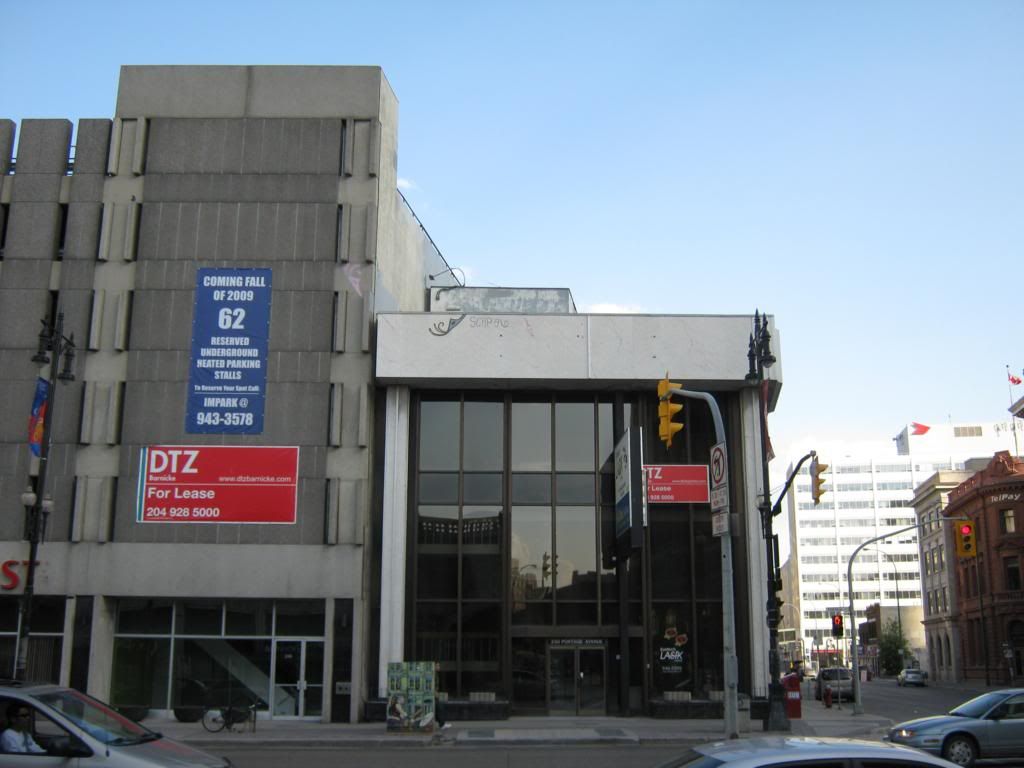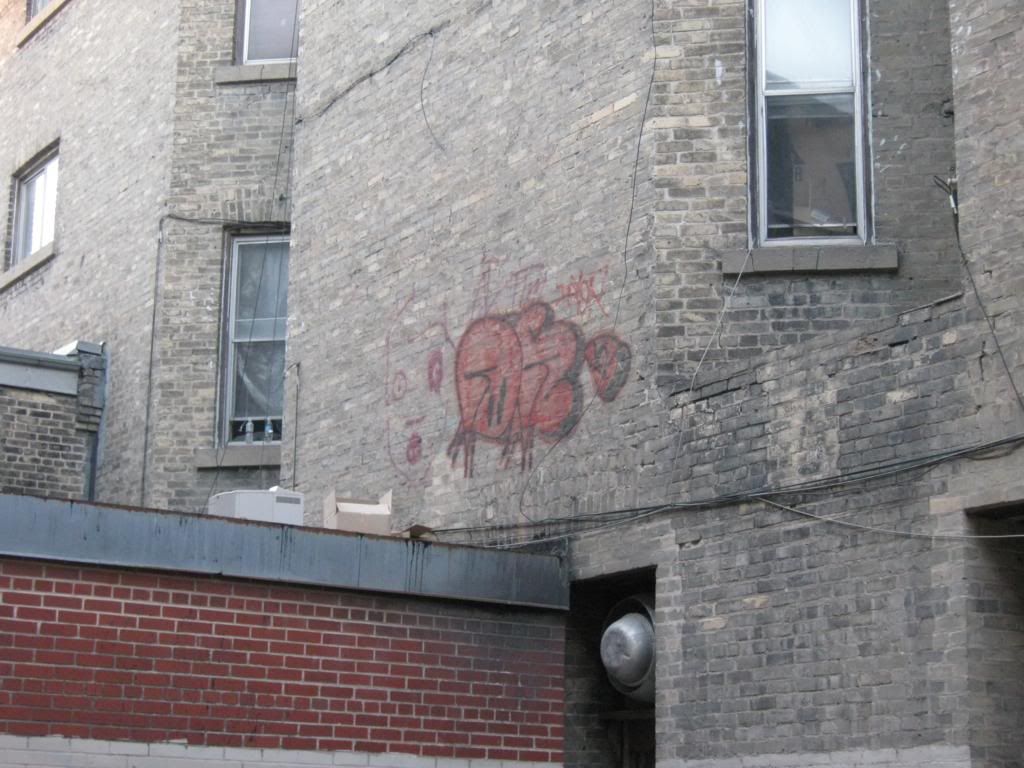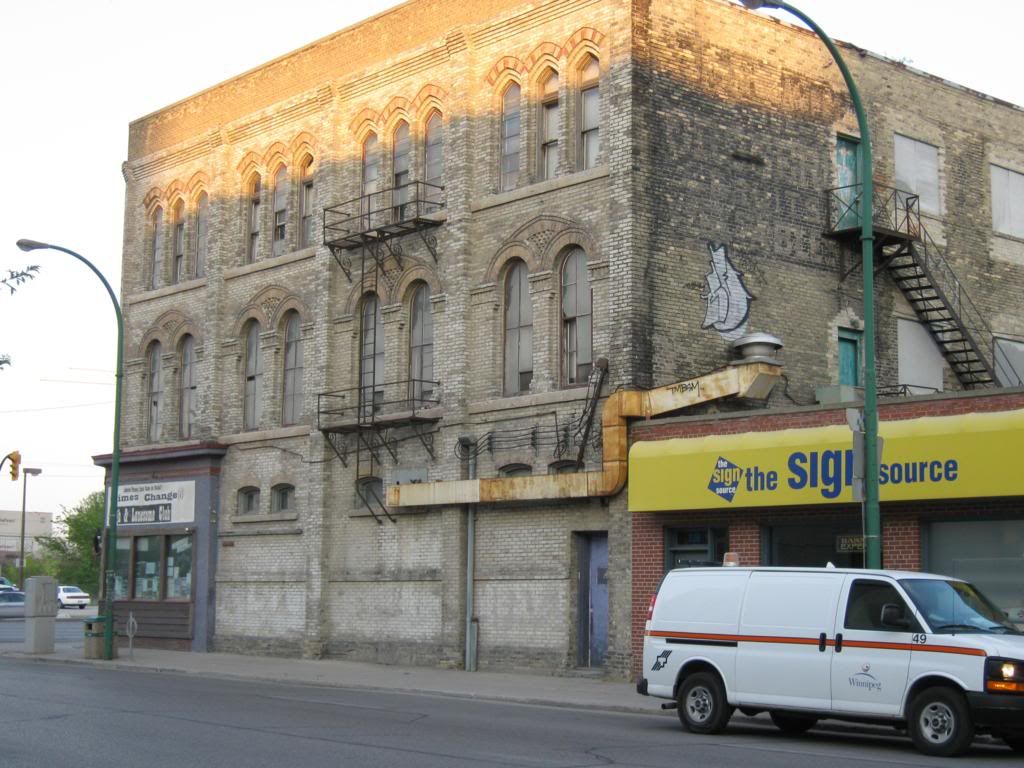 I don't know whether the vandals in this city are parkour experts or just really, really tall, but once something gets about six or seven feet up in the air it's apparently accepted as a permanent installation.

And this is no recent development, either. You may run into people who claim that they walk down Portage all the time without seeing graffiti, and these people are liars who should be treated as such; right along Portage, right in front of the landmark new Manitoba Hydro building, is this modern classic of gravity-defying taggery.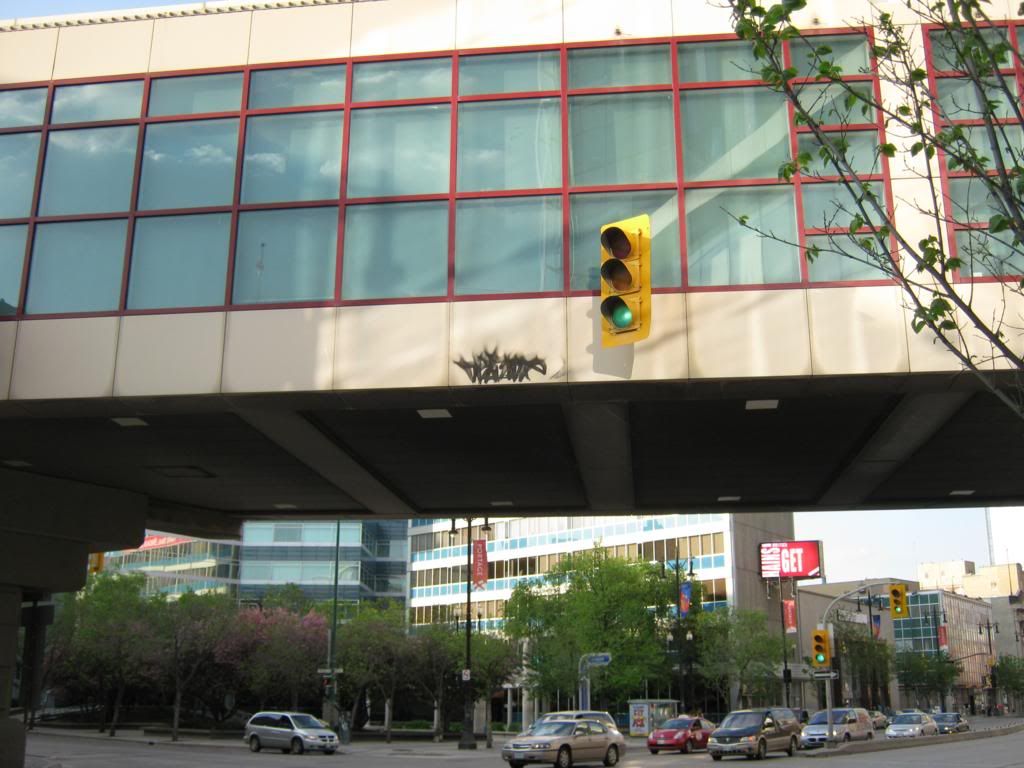 Ha ha, what? I mean, what? Silly vandals, get down from there.

And I can't even pretend that this wasn't around during the BIZ's graffiti challenge earlier in the day, because I noticed this sucker and took a picture of it back in December --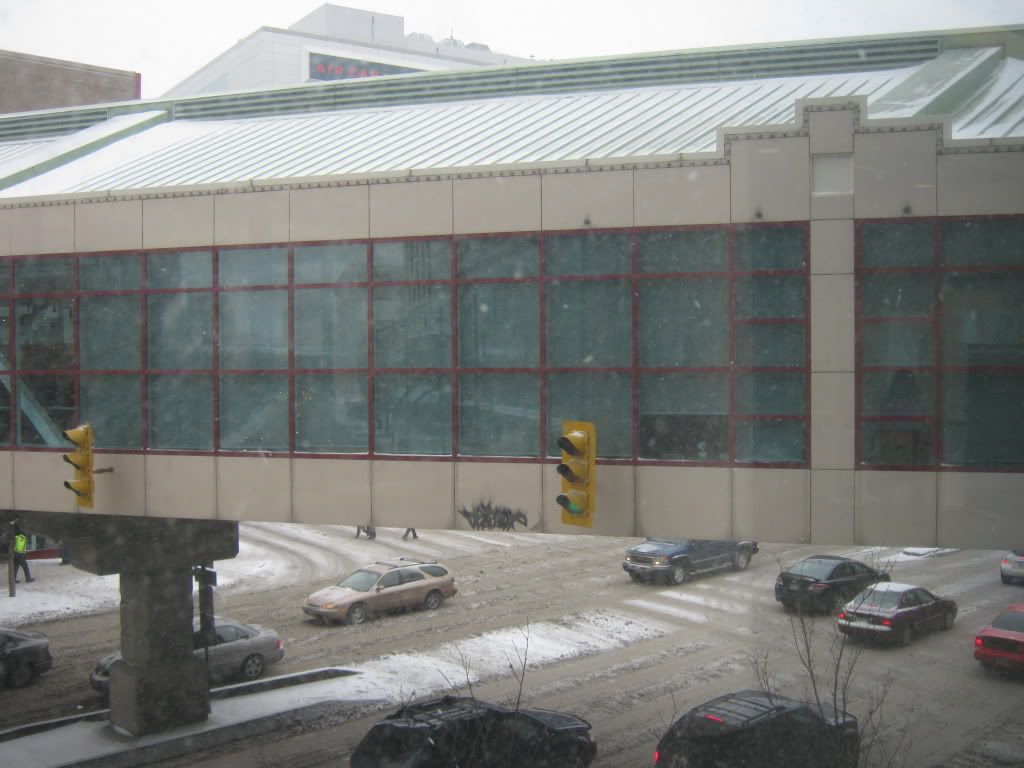 -- and it's clearly visible in the Google Street View coverage of the area.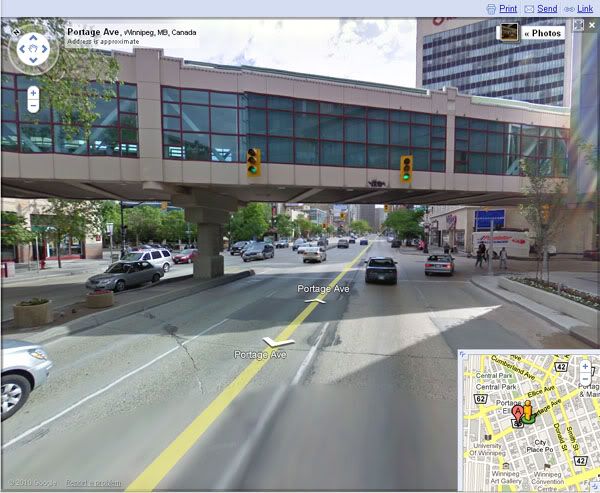 So how was it that nobody ever reported this graffiti to the Downtown BIZ that day? Probably the same reason that you never hear anything else about Portage Place: nobody's brave or foolish enough to go anywhere near it.

CAWWWW-MING A-LIIIIIIIIVE

Portage Place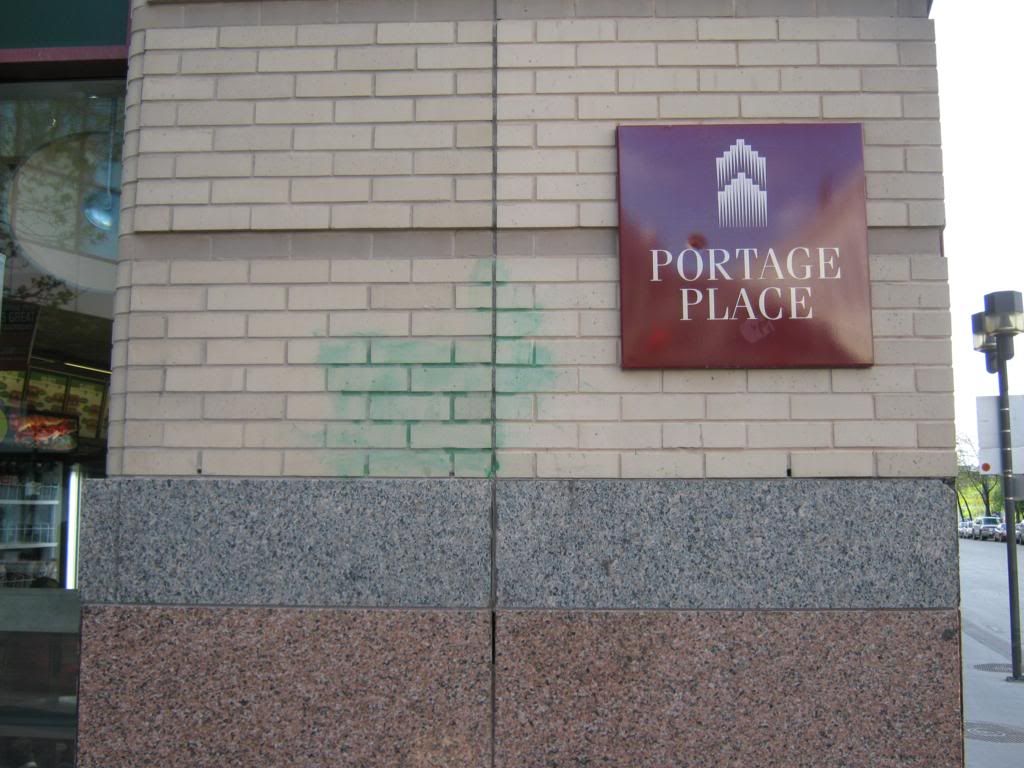 Well, credit for trying, cleanup crew. Credit for trying.

I have a little side story at this point, so humour me a brief aside while I take a short break from pictures of squiggly graffiti and shot glasses. Wait, shot glasses?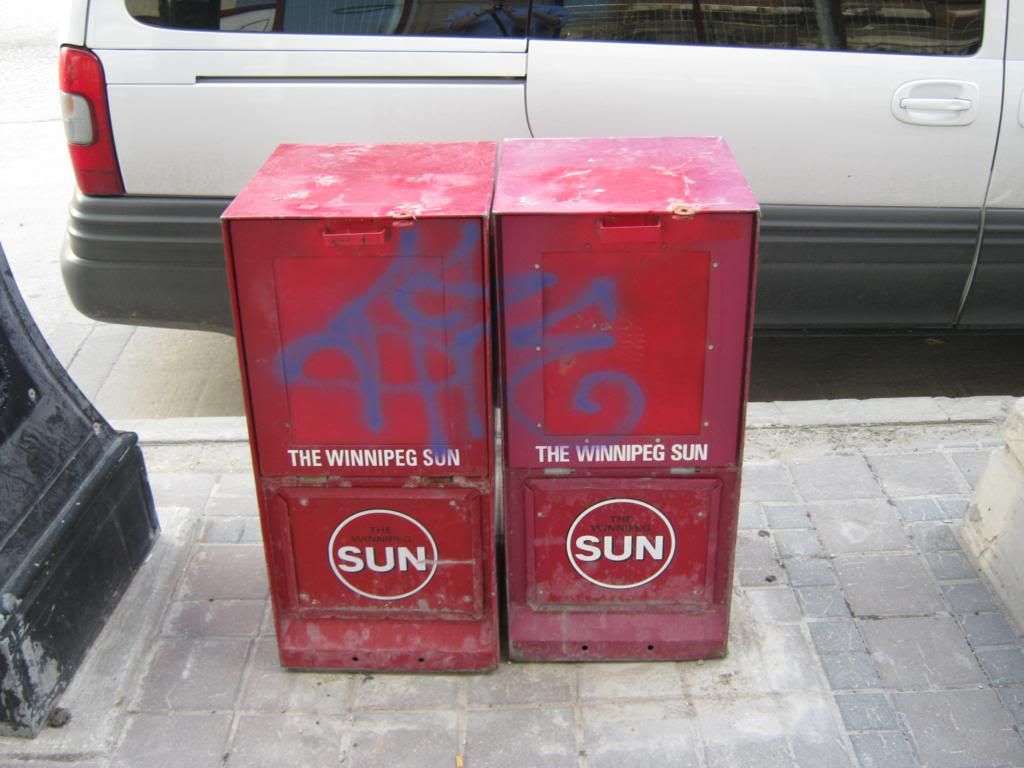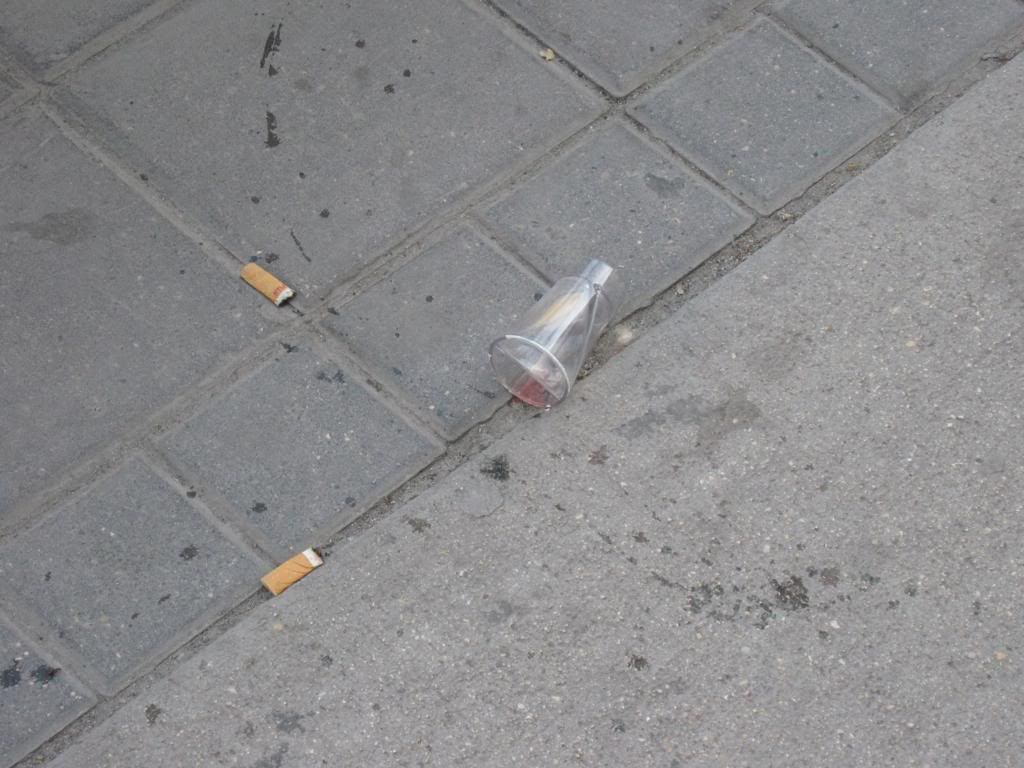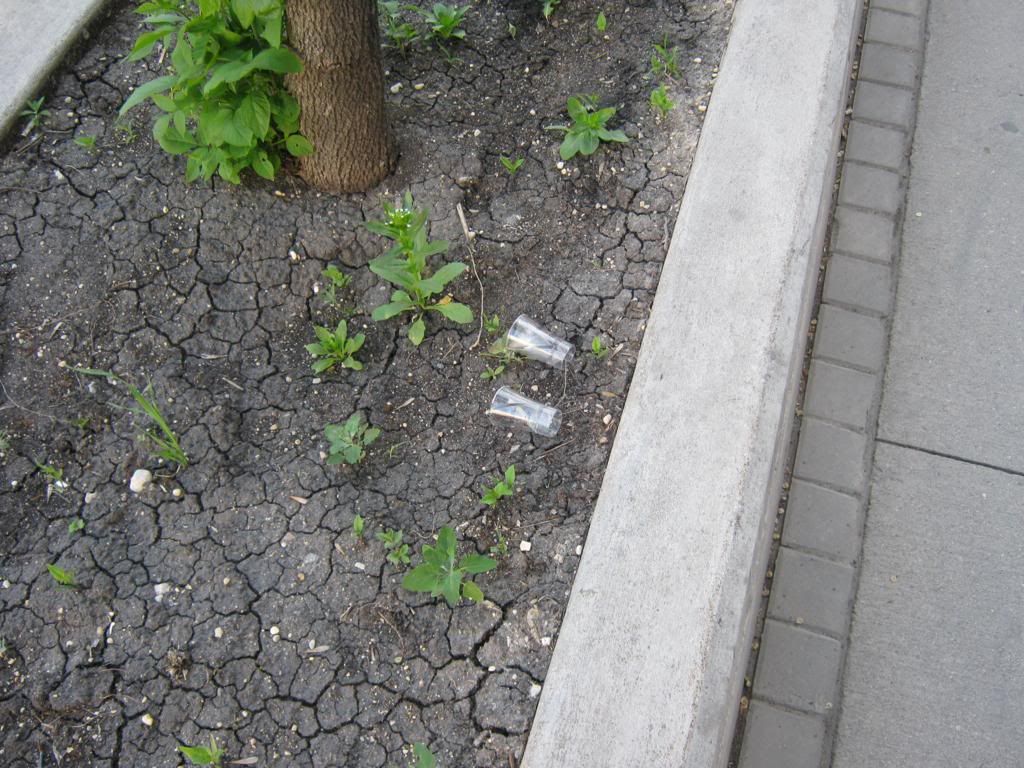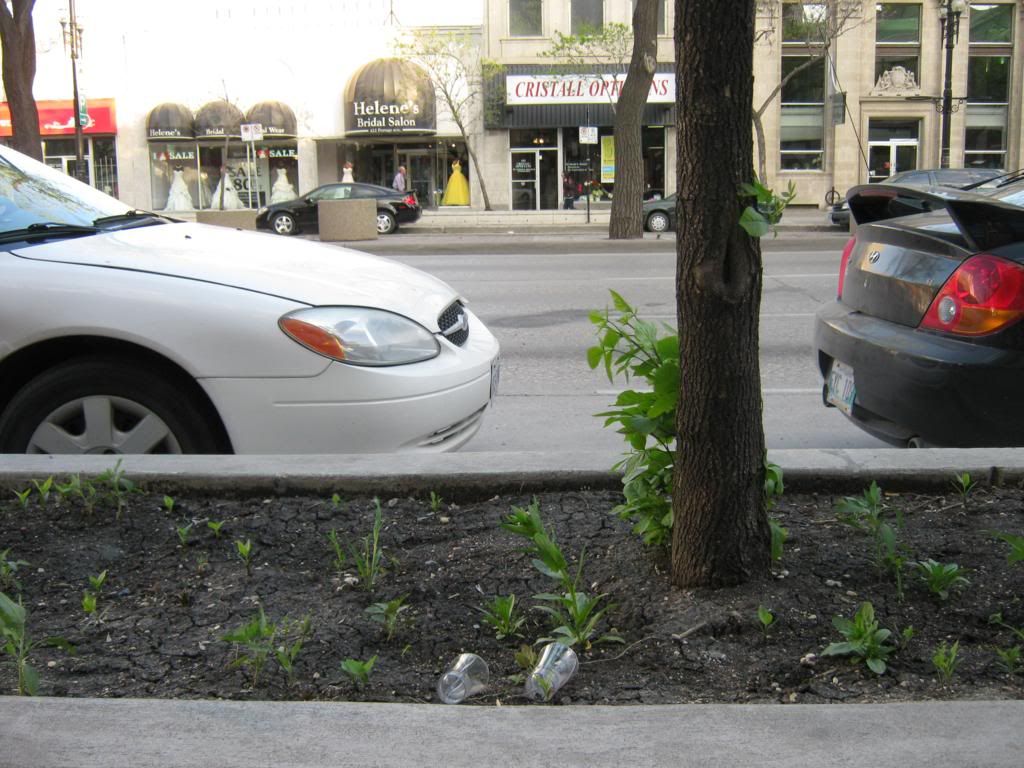 Huh. Well, the weather is pretty warm, so I guess they migrate this time of year.

With the nice weather, I figured I would grab a drink myself; I followed the sidewalk along Portage Place to its Shoppers Drug Mart, which only opened a few years or so ago. Yes sir, downtown's on its way up! The area has suffered from a severe shortage of storefront business for a long time, so it was a real boon for everybody involved when--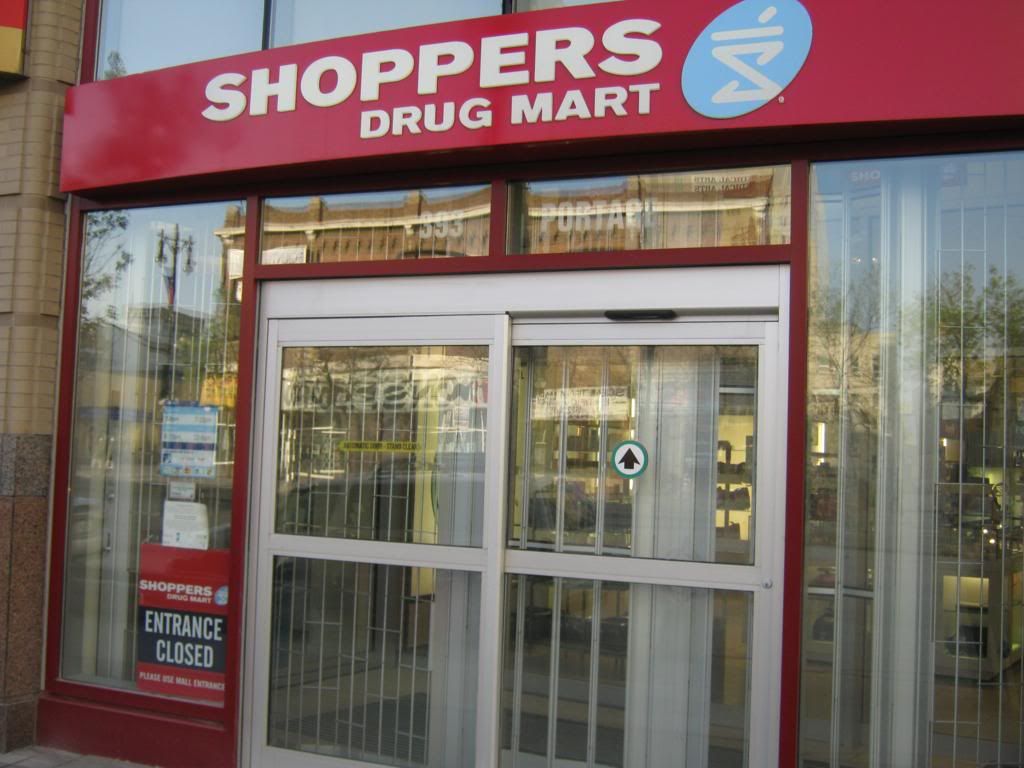 Oh, what the hell. What is this? Open up! Yeah, hey, you! I can see you in there!

Didn't anybody send Shoppers Drug Mart the memo? Downtown is safe! And clean!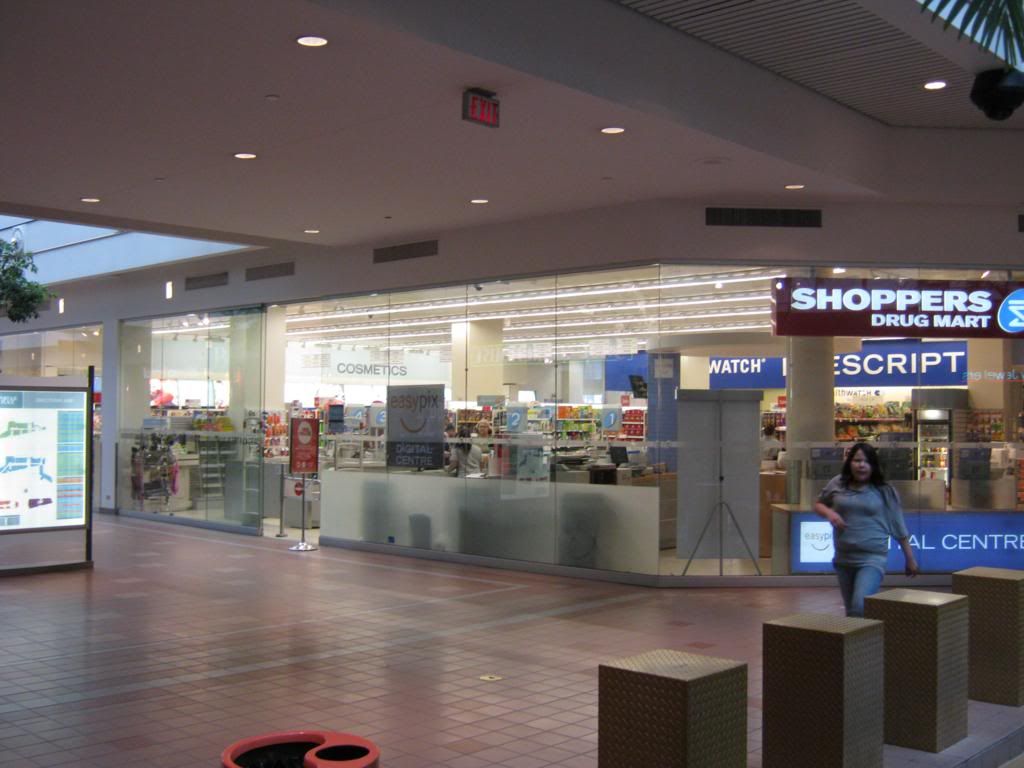 So I had to go around, and sure enough they were open no matter how boarded up the place may look from the outside. Nothing else was open, of course, it's Portage Place. But I figured, whatever; as long as I have to come inside the mall, I may as well pop up to the skywalks on the second floor and see if I can take some good pictures from there.

So imagine my surprise when I went up there and found that this exit was locked --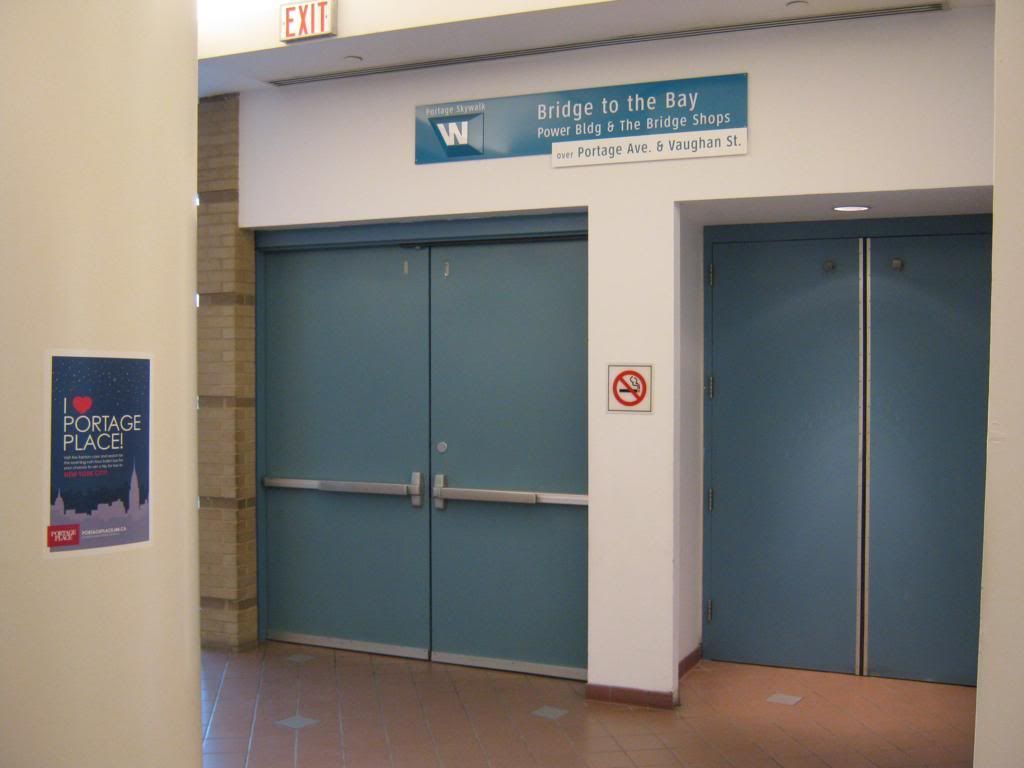 -- and this exit was locked --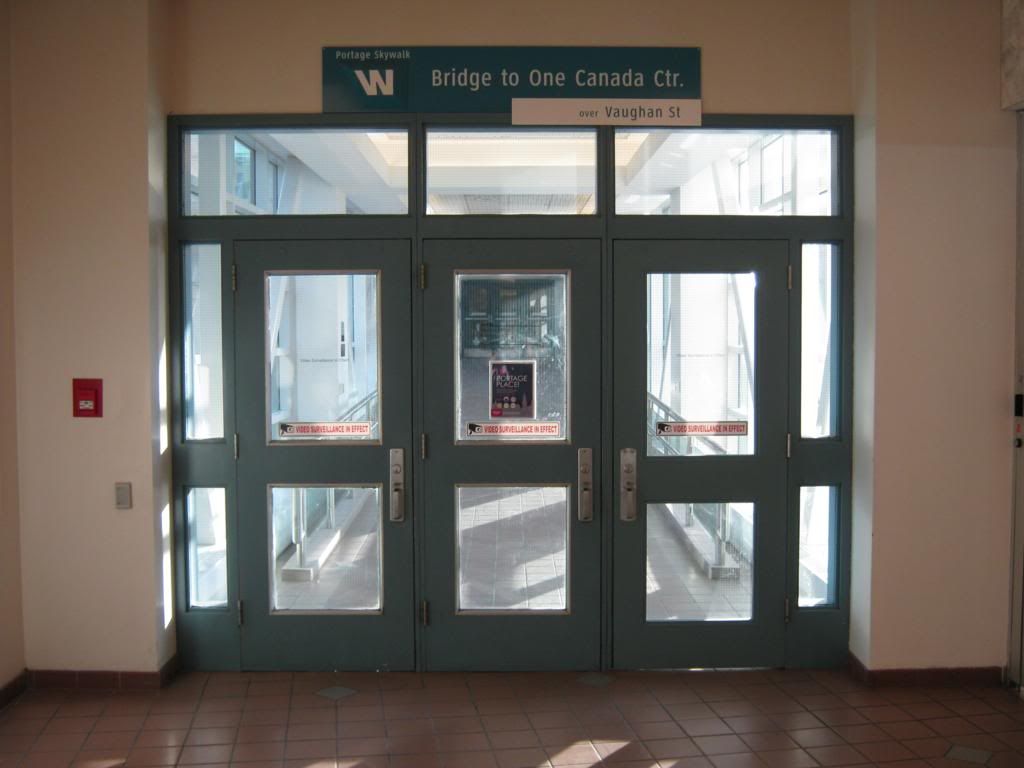 -- and this exit was locked too, just to mess with people.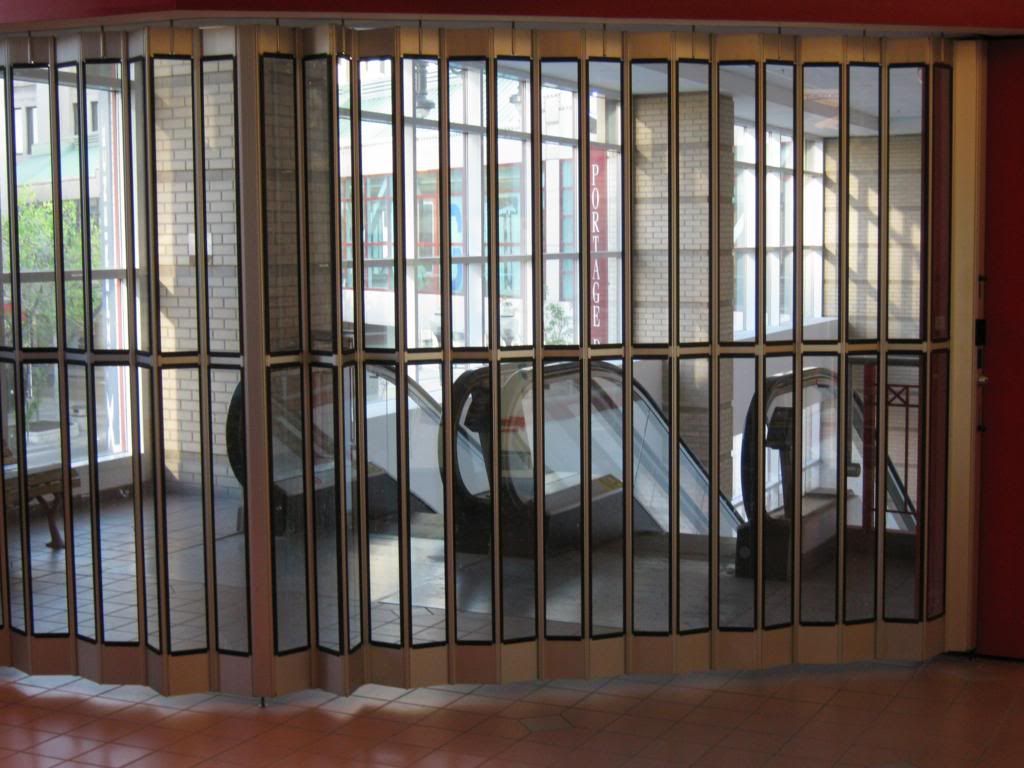 So with everything closed and nobody around, why is this wing of the mall even accessible? So that Shoppers Drug Mart can keep its Portage door closed, forever.

I like downtown because it's safe. And timeless, if this next section is to be believed.

A Date that Will Live in Infamy

They think they're clever, the graffitist and vandals; I suspect that's what motivates a lot of them, the ol' look-what-I-can-do braggadocio of it all. (Hence why so many of them write their names and nothing else.) But there's always the risk of being too clever and giving away the whole trick, as you will see in the following example.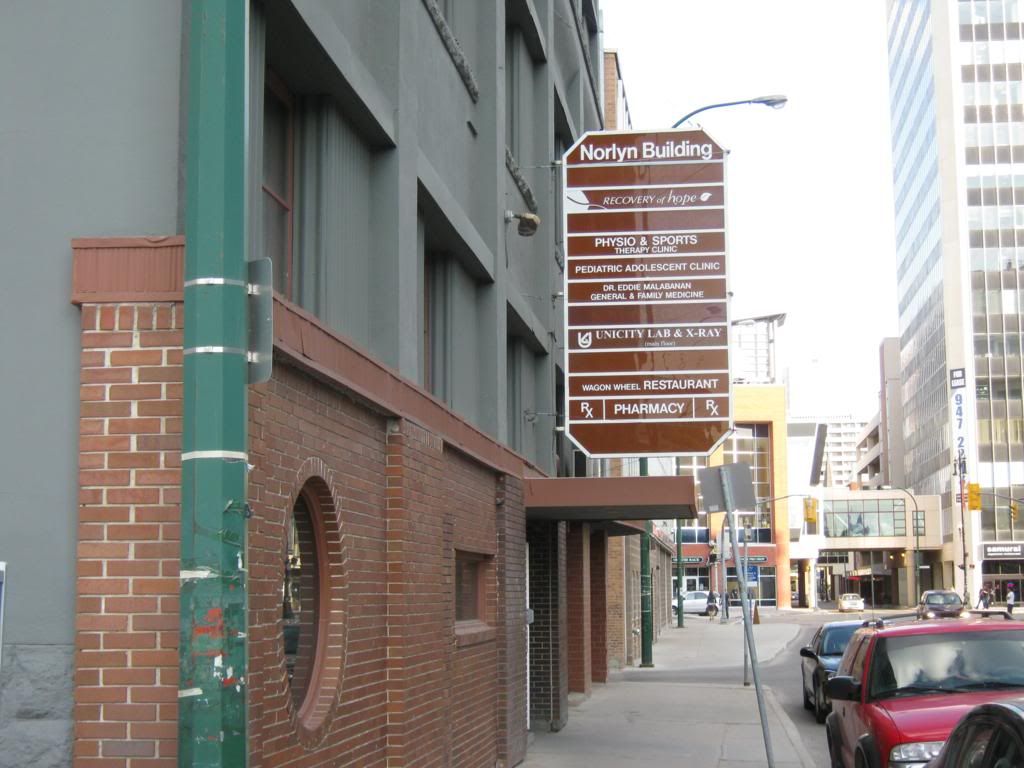 The Norlyn Building is conveniently located at 309 Hargrave and is most beloved as the home of the Wagon Wheel, recently reopened and still legendary for its clubhouse sandwiches. (I'm continually surprised that we as a city don't make more effort to snag the food tourism market; there's certainly no shortage of delicious historic eateries around here. Bring your foodie friends into town for a week or two, they'll love it.)

So it would sure be embarrassing for the Downtown BIZ if their big graffifi challenge missed a spot on this beloved local establishment, right? Especially if they'd missed that spot for, say, a few weeks and counting?

Sure enough, just a few feet into that alley, one finds a barrage of conveniently clustered graffiti: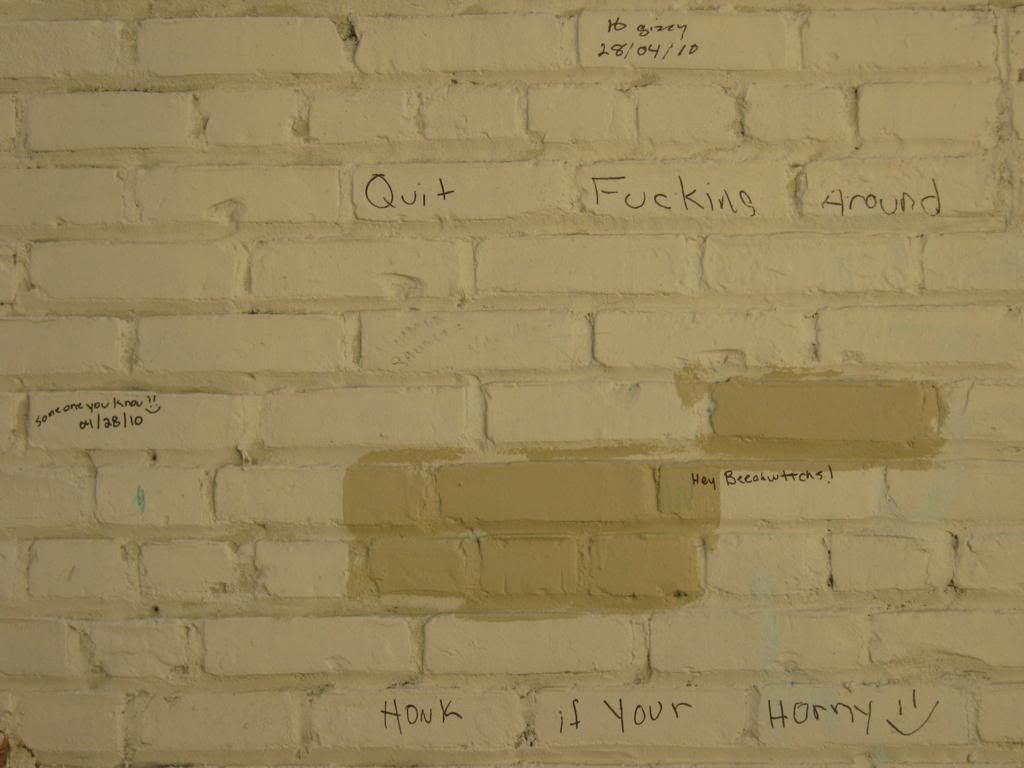 Classy as always, yes. Glad to hear our no-fail education policy continues to turn out the best and brightest.

Still, a smoking gun, yes? Graffiti dated the 28th of April, left untouched for the world to see? Someone's been asleep at the switch for who knows how long! Apologies and firings to follow!

Except, of course, that these kids got too greedy with the idea. Ain't that always the way? Not much later that evening, what should I find on the side of the Urban Bakery entrance but this: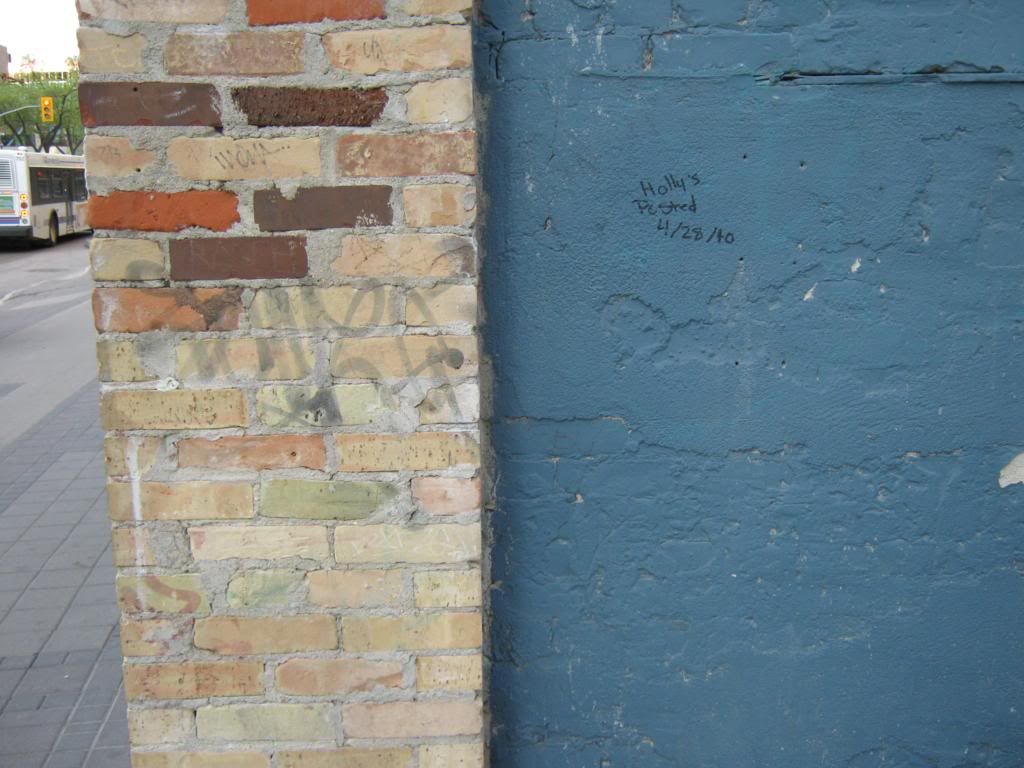 I'm not known for my expertise in comparing handwriting samples, but this looks to be written in the same script with the same pen as before -- and it just happens to share the same date, which is some really sloppy quality control on their part.

It's a cute gimmick, yes, but if you're going to backdate your entries you have to use it sparingly for best effect. Either that or hammer it into the ground with increasing exaggeration, which I for one think would be pretty funny.

"RE-ELECT AL GOLDEN 2000"
"R.I.P. WPG JETS 08/28/96"
"UNICITY SUCKS!! 1/5/73"
"SEMPLE DESERVED IT 12/10/1816"
"HOLY SHIT A MAMMOTH 25,000 BC"

If you're going to be obvious about it, at least have some fun with it.

This gives you some idea of what the cleanup crews are up against, though. No pulled punches here! This ain't croquet, son, this is war!

And it appears to be a war with a scorched-earth policy, because this shot segues directly into:

The Particularly Insulting Surface Parking Lot

Here's what the area between the Urban Bakery and the haircutting school looked like when Google Street View drove past it back in the day.




Here's what it looks like now.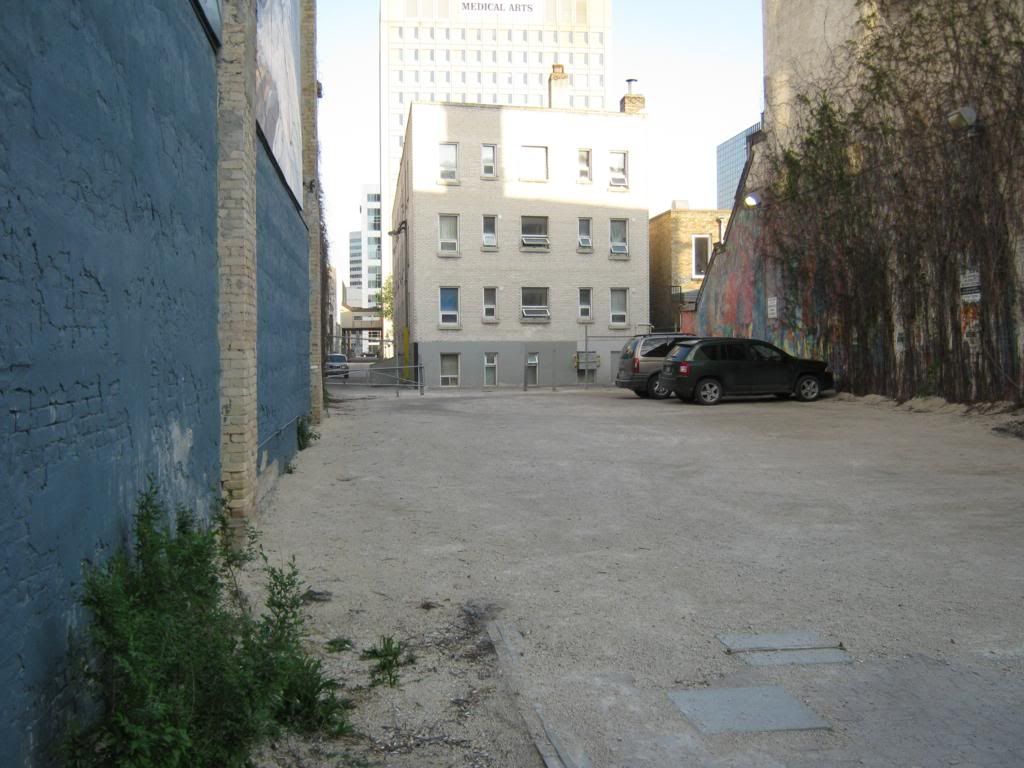 Somebody explain to me how anybody in charge of this city let this happen.

Either the landowner sent in an application to turn a perfectly good little urban park (one the Downtown BIZ used frequently for chess events) into a gravel parking lot, or he didn't and just bulldozed it anyway. If he did apply, somebody in charge somewhere agreed that this was a good move; if he didn't apply, then the city and its related organizations are too toothless to stop anybody in the area from doing the exact same thing.

How was this change a good idea? At all? Anybody?

The Downtown BIZ proudly boasts that there are 32,000 parking spots in the city centre, so I don't understand how the potential demand would have justified this supply at all. And if you decide for some completely implausible reason to park your car in this lot -- thirty-two thousand parking spots downtown and you pick this -- you are not exactly making the safest possible decision, either for yourself or for your vehicle.

Imagine if you were parking here to take your four-year-old daughter to a dentist's appointment, or whatever. You let her out of the car, take your eyes off of her for just a second to lock the vehicle, and when you turn around she isn't there. You'd panic, right? Well, don't worry; all that happened was she just got tired of Winnipeg, and decided that it would be fun to wander into a Spike Lee joint instead.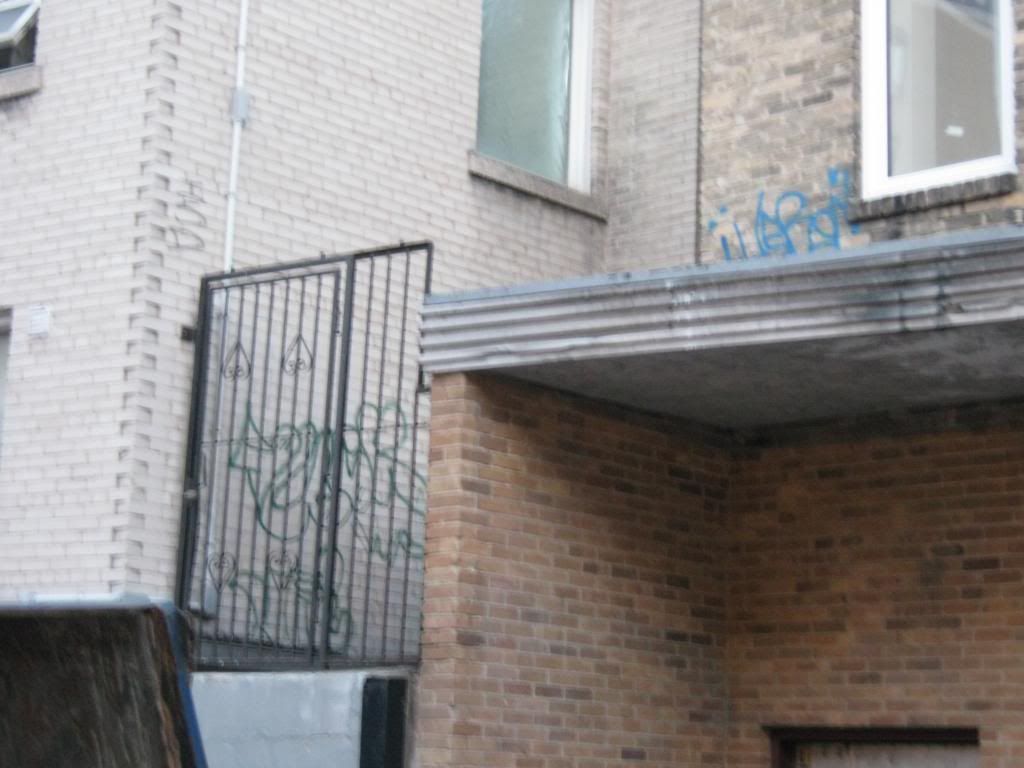 Or perhaps she wanted to investigate the brightly-coloured, kid-friendly mural a few steps south of that parking lot, which starts at Graham and becomes rapidly less and less kid-friendly as it progresses along the alley.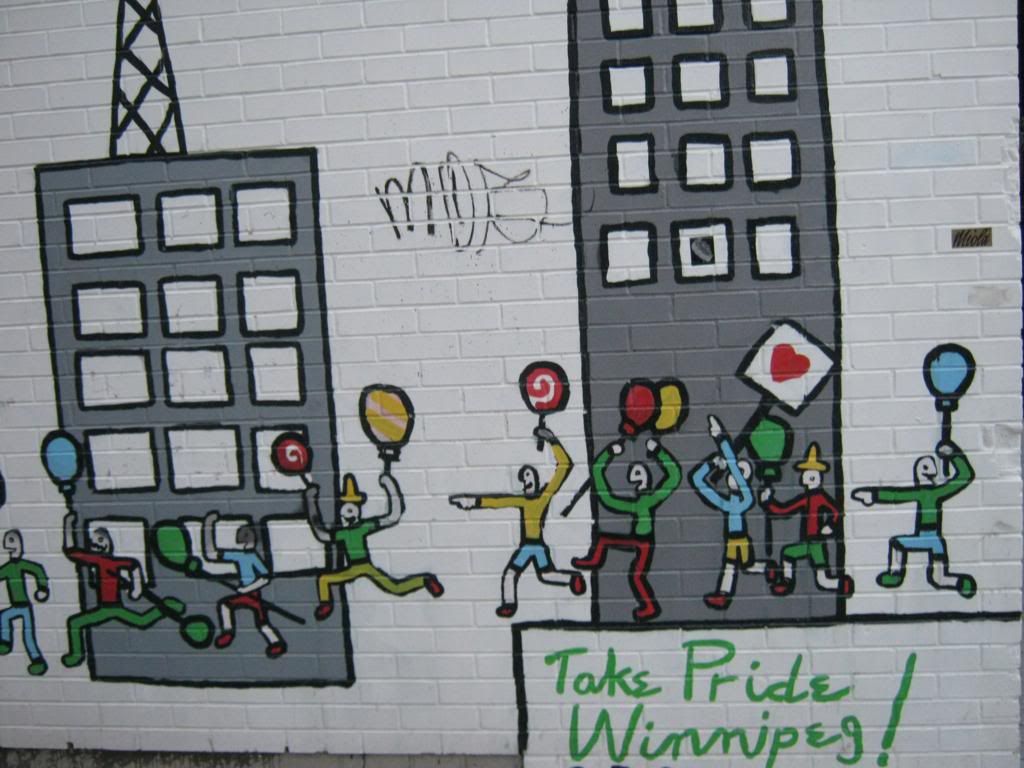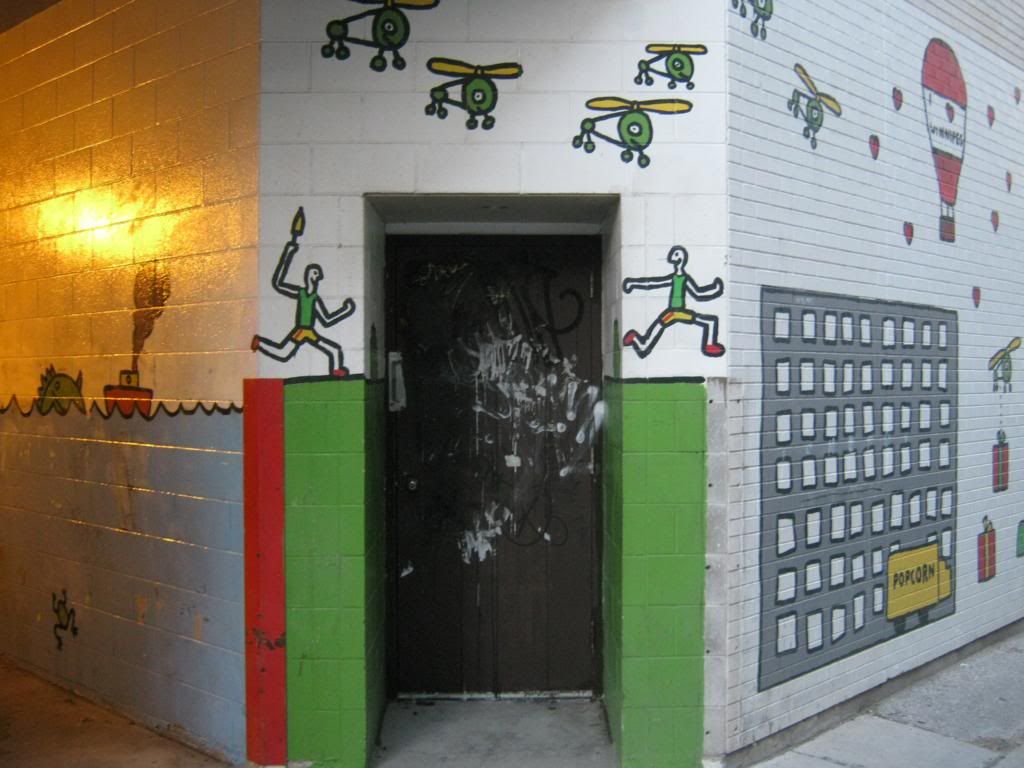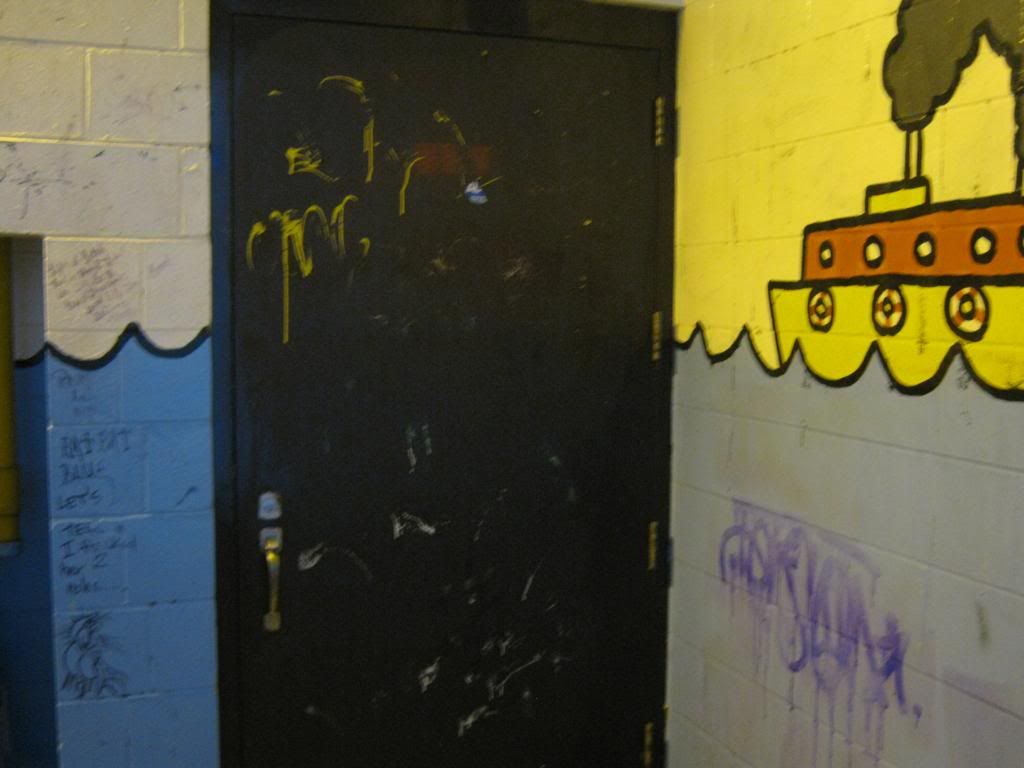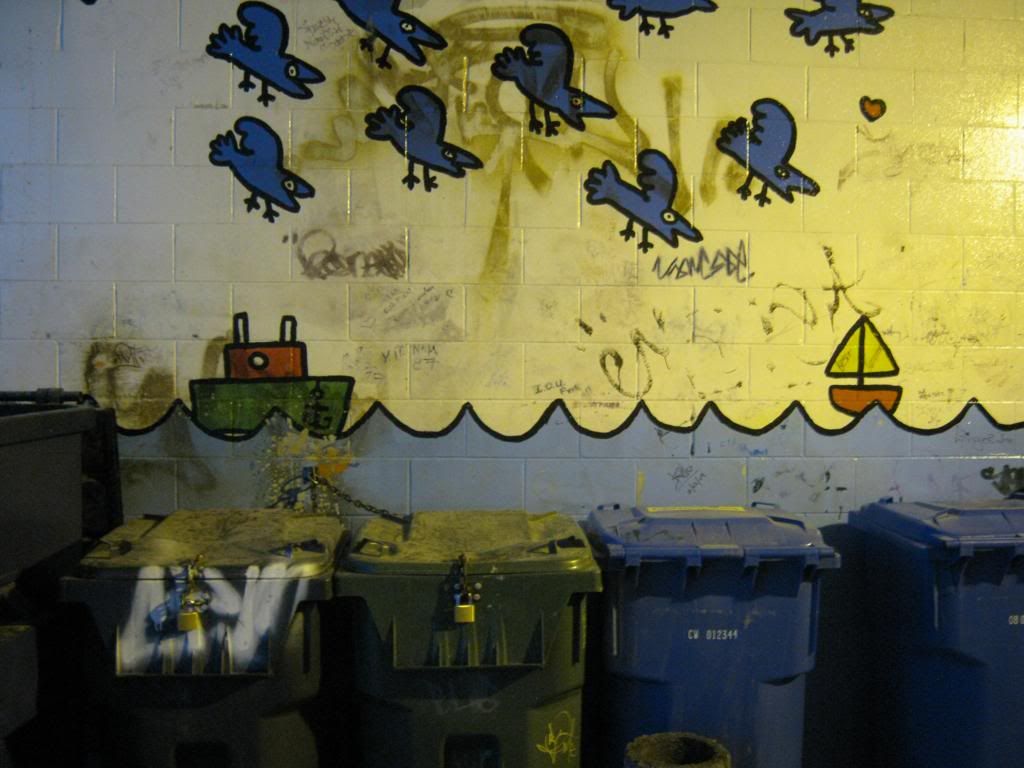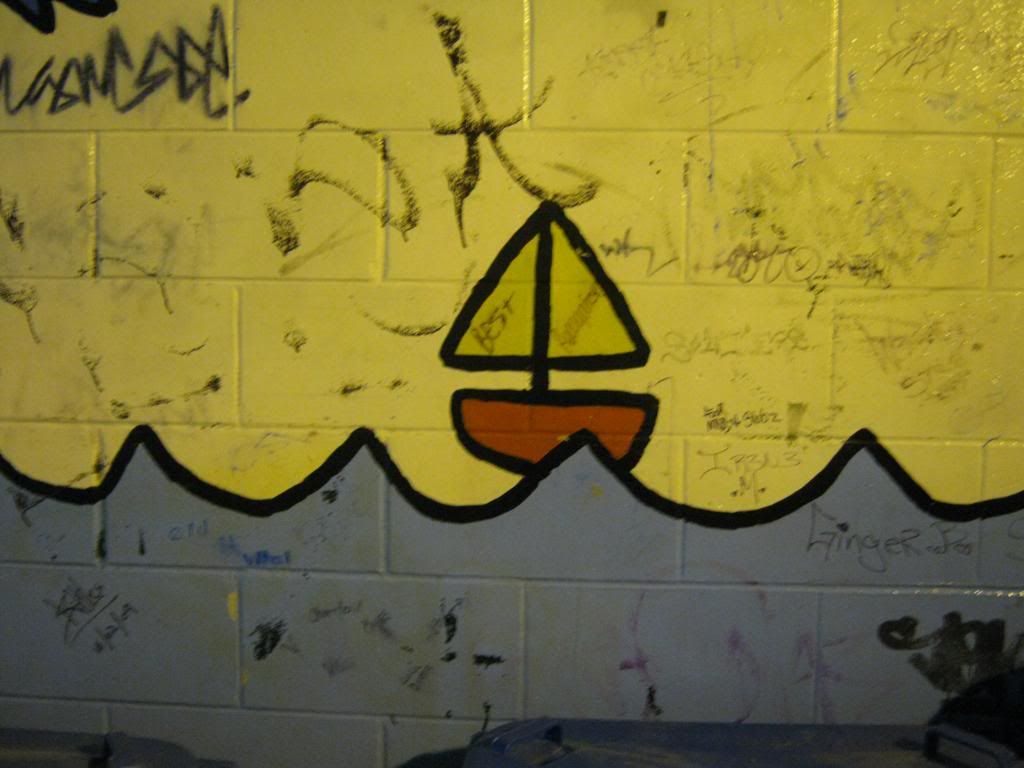 The "Take Pride Winnipeg!" really does sell the piece, I think. I like downtown because it's safe and clean.

But if this isn't exactly the welcoming atmosphere that you want to leave your car in, or walk your kids through, then maybe next time you should just park directly at the Medical Arts Building for your hypothetical appointment. I mean, you could probably walk an hour in that parking lot without seeing any--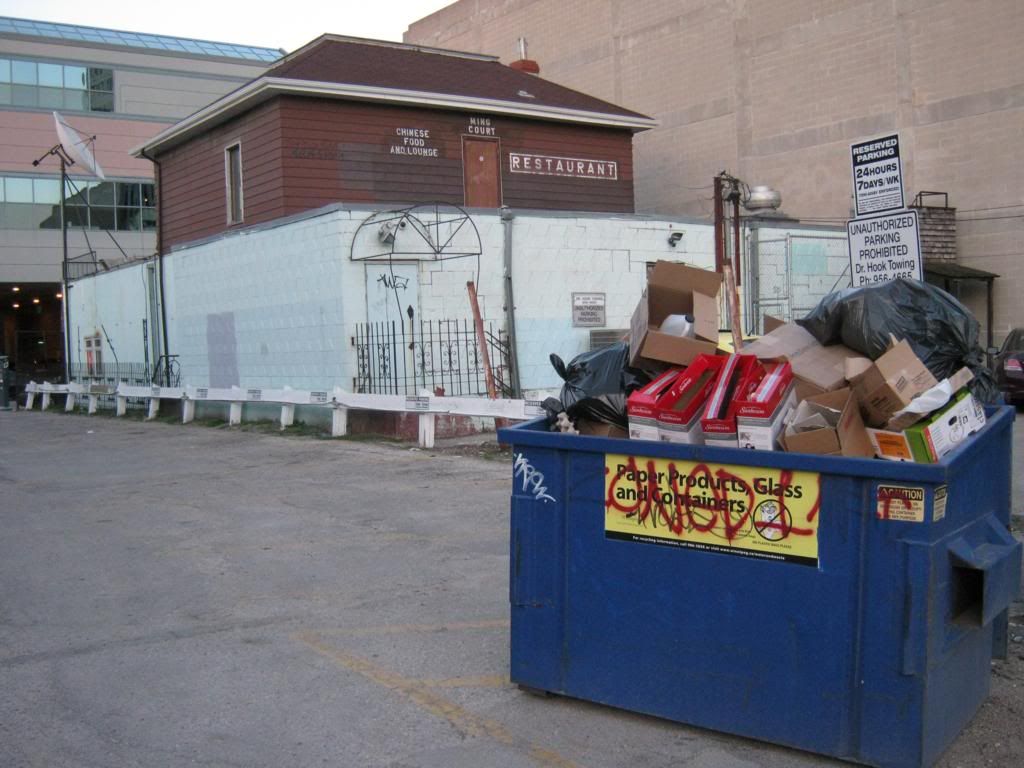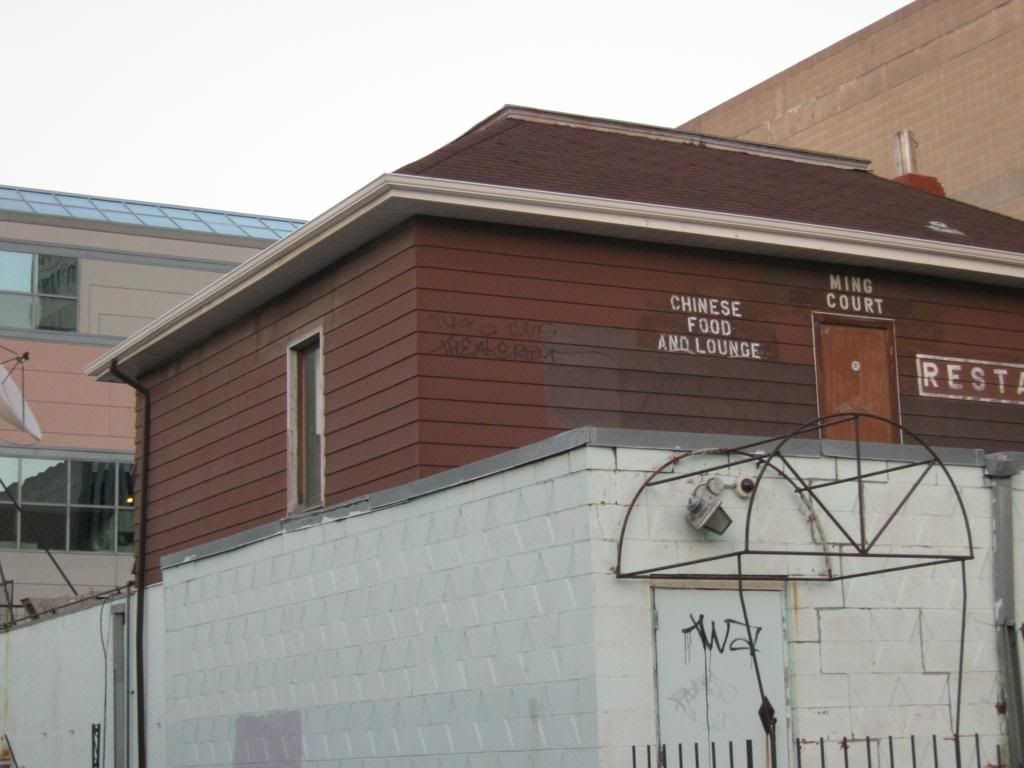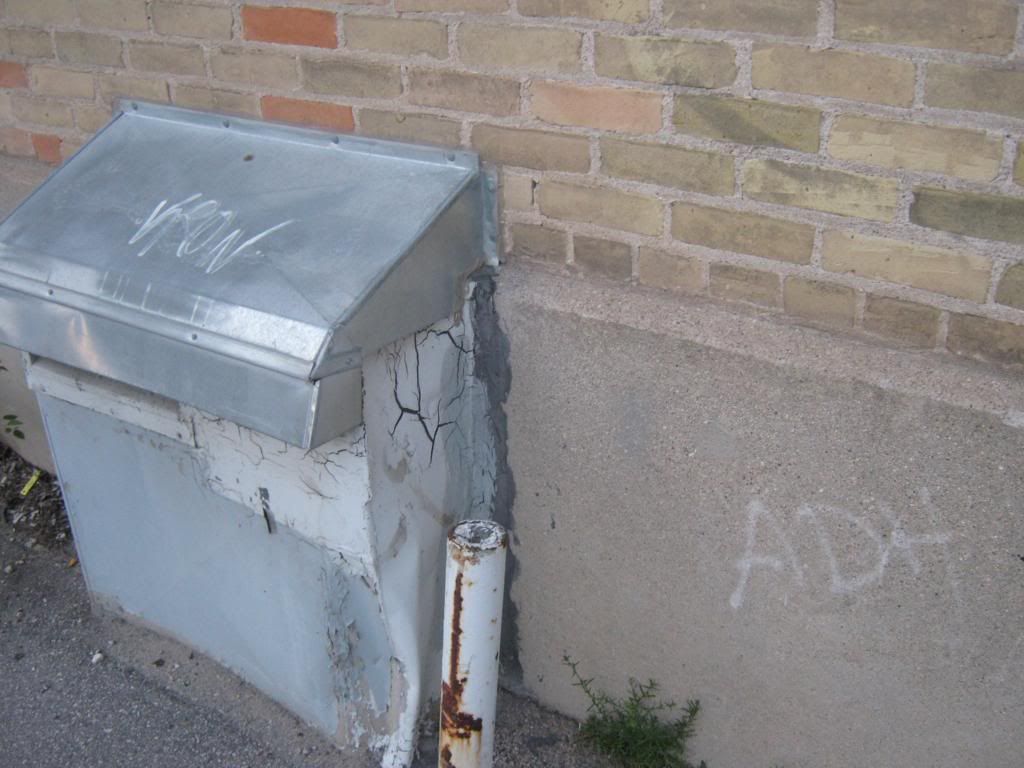 Oh, god dammit. Why do I even bother? This is why we can't have nice things.

One Block South of the Winnipeg Square Entrance

Now, this section is exactly what it says on the label. Let's say you parked your car a block south of Winnipeg Square, or you attend CDI College -- or both, if you're a real downtown enthusiast. Surely you could walk back and forth between your car and your destination for an hour without seeing any graffiti, right?

Welp--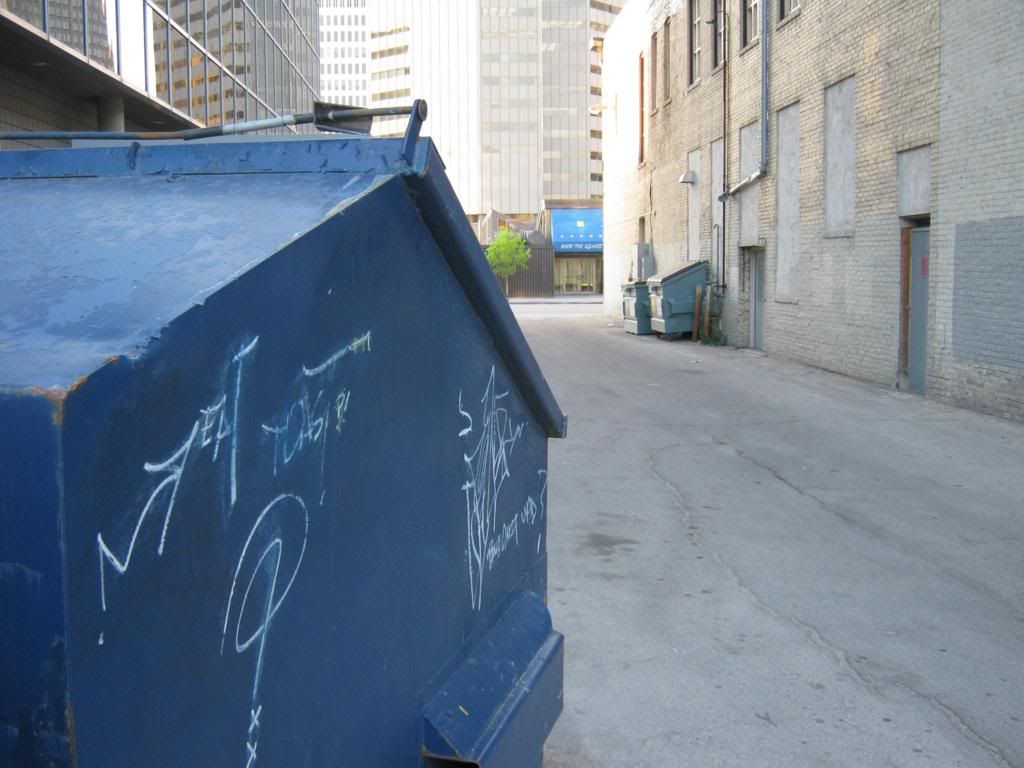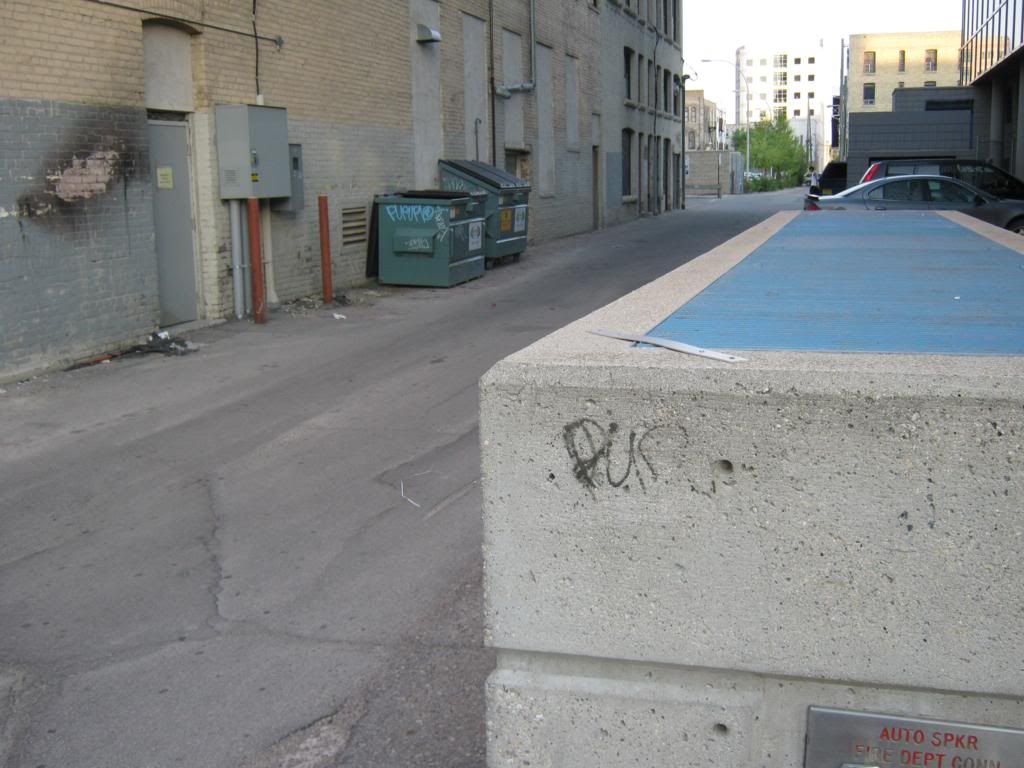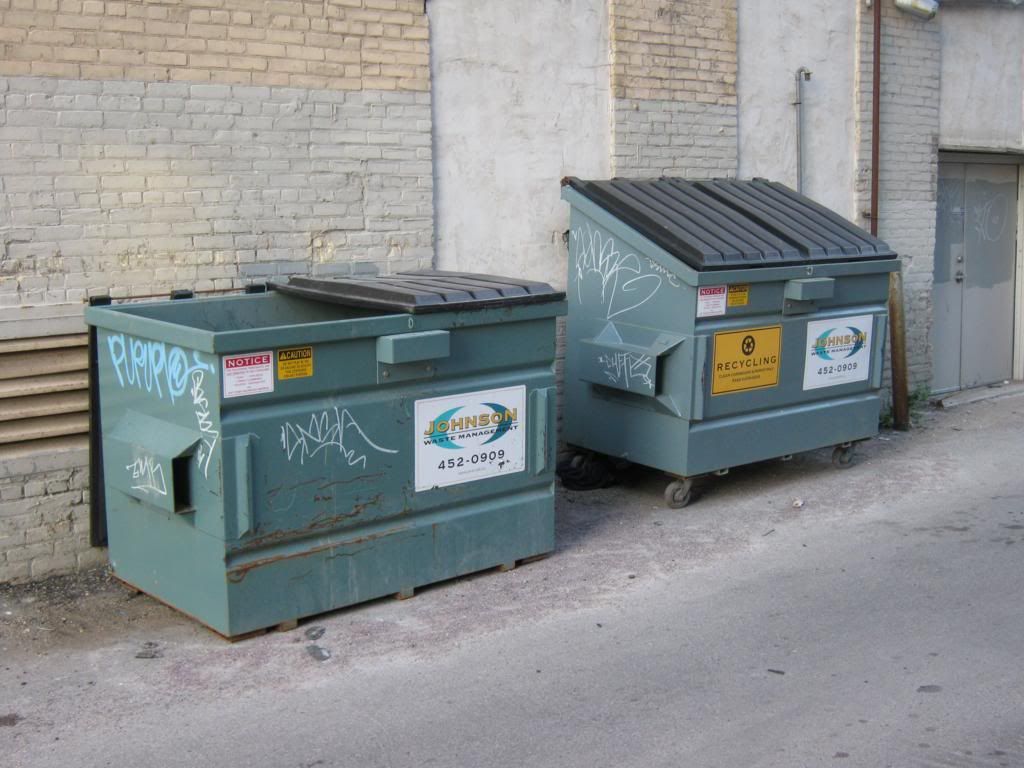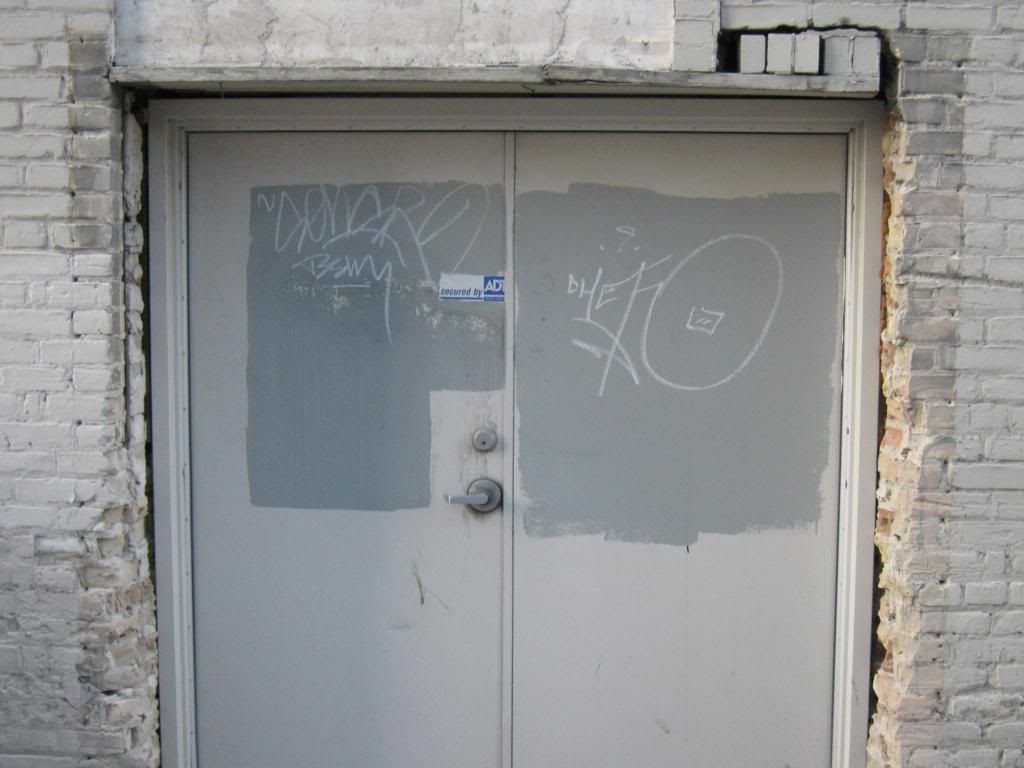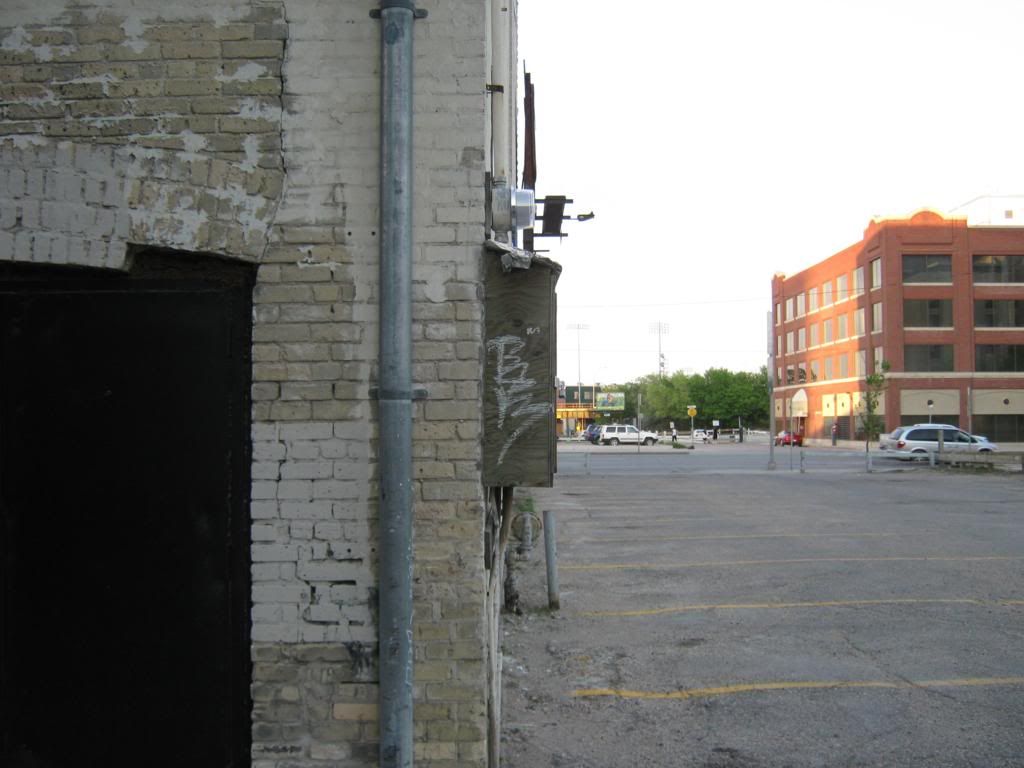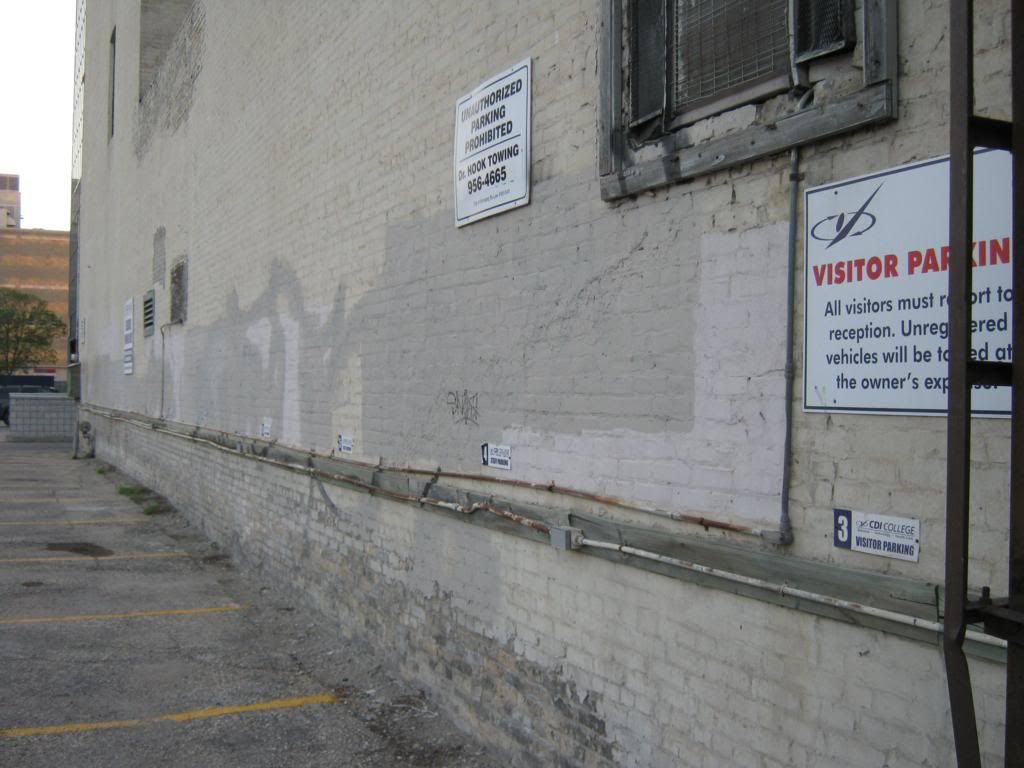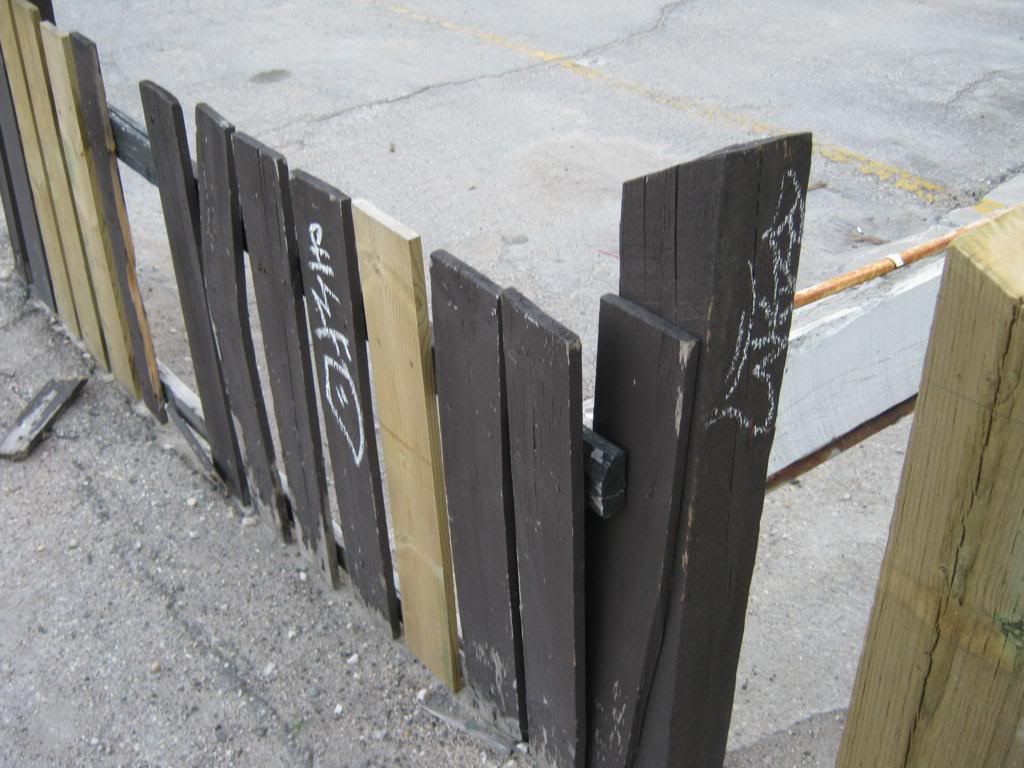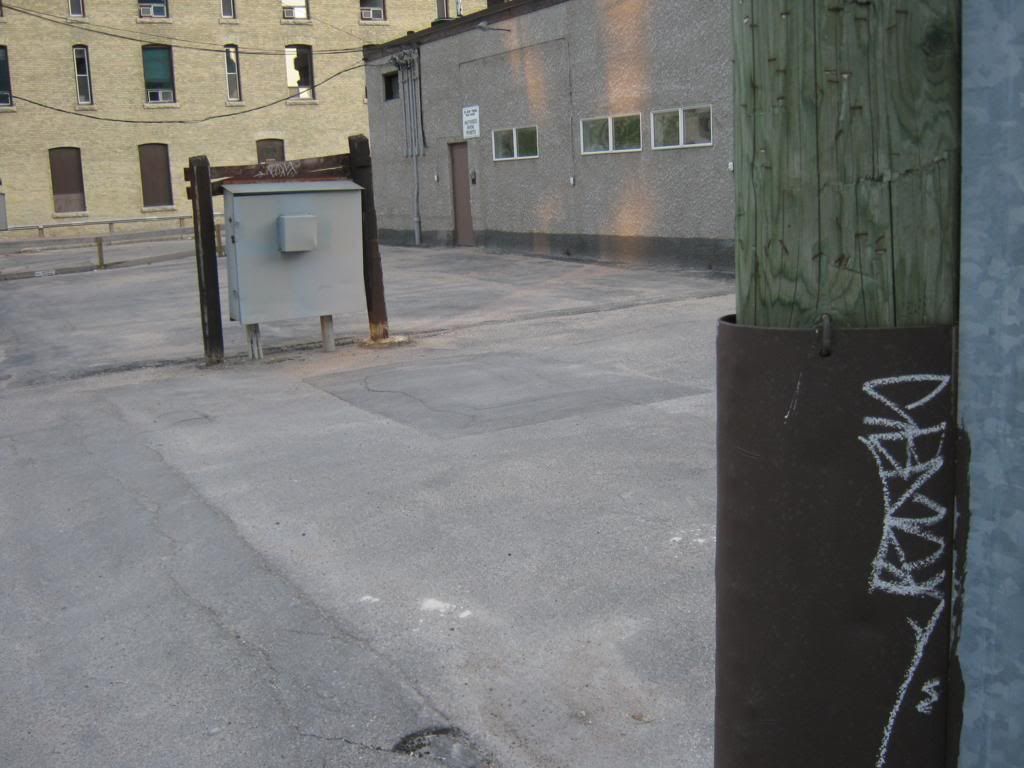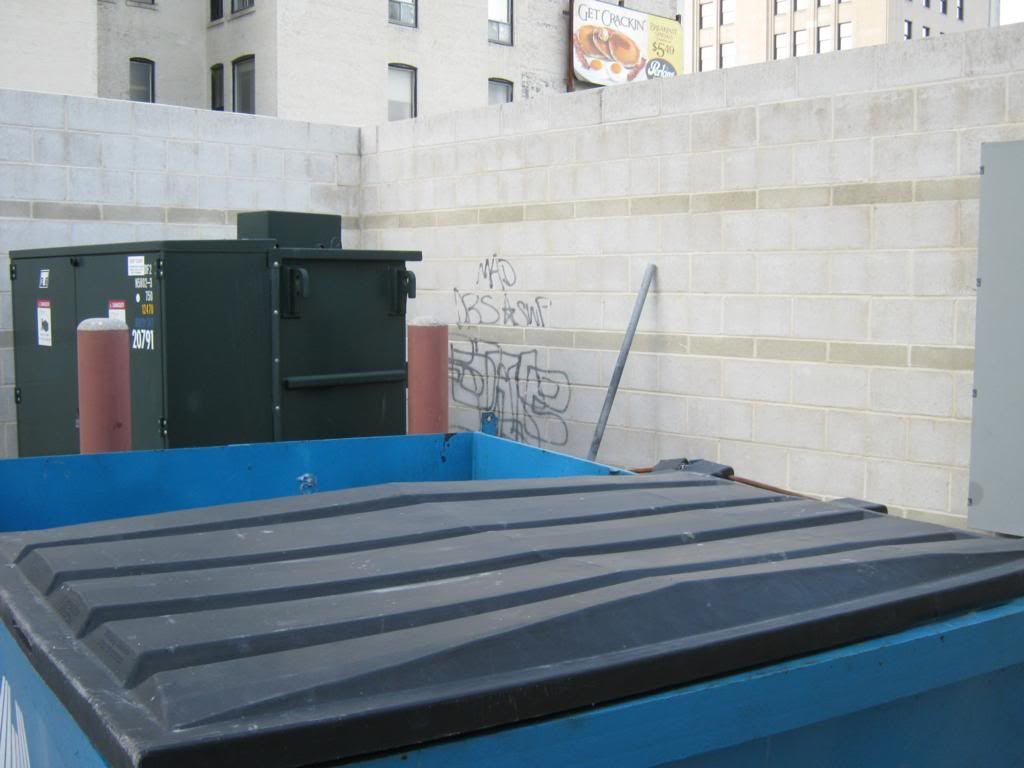 I know you might react with disbelief and ask "is this all really downtown?", so let me restate the above: this is all just one block of the downtown. Fort to Main, Graham to St. Mary, straight out from the Fort exit of Winnipeg Square. As you can still see in this picture.




One block.

And I've saved the best for last on this block, because I know you were hoping for them: more unicorns!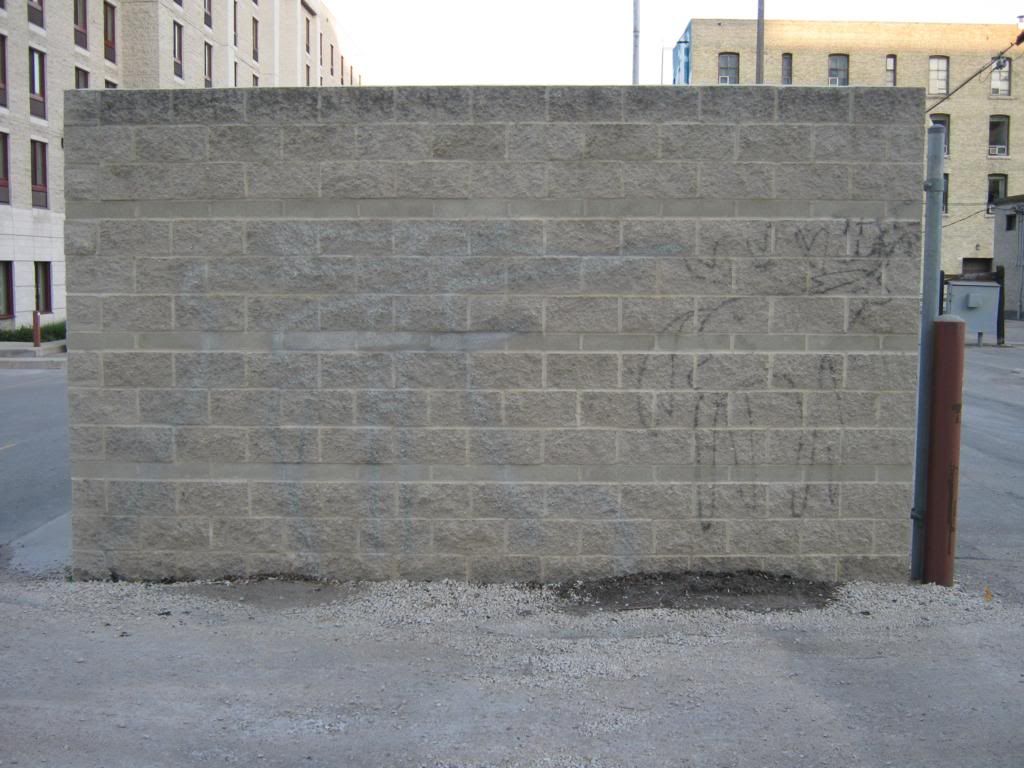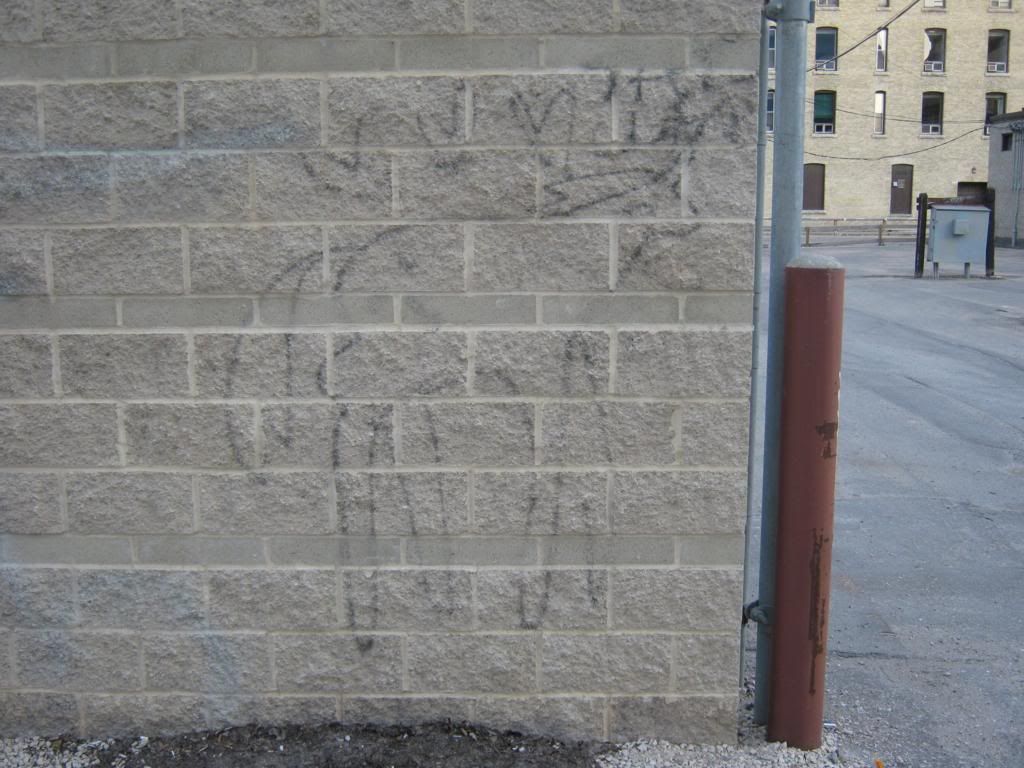 Yes, another unicorn (similar in appearance to the one way up on the back of the Avenue Building) clomps into our hearts on his cylindrical balloon legs, and then another one appears on the side of another building twenty feet down the alley.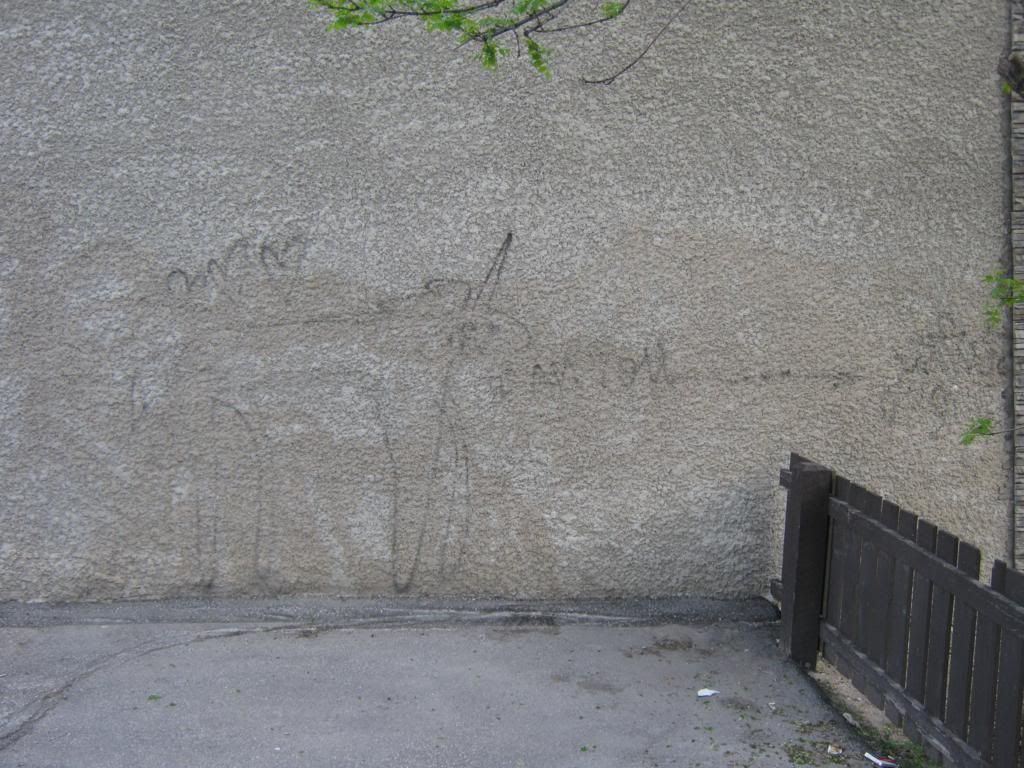 And this one is by far the best because he is a survivor, remaining where he is even after graffiti crews worked long and hard to erase a different, larger design next to him.




This may have all been the unicornist striking within the two or three hours after the Downtown BIZ's challenge expired, but I doubt that very much; unless the kid has some serious vertical leap, there's no way he or she tagged the third floor of the Avenue Building and drew two more unicorns several blocks away in that timeframe. So I like to think that the unicorn survived because its landowners wanted it to survive, ordering the Downtown BIZ cleanup crew to chase away that nasty ol' squiggle design that wanted to hurt the unicorn.

So the next time you speak with somebody from... whose wall is this?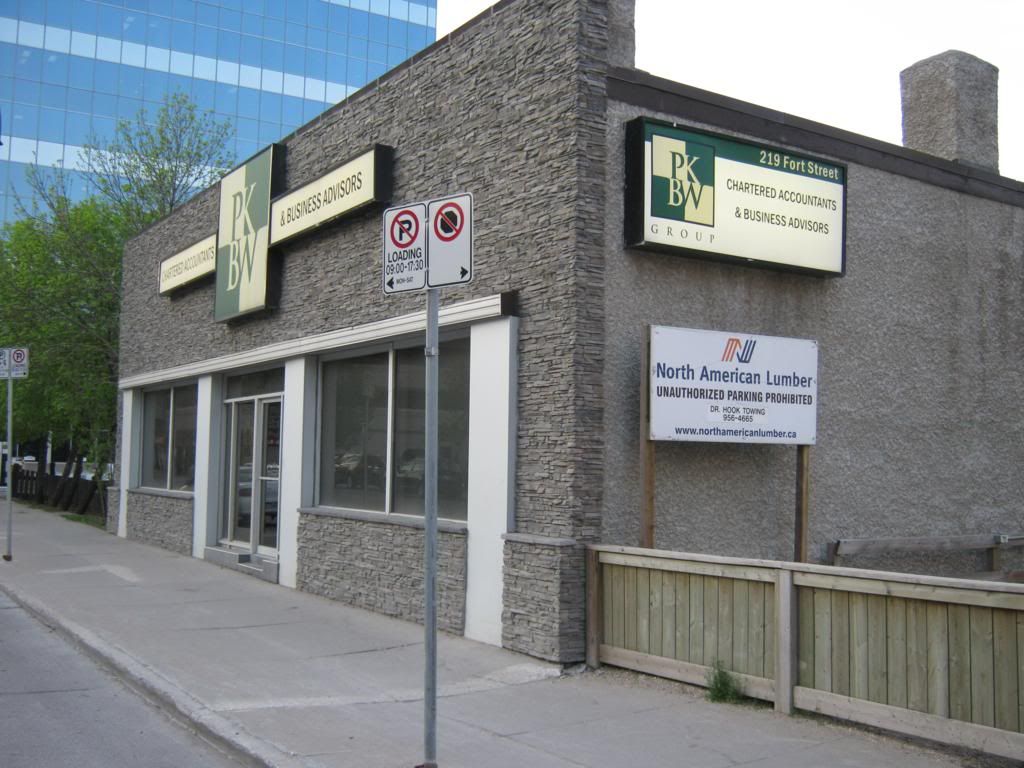 The next time you speak with somebody from the PKBW Group of Chartered Accountants and Business Advisors, give them a hearty handshake and thank them. Thank them for keeping their unicorn; thank them for keeping the literary genre of magical realism alive.

We may talk down about the vandals, occasionally, but they're really just romantics at heart. If you couldn't already tell from the unicorns, I mean. Why, just standing in that block, within visible range of Winnipeg Square, you'll encounter some of the most elegant and profound poetry left behind by these sensitive souls: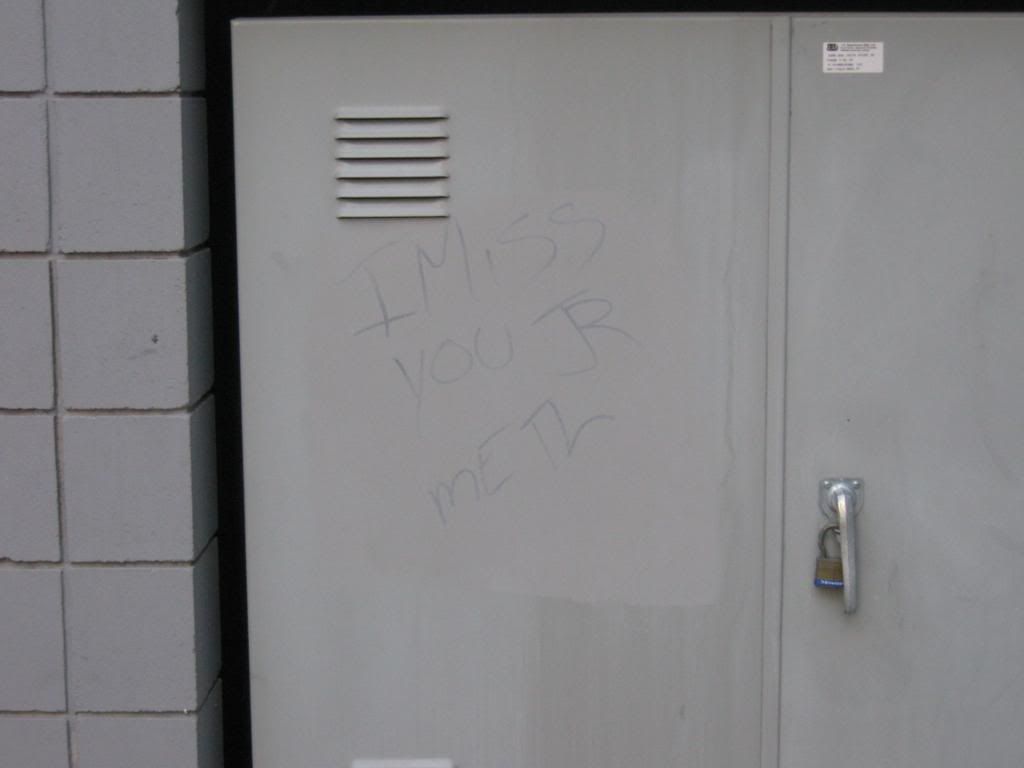 Oh! Oh, the expression, the cadence! My heart, she weeps. See, they're not bad guys! They're just... misunderstood!

The War Memorial Mural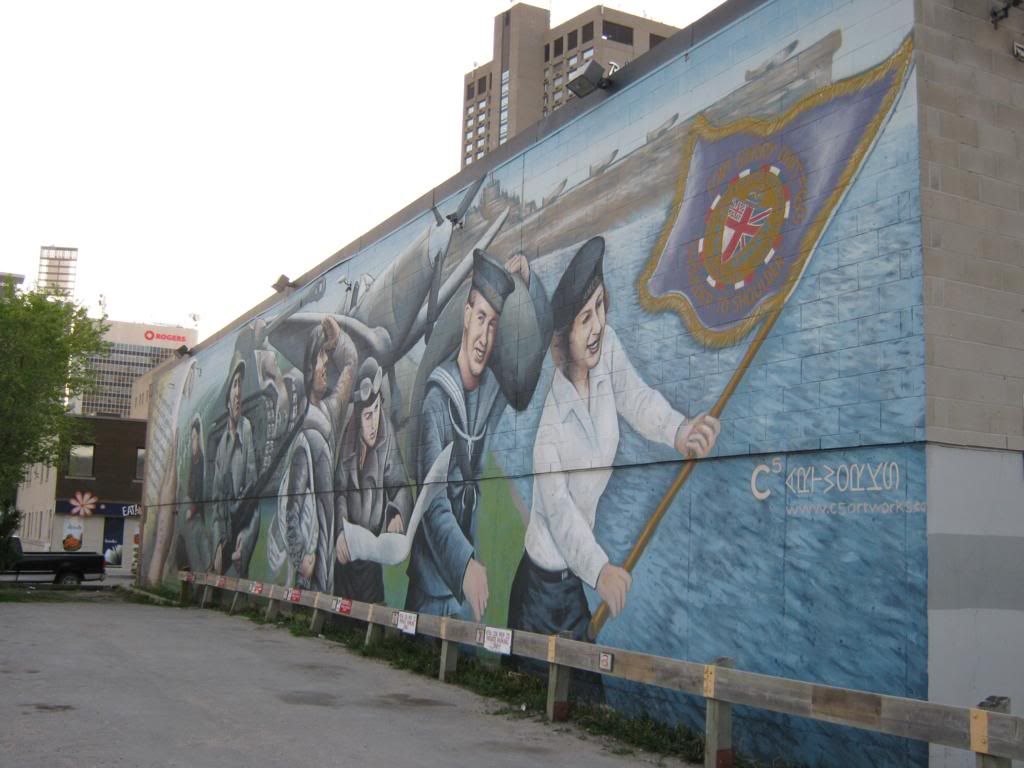 Wait, the what? No. No, they wouldn't -- would they? No, that's awful. Come on, man, that's Tommy Prince on there, they wouldn't--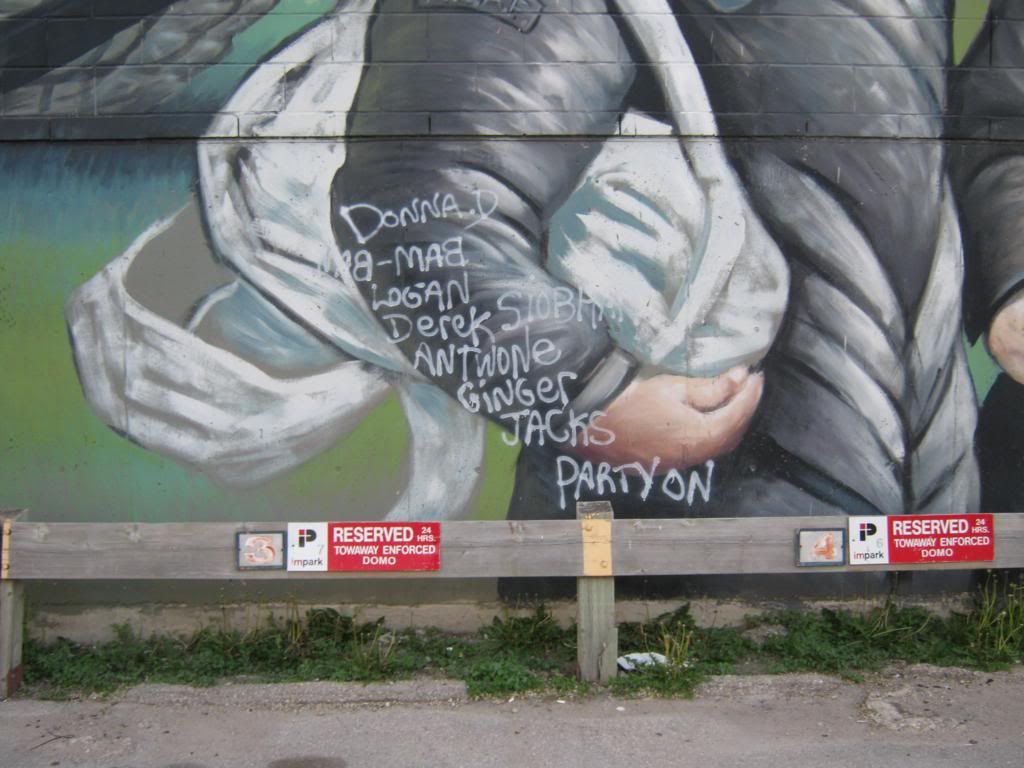 ...oh.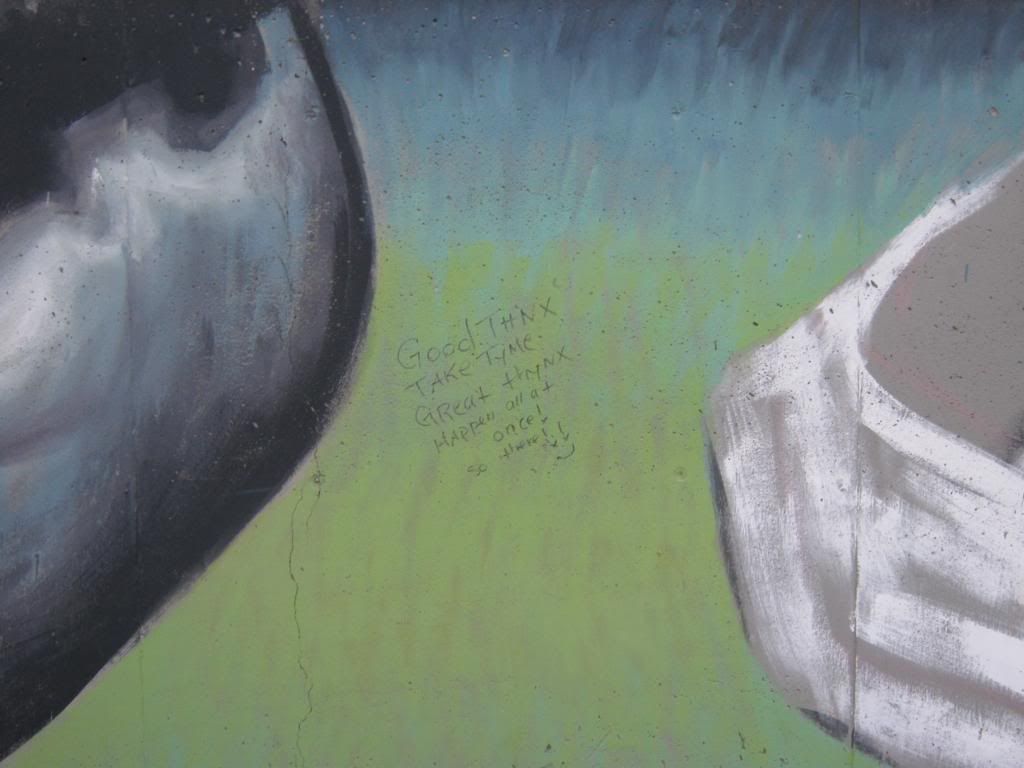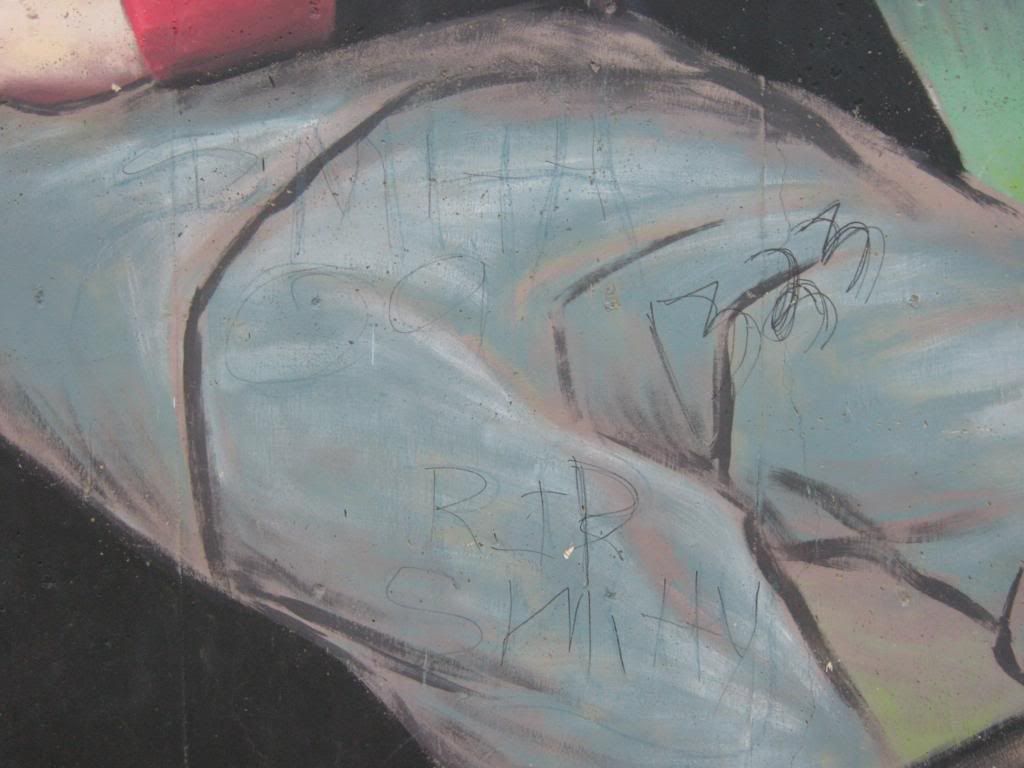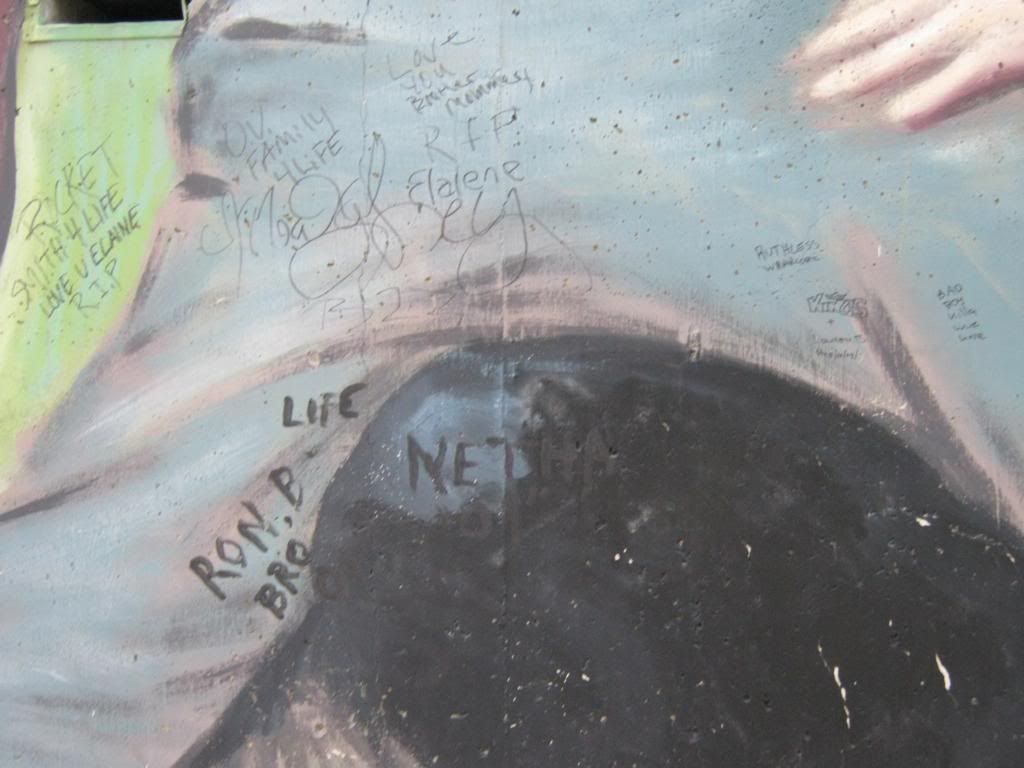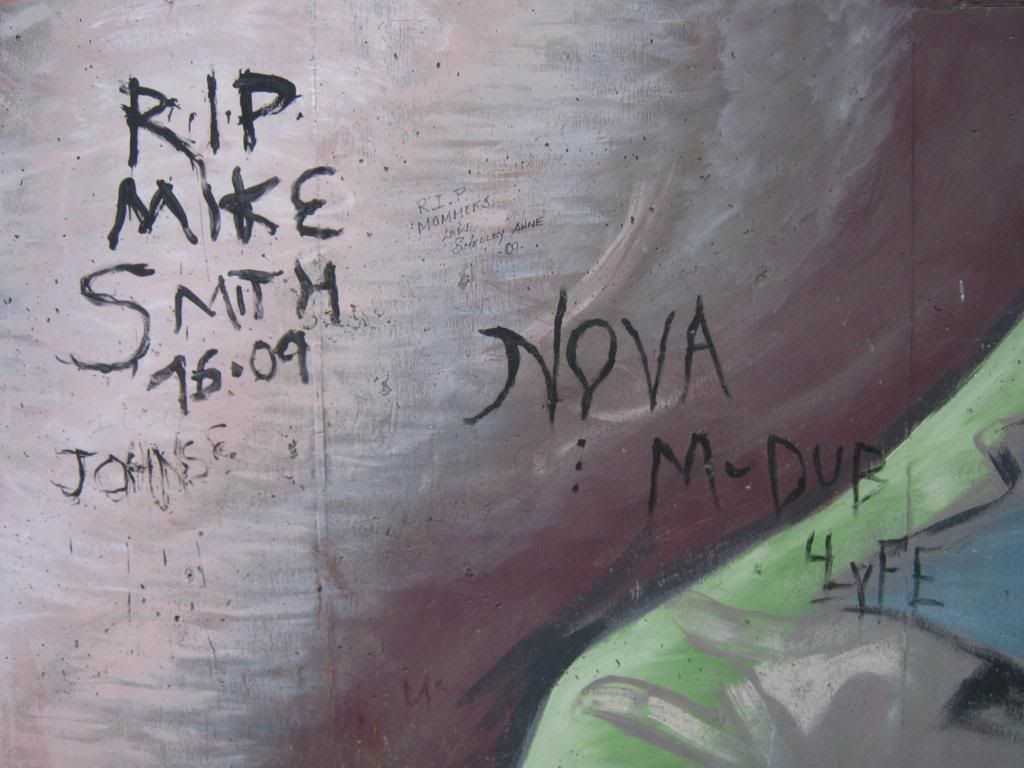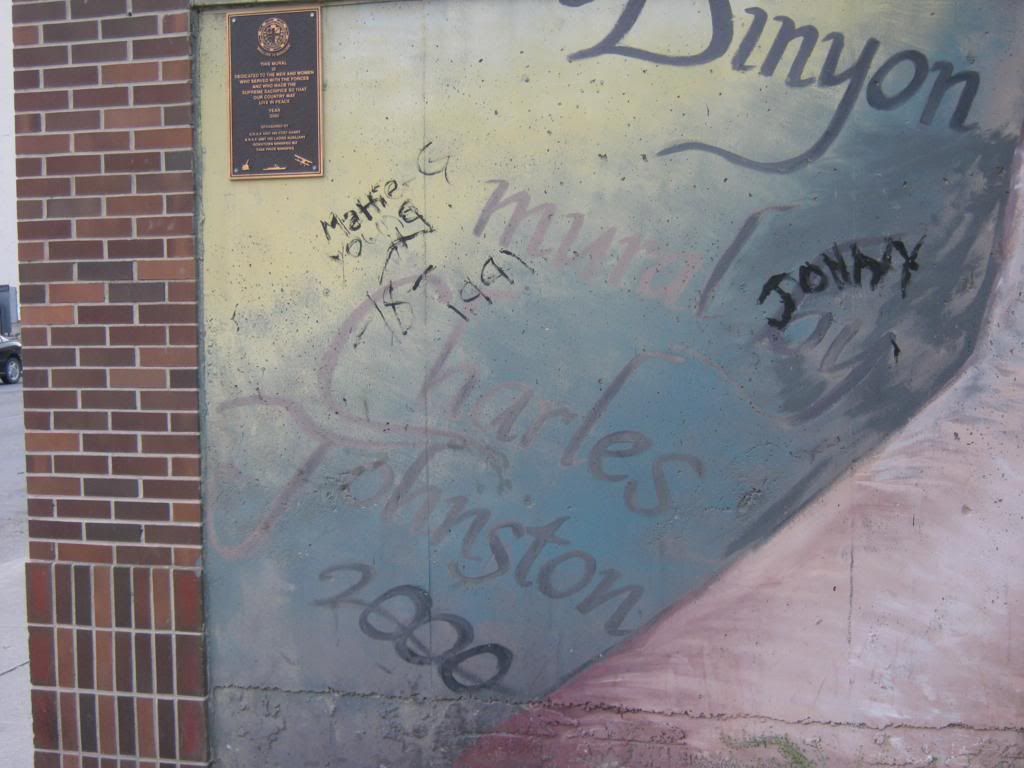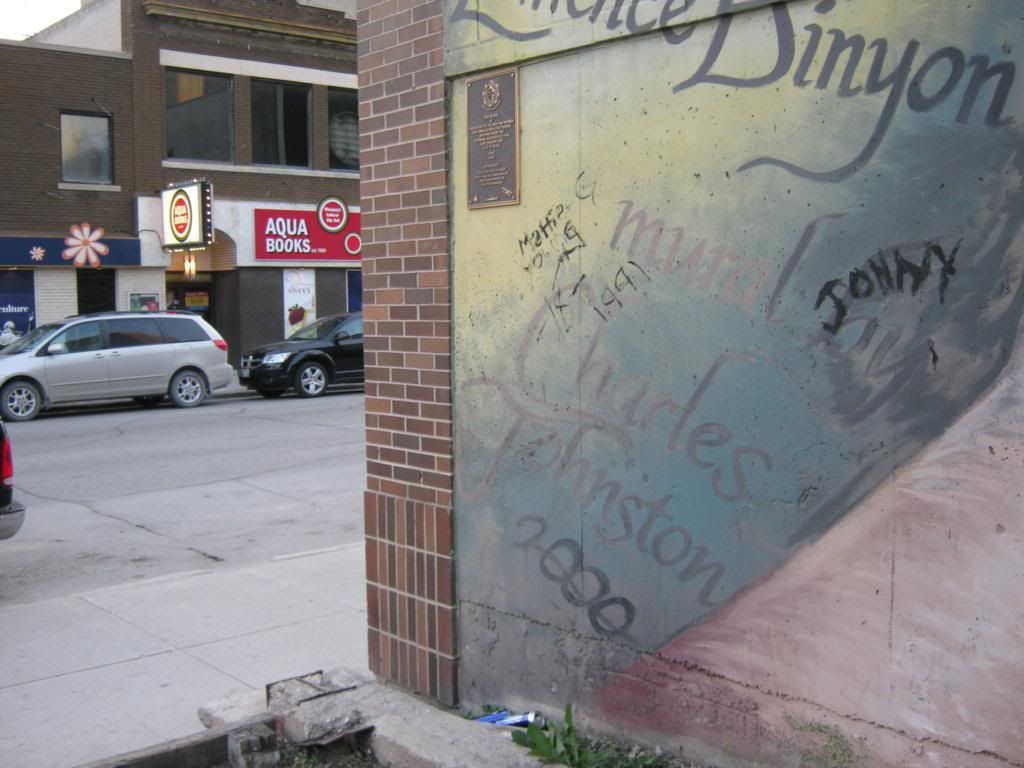 Okay, forget all the nice things I said about you guys earlier. You're all terrible people, and you should be ashamed of yourselves.

The real kicker in this series, the punctuation on the sentence that drives the point home?




Yeeee-ep. Welcome to Downtown Winnipeg.

At Least They Tried

I don't mean to insinuate from any of the above that the Downtown BIZ cleanup crew are lazy or indifferent. If anything, I feel for them; trying to keep pace with the graffiti downtown is an impossible job to begin with, and I'm sure it only got worse when they were all told that the graffiti had to be gone by Monday. All the graffiti. The boss wants to make a point.

So these poor cleanup workers spend who knows how long on each case, each of them now trapped in their own personal Lady Macbeth nightmares where they scrub and they scrub and it won't come off, and nobody finds out until afterwards whether or not the cure is actually worse than the disease.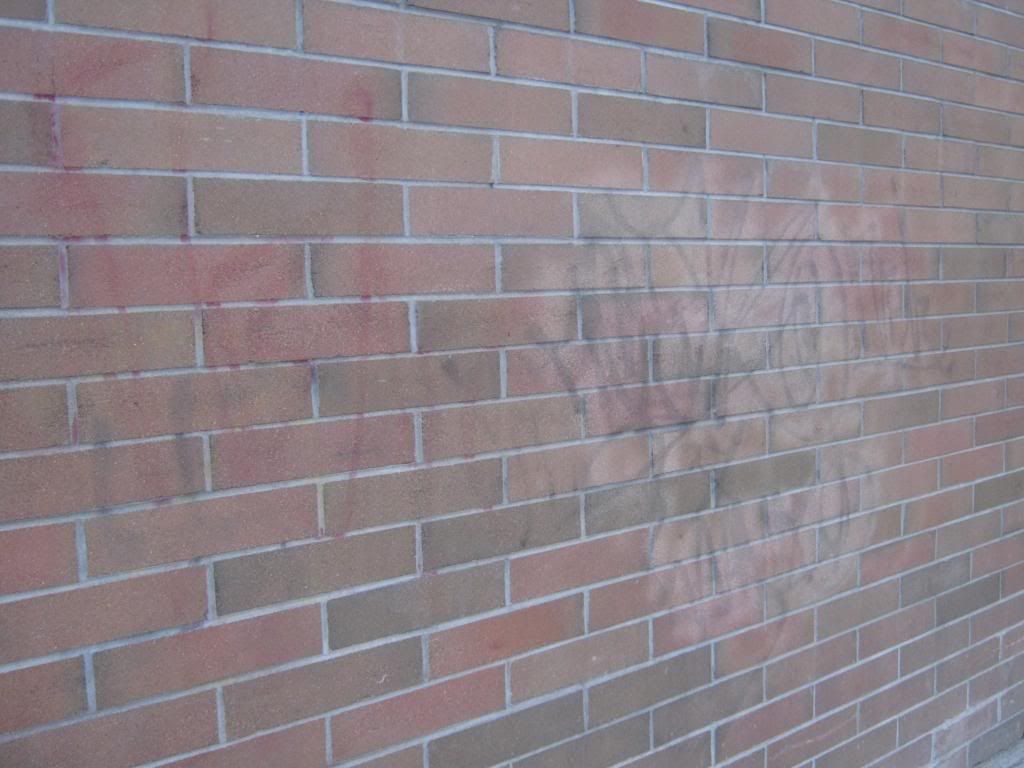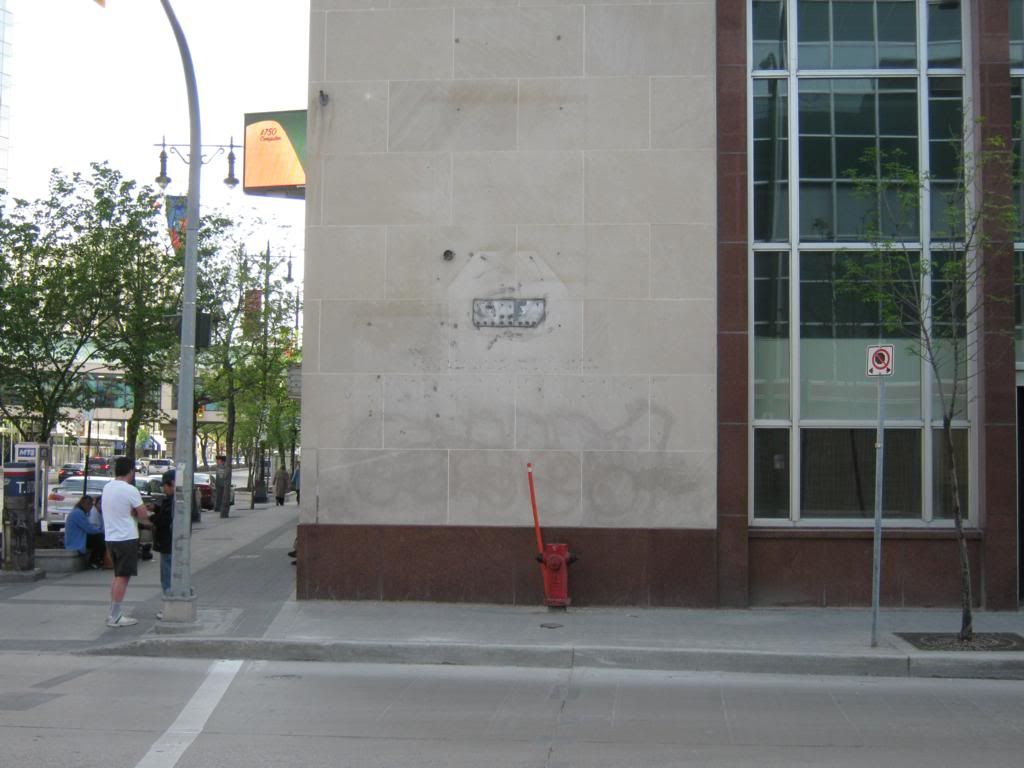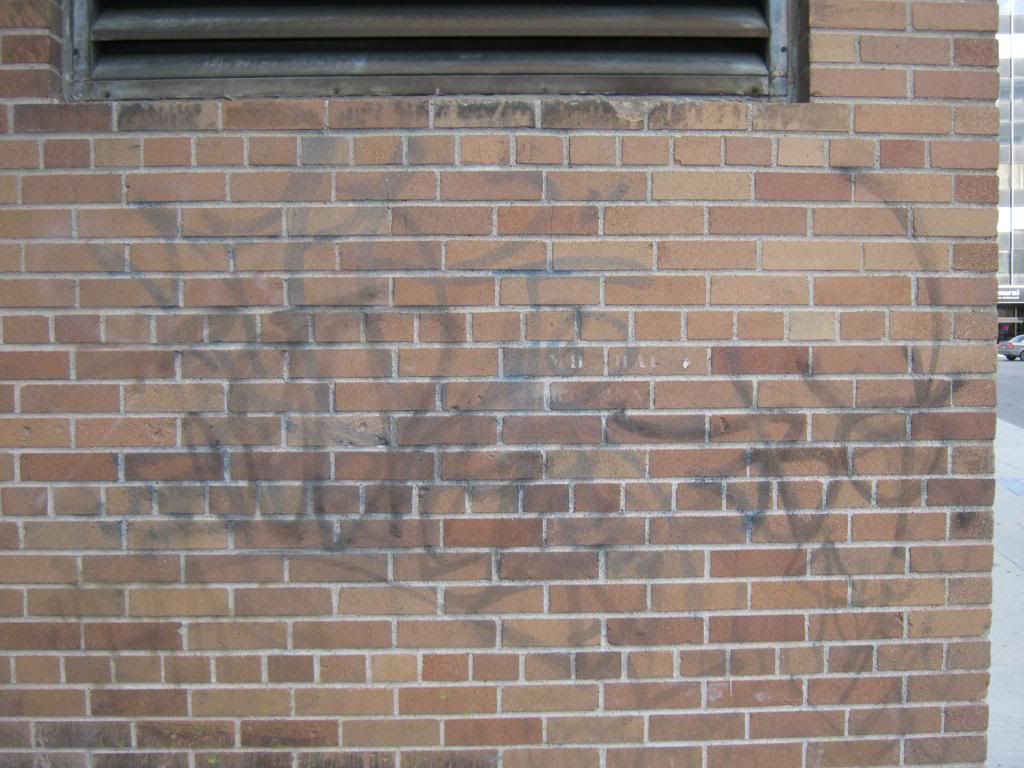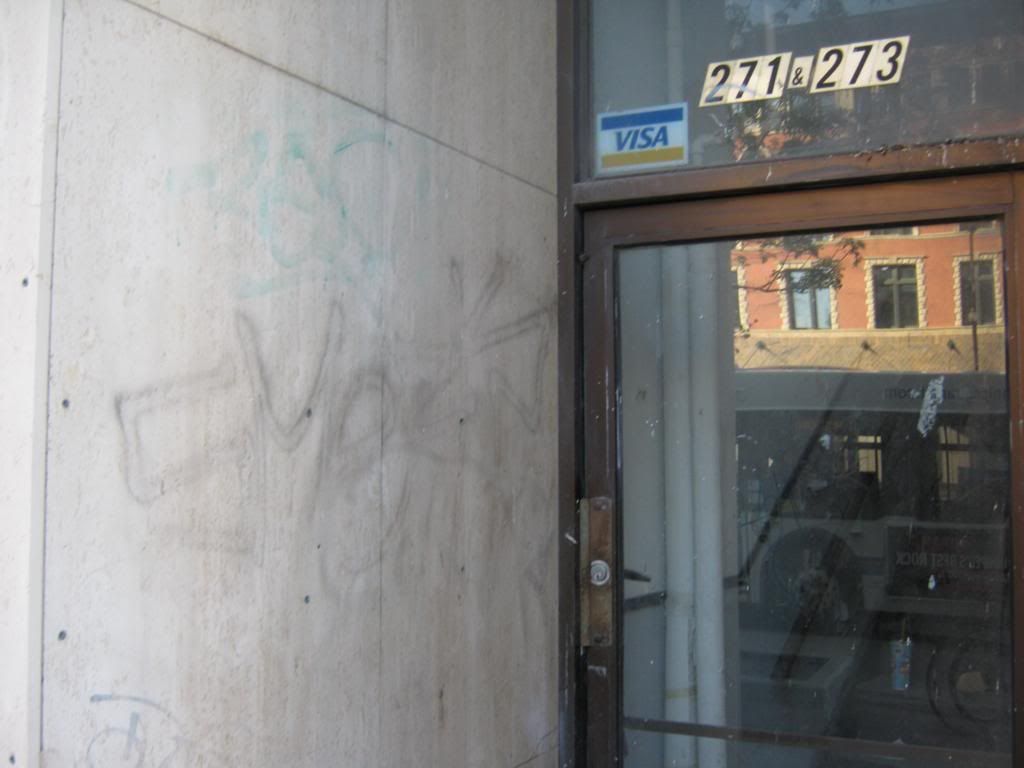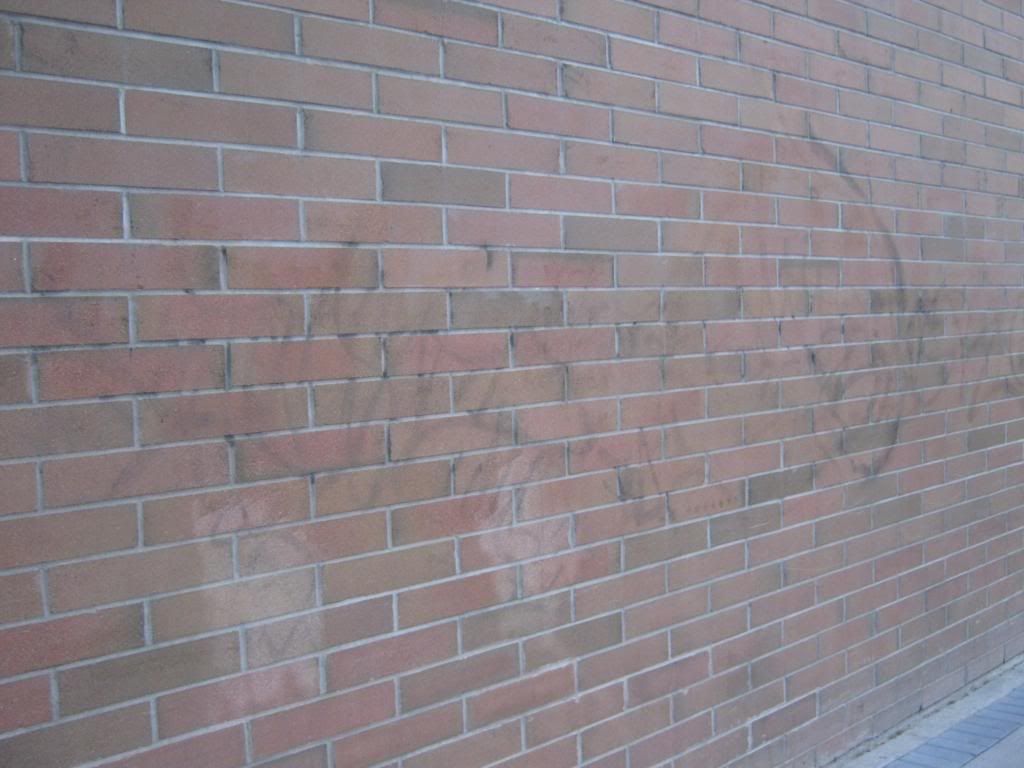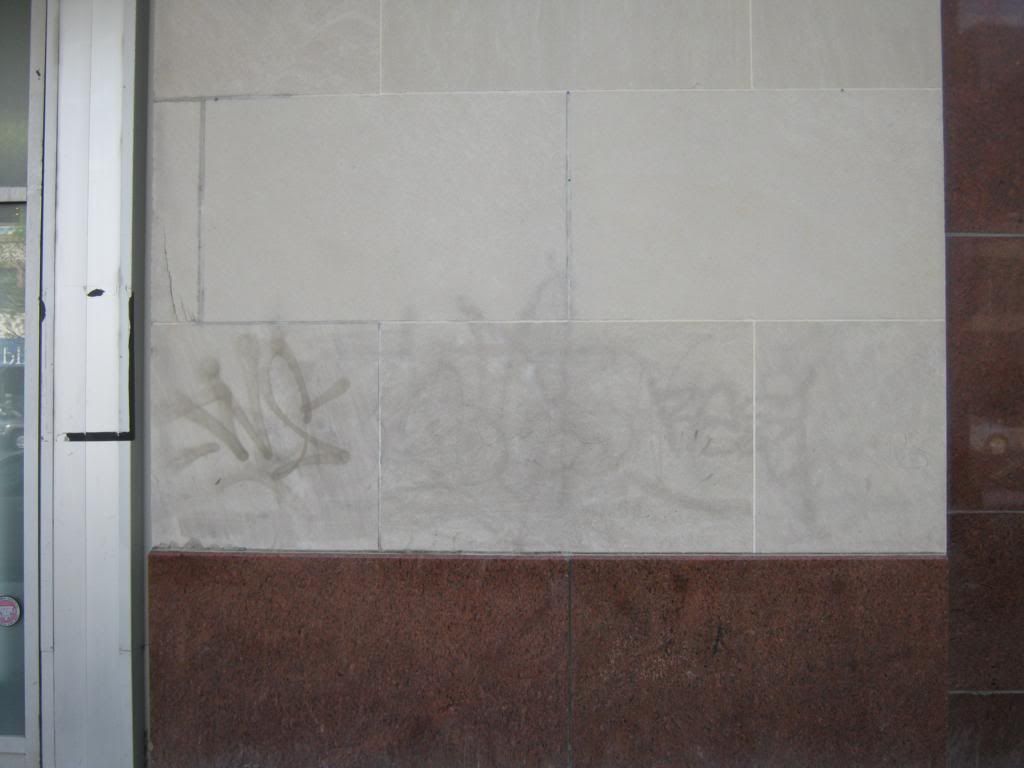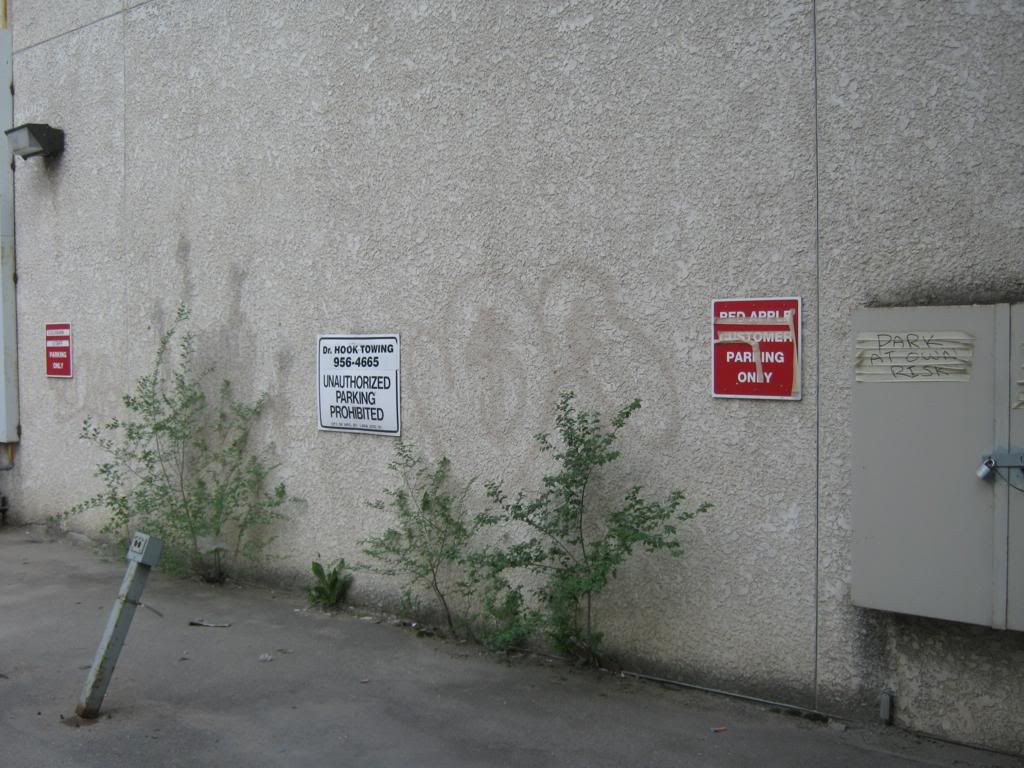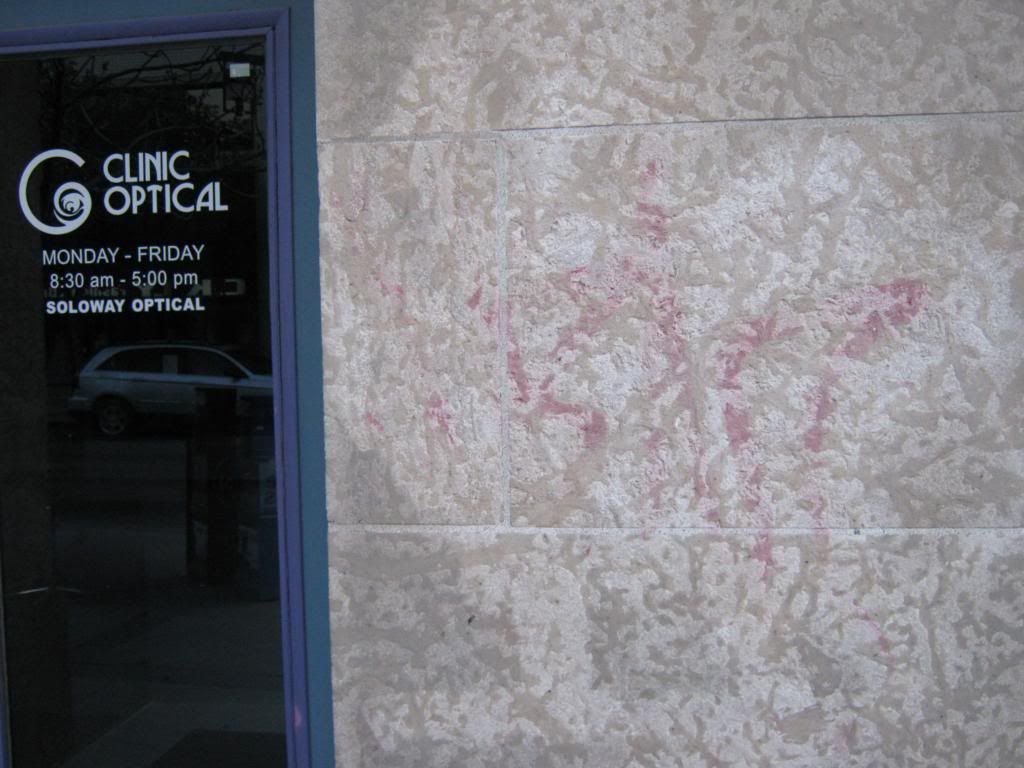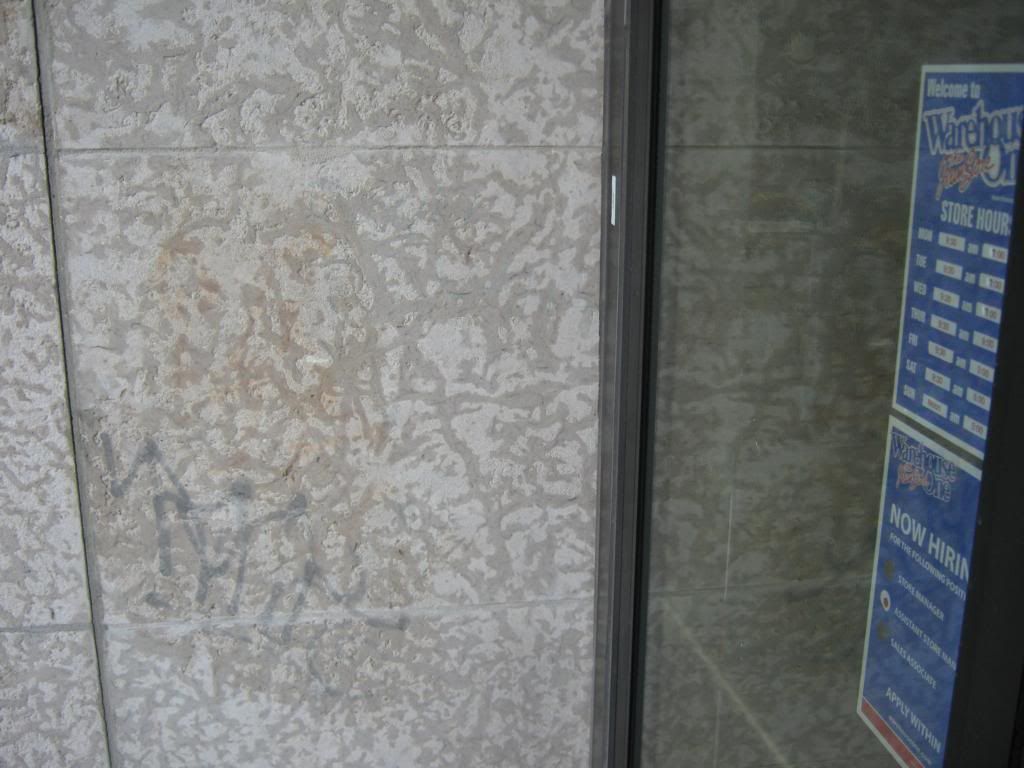 And my favourite of the bunch: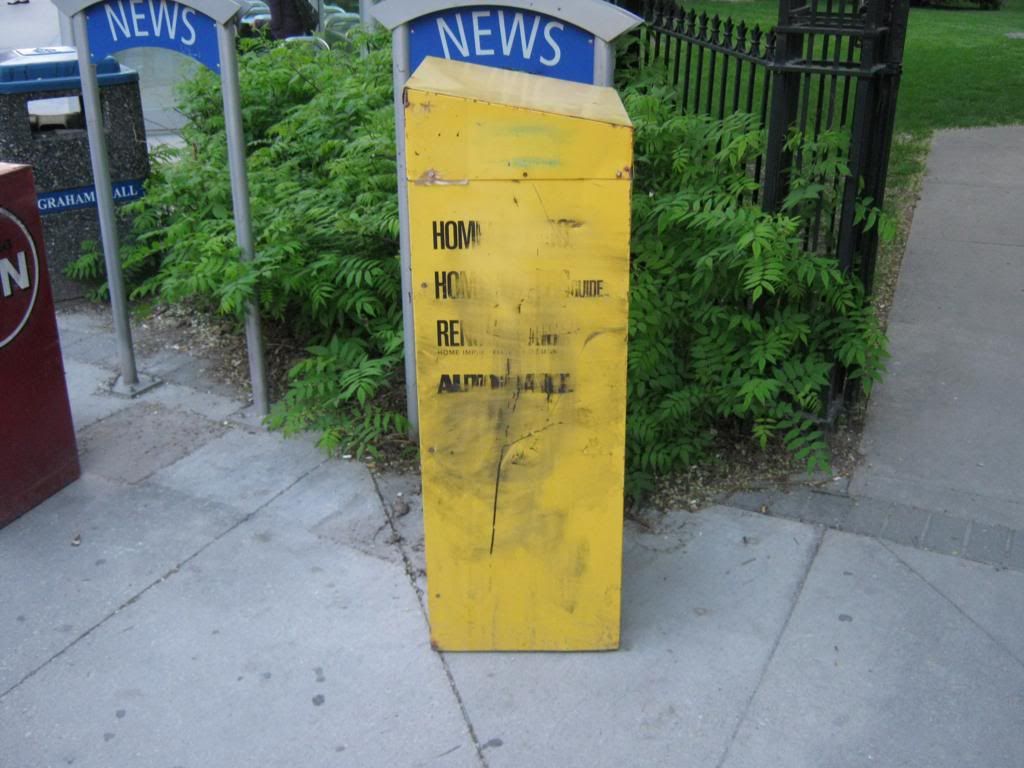 Define 'Pyrrhic victory'. Give examples.

I feel kind of bad about it, but when I look at some of these pictures I can't help but imagine the voices of those three henchmen pigs that work for Cyril Sneer in The Raccoons. "Awwww. The Boss is gonna be maaaad."

But I did notice that most of the obvious cleanup attempts, the really noticeable outbursts of cleanliness, were made along the storefronts of Graham Avenue. Why? Because that's where most of the buses run. Solid strategy, Downtown BIZ. Well played.

"Social Issues"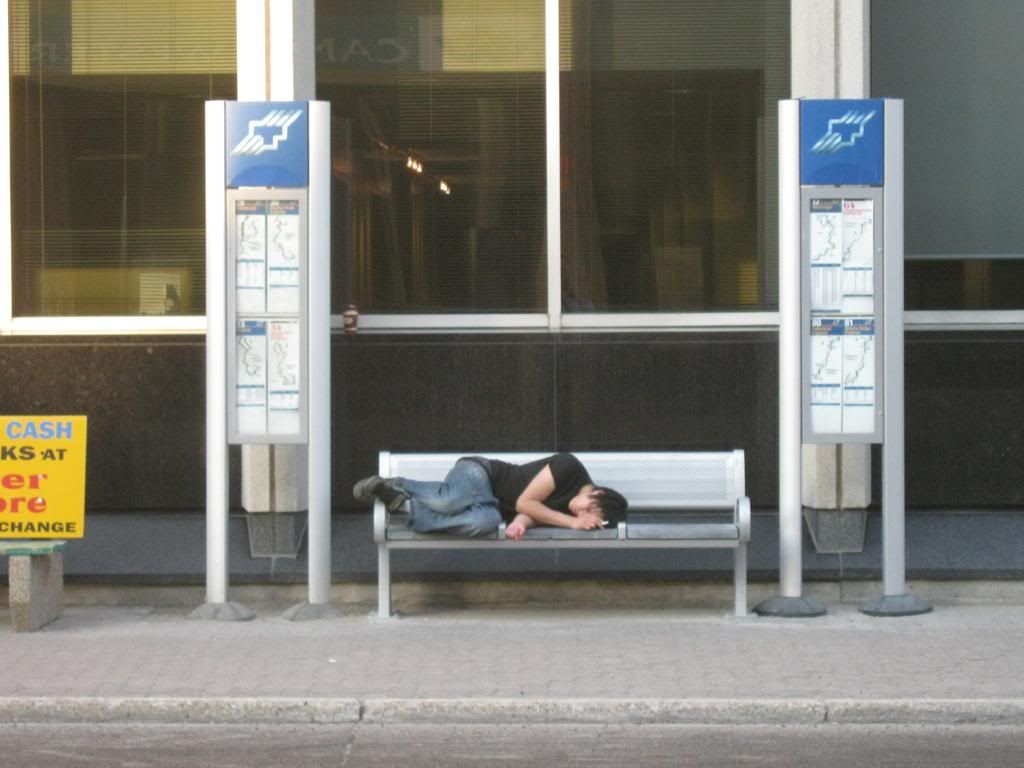 Scoff if you must, but this is really the best indication so far that downtown Winnipeg is safe. I mean, if you can fall asleep on a bench in broad daylight and not expect any robbery or physical violence on your person, the place must be pretty secure. You think you could just pass out wherever you like without repercussions in New York, or Detroit, or Tijuana? Naw, son. Those places are dangerous. Our downtown is safe! And clean!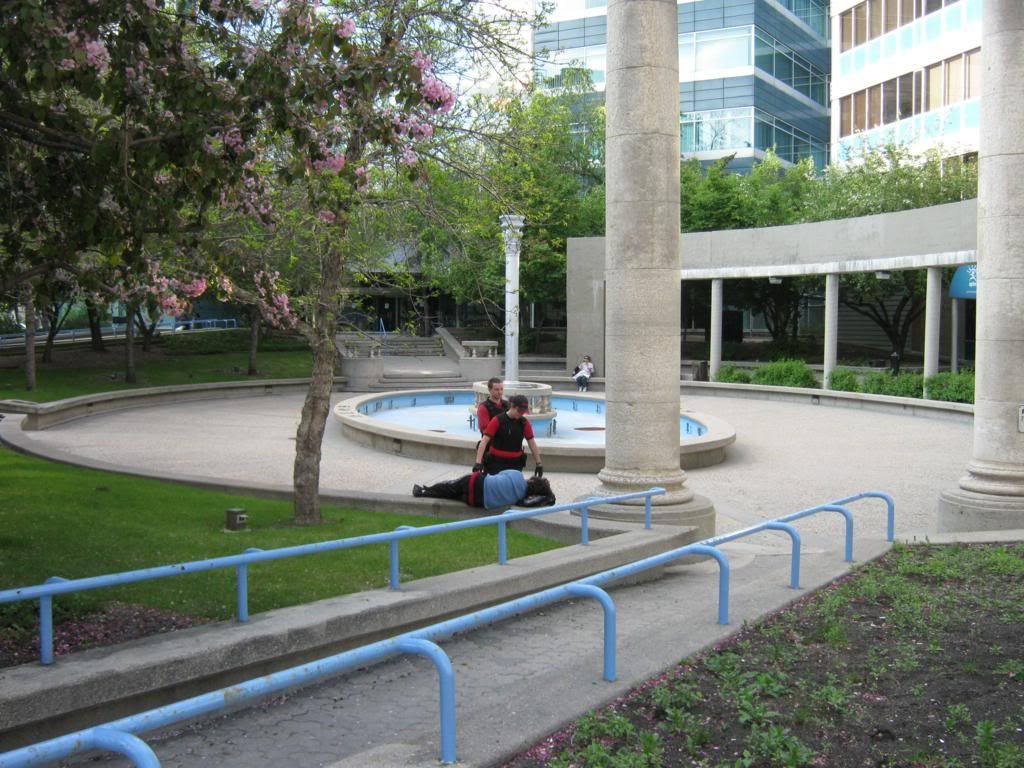 And comfortable, I guess, from the looks of things. All right, come on, up and at 'em. This ain't a hotel.

You could overreact about people sleeping in public places if you want to, but you'd probably be alone on it; dudes taking naps anywhere they like is an everyday occurrence downtown that nobody so much as blinks at any more. Do we still use the phrase 'aboriginal in appearance'? Because two kids who appeared aboriginal, and appeared fourteen or fifteen, were videotaping this fellow the whole time and chortling to each other when the Downtown BIZ patrols woke him up. (That's actually how I noticed this guy was there -- I followed the trajectory of their camera, although it helped that the patrols are specifically dressed in the most noticeable red available.) I know a lot of people are always tempted to draw battle lines along race and colour when it comes to downtown poverty -- sorry, "social issues" -- but Trevor Wowk (who pays more attention to this than anyone) notes from his experiences here that the panhandlers and vagrants come in a wide variety of colours and sizes and income levels. And why not? Nobody's telling them they can't.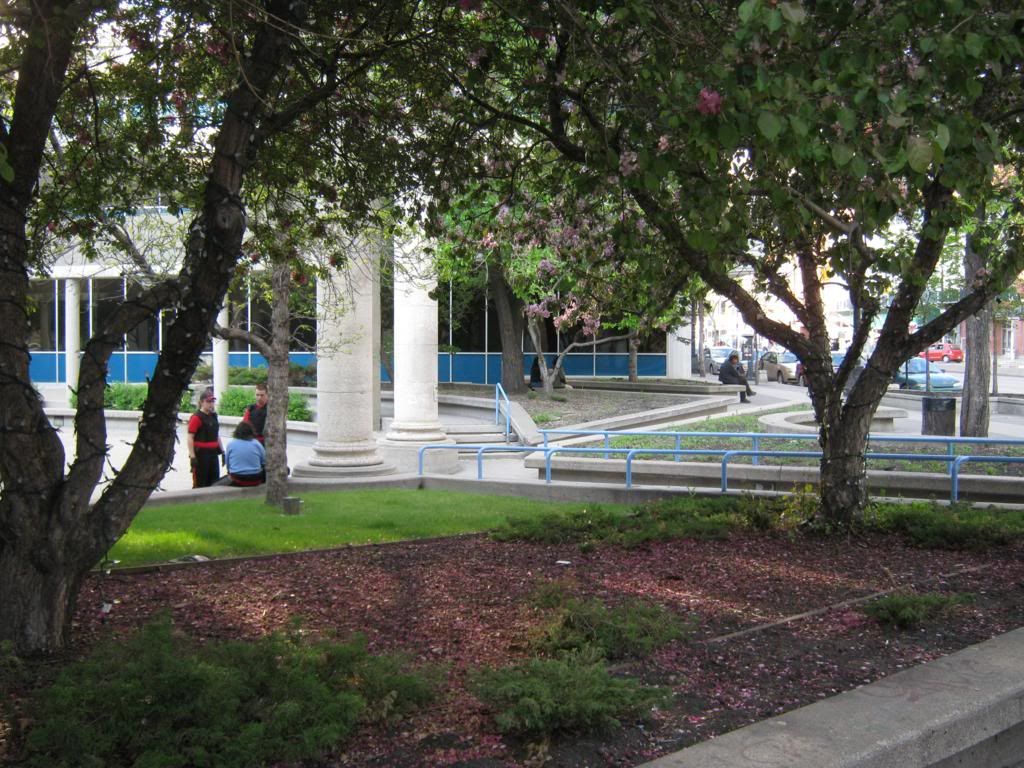 You see the guy on the left, who had been sleeping and keeping to himself? The patrols woke him up and moved him along. The guy on the right, holding out his hat, who greeted every single person on the sidewalk that evening by declaring "spare change" instead of forming an actual question around it? He was left alone to his own devices, and was still there when I circled back around an hour or so later. Make what you will of it.

I started walking that evening at 6:30 and was out until it got dark -- so about 8:30-ish, we'll say -- and in that time I was approached for money no fewer than eight different times, with some of the attempts more involved than others. (When I say 'approached', I'm counting only the active verbal solicitations; the silent waves of cups or hats are perfectly within the bylaw guidelines, and very rarely a point of contention anyway. UNLESS YOU A RACIST)

One bedraggled-lookin' dude with a baseball cap and a cross around his neck drew me into this exchange early on:

"Excuse me! Excuse me, sir, what's your name?"
"James."
"Oh! Ohhh, that's a good name. You have a very good name, James, d'you know why?"
"Why?"
"It's the best book of the Bible."
". . ."
"Anyway, I was wonderin', I need to raise thirty dollars tonight. Could you--"
"No, sorry."
"Awright, thank you, have a good day."

And then there was one guy that walked up and stopped directly in front of me to ask for money in the intersection of Portage and Smith. Please note that I didn't just say 'at' the intersection. I said 'in'. We were both crossing the street in opposite directions at the time. The arrangement worked out fine for my purposes -- because if there's one really good reason not to stop for somebody, it's because you're halfway across a road with the pedestrian indicator flashing red -- but I definitely had to shake my head once I made it across and considered the scenario. Because, wow, hadn't had that happen before.

But my favourite of the solicitations came from a group of four people, sitting on one of those concrete gardens along Portage. They were parked outside the Money Mart just east of MTS Centre, where a decent crowd was gathered that evening and one guy was desperately trying to hawk tickets for the Doughtry concert.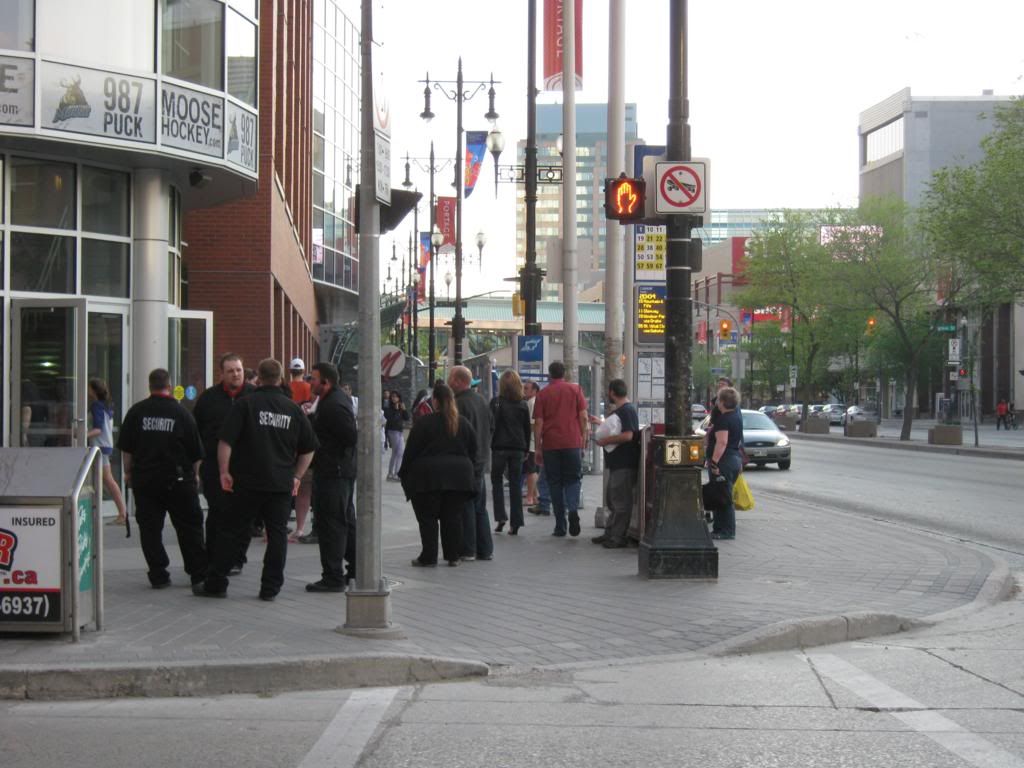 The dude leaning on the garbage stand, yeah. "Come on, man, big show tonight! Doughtry!" Tough life for that guy.

(Fun fact, one I learned three years ago: you're allowed to scalp tickets on MTS Centre property without security so much as acknowledging your presence, but they have very specific orders to corral and remove anybody with a guitar. No, I'm not kidding. These are their priorities.)

So just east of all that were these four noticeably older panhandlers, two women and two men, all of them looking to be in their forties and fifties. (And yes, damn your eyes, they were aboriginal in appearance.) Their designated spokeswoman initiated the conversation once I was within range:

"D'you got any change?"
"No, sorry."
"Okay, thanks."

And I was about half a dozen steps along before she spoke again after me.

"I like yer butt."

Well, that was nice of her. Say what you will about us Manitobans, but damn if we aren't Friendly!

Stickers

I've been wondering about this for a while, so maybe someone more familiar with the local regulations can clear this up for me.




Do stickers count as graffiti? Or is that not a material we acknowledge?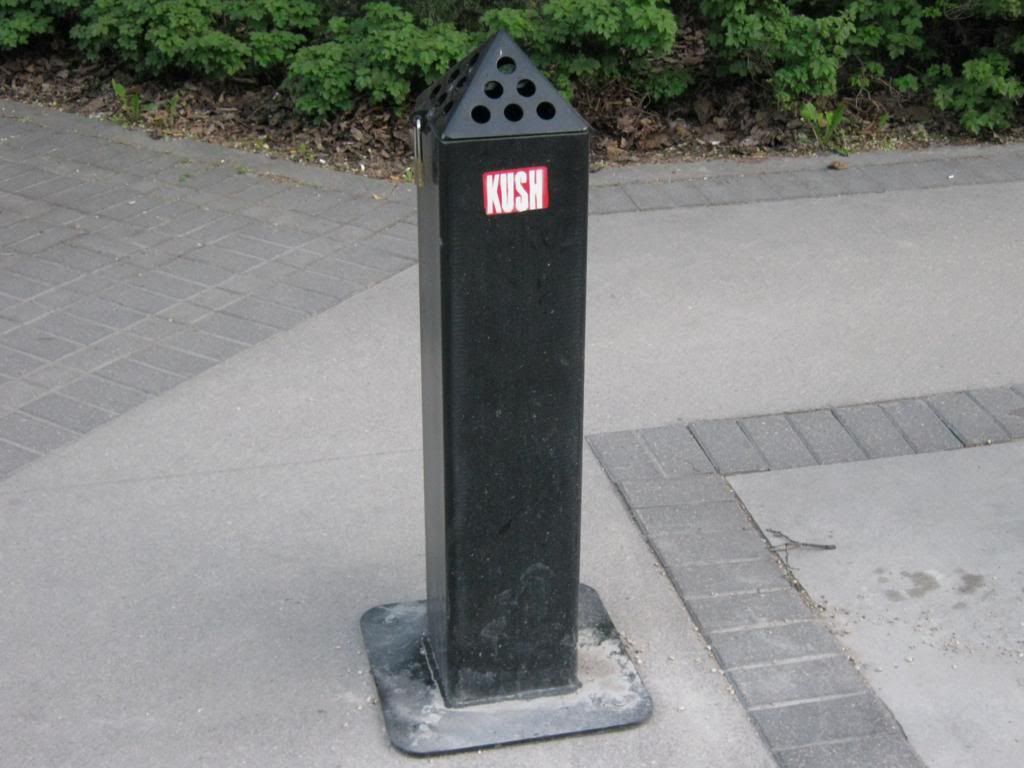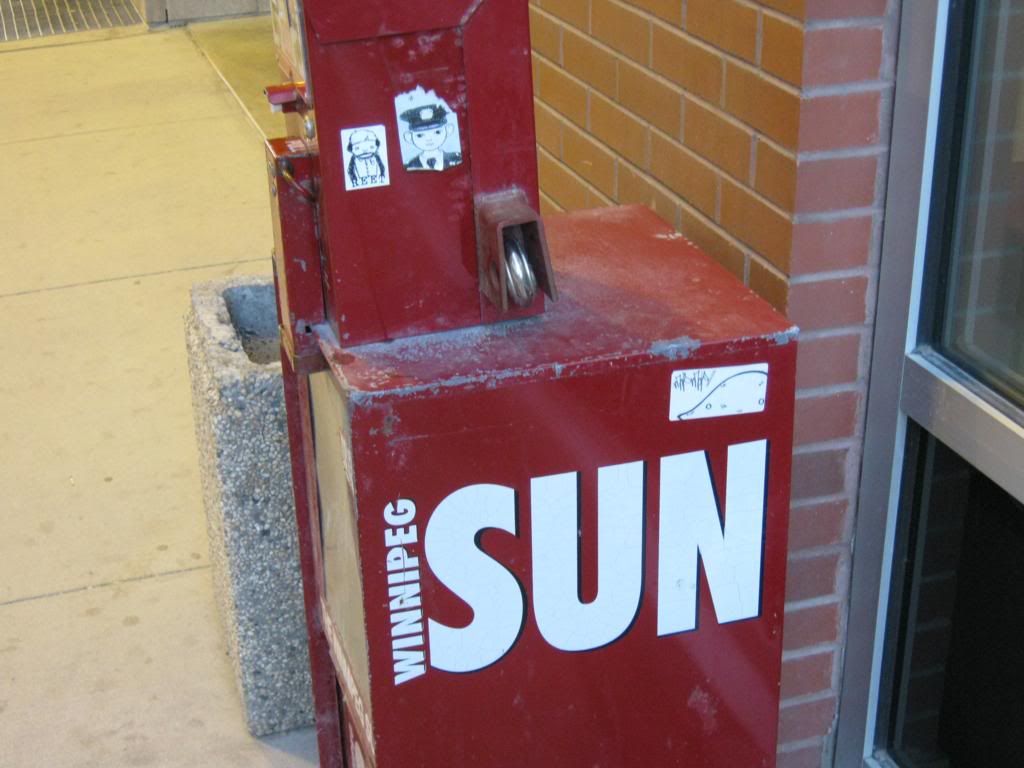 Working in the Exchange District for several months meant that I saw a metric assload of stickers during my daily commute, and there's no shortage of them kicking around the rest of the downtown area either. But there's no mention of them made in the news articles, no website list of stickers removed, and a whole lot of them still standing in an area where nobody was supposed to be able to find any graffiti.

I do remember stickers being referred to as vandalism, in this case a year ago -- but it was a member of the Downtown BIZ placing those stickers, and nobody was stepping in to clarify what the rules actually are, so you can see how the whole issue is muddied.

If they don't count as graffiti, that's good to know; we can all start printing off our label sheets ahead of time, for when we've got something to say. And if they do count, well, that would have meant a lot of dough heading Siloam Mission's way, so I wish someone would have told us.

And hey, if it is graffiti, then someone needs to grab a spray bottle and go clean off the signage at Portage and Main.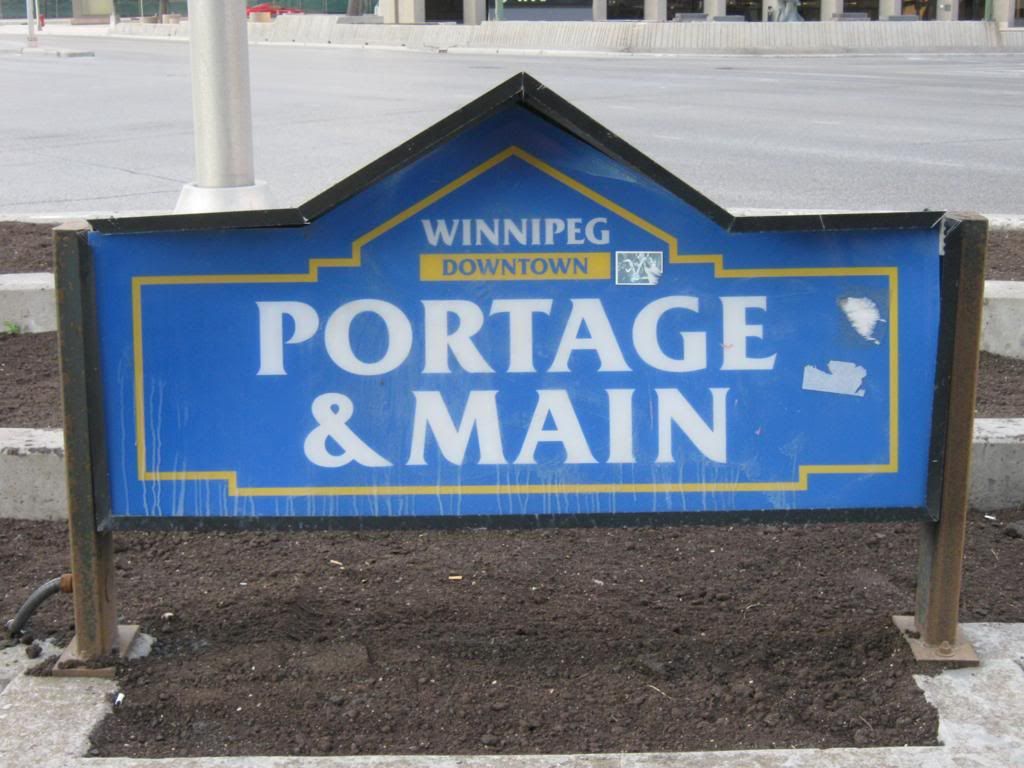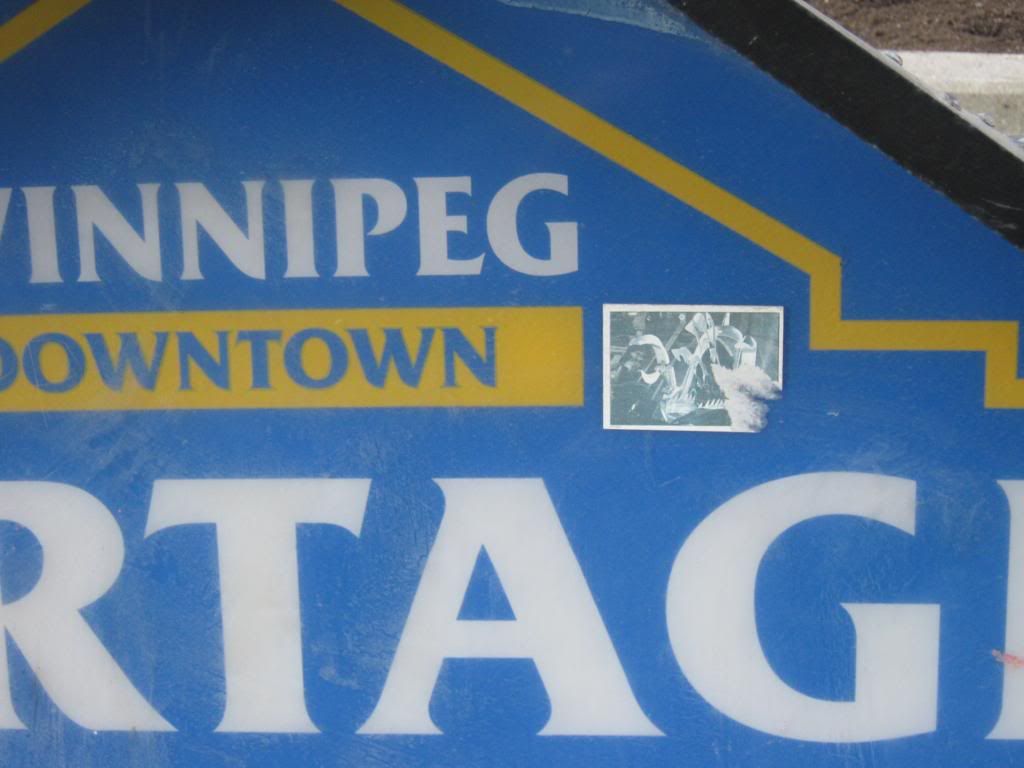 They're cheeky, these kids. You've gotta watch 'em.

And Etcetera

Because some people are hilariously bad at reading comprehension, allow me to once again note that I don't blame the Downtown BIZ for the current state of the downtown. A lot of far more important organizations have been far worse about dropping the ball for a very long time now, so it wouldn't be fair to dump the entirety of the culpability on the organization representing the businesses that have somehow managed to survive.

Downtown BIZ or no Downtown BIZ, there's a lot of stuff downtown that just flies in the face of any reasonable expectations.




I mean, they can't be everywhere at once, so when I walked past the MTS Centre and nearly stepped on what appears to be a disembodied bird wing? That's just weird, especially when there were no live birds or larger carcasses anywhere in the area. Just a weird one-off.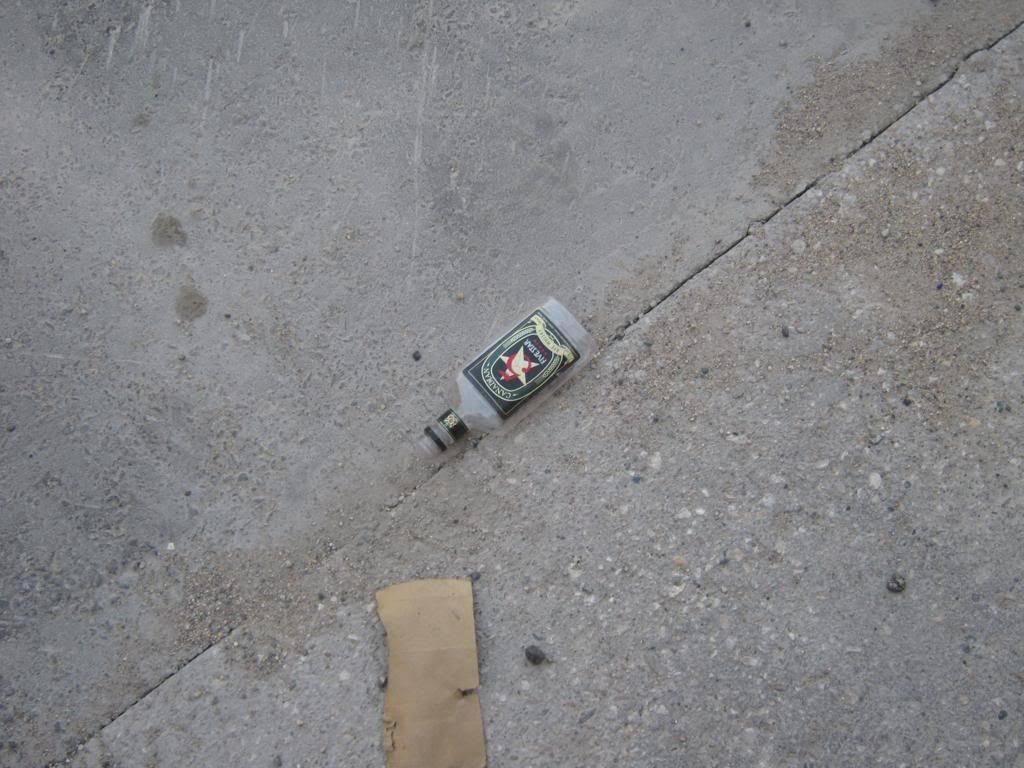 And an abandoned whiskey bottle? That's... not unexpected, but still not something you'd lay blame about. Some dude drank some whiskey and didn't feel like recycling. Nothing implausible.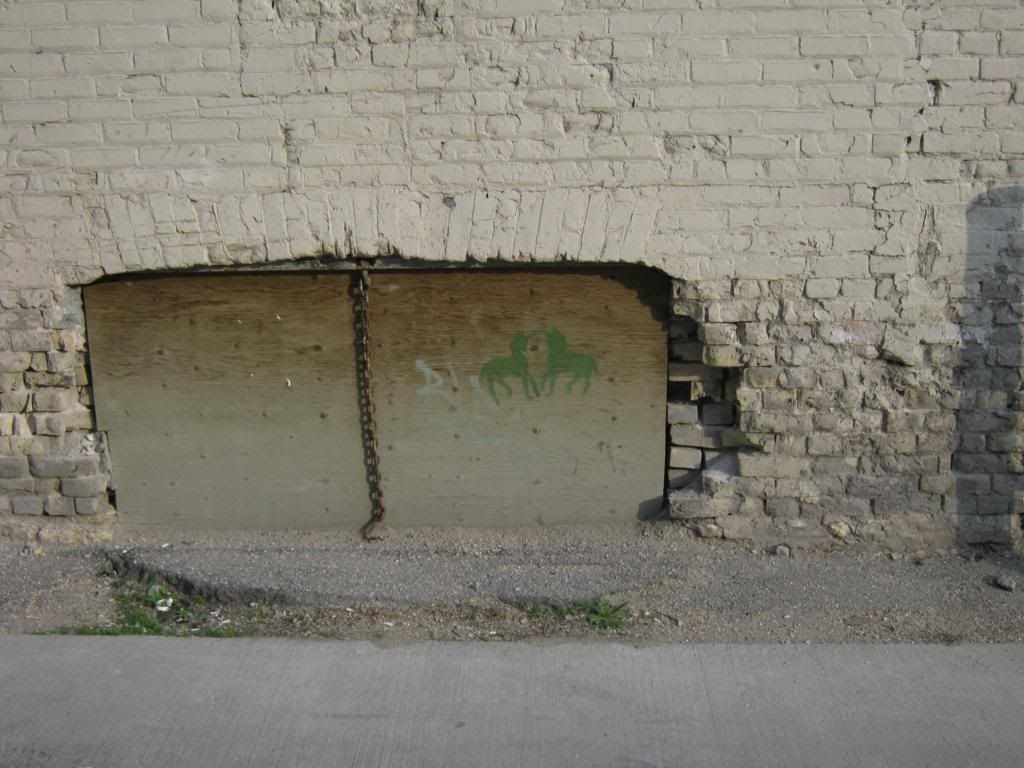 More unicorns? Sure, more unicorns! This makes perfect sense.




A shopping cart from Home Outfitters, the closest branch of which is near Polo Park, somehow making it all the way to the Urban Bakery on its own? That's... starting to get a little silly, yeah.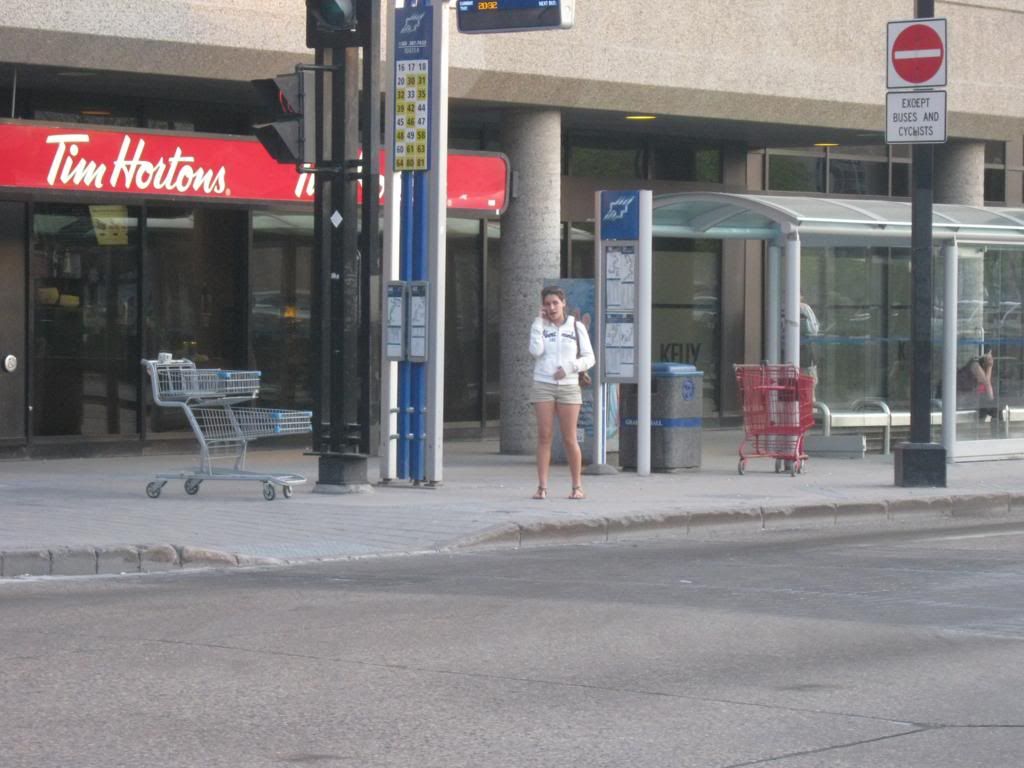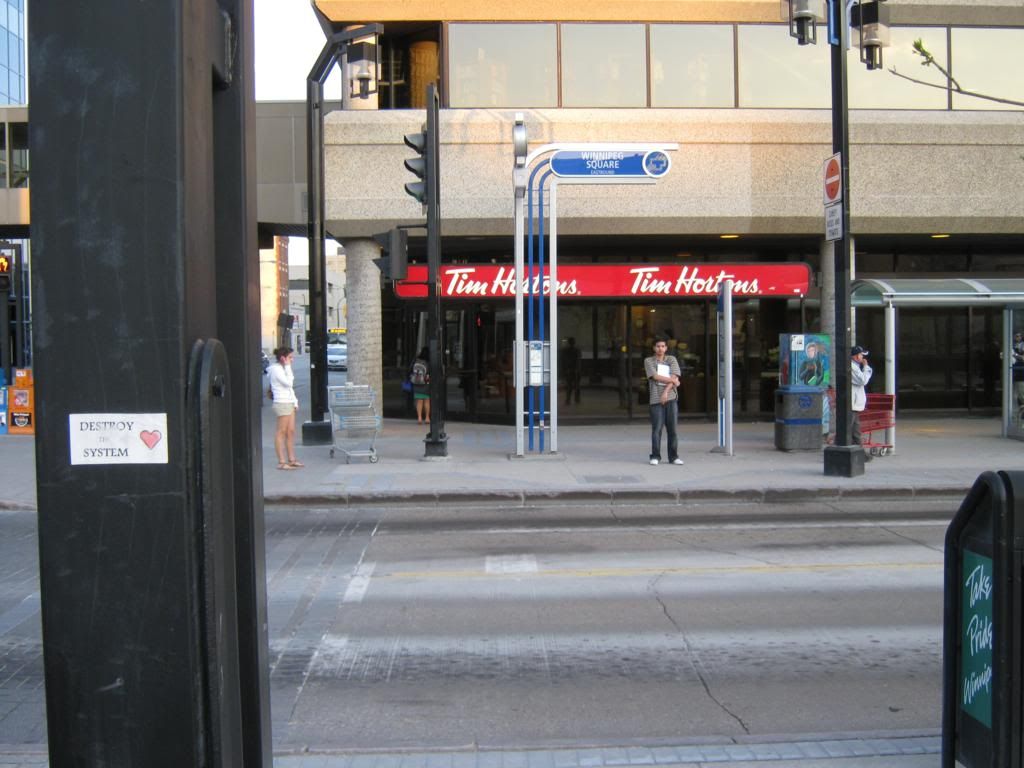 And two shopping carts at the same corner, one of which appears to be from Safeway and one of which looks like it might be from a Superstore? Yeah, that's... how did they do that? Is this a prank? Is somebody holding a shopping cart meetup at the Convention Centre?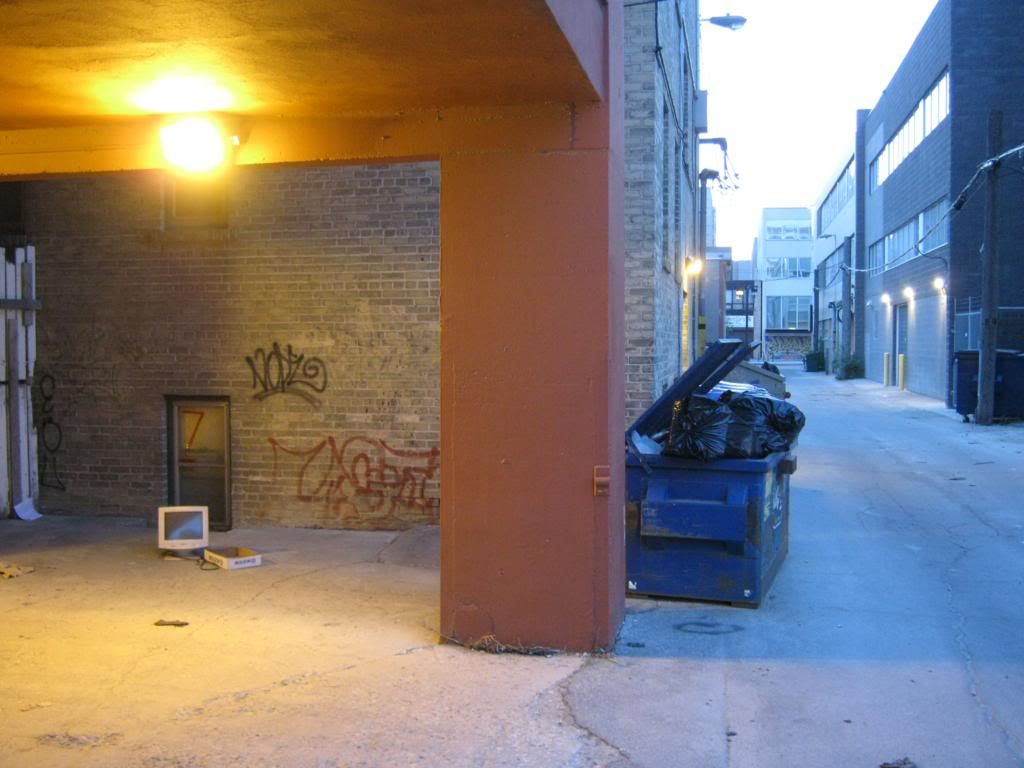 Okay, this makes more sense, this I can roll with. Somebody drank a cardboard pallet's worth of Molson, then threw it out with a fifteen-year-old computer monitor they also happened to have nearby? We've all had nights like that, I'm sure. Or... afternoons, in this case.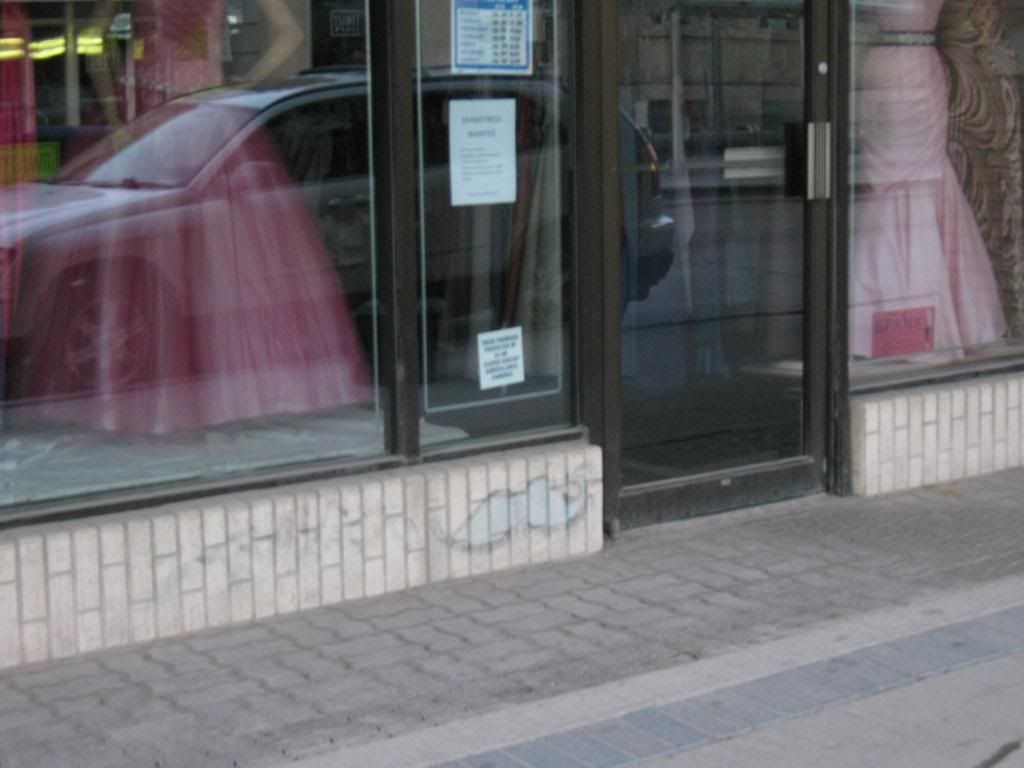 HEY YO WHERE YO CURLY MOUSTACHE AT




Again -- who litters a chair? You couldn't roll it the extra fifteen feet?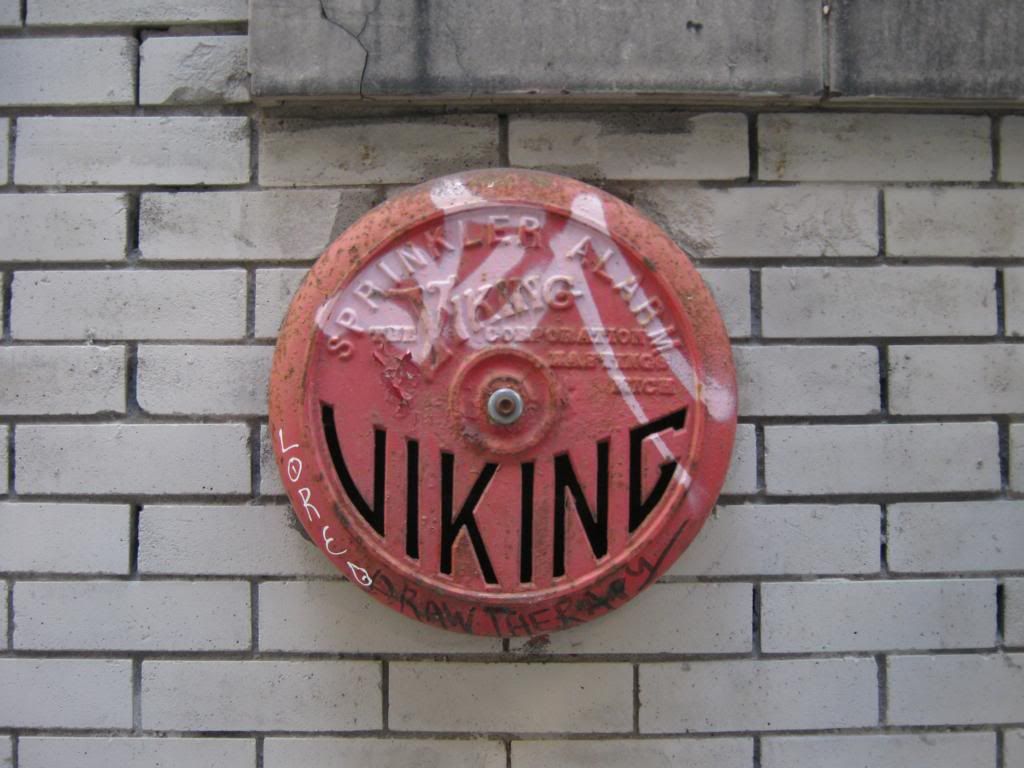 This thing's just awesome, I tell you what. Even putting aside the graffiti on it, I'm really drawn to the aesthetic appeal of this sprinkler alarm; the customized script wrapping around the lower half of the circle is a really striking design choice, and I'm impressed that somebody put touches like that on a mundane matter-of-fact item like this.

But then I get back to the graffiti and notice, not only does a big pink tag take up the upper half of the item, but then two other people tagged the bottom of it afterwards. Okay, maybe the cleanup crews could have given this one a shot.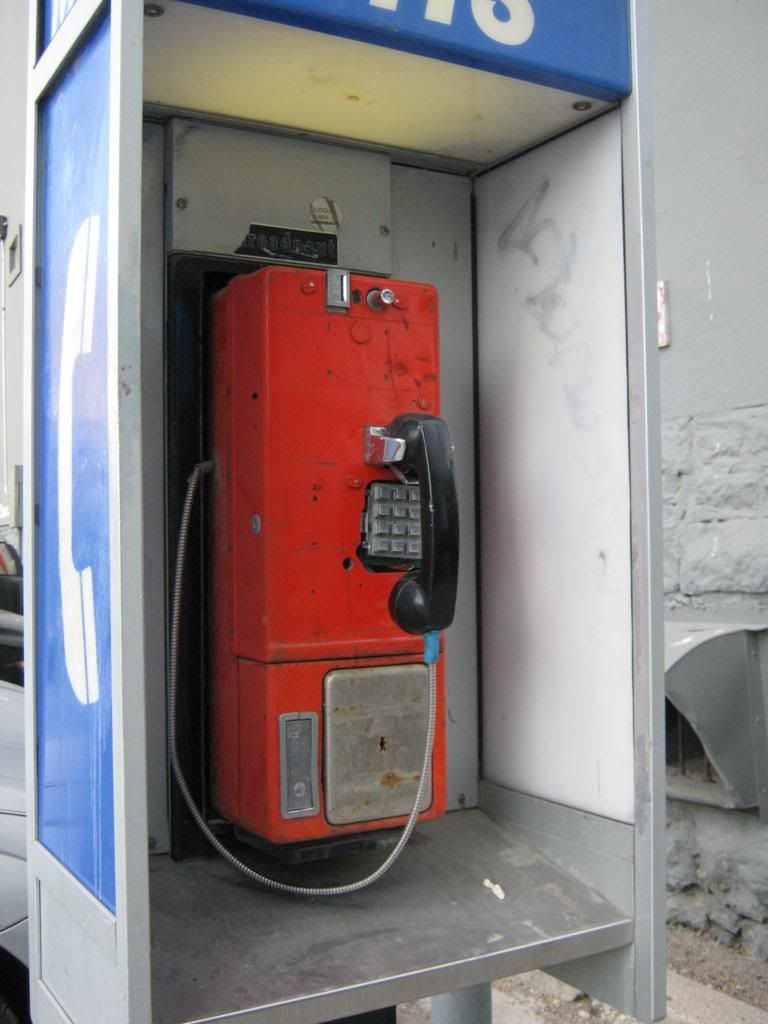 Similarly, you could make mention of the graffiti here, but I took a photo of this because holy crap get a load of this phone.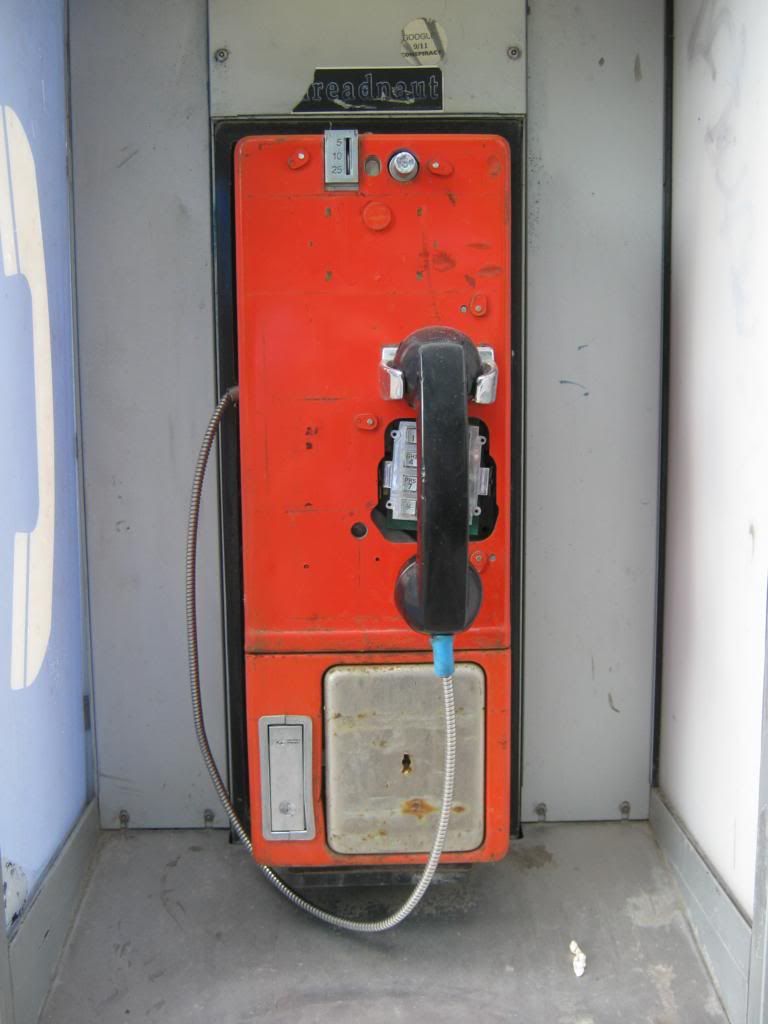 Ha ha ha ha, yeah, that's us, the city of tomorrow. MTS charges you fifty cents a pop to use this old-timer. Amazing.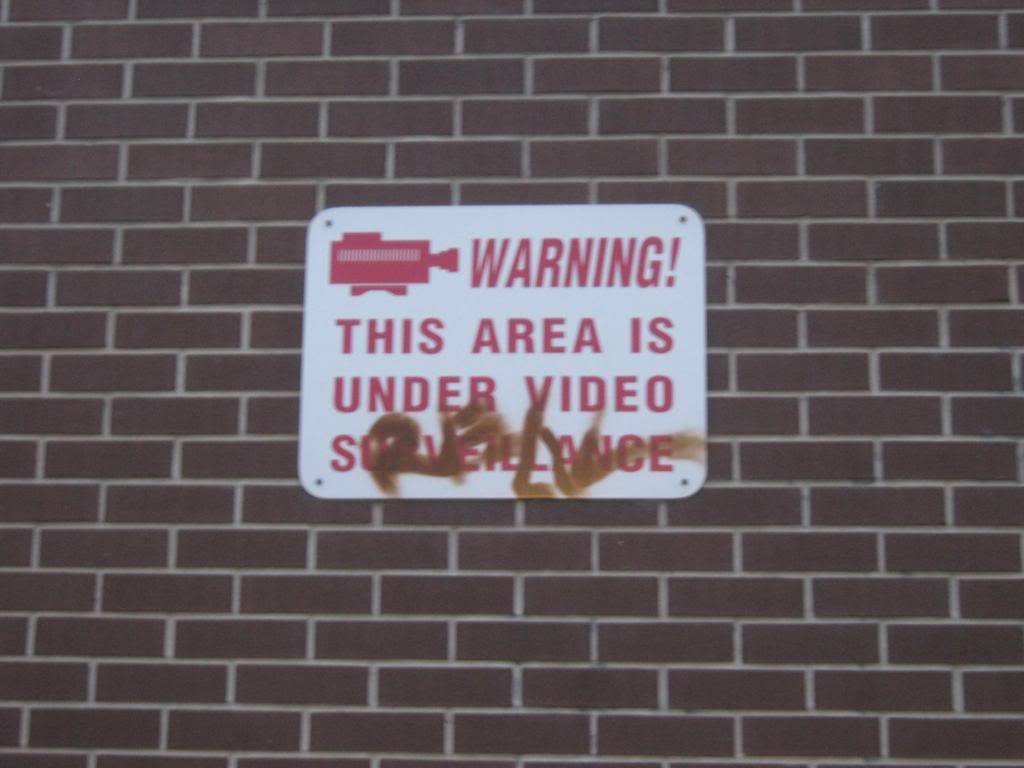 This area is under video survRFLLMRFLLVV--

I'm starting to suspect from this evidence that video surveillance isn't really a deterrent. But, then, what is? It seems like the hooligans and scofflaws responsible for the graffiti in our fair city are a determined bunch, ruthlessly targetting anything they can get within range of.

They tagged the murals? Yes, they tagged the murals. They tagged the Portage and Main signs? Yes, they tagged the Portage and Main signs.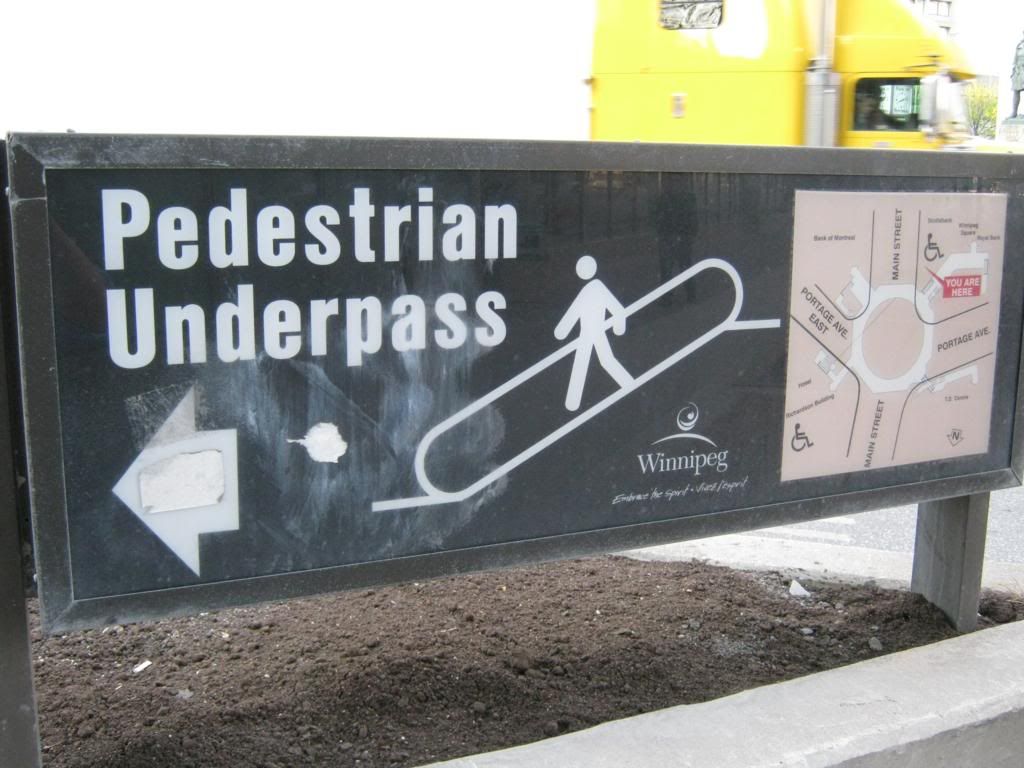 Some of them were easier to clean than others.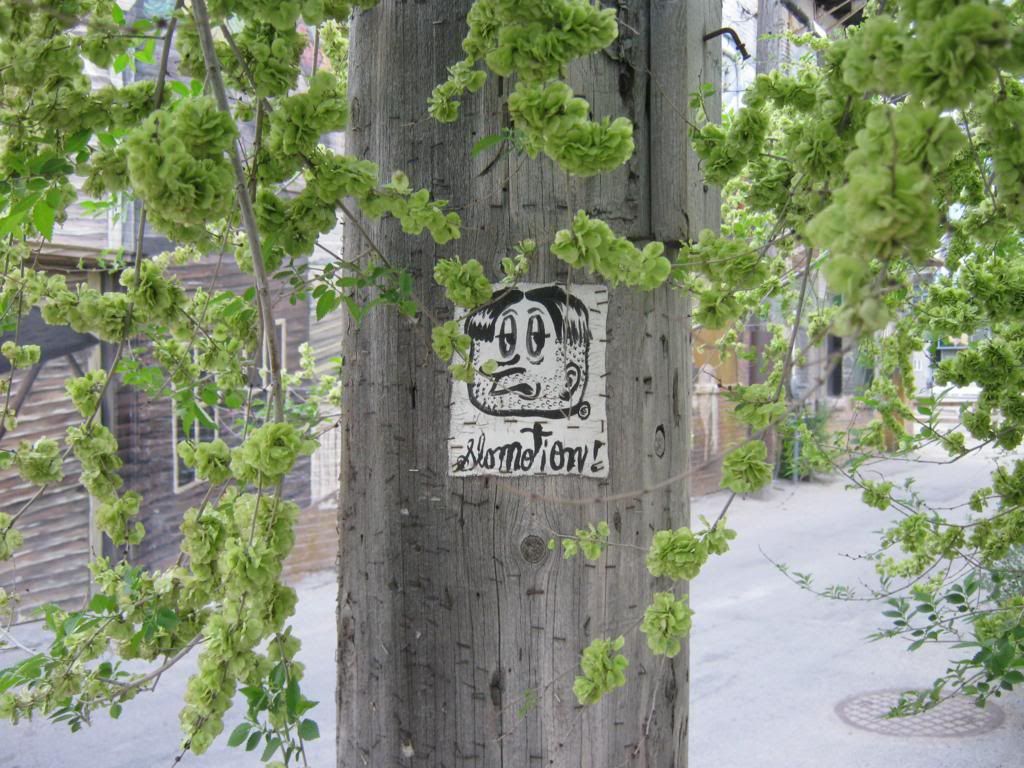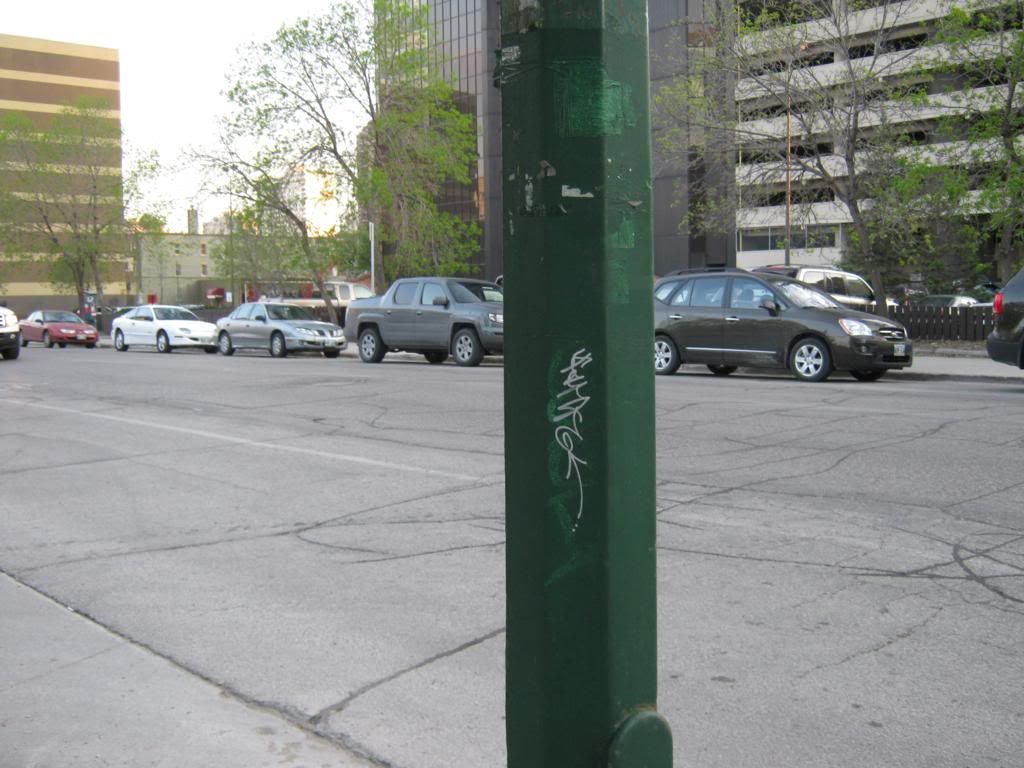 They tagged the phone poles and lampposts? Yes, they tagged the phone poles and lampposts.




They tagged somebody else's graffiti mural? Yes, they tagged somebody else's graffiti mural.




They tagged the artwork on the traffic boxes? Yes, they tagged the artwork on the traffic boxes.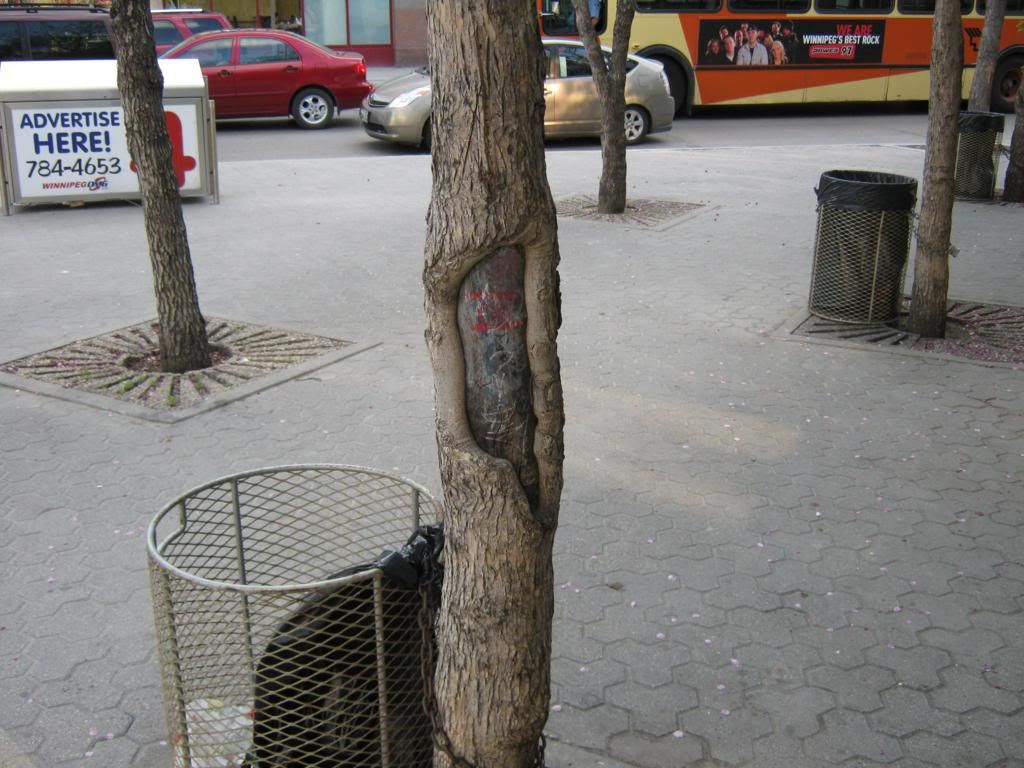 And they tagged a tree? Yes, they tagged a... WHAT

ARE YOU KIDDING ME

THEY SERIOUSLY DID THIS TO THE TREE JUST EAST OF PORTAGE PLACE

WHY WOULD YOU

EVEN





Well, you see now why this post took me so long. I kept getting demoralized and frigging walking away.

Augh, you guys. Just... augh.

I took the Downtown BIZ graffiti challenge that evening, and I don't know if you really can say that anybody actually 'won' in this whole equation, but you can view the full gallery here numbered in chronology of order taken. That's why you may have noticed that the highest-numbered pictures in this post appear blurrier; the daylight was fading on me by that point, having stopped so often to shoot something.

And when I finally did decide to wind down my walk and catch a bus out of the increasingly darkened downtown, would you like to know what I saw at that bus shelter?




They tagged a bus shelter. Someone stood there and shanked it until it read "ARM". Which I can only hope are that kid's initials, because otherwise the vandalism is the least of the parenting problems here.

So, good luck, Downtown BIZ! You all do valuable work, I wish you all the best in your ongoing campaign to make our downtown less stunted, and nobody expects your assigned tasks to be easy work. Just -- be honest with us, will you? Even just a little? It may not sound like much, but it's really all we ask.