"Yeah, no, I don't know. I just... when they said 'world-class', I kind of thought it'd be bigger."
After
last week
's bit of alternate format dalliance, we return this week to the standard
ManLinkWeek
layout. Which is not to say I couldn't produce another seven brand new waterpark-related links, if that was my thing again this week; it's... been that kind of a news week. And Council meets to vote on it
tomorrow
, so if you're tired of this story
now
you may just want to turn off your computer and go outside for the rest of next week.
As I'd said, plenty more waterpark links have popped up since we last checked in, but I'll limit myself to just one this time around:
[
Jacks of Diamonds: Waterpark For Christ: Top 10 Attractions
]
Not pictured, but surely just slightly off camera, is
Pat
Martin
insisting that City Council wouldn't be nearly as quick to give $7 million to "Waterpark For Allah".
So, what else went on this week? Well, the downtown caught fire, I guess that's probably worth noting:
[
Winnipeg Punk: FIRE @ WAR ON MUSIC
]
Not going to lie: I'm pretty grouchy that of all the places, of
all
the places for a fire to break out, it had to be War on Music. Not only was it one of my favourite stores for picking up interesting music and affordably stylish black t-shirts, but it had one of the city's last working collections of arcade machines. So now War on Music has to recover and rebuild somewhere else, Ken Hong's has to pick up and start over as well, the lost heritage buildings on Albert will
soon be a parking lot
, and the whole thing is just a great big bummer.
Local attention on that story ate up most of Thursday, what with everyone on Twitter trying to figure out what was burning downtown. Here we are today, five days later, and everyone's been... trying to figure out what's burning downtown, because the downtown caught fire again.
[
ChrisD.ca: Boat Docks Erupt into Flames Near The Forks
]
I would ask if anyone happened to notice it, today, but it was
kind of hard to miss
.
What? Oh,
that
fire. Yeah, okay, I guess that'd explain the traffic tieups.
[
96° 48' 35" From the Centre: Manitoba Budget 2012: A hair affair?
]
Also in the news, over the past week, the
provincial budget happened
; we're as broke as ever, and everything that might make you feel better costs more than it used to, and there's your provincial budget for the year. Okay, moving on!
[
THE RISE AND SPRAWL: Creeping Grentrification?
]
Ha ha, eee-yep,
this
cracked me up when I first saw it. Such an urbane way of addressing concerns! I love the petulant "TOO MUCH" scrawled in pink between the main body of the message and the defaced price tag, like he or she crossed it out and then thought "WAIT BUT WHAT IF THEY THINK THAT'S TOO LITTLE, THIS NEEDS CLARIFICATION".
But, yeah, for future reference, if anyone -- as Don Cherry would phrase it,
anyy'a you young kids out t'ere
-- plan to accuse gentrification of ruining your neighbourhood, at least make sure you know how to spell it first.
While I'm on the subject of high prices, though:
[
Winnipeg Cat: APRIL 24th, 2012
]
I know that post already sums it up pretty well, but seriously, what on earth. Look at these: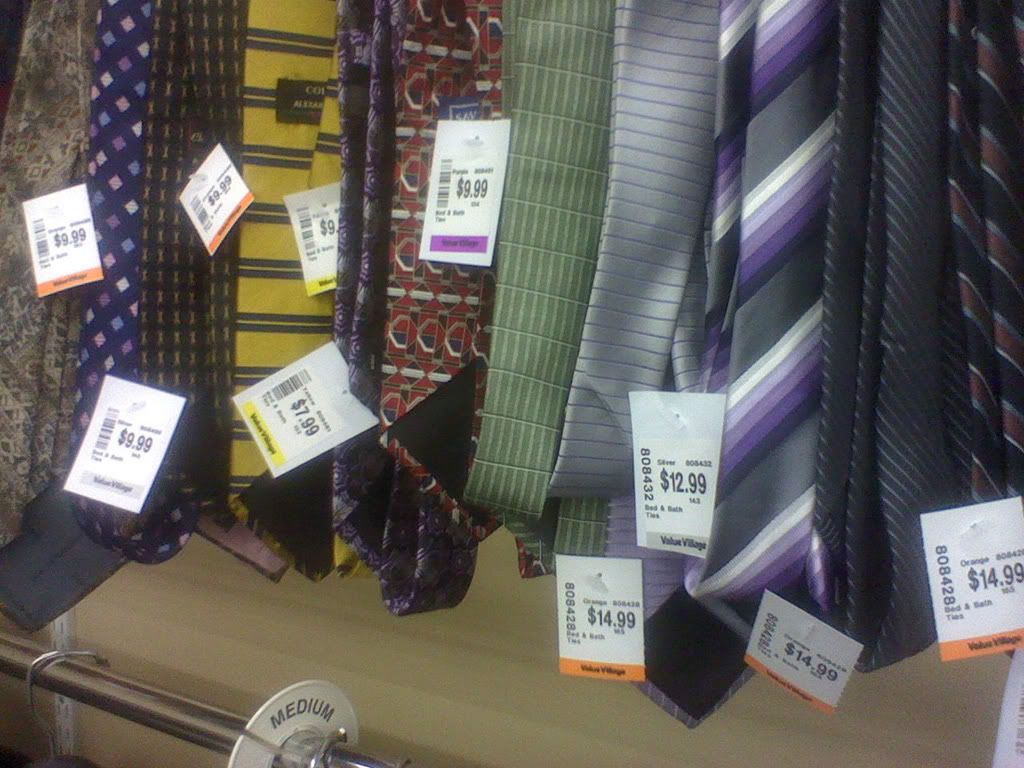 To establish a proper frame of reference, two blocks away from this Value Village is a Salvation Army that sells all neckties at $1.99 apiece. Thusly I bought six from the Salvation Army, three of which were 100% silk, and all of which were in very good to great condition; that's half a dozen ties, more than a work week's worth, at a lower cost than Value Village expects for that single secondhand grey wrinklefest there on the right side of the photo.
So I don't know
what
Value Village bases its pricing decisions on, although I bet it would be a whole lot of fun to speculate on the mental processes involved.
"
Discarded men's necktie, mustard yellow with dark blue stripes, 100% polyester. Very snazzy! Ten dollars!
"
"
White men's t-shirt, size medium, 'COORS LIGHT' emblazoned on front, hole in armpit the size of tennis ball. Mmmmmm... six dollars!
"
"
Unisex leather jacket, size L, burnt sienna in colour. Timelessly fashionable 1970s cut! Urine odour not overwhelming. Forty dollars!
"
"
Men's XL short-sleeved button shirt, 100% rayon, large blood red triangles and canary yellow rectangles floating on sea green background. Many buttons still present. Shirt pattern looks the way Confusion Corner smells. Eleven dollars!
"
Or, y'know, I could just never shop there again, because fifteen dollars for a secondhand tie is ridiculous. Still, though, I'll file this idea on the pile for later.
And, finally:
[
Love me, love my Winnipeg: 2012 Winnipeg Bike Auction
]
It's that time of year again! The City's annual
bicycle auction
(with
plenty of stock available
) runs Saturday and Sunday, far enough out along Wilkes that you're really only going to get there and back by car. Still, hey -- cheap bike's a cheap bike! Might be worth checking out, if you've told yourself this is the year you're going to get big into cycling.
I, myself, have other plans for the weekend -- some of which are in direct competition with each other, because the busy summer season is ramping up once more -- but I'll have at least one more post up around here before then. In the meantime, thank you for reading
ManLinkWeek
!