Hello and welcome to Manitoba Links Weekly! My word, time flies these days.

This week on Winnipeg Internet Pundits -- ha, that episode title, though -- this week we went into surprising depth on local store and product gift-shopping recommendations, discussed the merits and drawbacks of the hypothetical Unicity II, and expanded on some particular points of the preliminary civic budget. Including this very fine local blog post, which I heartily recommend you check out. Good times!

Oh! Also earlier this week, I added the 92 CITI-FM compilation "Winnipeg's Rock 'N Roll Christmas, Volume II" to the Slurpees and Murder Record Club; it's a two-decade-old rarity well worth your investigation, so give it a spin or two.

And if this post seems a little shorter than usual, it's because I've driven 2,200 kilometers across nine degrees of latitude in the past three days. Y'know, as one does. Release the ManLinkWeek!

[ Winnipeg Sun: Winnipeg Jets tickets available at discount prices ]
[ Winnipeg Free Press: Faithful fans getting fed up with mediocrity: Jets losing sales sizzle ]
I've mentioned on Twitter a few times now that I've been getting these tickets-now-available emails from the Winnipeg Jets mailing list more often -- way, way more often -- than I did last season, which sent more of them than the season before that. (Although that may have been because the NDP gobbled up a lot of tickets, in those days.) Not only that, but the tickets have been peddled at increasingly deep discounts; one email offered $100 lower-bowl seats and $50 upper-bowl seats, and an email later in the season cut those back even further to $95 and $45 respectively.

Now, the why of the ticket sales has been rather self-evident: the team ain't very good. Not that they were any better the past two seasons, per se, but in those days it was easy to pretend that a few wins in a row might catapult the team into Southeast Division contention. As it stands now, however, the Jets are at present dead last in the Central and ten points back of a playoff spot; it's actually entirely possible that the team was eliminated from playoff contention November First.

Anyway. Most folks are probably well familiar with the why -- painfully familiar, even -- so it's the how of the ticket sales that folks have seemed more interested in. A lot of Winnipeggers still haven't been to a game, after all, and watching the Jets get whomped by vastly better teams does at least let the audience see what better hockey looks like. That or the Jets drag the other team into a 5-4 shootout regardless of opposition quality, which is entertaining to watch in its own right. "So how," you may ask, "can I get these emails for cheaper tickets?" (Someone had asked me, in fact, which is what inspired me to write what you're reading here. Ask James Anything!)

If you're interested in these emails, I'm pretty sure -- I can't say for certain, because I don't remember ever signing up for them specifically -- I'm pretty sure that they activate by signing up for the individual ticket random draw mailing list. But here's how to make certain: if you have, or create, an account through the "Winnipeg Jets Account Manager" Ticketmaster page, you should see an email preferences option on the Account Preferences page listed as "Single Ticket Club". It'll be at the bottom, below "Jets Mail" and "Monthly Individual Game Ticket Pre-Sale". Make sure that third box is checked and you should, at various points throughout the season, receive emails offering deep discounts on the single seats that aren't moving the way they used to.

All set up? Great! Let's move on, then.

[ Winnipeg Love Hate: Yea Dim Sum ]
[ Sarah Zaharia 204: Winnipeg's Best Dim Sum ]
These two blog posts popped up on Monday within an hour of each other, which I am willing to acknowledge might have been a coincidence, but it also might have been that December 9th was Dim Sum Day in Winnipeg and I just straight-up dropped the ball by not celebrating it. Augh, I can't believe I forgot Dim Sum Day! God.

And if we don't have a Dim Sum Day, well, what are we waiting for? We should totally establish one, other cities will consider us leaders, it'll be great. DECEMBER NINTH IS DIM SUM DAY NEXT YEAR, THERE, DONE. That's almost a whole year to prepare, everyone make sure you plan accordingly.

What next? Morris? Get the Morris file!

[ Town of Morris: An Open Letter to Gordon Sinclair -- Winnipeg Free Press ( originally posted here ) ]
"My word, be a journalist for a change."

Morris Town Councillor Scott Crick offers a spirited defence of his town in this piece, aiming it directly at Gordon Sinclair because folks are generally pretty okay with Sinclair being singled out. If he'd complained specifically about out-of-towners generally, or Winnipeggers in particular, it'd've made it rather more difficult to win readers over -- but whenever it's Gordon Sinclair, regardless of what the protest is, there are a not inconsiderable number of people who'll be willing to go "ha, yeah, pfft. Heck with that guy."

He also argues that "I've seen nothing in Morris to equal the racism and homophobia I saw growing up in Winnipeg", which is an entirely fair discussion point; I don't know if who's-more-bigoted can be properly quantified, exactly, but Winnipeggers bringing Morris up for discussion (and, yes, derision) mustn't forget in doing so that Winnipeg and the rest of Manitoba do have a fair ways to go on the ol' backwards-thinking file too.

So having established Crick's argument of potential danger in typecasting a community by sensationalizing isolated incidents, let us move to the Interlake beat--

[ CBC Manitoba: 'Gay Away' gimmick candy at Manitoba store offends parents ]
[ The Globe and Mail: Manitoba store pulls 'Gay Away' novelty candy after public complaints ]
DAMMIT, GIMLI

WHAT ARE YOU, MORRIS? KNOCK THAT OFF



Haaa, but f'real, though. If something comes up in Morris again -- or "when something comes up", depending on your level of cynicism -- this'll definitely be a story that they point to in their defence. "Well, why wasn't Gimli branded a homophobic town?" And the answer'll be somewhere between "Winnipeggers just like Gimli better" and "stories that include an actual apology at some point tend not to linger nearly as long", but they'll have a case.

Moving now into the culture section:

[ Huffington Post: A Brief History of Winnipeg's Music Scene and Why It Matters ]
Written in advance of a Winnipeg-songs-showcase concert in Toronto, local singer-songwriter Del Barber offers a lovely little character sketch of our fair city's musical history and most beloved venues. And to supplement this broad overview and understanding of Winnipeg music and culture, may I also submit the following:

[ Happy Puppy Records: The Cosmopolitans - It's Cosmopolitan Time! [hpr041] ]
This album, free for your downloading and listening pleasure, includes a recording of Winnipeg public-access mainstays The Cosmopolitans performing Brooks & Dunn's "Boot Scootin' Boogie". Remember how I've wished that "Winnipeg" were an adjective? Well, it's hard to get more Winnipeg than the sentence I just typed to open this paragraph.

I've edited the song and its preamble together into a single file here for my own convenience -- getting my roadtrip music in order, y'know how it is -- and yes, as you may notice, it also ends up sounding a heck of a lot like Dion's "The Wanderer". I roam around around around around around around a-boot-scootin'-booGIEEEEEEE

And, finally:

[Winnipeg Sun: Study finds 14% of smokers puffing contraband ]
I'm not a cigarette kind of guy, but I do know a fair number of smokers, and that estimate of 14% contraband usage among puffers in "the province that charges the most of any Canadian province for cigarettes" sounds... low, actually. Huh! Well, the more you know.

I don't smoke tobacco, as I'd mentioned, but my Dad does, and because he knows my predilections for cheerful subversion -- of course he knows, they're his too -- he bestowed upon me a shirt that he'd happened to pick up from the since-governmentally-closed Dakota Chundee Smoke Shop in Pipestone: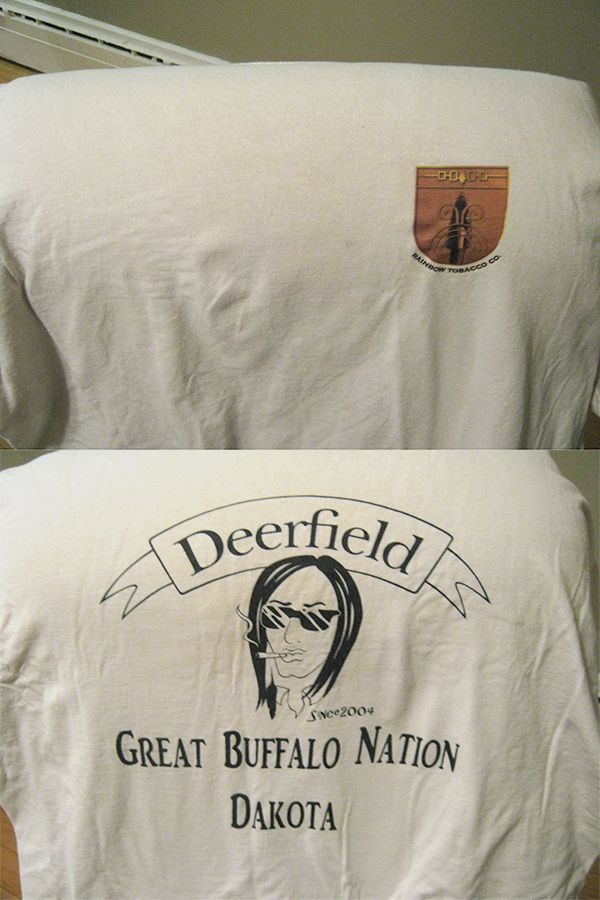 I don't know where on earth I'm ever going to have the opportunity to wear it, but my, would you look at that. A treasure very nearly lost to time! It was, alas, already a tad yellowed upon my receiving it; one day I might set upon the project of restoring it to its original glory, and then see how long it takes to get thrown out of the Palm Room or somewhere like that.

(It's a shame I can't wrangle it onto my Mulroney.)

Thank you for reading ManLinkWeek! If you were disappointed that tonight's post didn't include anything about provincial slogans -- well, just you wait. Ohhhh, just you wait!