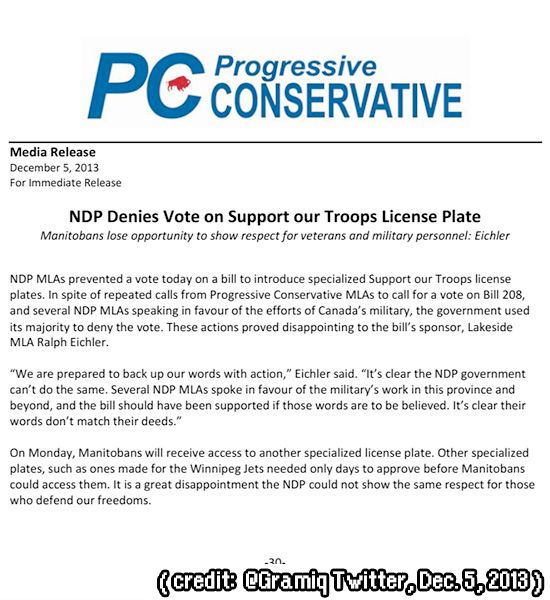 Earlier this week I compiled a field guide to Manitoba specialty licence plates, nine of which (NINE of which) have been released and promoted by the governing NDP within the last three years. That dropped on Tuesday; on Thursday, the official opposition Progressive Conservatives circulated a press release to argue that -- wait for it -- MANITOBA NEEDS ANOTHER SPECIALTY PLATE. The orange guys brag about nine specialty plates in three years, the blue guys complain it should be ten specialty plates in three years, and I want to light my ballot on fire. There's your provincial politics update. [ via ]

Hello and welcome to Manitoba Links Weekly! This week on Winnipeg Internet Pundits -- yes it was a full show this week, quiet you -- we discussed the City's preliminary budget, its controversial mandatory-unpaid-leave proposal for non-essential employees (more on that in a second), the continued wave of hypothetical Scott Fielding initiatives, and the death of the Montcalm Hotel so that condos may rise in its place. I have a long and fascinating story about working the front desk of a two-and-a-half-star hotel on Christmas Eve, but I'll save that one as its own special beast for some other time.

Right now, it's time for ManLinkWeek! First things first:

[ Manitoba Music: Happy Holidays From Your Friends At Manitoba Music ]
You've probably noticed -- you infidel atheists -- you've probably noticed that the holiday season is now upon us. And the holiday season, of course, means Christmas music! (I'd say "holiday music", but I'd be lying. Not a lot of "I Have a Little Dreidel" playing in the department stores right now.)

So the fine folks at Manitoba Music have put together a 52(!)-track seasonal playlist of local tunes for your listening enjoyment, and below that a listing of the themed local concerts you can look forward to through the next few weeks. Give it a listen and a look! It makes for a nice change of pace from the same ten or eleven recordings from fifty years ago that you'll hear way too many times this month, and furthermore it'll keep your spirits up for the next segment.

[ Winnipeg Sun: Gerbasi 'outraged' by city job cuts ]
[ Winnipeg Free Press: City unable to define 'essential services' ]
[ Metro Winnipeg: Forced unpaid leave criticized at committee meeting ]
We asked amongst ourselves on Winnipeg Internet Pundits this Wednesday: if the proposed three and a half days of unpaid leave are for "non-essential employees" of the City of Winnipeg, does the City know who it means by non-essential employees?

It emerged the next day that, well, no, of course they don't. (I don't know why I expected anything else, thinking back on that now.)


Community services still defining who qualifies as non-essential workers to take 3.5 unpaid days off in holidays. #winnipeg #wpgcouncil

— Joyanne Pursaga (@pursagawpgsun) December 5, 2013
Now, I want you to remember: this motion is being touted as a necessary belt-tightening that will result in "
an estimated savings
" of $1.5 million. But it hasn't really been explained how one reaches that estimate without knowing how many employees it
covers
-- and the
reasons
we don't know how many employees it covers are 1) we don't know what 'non-essential' means, and 2)
we don't know how many employees the City has
. WHAT ARE YOU DOING, THIS ISN'T HOW ESTIMATES WORK.
ARGH
MOVING ON
[
Winnipeg Free Press: Hard numbers present city - warts and all
]
[
peg Community Indicator Systems: Welcome!
]
Ah, good. Numbers!
Data
. Much better. I feel better already, good, thank you for this.
I'd like to see a campaign like that, one day.
This holiday season, give the gift... of data.
I think that'd be nice. (It'd work on me, heck.)
[
BeerCrank.ca: Interview with Portage Avenue BrewWorks' Darren Wanless
]
Had you been wondering about the latest on that brewpub-in-progress you'd heard about earlier this year? Well, wonder no more: ongoing location changes, legal framework discussion and "
the gopher effect
" are some of the topics touched on in this interview with Wawanesa's own Darren Wanless.
Back over now to the festive beat:
[
The Uniter: The Uniter 30
]
[
Metro Winnipeg: Ace Burpee's 100 Most Fascinating Manitobans for 2013
]
Yes, folks, it's that time of year again -- December! And December means end-of-year lists, regardless of how far we've actually made it through December so far. With 100 entries on the Ace Burpee list and three (or more, for ties) finalists in each of the 30 Uniter categories, it's all but guaranteed you'll be a heck of a lot better informed about the year in local culture than you were before you started reading.
And speaking of thematic end-of-year lists:
[
Spectator Tribune: The 2013 Osborne Village Gift Guide Vol. I
]
[
Winnipeg Free Press: Trail-tested (and cheap) gifts for gearheads
]
[
West End Dumplings: The 2013 Local History Buff's Holiday Gift Guide
]
Nobody's ever a difficult enough person to say "no" when asked if they like buying local, so, hey: folks, do you like buying
local
? Well, here're a few different gift guides that'll help you support local makers and local businesses, no matter
who
you're shopping for!
And speaking of local items that are sure to be a hit -- I've been saving this one, oh my goodness, I've been saaaaaaving this one -- no matter
who
you're shopping for, be they irony-embracing hipsters or earnestly eager civic boosters, this is surely the Winnipeg gift item guaranteed to please:
[
The University of Winnipeg: University of Winnipeg Sweatpants
]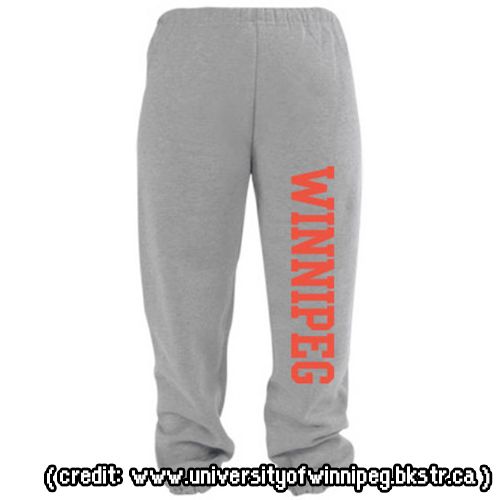 If you've ever been through the University of Winnipeg bookstore, you may have seen these before; if you haven't,
surprise
, here is the Winnipeg gift to end all Winnipeg gifts. Literally
and
figuratively, sweatpants that
just say "Winnipeg"
. GLORIOUS.
Can I top that? I cannot top that. So thank you for reading this week's edition of
Manitoba Links Weekly
! Coming up in next week's installment: more music! More new local websites! More Morris fallout!
And more
! So we'll see you again next Saturday, if not sooner, for the next episode of
ManLinkWeek
!