Happy holidays, you infidel atheists! Welcome to the Slurpees and Murder Record Club; as we draw closer to Christmas Day, I think it's important that we all collectively take the time to appreciate the seasonally appropriate output of local musicians past and present.

In my last post I'd linked to some suitably seasonal material curated as a Manitoba Music playlist, but what I am about to present to you -- what you are about to hear -- has largely escaped detection until now, and really for the past twenty years or so. An oddity, a rarity, a treasure lost to time; it just so happened that I rescued a copy from a thrift store earlier this year, and it further just so happened that it played in exquisitely fine quality. (Believe me, with cassettes, you can't assume anything.)

Behold as I beheld, friends:




THE LEGENDS ARE TRUE, IT'S REAL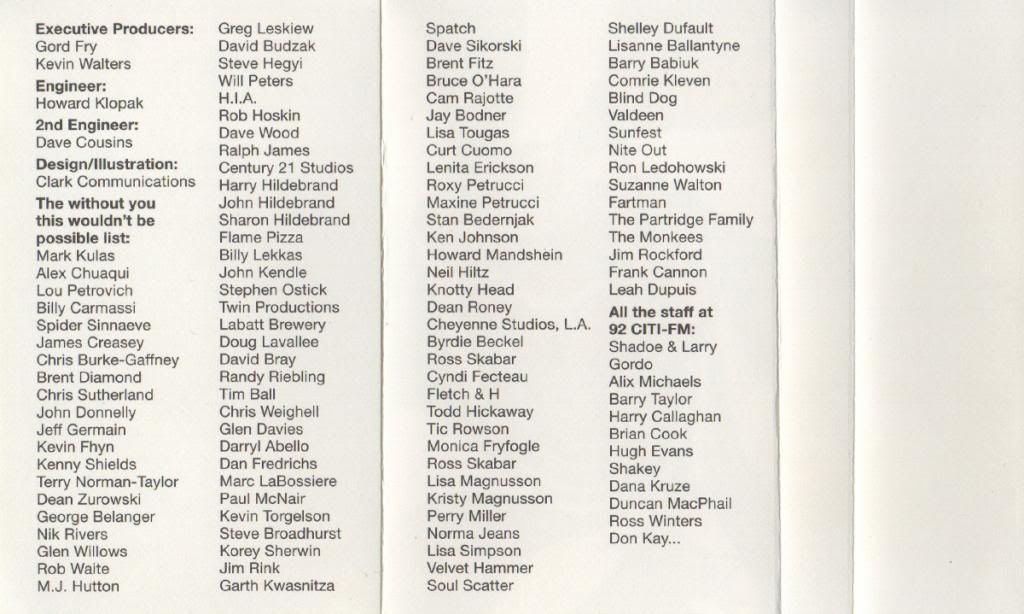 92 CITI-FM - Winnipeg's Rock 'N Roll Christmas, Volume II (undated, cassette)
[ none of the websites for any of parties involved officially acknowledge the existence of this album | there is also absolutely nowhere on the internet for you to buy a physical copy, believe me, I checked | part of the original release's proceedings went to the Winnipeg Christmas Cheer Board, so donate here if you dig it ]

Ace Burpee once declared this compilation cassette "the greatest Christmas album in history"; I don't know if I'd go that far, but my word, it is certainly a fascinating local artifact.

The images that you see above are everything that I had to go on, which means you're as lost as I am about when this album was actually released. Or as lost as I was, at least, before I started digging. (If there is one thing that I can be counted upon to do, it is dig.)

Library and Archives Canada has no record for the second album, but entered what is most likely Volume I into their catalogue at the end of 1990. This would suggest, with Volume I dropping around Christmas 1990, that Volume II was most likely released for the 1991 Christmas season. But what makes me most confident about that Christmas-1991 supposition -- nay, almost certain of it! -- is that Alice in Chains' "Man in the Box" was first released in March of 1991.

That detail, I'm sure, seems unrelated. "Look at this clown," I'm sure you're thinking to yourself. "What does that have to do with anything? What seemingly-unrelated, Hercule-Poirot-esque connection is he about to attempt that would make those two plot points connect?"

Well, wonder no more, friends; clicking the link below will allow you to listen to the following song, which will doubtlessly resolve all of your curiosities about my judgment.

Shake Naked - We Three Kings
[ no official band page exists, although in fairness their career predated the internet | the group's main claim to fame is having produced drummer Brent Fitz | I do not recommend ever Googling "Shake Naked" ]

That is Alice in Chains' "Man in the Box". That is, without question, a slightly-altered "Man in the Box" with the lyrics to Christmas classic "We Three Kings" laid over it. If this release had preceded the Alice in Chains song, I can assure, I would have absolutely lost my mind over it (more so than I already have) -- but no, I tell myself, the most rational explanation is that it does not.

Putting that tune aside -- if one can, anyway, I certainly can't -- putting that tune aside, there's a surprising dearth of rock going on in "Winnipeg's Rock 'N Roll Christmas" here. A lot of ballads, to be sure, and one or two songs that I will quite generously describe as "borderline unlistenable"; that, I suspect, is the nature of regional compilations. All of it interesting, though! Interesting artifacts from Winnipeg artists and groups otherwise lost to time, an album well worth your investigation.

So let me know what you made of it in the comments section below; with the variety offered across this album, I'm sure that you'll both find something you like and find something you hate.

Thank you for reading this installment of the Slurpees and Murder Record Club; I'll be on the air tomorrow with Winnipeg Internet Pundits and back on the blogging beat later this week with ManLinkWeek, so you haven't seen the last of me yet. Until then, true believers!