Sometimes in my capacity as a learned and thoughtful individual I am capable of eloquently discussing and describing why I find something to be bothersome or unacceptable, calling upon the flexibility and elegance of the English language to properly express my disapproval of a concept or action in a meaningful and productive manner.
And sometimes I am not.
Like now.
If you, like me, were fool enough to go leafing through today's flyer distributed by the Real Canadian Superstore, then you have already encountered the particular object that I find myself concerned with.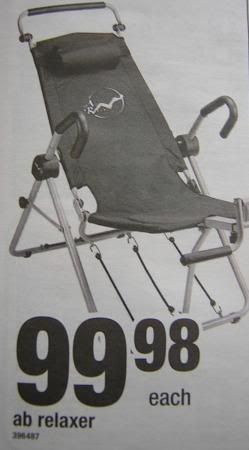 An "Ab Relaxer".
Oh really.
"
Ab Relaxer
". Is that right.
For relaxing abs, you say. Mm-hmm. I see.
Because I am looking at this expensive product you are attempting to sell me and what I am seeing is a CHAIR
YOU MOTHERFUCKERS
THAT IS A
CHAIR
YOU HAVE TAKEN THE TINY BUNGEE CORDS FROM THE TRUNK OF SOMEBODY'S CAR TO PUT THEM ON A
LAWN CHAIR
AND YOU WANT A HUNDRED DOLLARS OF MY MONEY
OF
COURSE
IT RELAXES YOUR ABS, YOU CONTEMPTIBLE SHITHEADS,
IT IS A CHAIR
AARGH