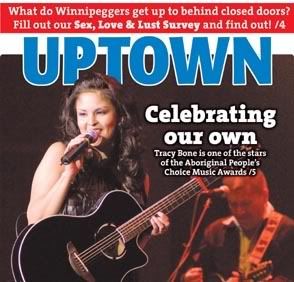 Love Me, Love My Uptown Magazine!

So this week saw the publication of my most recent column for everyone's favourite local weekly (haha oh snap), and I hope you'll pardon me my once again musing on the state of the downtown. But after listening to and reading so many different proclamations about the National Hockey League, none of which covered this particular angle, I figured that it would be worth considering the actual environment around our prospective hockey team's prospective hockey arena.

The MTS Centre is one of the top twenty arenas in the world, but I'd suggest that you can't quite credit its neighbours for pulling their weight in the equation. So I brought up the immediate area around the block of the MTS Centre, suggesting that the reader could take a walk around the block and judge for themselves -- but who has time to go all the way downtown and just walk around, these days? Who even goes downtown these days? (Besides me, I mean.)

Well, never let anybody tell you that James Howard talks the talk without walking the walk!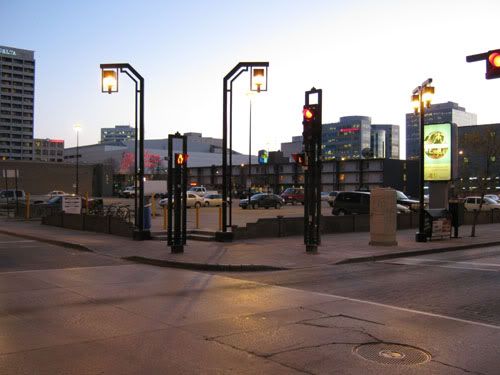 So after work on Wednesday evening (just before the weather got insanely nice around here -- what the hell is going on in this city) I went on down to the MTS Centre and had myself a looksee at the surrounding properties. I started at sundown at the southwest corner with CityPlace's single-level surface parking lot, through which you can see clear through to the Winnipeg Convention Centre. It's not like there are a lot of cars in the lot getting in the way, or anything.

On this particular night, it would cost six bucks to park here for the evening. Keep this in mind.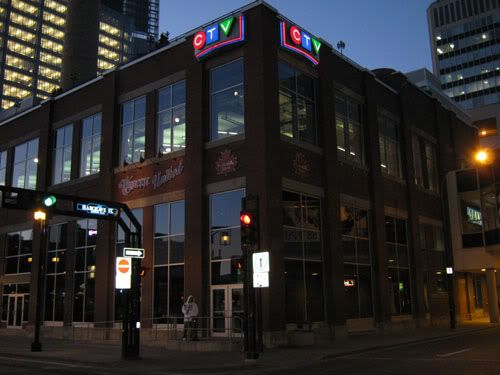 Well, why don't we go clockwise? It works for clocks.

The northwest corner of that intersection is CanadInns' Tavern United, inside the (very recent) new CTV headquarters. This would make it reasonably easy to grab a beer before or after a hypothetical NHL game, and it would make it super easy for the TSN crew to set up television coverage, so this is about as optimal a building setup as we're going to see on this tour. That's right; it's all downhill from here.




North next along that block is a medium sized parking facility, which would probably command a pretty penny for parking privileges on event night (I didn't think to check how much this one cost that day, dang) but is sort of an essential. And given the choice of a five-level parking complex or five single-level surface parking lots, I'm going to encourage the former every time even though we have roughly one million zillion of the latter downtown.




Then it's... empty storefront. One of the top twenty arenas in the entire world, and nobody can put together a business plan for prominent adjacent storefront. I don't know either.




At the top of the block is the Newport Centre, or the Rogers Building, or the Samurai Japanese Restaurant, or the downtown BMO, or the place next to the Book Fair, or whatever you want to actually call it. So there's an acceptable street-level presence, although the gigantic "FOR LEASE" banner suggests that they need to do some work if they're going to get the corporate office levels to reasonable levels.

(Actually, now that I think about it, I've worked in that building before. It wasn't too crowded. And my unit at the time was only being thrown in there as a temporary measure, so yeah, they need some tenants.)

Does anybody here really want to start squabbling about the relative importance of individual ticket sales versus executive sponsorship? Yeah, me neither. Let's move on.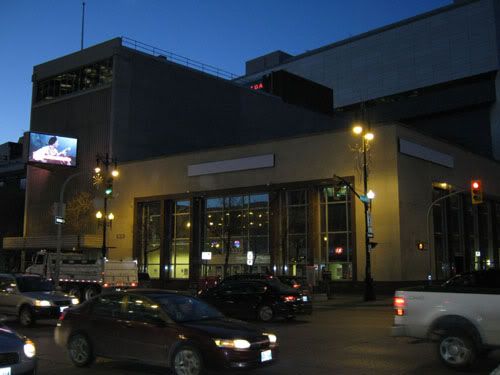 To the northwest of the MTS Centre is... nothing. Specifically the nothing that used to be the Royal Bank's downtown branch, before they relocated into the new Manitoba Hydro Tower. It seems kind of strange to me that the addition of more street level retail space with the new Hydro building would just lead to the same number of businesses in the area and more empty space, instead, but I guess that's why I'm not a business leader or city planner or anything.

The APTN isn't going anywhere, though -- or at least, I hope not -- so there's some stability on that block, at least. Still probably not the kind of encouragement that lures billionaires to place NHL teams in the neighbourhood, though.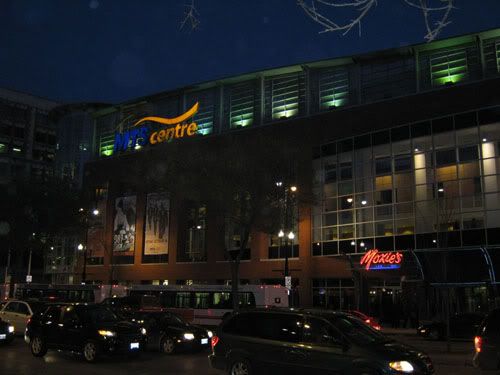 Inside the MTS Centre itself are a few eateries, the classiest and most expensive (by faaaaaaar) pictured here. On the other side of the building is a Tim Horton's, because we live in Canada, and an Arby's, because they hate us. Not pictured here is the Manitoba Moose merchandise store, which is along the same side of the building, but I'm not really concerned about it because it makes perfect sense. A souvenir store inside the home of a sports team, sure, big duh.




I'll grant that the Blush Ultraclub isn't really my scene, for a variety of reasons, but it's a spark of nightlife along a street that desperately needs it. It's also sort of the last bright spot for a while, so you may want to take a good look at it before we move on.




A bridal store. I'm not even kidding. It's open until 8:00 on Monday and Wednesday, and closed by 6:00 every other day of the week. Which I guess is fine if you're a woman getting married, the assumption apparently being that a bride-to-be has already quit her job out of deference and has time to go down to Portage during the day. But as a twentysomething with a day job looking for something to do on... any night, I can't really say that this is much of an incentive to come downtown.




Band t-shirts! Whoo! Be still, my heart!

I used to browse through here all the time, oh man. Back when I could get away with wearing t-shirts all the time, anyway, I mean. And then the bands were always too mainstream for me, because I'm indie as fuck and will probably never need to own a Nirvana tee or whatever, so I really would only ever go through the comic book clothing and the gaming garb and that one anachronous section of anime attire. (I never do buy the Cowboy Bebop merch, but it always makes me smile to know it exists in North America.) It's a cute, wholesome little family business, but again, sort of a weird choice when viewed across from one of the twenty most successful arenas in the history of all humanity to date.

The left side of the building doesn't even get used except as a darkened stockroom, but hey, at least the other half's open to the public. It could be worse! For example: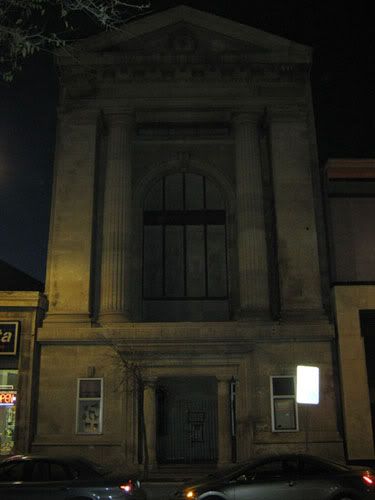 To the east of that is one of those quintessential downtown Winnipeg buildings that's quite architectually beautiful and quite staggeringly, persistantly, miserably empty. I've lived a cumulative seventeen years of my lifetime in this city, and I don't even know what this building originally was. That's how long this one has been empty.

But, hey, at least things can only get better from h--




urghhhhh

I swear to every god there is that somebody could burn this building to the ground and it would still be an improvement at this point. You can't tell from this picture, but the hastily affixed LCD screen above the door would occasionally read "NOW OPEN" -- a complete baldfaced lie given that the temporary Halloween Distributors inside it has been closed since, well, Halloween. (How temporary was the store? Nobody ever actually removed the 'For Lease' signs off the exterior of the building.)

Note that things are actually getting worse; the scorched-earth retreat of Wild Planet out to Osborne Village left an adjacent big stupid empty purple building beside this one, so if we painted the building from the last picture purple as well we would have a full corner's worth of colour-coded urban failure.

Just to reiterate, here, the MTS Centre is right across the street and it's one of the top twenty arenas in the known universe. How is it that this cluster can remain so unwanted? And how is it, for those that support the argument, that adding an NHL team on top of all that would be the magic bullet to bring the downtown to life? Maybe I'm missing something here.




The northeast corner features a progressive-thinking, environmentally friendly, charmingly unique modern building that is almost impossible to photograph properly at night because it's right next to a gigantic glowing tacky dollar store. I'm sure this could be taken as a representative microcosm of the downtown as a whole, if we really wanted, but honestly I can't be bothered. This post is plenty long already.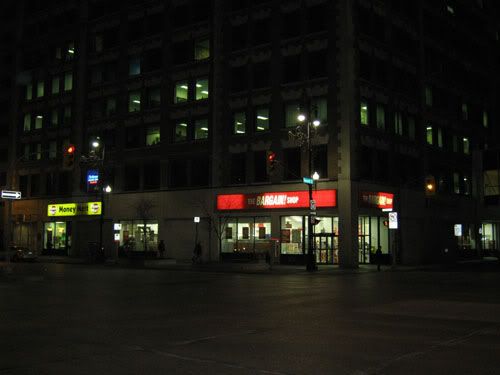 Ha ha ha ha, oh man, our downtown really is pretty terrible. Just east of the arena along Portage are a bargain store -- oh, sorry, I mean THE BARGAIN! SHOP -- and a god damn Money Mart, just in case you need that loan on your next paycheque to afford the more-expensive-than-a-dollar-ergo-it's-not-a-dollar-store deals at THE BARGAIN! SHOP.




Then as we head south along the eastern border of the MTS Centre, we encounter another very majestic and very empty old ghost of the downtown. This one has been empty for about, oh, twenty-some years, and nothing was done with it under the ownership of CentreVenture until they sold it to Canad Inns so that they could do nothing with it instead.

I think the most recent idea was to convert it into a "supper club", whatever the hell that is, but so far there's been no actual indication of what it's supposed to be or what kind of timeline we're looking at before it stops being another empty building. (You wouldn't even know that Canad Inns owns it just to look at it, and they appear to be in no hurry to put any signage up indicating as such.)




Then right next to that is... whatever the hell this is. It doesn't appear to be for sale or for lease, and the tiny PCI logo in one of the windows indicates that they use it to hold construction materials or something, but I swear in my whole life I've never seen anybody ever go in or out of this building. And why does it have super-reflective windows?

If this were a feature film, Tom Waits' "What's He Building?" would kick in every time you walk past. It's that kind of a place. And just south of that?




AN EMPTY SURFACE PARKING LOT

I SWEAR TO GOD

WHY IS EVERY NEGATIVE STEREOTYPE ABOUT OUR DOWNTOWN ACTUALLY TRUE

Note that, if you stand in this parking lot and look east, you can actually see clear through to Winnipeg Square because there's nothing but more empty surface parking between here and there.




Twelve dollars for the evening. On a non-event night. Twelve dollars to leave your car in a haphazardly paved, completely unguarded, almost completely unlit gap between nothing and more nothing. Winnipeggers catch a lot of flak from various commentators for seemingly expecting to be able to park everywhere for free, but I think the corporate perspective -- that we peons should be glad to pay twelve dollars to park under a tree beside a church with no security around for blocks in the auto theft capital of Canada -- should be considered an equally unreasonable one.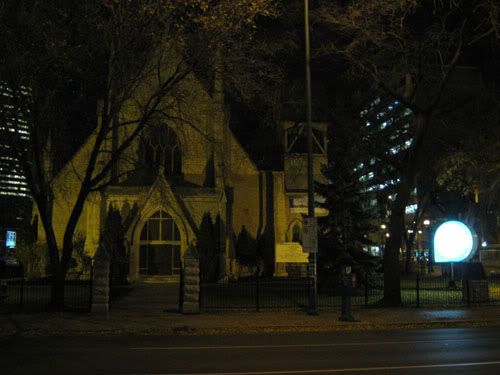 I did mention the church just now, so here's a picture of it. I tried from a variety of angles with a variety of flash settings, and I never, never found a way to not make this church look insanely creepy at night. Halloween had already come and gone the week before and it still looked like the kind of place that haunts and spirits gather to torture the living.

Not that the rest of the area is any better, mind you.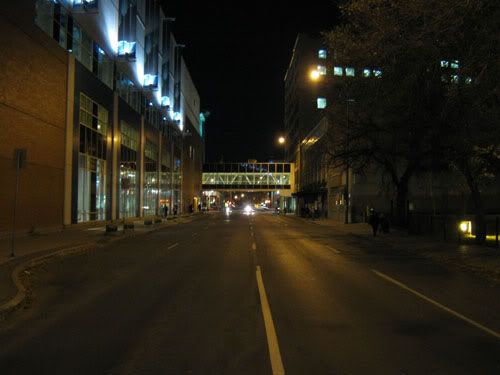 Here's what Donald actually looks like at 6:30 PM on a weeknight. (No flash; using the flash on the camera actually made everything come out darker and more foreboding.)

Can you believe that Winnipeg routinely has the highest rate of murders for large Canadian cities? The very idea! I can't imagine why people wouldn't feel safe standing alone in a setting like this.




Let's Go to the Library!

Of course you all realize that I have a certain affiliation and certain soft spot for libraries, so my biases are pretty well all up front here. But consider this: not only is the Millennium Library connected to most of the other important buildings in the area via skywalk and directly connected to a vitally essential parking garage with a capacity of about five hundred, but it's also one of the very, very few places around this area that are open until 9:00 PM more often than not. Think of where we'd be without it!

(So, basically, don't be surprised if the city tries to move it out to the Airport.)




You know how I just mentioned places that are open until 9:00 PM? Yeah, this isn't one of them. Even when the MTS Centre is hosting a sold out major event -- which is fairly often, given its top twenty blah blah etcetera -- the CityPlace mall bordering it to the south closes by 6:00 PM every single day of its miserable life. There are pockets of exceptions: the Boston Pizza is open until two in the morning, which is perfectly serviceable for the purposes of keeping people occupied after a hypothetical hockey game, and the Liquor Mart is open an extra hour until the wee hours of 7:00 PM. The A&W inside is also open until about seven, but it's one of those lame-ass A&Ws that doesn't even have milkshakes so it isn't even worth our contempt. Why do A&Ws keep doing that?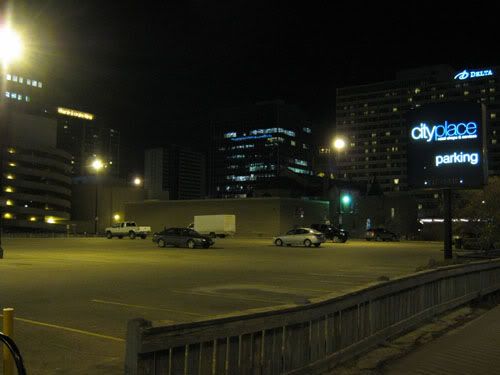 Finally, we conclude our tour back where we started: the southwest CityPlace surface lot, which doesn't appear to be any busier than it was when we left. Six dollars for the evening is, apparently, still not much of a bargain for prospective parkers -- but then, considering everything we've just looked at, would you pay six dollars for the opportunity to return your library books? To buy chocolate bars at the Dollarama? To be approached for change between the O'Calcutta and the ex-A&B Sound, where it seems like there's always at least one panhandler there one hundred per cent of the time?

This is not to say that the situation is irreversible -- just that everybody supposedly involved in revitalizing the downtown seems to be treating it like it's irreversible. Most fatcats scouting out the area would be understandably chilly about trying to install a world-class (you know how we love that adjective) professional sports team in surroundings like these -- but a particularly clever owner or ownership group might realize that they could probably buy up a lot of the surrounding neighbourhood property for a song, giving them the ability to create and control the development of lucrative supporting ventures around their new hockey team. Why wait for bars, clubs, restaurants, stores, and living space to appear around the site when you could just create and own everything involved for yourself? But then, nobody's actually bothered to do this for themselves in the past several decades, so there must be some pieces to the puzzle missing here that I am unaware of.

At any rate -- downtown Winnipeg, ladies and gentlemen. Would you put your team here? Thirty per cent of your term mark, explain your conclusions, show your work in the margins.