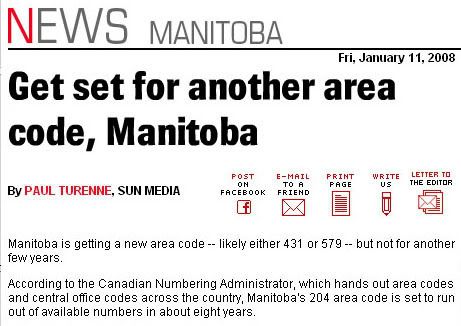 I'm thinking
yeah
. Slow news day.
"(The Canadian Numbering Administrator)
is slated to begin giving out numbers with the second area code as soon as January 2014.
"
Yeah, okay. Somebody may or may not get a phone number with a different area code six years from now. Good thing you told me this
now
! Imagine how confused I would have been six years from now when I tried phoning that guy!
What a peculiar thing to write about as a news item. Maybe for giggles I should write the blog like that.
EXCUSE ME BAKERY STORES I INTEND TO BUY A DANISH AS SOON AS FIVE YEARS FROM NOW. PLEASE ENSURE YOUR DANISHES ARE TASTY IN THE YEAR TWO THOUSAND AND THIRTEEN.
IT IS IMPERATIVE THAT YOU KNOW THIS RIGHT NOW.
THE PURCHASED DANISH IS MOST LIKELY GOING TO BE APPLE OR RASPBERRY.
(It's only proper to write about the future in all-caps. THE FUTURE!)
Alas. Well, hopefully something newsworthy happens tonight so the writers have something to write about; I'd hate to open the paper tomorrow and read twenty pages of THE 2016 OLYMPIC GAMES MAY OR MAY NOT BE HELD IN AZERBAIJANI and IN THE FUTURE BLU-RAY WILL BE THE HOME VIDEO STANDARD EXCEPT MAYBE NOT.