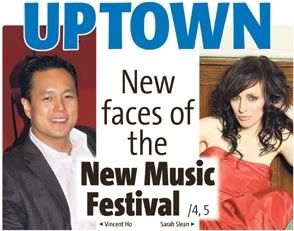 I like
Uptown Magazine
; you should too! I'm in this week's issue, so have a look-see.
Owing to the recent change in publishing equipment and consequential smaller format of the newspaper, all biweekly columnists will henceforth be appearing monthly instead. Kind of a bummer, but alas; since I'm still published as often as David Suzuki is, I figure I'll manage. Take
that
, environment!
In internet news, I can personally report and confirm that the email spam of the world remains as ill-advised as ever. Earlier today, one of my inboxes reeled in a very serious and formal notice claiming itself as -- stop me if you've heard this one before -- a rebate notice from the Internal Revenue Service. How nice of the IRS to email me personally with promises of a couple hundred dollars, available to me only if I click the included link to an incomprehensible and obviously Korean address!
This strain of spam is a good couple of years old, is
well
-
documented
, and is particularly stupid even by
spam
standards. It's not terribly difficult to spot the man behind the curtain when A) the IRS is not exactly notorious for
giving
people money, B) the implicit idea that the American government knows everybody's email address raises more questions than answers, C) the email I received proclaimed itself to be from iri.gov despite IRI actually being the Islamic Republic of Iran, and D) I live in
Canada
, you mouthbreathing subhuman nimrods.
And somebody somewhere is falling for this even as we speak! That's always the worst part about these things -- no matter how garbled, how obviously fake or how mind-searingly stupid the message is, there are still people out there who must just be gleefully clicking on anything they see.
Couldn't you people at least send me some pandering all-Canadian spam for a change? I mean, I'm still not going to fall for it -- but if I open up my inbox and see "
hooray you are winner anne murray tix and delicious beer click now for priez
" or "
CONGRATS YOU HAVE BEEN CHOSEN AS MAPLE LEAFS GENERAL MANAGER
", I'll at least get a smile out of it for a change. Come on, spambots! You can do this!