I'd forgotten I was wearing it, but I wore the Venom shirt to the concert -- and so Cadence Weapon complimented me on my fashion sense when I talked to him, which was nice. He was hanging out by the bar before his set, chatting with anybody who wanted to talk to him; he's a very approachable guy, very laid back, so everybody was having a grand time. It was fun!
But first, a retrospective overview. I had tickets to three concerts in the past week; I got
shot in the face point-blank with weaponized decorations
at the first,
completely missed
the second, and was nearly distracted from the third by the
unfolding horror story
of a
minor celebrity
who undid fourty years of good reputation and clean living by murdering his family and then killing himself. (There's a lot to cover on this subject. So I'll get to that in a later post.)
And I already have my ticket for a fourth concert, the Antibalas show
tomorrow night
tonight; I can only
imagine
what's going to come up before or during the event. The tornado warnings around here
have
mostly passed, right? No signs of werewolves downtown? No killer robot made out of Lucky Lager cans and a stray lightning bolt?
Anyway. That aside. My main topic of discussion right now is that I went to the Cadence Weapon show, and the Cadence Weapon show was
gooooooood
.
The show opened with local act
Grand Analog
, who I think I may had heard of once or twice in passing; I hadn't yet encountered any of their music, though, so I was going in with no idea at all about what I was in for.
Well, now I know. And what I know is this: every minute you remain unfamiliar with this group is a minute you have
wasted
.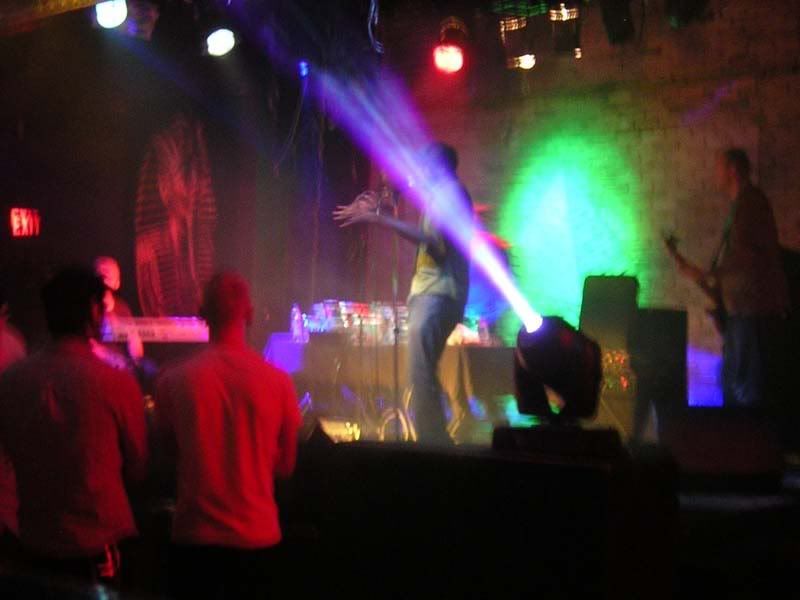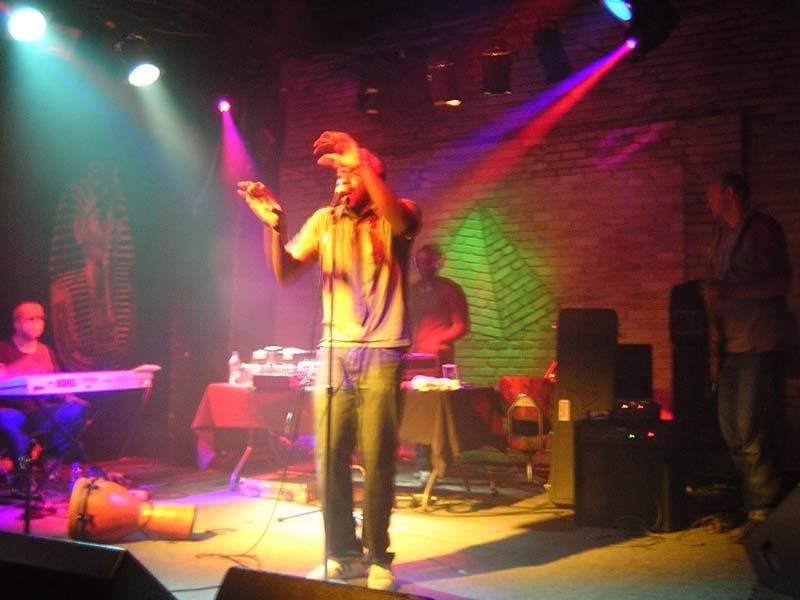 I'm serious.
Start listening
to these guys. Immediately.
As best I can describe them, Grand Analog perform a hybrid of oldschool hip-hop and
Scientist
-inspired dub reggae; they came across live as a more reggae-oriented and sonically heavier Moses Mayes, and we all know by now how deeply my affection for Moses Mayes runs.
And frontman Odario Williams, known primarily for his previous work with Mood Ruff, is
gold
onstage.
Gold
. His three bandmates largely have to remain in place, by virtue of their instruments (keyboards, turntables and bass), so it falls to Williams to keep the energy level going -- and does he
ever
, dancing and weaving and clearly having a ball up there. Stage presence is a wonderful thing to have, and a wonderful thing to watch; he had it in spades last night, effectively grabbing the audience's attention by the throat and decreeing that it dance for him.
I honestly can't say enough good about these guys, now that I've seen and heard them. Grand Analog is releasing their first CD on July 17th, with a CD release party scheduled for
July 13th
at the Pyramid; I'm hell-bent on going, and gods help any fool that should stand in my way.
Second on the bill was Edmonton-based DJ Weez-L, who's been backing Cadence Weapon on this tour; he played a short set as the leadup to the headliner, and he was pretty good. Nothing out of the ordinary, but solid.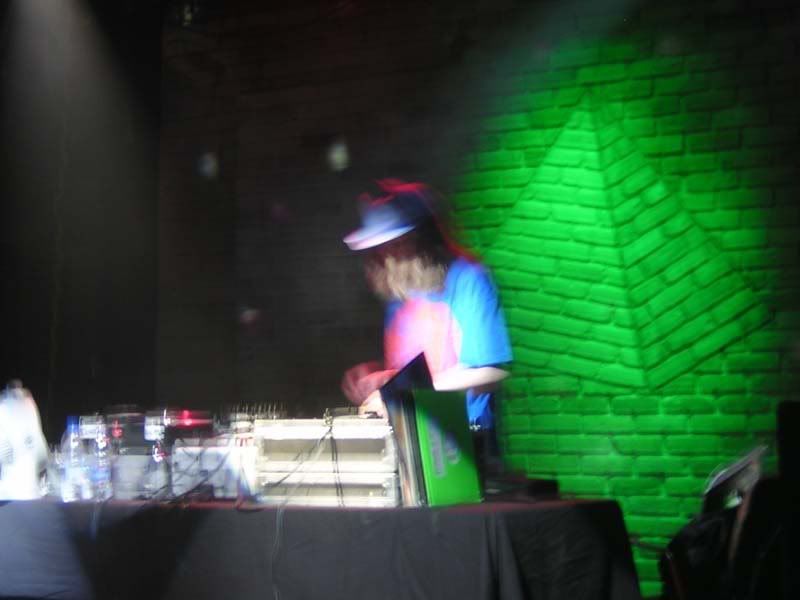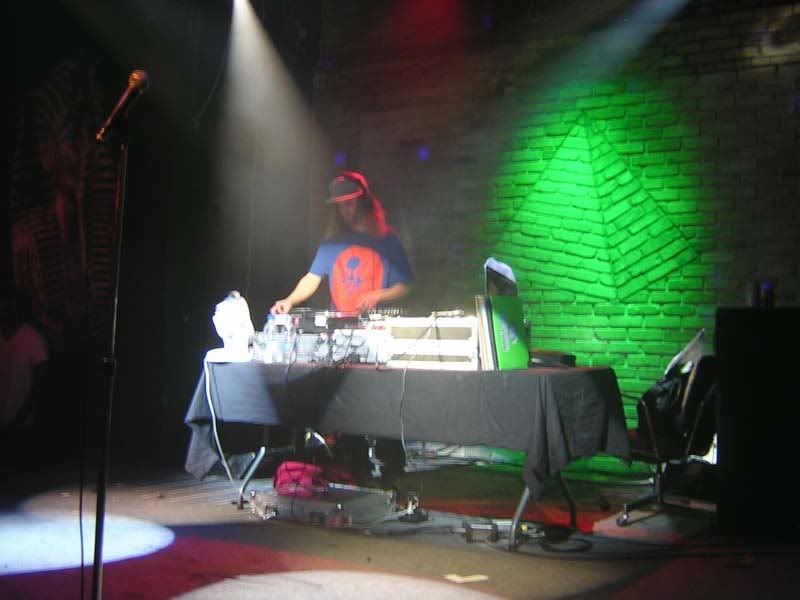 I bought a CD of his instrumentals, because it was an extra $5 to purchase it when I bought a t-shirt with a dinosaur on it. (I have a Y chromosome and I am under the age of thirty. Of
course
I like dinosaurs. I mean, come on now.)
So Weez-L warmed the crowd up a little, then on came Cadence and everything was right with the world.
I briefly considered trying to write down the set list, but cancelled this intention after two thoughts; the first thought was "wow, there is a
lot
of new material in this set" -- as it turns out, he was mixing his upcoming album the next day -- and the second thought was "you know what, fuck it, I want to dance". And so I did, for the entire set, because that is what I do.
I mentioned stage presence earlier, and Cadence has no shortage of it either; he had the crowd whipped up right from the get-go, led the singalongs on the choruses, used a flying axe kick as his transition between songs, ended the show with a fierce Weezer cover (!), and hopped down onto the dancefloor afterwards to boogie the night away with the audience.
It was a grand time, I enjoyed all the acts on the bill, I found what may be my favourite new musical discovery this year, and I now have another show to look forward to within the next month.
And
tomorrow
tonight is the Antibalas concert. Life is good! I was
very
tired at work this morning, and I'm going to be very tired at work Thursday morning, but life is good.