Holy crap things did
not
go as planned last night. It was a heck of a storm system out north last night! Perhaps you have heard about it! I was
driving through it
!
Anyway. Since last night was the Great Woods Music Festival opening night (with a frothing explosion of nature's fury immediately afterwards), and this weekend is the
two-day summer tournament
amongst the
local fighting game scene
(and do feel free to come out, if only to say hello), I'll have to figure out when to squeeze in my previously promised Islendingadagurinn post.
(Wait, the Bombers game is on
tonight
?
Son
of a--)
But all that can be put aside, temporarily, because I have information of immediate interest to pass along.
Walking to the bus stop from work a few hours ago, to begin my journey home for the day, I heard tell from word on the street -- quite literally, in this case -- that the owner of the local
Gourmet Cup
coffee shops is a predatory pedophile.
Wait,
what
?
You can't see it, but I'm pantomiming a doubletake right now.
As you can read for yourself, I'm not making any of this up:
(sic):
"
WARNING -- The Owner of the Gourmet Coffee Cup is a Pedophile and is stalking our young girls of our Community of Brokenhead Ojibway Nation Since June / 2007. He Lure's them with Drugs and Money.
"
Ho-lee. Well. Huh.
That
's not something I was expecting to read in passing today.
Now, this is a particularly harsh accusation to be levelling at somebody -- especially when the extent of the evidence offered is a series of mostly identical placards. Mall security had a few representatives standing in, but they clearly had no inclination to move these women from their position: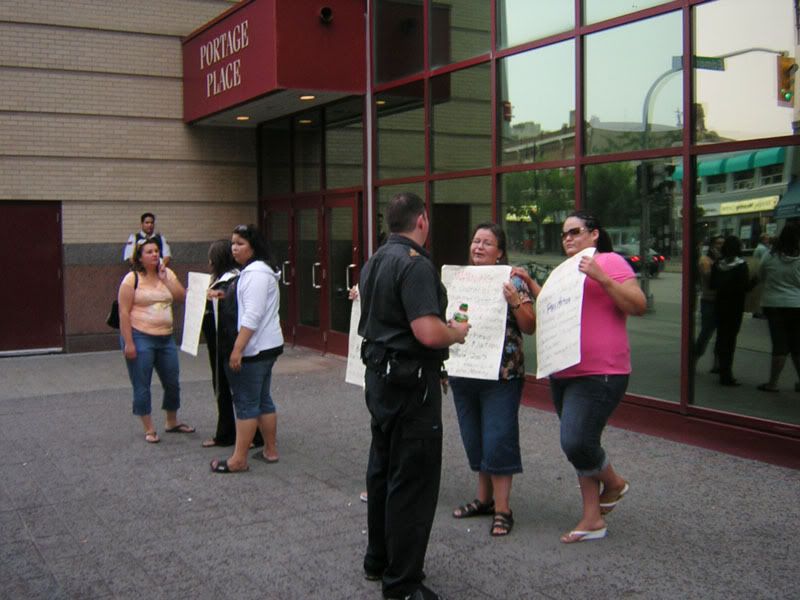 Mind you, this probably falls outside their jurisdiction. The demonstration was outside the building, nothing was being shoplifted, and no laws were being broken (assuming for the moment that the message isn't defamation); what were they going to do about it?
I
would have assumed, were this condemnation a baseless claim, that the people specifically hired to protect mall business would have done something about the situation by this point -- but one of my roommates worked security for a while, back in the day, and he later assured me that security does not actually have to do much about these sorts of things.
You can draw your own conclusions from all of this, of course; heck, for all we know so far, the owner of the Gourmet Cup might be out there next week holding a sign that says "
Those aboriginal women last week were actually guerilla Starbucks employees out to undermine our proud local businesses
." (That's not going to happen, of course -- but I would pay good money to see him try that, now that I've thought of it.)
We'll see what if anything develops from this opening salvo of nastiness, or if it even
gets
reported in the papers tomorrow; I'm just passing along what I saw, particularly because it was not something I thought I would be seeing.
I swear, if I find out tomorrow that the Fyxx runs an underground drug cartel or something, I'm just going to give up and switch to tea. Multinational corporations are immoral scumsucking world-destroyers, local businesses are allegedly run by sexual predators -- could somebody please just sell me a big cup of black coffee without being all evil about it? Really, now?