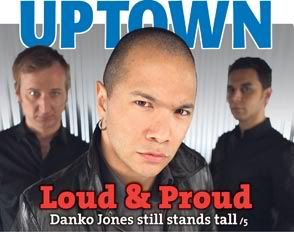 When I say "Uptown", you say "Mag"!
Uptown
!
Well, never mind. We'll get it next time!
My column in this week's issue is
one hundred per cent true
, despite how much easier things would be for me if it weren't. There are some weird things going on in my head! I'm sure this comes as a surprise to nobody.
(If you were wondering, and before anybody asks -- yes, I swiped "in mute frustration" from a Guided By Voices song. I am what I am.)
Now, to my knowledge, there are no songs written about smart-car tipping. (At least, not
yet
. One of these days I'm finally going to get around to establishing a musical career, and then
look out
.) For now, a cheerful little ditty about celebrity cow-tipping should suffice as musical accompaniment:
The Little Willies - Lou Reed
(
The Little Willies
, 2006)
[
buy
|
site
|
jukebox
|
myspace
]
The banter at the end of this song gets me every time. And yes, that
is
Norah Jones on piano and female vocals; this album marked the beginning of her descent into
adorable madness
, which means I approve of this album immensely. You can imagine how tickled I was to get this album for free when I
reviewed it
a couple years back, especially since I had no idea what it was when I picked it out in the first place. (That was my usual schtick; I would go in and specifically grab the albums that nobody else wanted, trusted, or could identify.)
Man, CD reviewing was fun back in the day. I should get back into writing reviews again! I buy enough of the damn things, I may as well let you know when I find neat ones.
But, anyway. Smart-car tipping!
Yeah
!